Today's Top 5

Monster Godzilla beast 'eyes!
Since this is the only Target Walleye this week (happy 4th — have fun fishing and be safe!), we wanted give you some inspiration for the long weekend.
Let's start with Charlie "Turk" Gierke of Croixsippi Guide Service — he caught this beast on a splitshot rig with plain hook/leech combo along in shoreline break in 18′: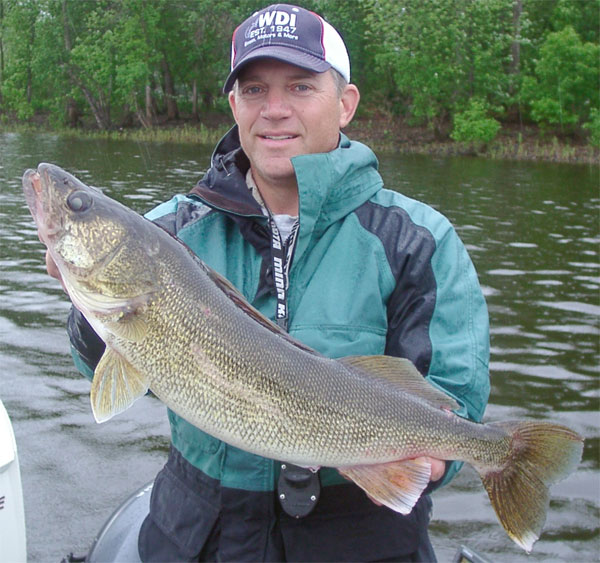 Lonny with Green Bay Trophy Fishing holding a 30: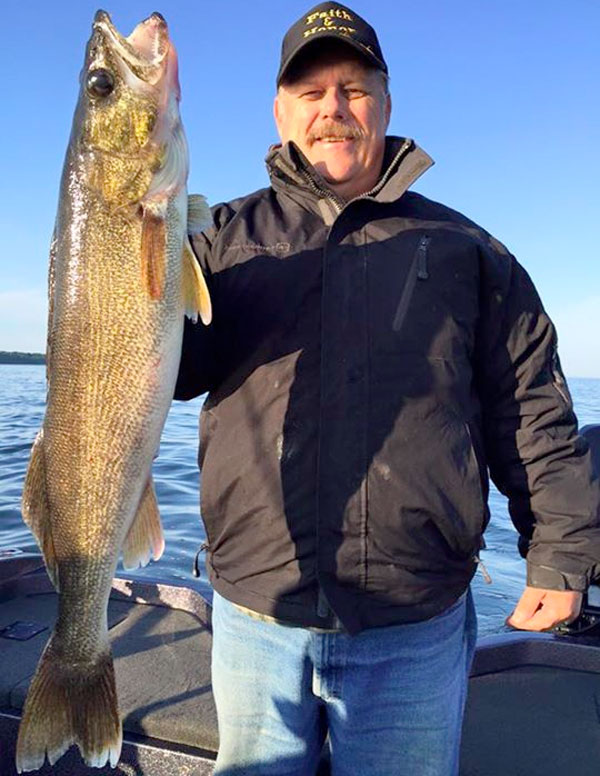 Check out this 10+:
> @fish_aholic_365 hoists up a 10.44lb Big Mac Slaunchopotamus. Jake had a weekend that walleye nuts dream of — a tournament win with giant walleye followed by a 75+ fish morning the day after.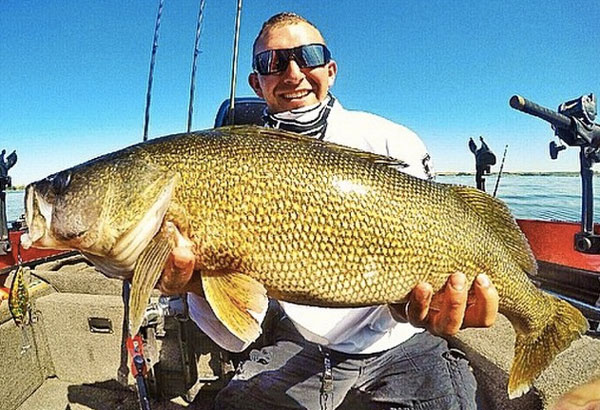 Woo-hoo!
Last but no way least — 34 mega inches of Sturgeon Bay gold: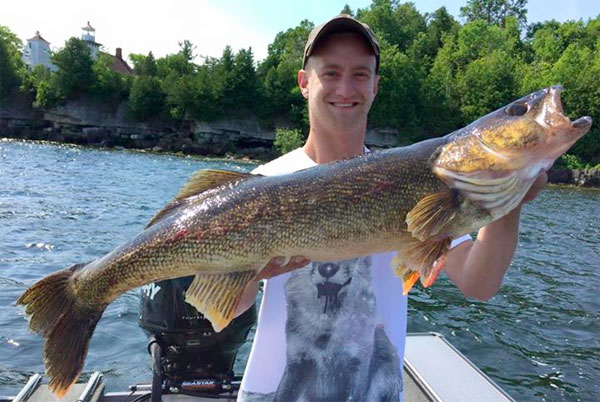 New type of fluorocarbon line…
> The plasma ion, or P-Ion, process alters the line and adjusts the properties in such a way that the line is able to perform better and last longer. Rather than adding a resin coating, the plasma-ion process changes the chemical makeup of the line….
> When plasma is introduced to the fluorocarbon production process, the resulting line is 40% slicker, 30% more abrasion resistant and…will last 30% longer than comparable lines.
> Sunline's research showed that after 100 casts, the 15-lb version of Assassin FC retained 25% more slickness than another Sunline fluorocarbon line not treated with P-Ion.
> …the diameter of Assassin FC is a fraction larger than Super FC Sniper…0.0104 inches compared to 0.0102 for Super FC Sniper.
> Assassin FC will be available in 225-yard spools of 8-, 10-, 12-, 15-, 20- and 25-pound test and will retail for $19.99.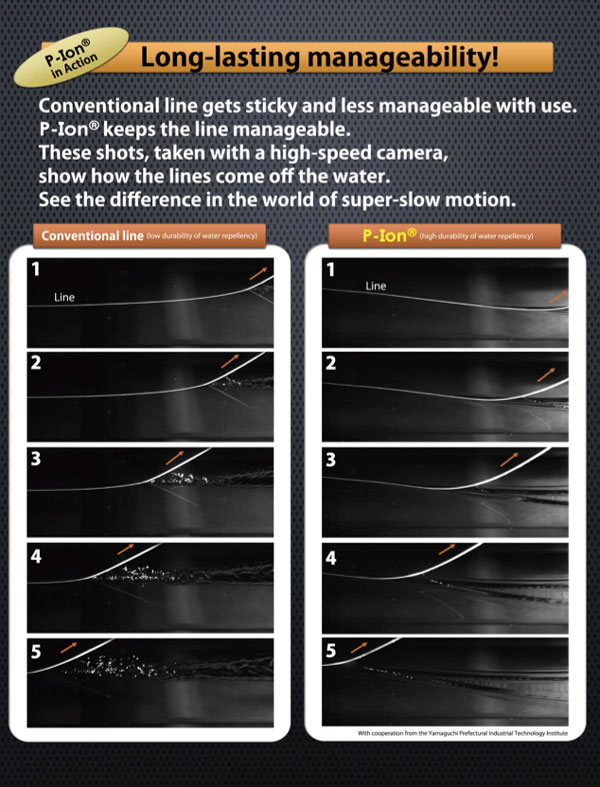 …over bait — quick tips:
> A jig and soft-plastic tail getting swept swiftly downstream on a river system where walleye won't have time to over-analyze.
> Snap-jigging through the edges of emerging coontail where the durability of the soft plastic makes the angler much more efficient.
> …pulling crawler harnesses behind bottom-bouncers where the durability combined with the faster speeds that the harness is getting pulled create a situation where soft-plastic begins to outfish live bait.
> Plastics are often so effective because of their durability, the large variety of different colors available, the ability to change profiles and vary the amount of vibration you are presenting.
Sometimes baitfish get offended by this: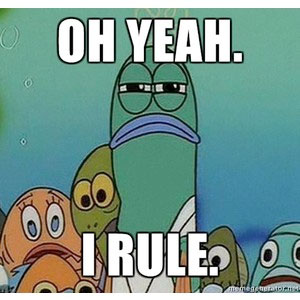 Lol — we know you've thought about something like this at times!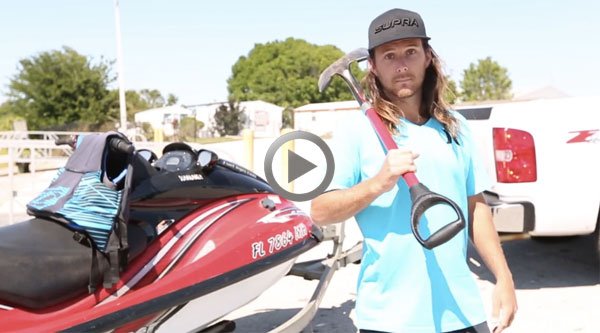 News
1. WI: Cabela's Masters Walleye Circuit Petenwell winners.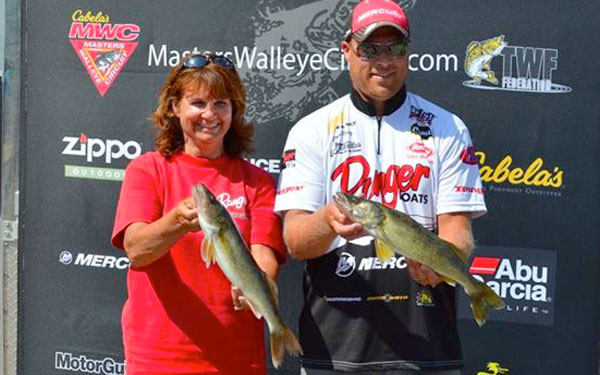 Barb and Danny Plautz (mom and son) won with 11-08 over 2 days:
> As they had on day one, team Plautz focused their day two attack on a stump-covered, 7.5-foot-deep flat surrounded by shallower water, where they trolled size 5 Berkley Flicker Shads at speeds of 1.9 to 2 mph. "We found the spot during practice and caught a walleye over 29 inches from it, so we knew the fish were there and stuck with it."
Travis Scott and Kennie Williams chased bigger bites with jigs:
> "A lot of time it's pitching 1,000 jigs and most days it's for 10 bites. It can suck to do it for so few fish, but it can work if you can hold on and do it."
> The strategy worked, catching only four fish undersized for possession. The rest, including a 28-incher the second day, added up to 39.48 lbs and a check for $10,000.
3. ND: Devils Lake winning pattern.
Mike and Jarvis Kaderlik:
> On the calm first day, they ran 17 miles to the Pelican Lake section of Devils Lake. They cast jointed floating Rapalas in sizes 9 and 11 over and around new-growth weeds in old cattail sloughs, targeting the 3-7 feet. Slow, steady retrieves with twitches and pauses….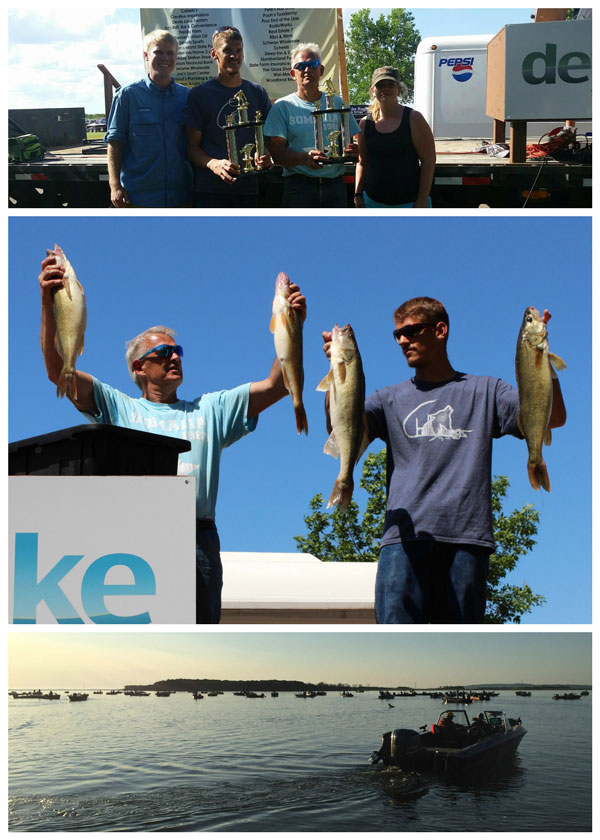 4. WI: Bago Walleye Club winners.
5. New Humminbird Helix 7 Series.
Awesome:
> Even in full sun, the jaw-dropping 480×800 HD resolution and 1500 nit brightness glass-bonded display delivers a clear and precise picture of fish and fish-holding structure. Plus, the ultra-wide 16:9 ratio screen gives anglers ample room for split-screen views, making fishing and navigating even easier.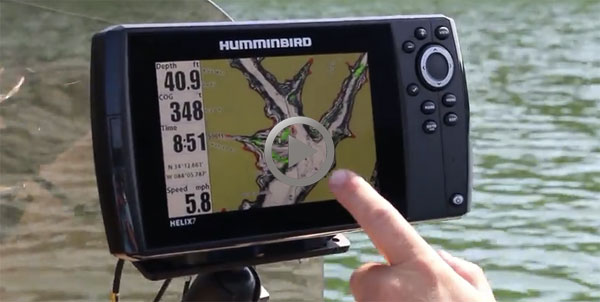 6. AR: Walleye stocked in several lakes.
Yes, Arkansas!
7. MN: LOTW bite is smokin' hot!
> Incredible week of fishing. On the big water of Big Traverse Bay, walleyes being caught along Pine Island in 8-15′. Some nice fish caught in 30′ in front of the Lighthouse Gap. Lems, Archie's and Arnesen's reefs heating up out west. Reefs near Knight, Bridges and Garden Island still holding fish.
> Most anglers pulling crawler harnesses. Jigging in deeper water on reefs and in mud with frozen shiners and live leeches still effective. Hot colors: hammered gold, pink and glow.
> On the Rainy River, anglers finding fish in 18-20′ jigging. Areas like Lighthouse Gap and east of Timbermill park best. Pink and gold the hot colors. Smallmouth bass very active. Sturgeon season reopens July 1.
> Up at the NW Angle strong fishing continues. On the MN side, good numbers of fish west of Little Oak Island and Crow Duck. Lots of charters with daily limits. Most drifting with crawler harnesses. On the Ontario side, jig and minnow is the go to. Big numbers of walleyes coming in, 24-26′ has been the hot depth.
> Smallmouth bass on fire in the shallows. Pike seem to be everywhere. Musky fishing strong with small- to medium-sized bucktails around rocks and weeds. One group boated and released over 60 muskies over the weekend.
9. MN: Copper sulfate killing fish on Detroit lakes?
10. MN: Osakis tourney winners.
11. MN: Perch declining in state.
Steady decline since 1970, sounds like.
12. SK: Forest-fire walleye fishing.
Don't see this every day: These shots were emailed in by Target Walleye reader Stacy H., whose buddies were on a fly-in walleye fishing trip on Clam Lake in northern Saskatchewan…when the forest fires closed in. Everyone was okay, and the walleye fishing was — hot….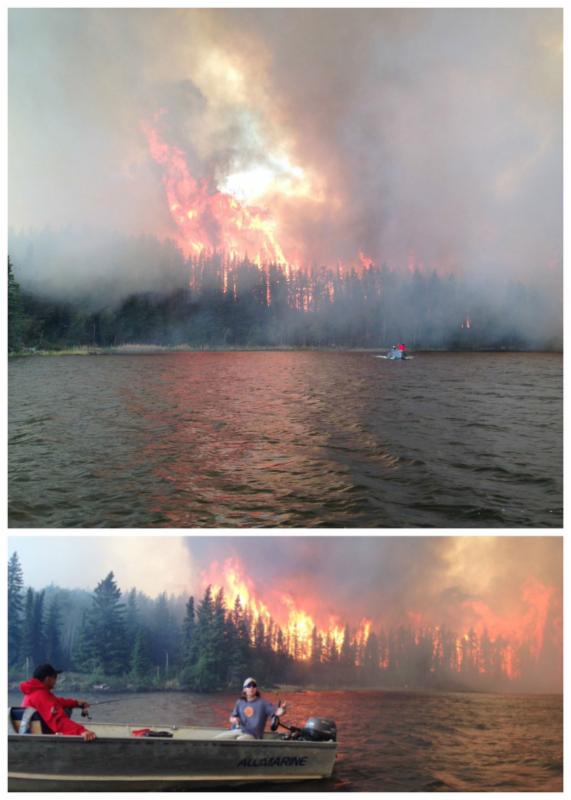 14. WI: Hayward Lake winning muskie.
Annual contest winner — whoa!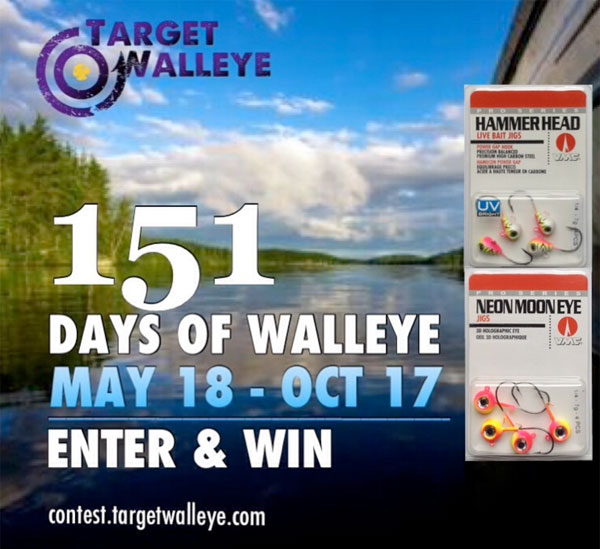 'Eye Candy
Not sure who took it but a great shot. No surprise seeing a clown-colored Husky Jerk hanging from its chops — it's a dynamite walleye producer: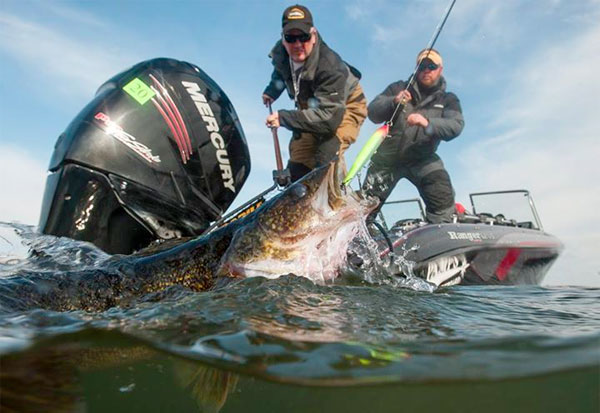 ---

---
I wish more moms could experience this feeling.
> "My son is the best fishing partner I could ask for, and the memories we've shared on the MWC are priceless."
---
---
Gotta check this stuff out!

---
About Target Walleye
Target Walleye
brings you the BEST walleye and ice fishing news, pics, tips and events year-round, and is brought to you by Al & Ron Lindner, Jim Kalkofen and other walleye nuts like you!
---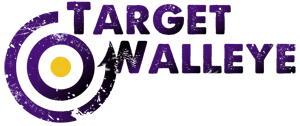 TargetWalleye.com | Rapala.com | IceForce.com