Today's Top 4
Giant Winnipeg ice 'eyes explained?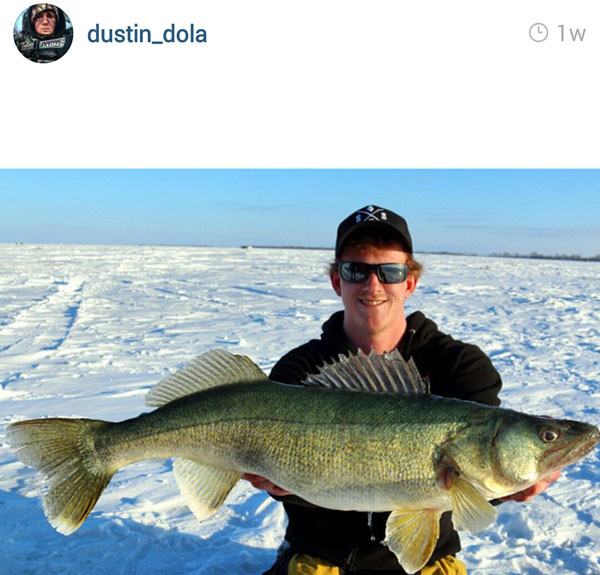 How to explain walleyes like that? Check out this recent headline:
UFO near Jackhead? It's actually a plane, says military
Suuuuuuuuuuuure it was: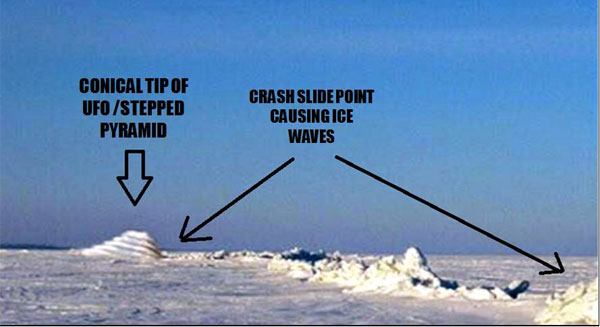 Caught by Eric Wilkerson. As he posted: "46" 25.5lbs the monsters do exist in Michigan!!"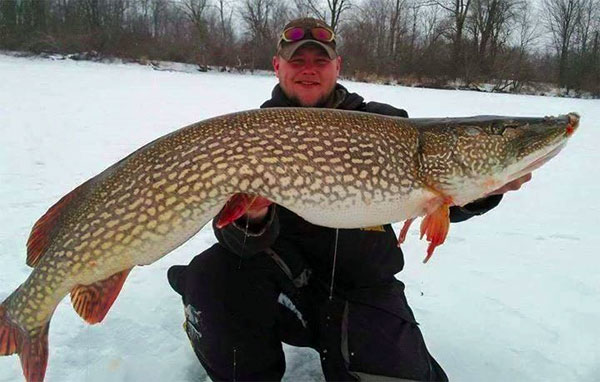 Here's another nice one from Canada:
Wow that's a lotta dough. He won with a 13.38-inch perch:
> Steve Blanchette won the grand prize, which was half of all the $100 registration entry fees in the Elliot Lake Ice Fishing Derby. Blanchette won the derby by catching a 34-centimetre perch on Horne Lake….
No pics of the fish, but the guy looks happy…and a little stunned: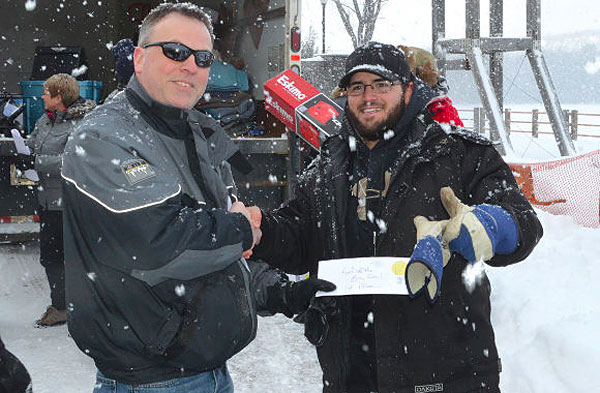 ---

News
1. SD: 29.5-incher caught on Big Lake.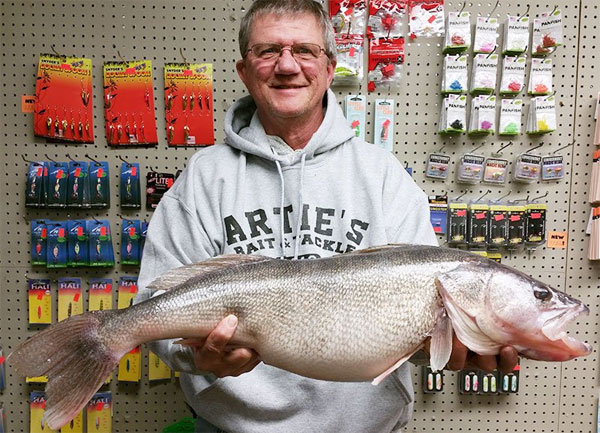 2. 2 new cheating incidents.
Fish caught outside tournament hours, 2 men charged with single counts of felony theft by deception.
Folks thought winner's fish looked "beat up," no polygraph given, but later found the guy did not have a fishing license!
3. Erie ice 'eyes on In-Depth Outdoors.
4. MN: Spearing on Mille Lacs…
…this season:
> 44% increase in MN spearing licenses sold.
> Tripled the northern harvest this winter (should help young walleyes)
5. MN: Record fishing pressure on Upper Red Lake.
This winter:
> 1.5 million angling hours (prior record was 1 mill last year)
> May have been higher than Lake of the Woods this year. WOW.
6. OH: 'Eye bite on near Catwaba Island.
> Fluorescent lures tipped with shiners.
7. WI: Ice-fishing musical on TV.
8. WI: Oehmcke Hatchery gets $4.2m grant.
9. MN: Disabled man pulls self onto ice…
…after truck goes through.
10. MI: New Asian carp legislation.
One problem: Carp can't read….
We second the peanut oil…long as you're not allergic….
> Northern part of Big Traverse from Knight and Bridges islands up to Garden Island in 26-32′ still giving up fish.
> Some big pike caught this week in front of Zippel Bay.
> Reefs off of Long Point producing mixed bag with some jumbo perch mixed in. Good reports with gold, glow red, and pink.
> On the Rainy River, locals still catching walleyes in 15-20′. Best time is evening.

Events

'Eye Candy
Spenser Samplawski says he likes the Sebile Vibrato better than live bait: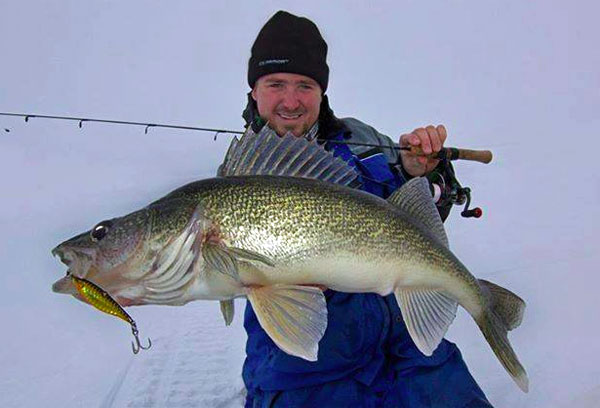 Tip of the Day
Not an ice-only tip either:
> "Any time I need to put a bait at an exact level and keep it in the fish's face, a dropshot is priceless. Not only can I cast a dropshot and simply twitch it in place, I can also drag the rig, swim it, troll it or even work it vertically beneath the boat or a hole in the ice."
> …while shapes like twister tail grubs excel on a jig, a dropshot activates straight tail worms, minnows and other subtle shapes. Moreover, many classic softbait shapes traditionally threaded onto 1/8 to 1/64-ounce jigheads spring to new life when pinned to a plain hook above a sinker.
> "I use a 4- to 8-pound test braided mainline, joining it to an 18- to 36-inch section of mono or fluorocarbon, using back-to-back Uni knots or an Improved Albright knot."
> The most critical aspect of the dropshot is tying the Palomar knot so the hook point faces up.
> …an exception to the standard dropshot rig becomes necessary with light-biting fish. "Big bluegills often mouth a softbait like humans taste red hot food. So it's sometimes best to rig with a short dropper, or pair of droppers jutting from the mainline, as opposed to pinning the bait to the line with a Palomar."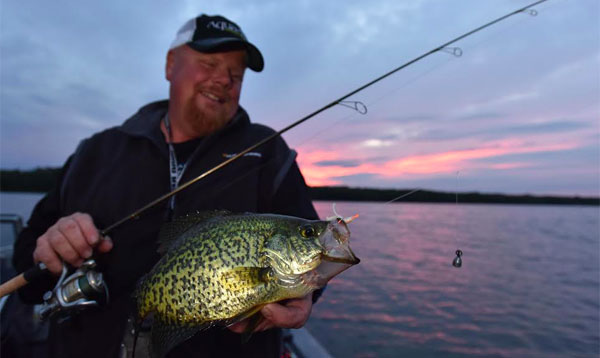 Shot of the Day
We love this "ice fishing thermometer" shot from Instagram — it's cold!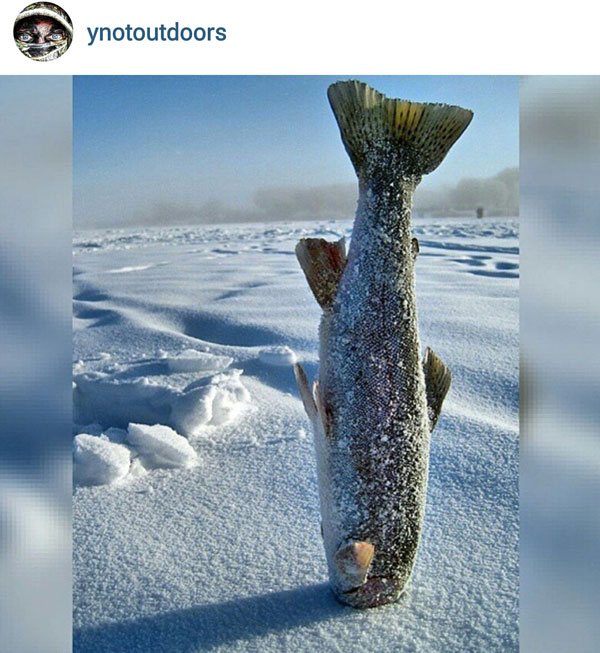 Gotta check this stuff out!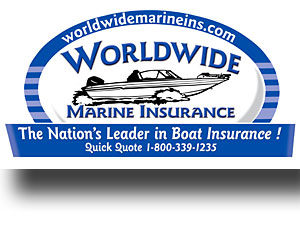 ---
About Us
Target Walleye
is brought to you by Al & Ron Lindner, Jim Kalkofen and other walleye nuts like you!
---
TargetWalleye.com | IceForce.com | Rapala.com