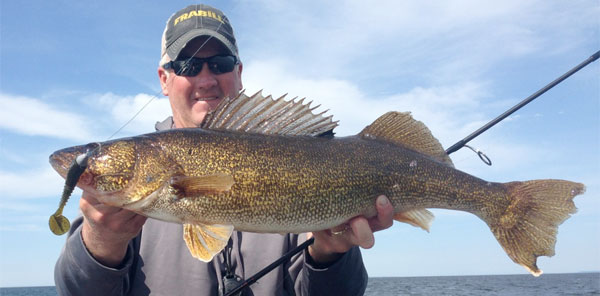 by Jim Edlund
Thanks to social media, there's a new psychological disorder on the scene. It's called FoMO, which stands for "Fear of Missing Out."
One surefire way to get it is watching Green Bay guide Bret Alexander's Facebook page. Seriously, the dude is a walleye whisperer. Not to mention monster muskie and smallmouth magnet.
Like any guide worth his salt, Alexander has a pretty thick playbook, but says he's boated more big walleyes the past few years casting plus-size plastics than any other presentation.
The deal? Rip-jigging at a slower speed with much bigger baits.
Figuring out preferred forage is key. In other words: Find the bait, find the fish. On Alexander's turf, that typically means gobies and alewives.
"Our walleyes have learned to eat gobies, and these big paddletails match them pretty good. It's a matter of letting the bait fall, lifting up, and a lot of times you'll have a fish on. And when the wind is up, walleyes push alewives shallow. Works in that situation, too."
But the technique isn't limited to the Great Lakes. Anywhere you have larger forage (from perch to ciscoes) big plastics will catch walleyes. Maybe not the numbers that you'll catch dragging 'crawlers on bottom-bouncers, but the fish you do catch will probably be bigger.
In fact, Alexander says he's had hundreds of clients report that the technique works on their home lakes, from river systems to inland lakes.
"It will work on any body of water. I've used it on Lower Bay on the rock reefs, all over the East Shore, Two Mile Reef, I've used in all the rivers and tributaries, the Fox and Menominee River, Sturgeon Bay shipping channel during spring – pretty much everywhere on Green Bay. Even some of the inland lakes."
Low-Gear Rip Jigging
"Basically, what I'm doing is using bigger swimbaits like 4.5" Berkley Rib Shads on heavy saltwater bullet-style jigheads. If there's no wind, I'll go with a 1/3 oz. If there's wind I size up to ¾ to 1 oz. heads for long casts. You let it hit bottom and some days it's a faster hop – basically rip jigging – and other days it's a slow lift 8 to 10 inches and when I get to the top of the stroke I stop my arm and let the bait flutter down. Walleyes then pin the bait down and suck it in," says Alexander.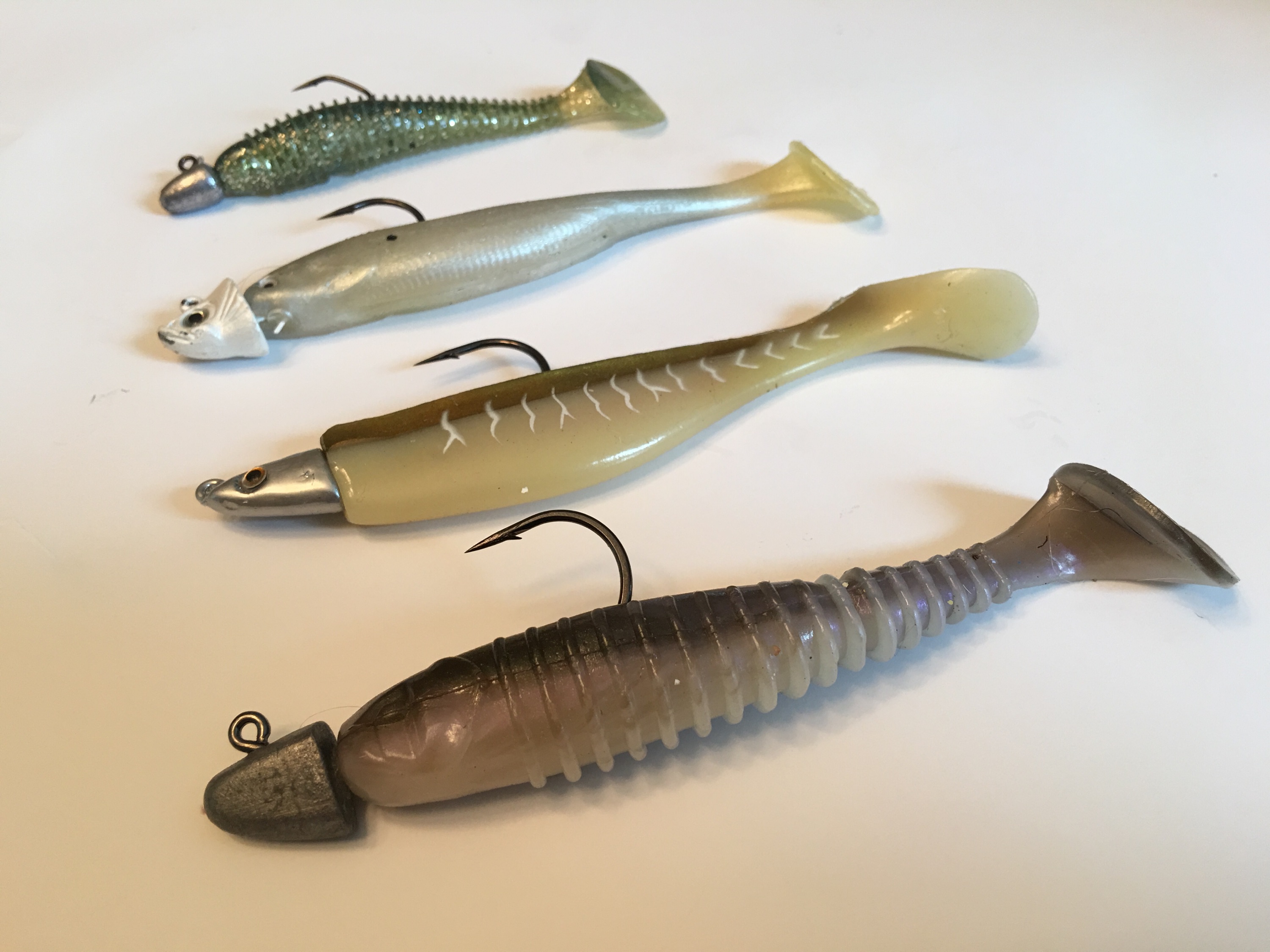 But the technique takes some practice. "People come in, work it for an hour and go back to their comfort baits. You have to experiment with speeds – some days fish want a slow drag. It can take some time to figure out how the fish want the presentation."
Alexander first found success using the technique on the rockpiles and sunken islands of Green and Sturgeon Bay.
"I work structure fast, casting the windward side first. Make a pass shallow, then deeper. Some days I'll work the opposite side of the structure. Sometimes, if the wind is blowing really hard, it'll blow the forage over the side. Especially if you get a dirty-water cloud that builds up on the back side, that's where you'll find the bait."
The past couple years Alexander has also taken the technique into shallow areas with weeds.
"We've learned to catch walleyes really shallow with the same approach. Like on the milfoil weed edges on the rock bars of Green Island – or sand edges with weed patches along a break. There have been times when you can see walleyes chasing the baits in 6-8'. You can actually see walleyes hit your baits!
"Last June I had days when six, eight or 10 walleyes were chasing the bait. I've never seen groups of walleyes competing for the same bait. I was catching 15-20 fish a day doing this, and all big mommas."
Boat Control
He says windy situations are best, but the technique can catch fish on calm waters, too. It all comes down to boat control to prevent spooking walleyes.
"I'm typically making long casts to stay out from where the fish are. If you have a lot of wind and murky water, it's not as critical. I orient the boat so my customers can cast with the wind. Either that, or cast directly into the wind. Cross wind makes it too tough to feel bites on the rip.
"If I get on a good pod of fish I'll hit Spot-Lock on my Minn Kota Terrova. If it isn't too windy I'll program Link to run the contour really slow.
"A lot of times you can come in with Humminbird Side Imaging and see exactly where the fish are. I'll find the fish first, mark waypoints and then I can come in with my bowmount Minn Kota. That's a game-changer for me.
"I typically set my Side Imaging to look 100 -120' off each side of the boat. That's a carryover from looking where my planer boards are when I'm trolling."
Recommended Gear
ROD: Abu Garcia Villain 2.0 spinning – 7' medium-power with fast tip
REEL: Revo MGX spinning reel
LINE: 12-lb braid and 18" 14-l. fluoro leader
JIGHEADS: Saltwater bullet-style jigheads
SOFT PLASTICS: 4.5" Berkley PowerBait Rib Shad/Flatback Shad
COLOR: "When the alewives are in, I'll use white. When it's a goby deal, the dark works best."