The first Target Walleye/Ice special issue! Hope you enjoy!
Another ICAST — the fishing biz trade show — has come and gone. It flies by like summer break used to. Start off thinking you have all sorts of time, and the next thing you know the bell rings and school's back in session.
While we were there, we got a sneak peek at a bunch of new gear for 2017. It's a bass-heavy event but there's plenty of new walleye/ice doodads released each year. Here's some of the cool new stuff that caught our eye — from Target Walleye/Ice sponsors and others. It should help you catch the fishes. We tried not to drool on 'em too much, but no promises…lol.

Rapala
> "This multi-species balsa bait brings the excitement of the Rapala Tail Dancer to a shad profile. Swimming with a silent, aggressive, hard-thumping sweeping tail action. Designed to dive deep whether cast or trolled."
We can't wait to rip it in and out of cabbage weeds.
> "Baitfish skitter and scatter when they're pursued by predators, and this erratic and evasive action triggers the strike. Made with a custom Scatter Lip, the Scatter Rap Deep Husky Jerk swims with that erratic and evasive sweeping action, mimicking vulnerable baitfish." #trollking
> "With quick rod snaps the Slab Rap searches in wide, erratic directions, circling back to after pause. Lift-drop motion creates subtle vibration on rise, followed by evasive side-to-side motion on the fall. Weight forward design creates a rocking action for triggering negative fish."
The ice can't come fast enough for this lure. No crappie will be safe….
> "At 80% heavier than a similar length Jigging Rap, the Flat Jig performs well in heavy current and deep water. The wide, flat minnow body profile has a responsive, long-gliding searching action."
It's already catching fish — in current!

We love the 10 new DT colors — there's 5 custom HD and 5 tasty looking craw patterns. That's mossy (left) and custom HD live bluegill (right). Bet the fish will love 'em too!

Also new Shad Rap, Husky Jerk, and Snap Rap colors (to name a few). Check out all of Rapala's new stuff here.

I-Float Suit — Voted ICAST 2016 Best Tactical Apparel:
> This is the only flotation-assisting ice fishing suit on the market to be recognized by the U.S. Coast Guard as a USCG Certified Personal Flotation Device. The ergonomic design and durable construction has security features like mesh self-drainage openings for emergency water evacuation, and high-visibility USCG orange lining. #earlyice

> Three-part Weigh Bag System consists of an insulated and reinforced freestanding weigh bag, a removable inner mesh bag, and a compact por aerator.
Not brand new this year but still flying under the radar of a lot of walleye guys. Crazy realistic looking and surprisingly durable — they aren't going to slip down the shank like other plastics.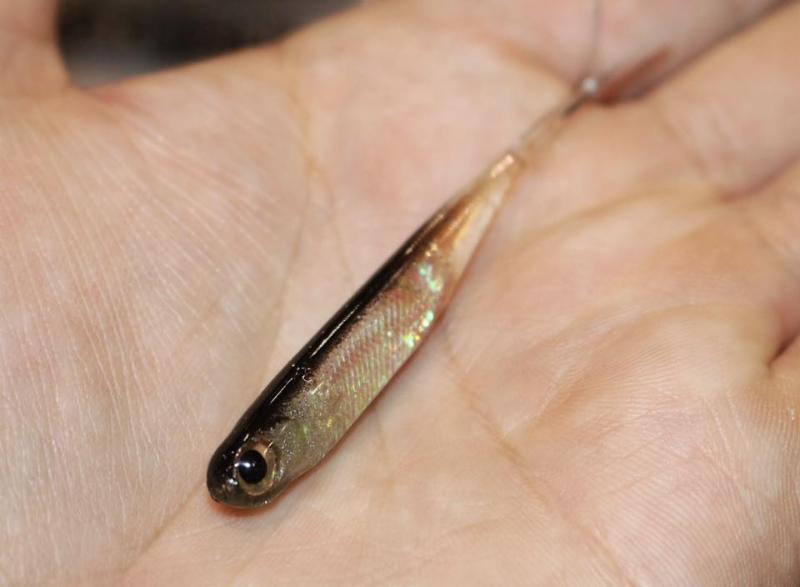 Also got a paddle-tail version called the the Swim Bento.
3. Humminbird Helix 10 SI GPS.
In case you haven't seen the new HELIX 10 yet, know that it was voted ICAST 2016 Electronics Best of Show by dealers and outdoor media. That's Humminbird's 6th consecutive ICAST win and well-deserved. A great unit.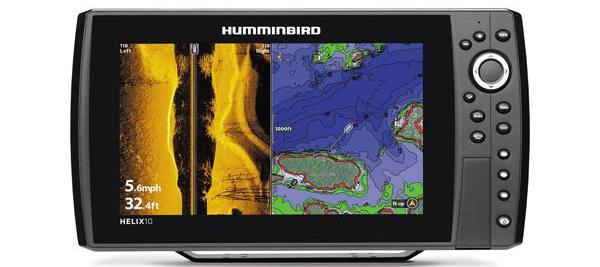 4. Northland Tackle Rippin' Shad.
> It's back with a full line of new colors: six glow-in-the-dark color patterns and a pair of flashy, metallic finishes.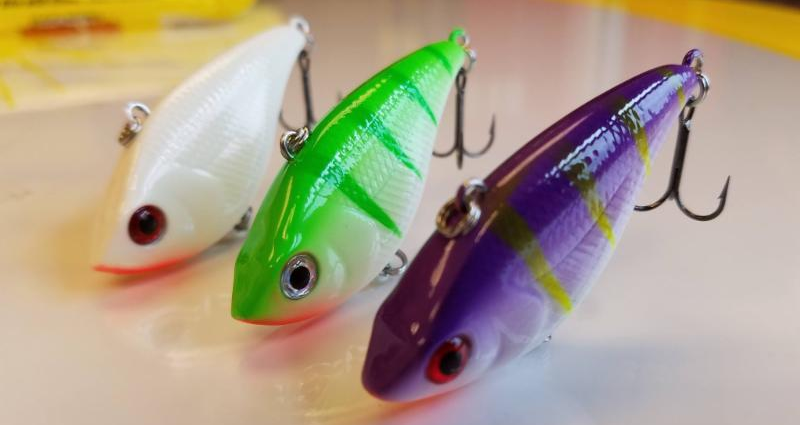 Northland wasn't at ICAST but released a ton of cool new stuff that week including the Forage Minnow Dart, Bro's Bling Jig and the Impulse Water Flea. You can snoop through the rest of Northland's products for 2017 here.
Impulse A-33 In-Sight Automatic Infla Life Jacket
Automatic-inflating with a burst-away zipper (instead of Velcro) to reveal a super-high-vis inflation chamber. Big-boy approved — extended sizing up to a 65″ chest and a wider neckline. A life jacket you'll actually want to wear.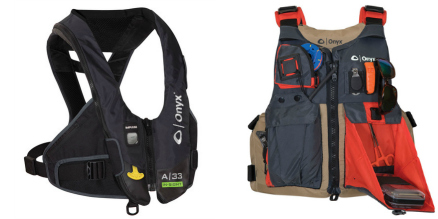 > Has pockets specifically designed for essential gear for when you've got a little bit of room and a lot of stuff. The one-button fold-down tray pocket creates a good work station while also securing a small tackle box with the 2″ elastic strap.
River yakkers and ice-fishing scouters (backwoods lakes) take note.

1. Trapper Tackle Live Bait Hook — Voted ICAST 2016 Best Terminal Tackle.
Looks weird, but supposed to make it more difficult for a fish to throw it and is also supposed to help keep your bait on the hook. It'll pay for itself if it keeps just 1 redtail or creek chub from falling off….

2. Cobra Garage Door Storage Rack — Won ICAST 2016 Best Tackle Management.
> "The Cobra Garage Door Storage Rack utilizes your garage door to store your rods and equipment, keeping them from being stacked in a corner and occupying precious space and risking damage."
Ingenious but can you still get a walleye boat in the garage?
3. Boat2Trailer Drotto Boat Latch.
The boat latch automatically grabs the bow eye and secures your boat to the trailer. No more wet feet or hanging over the front of the boat flailing for the winch.
Word is it dives 15-24′, and comes in 16 colors and 2 different sizes. They also beefed up the trebles and added a dorsal fin on the back for a tighter wobble.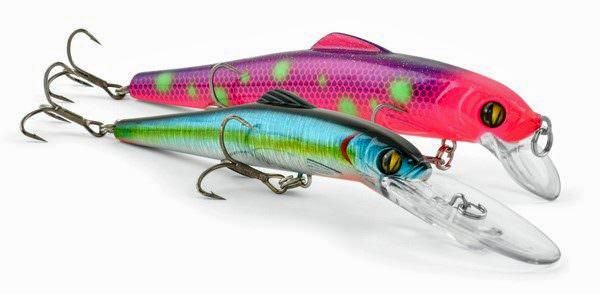 5. South Bend Fiber Optic Balsa Float.
Has a lithium ion battery and fiber optic stem for the night bite. The new slide lock system means you can use it as a fixed or slip float. We love the smaller size!
6. Minn Kota Ultrex — Overall ICAST 2016 Best of Show.
> "We've combined the reliability and responsive 'wired-to-the-water' feel of our tournament-proven Fortrex with the GPS technologies of i-Pilot, i-Pilot Link, and Spot-Lock electronic anchoring. It's the best of both worlds."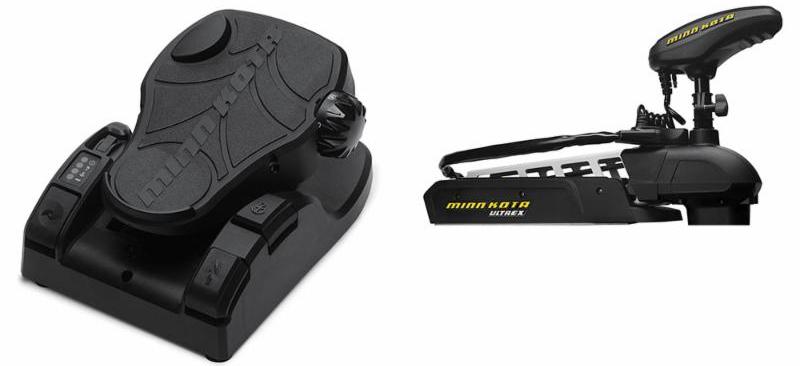 New walleye colors in the Crystal Minnow Deep Diver Walleye Series: 12 colors and 2 sizes (3.5 and 4 3/8 inches).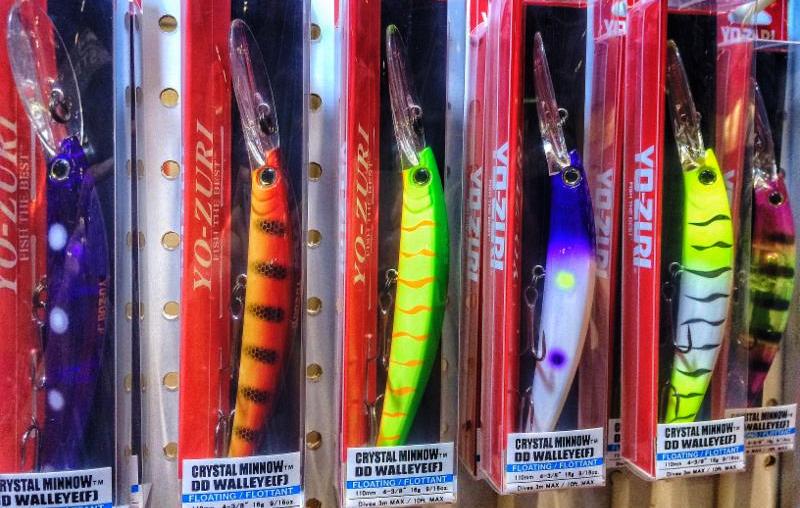 > The Durasafe universal electronics lock replaces the factory knob from either side of an electronics unit to offer peace of mind that your electronics will still be there. No need to reconsider docking your boat to grab a bite to eat or rushing around inside a gas station.Awesome idea….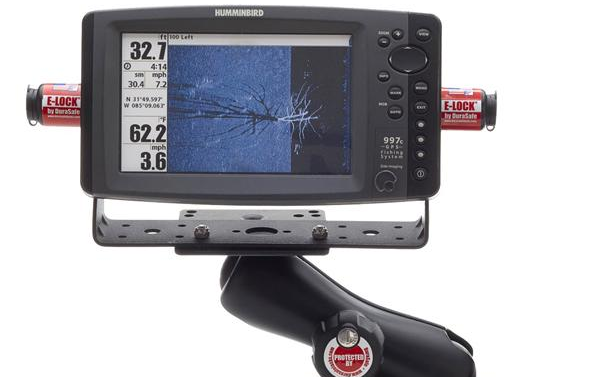 Think you northern boys could catch a zander-lookin' walleye huckin' that eelpout on shallow gravel?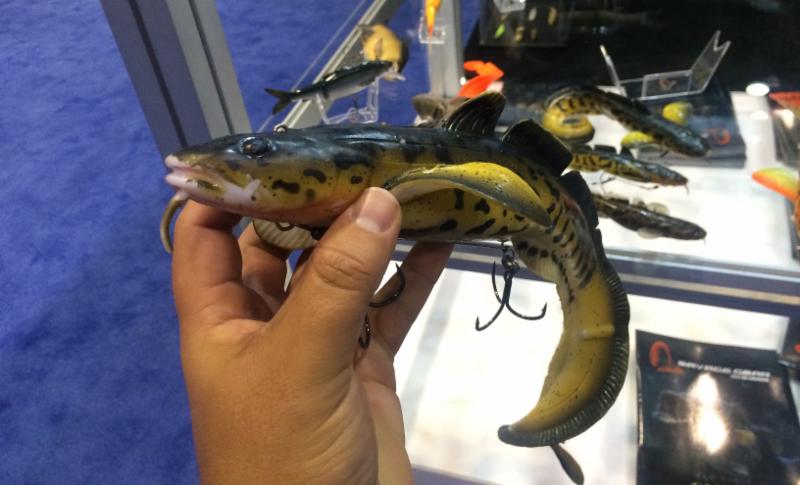 Savage Gear 3D Burbot
> …originates from a 3-dimensional scan of a real Burbot and is rigged with premium twin treble hooks on the belly of the bait. Models include a 10″ (3-oz), 14″ (8-oz) and 19″ (14-oz) bait."
At 19″ it'd be fun just to catch one. We know of at least one guy that would appreciate that bait: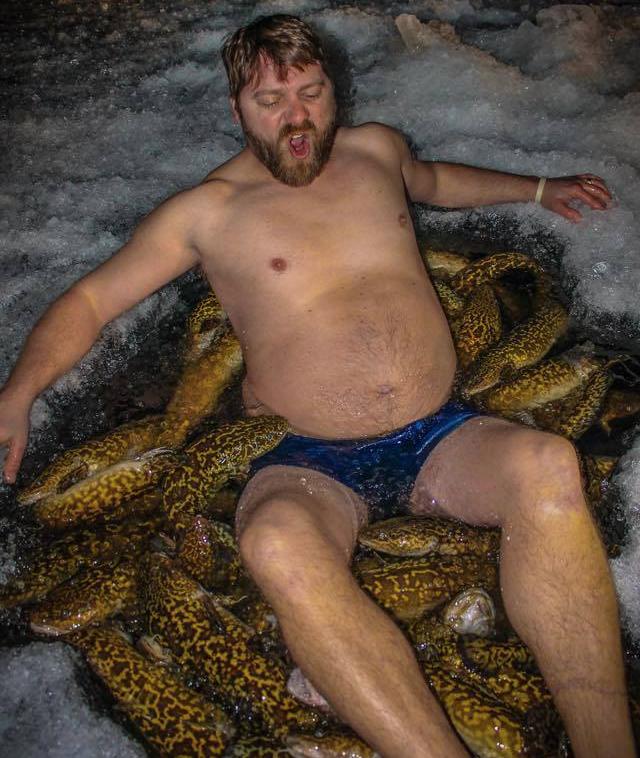 What do ya say Jason (Rylander)??

More proof bass will eat anything lol.
Imagine opening up this tacklebox in front of your grandpa: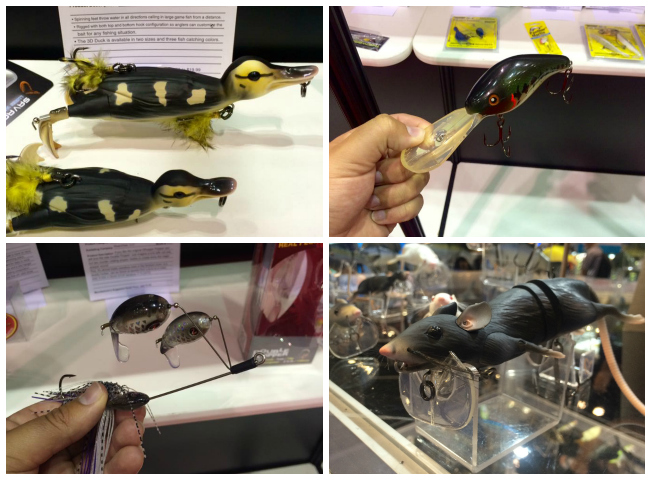 Clockwise we've got: Savage Gear Suicide Duck, Mann's Bait Co. Big 4-0 (a mammoth deep-diving crank that will hit 40′), Savage Gear 3D Rat and the River2Sea Double Plopper (a buzzbait that can be brought to a dead stop).
Some pretty interesting stuff…but think we'll just stick to the corn and licorice if we want to catch those green carp lol.
About Target Walleye
Target Walleye/Ice
brings you the BEST walleye and ice fishing news, pics, tips and events year-round, and is brought to you by Al & Ron Lindner, Jim Kalkofen and other walleye nuts like you!

TargetWalleye.com | Rapala.com | IceForce.com