Hey everyone, we'll only be sending you one Target Walleye next week because of the July 4th weekend. Hope you catch a bunch and be safe out there!
If you're receiving this Target Walleye/Ice email — covering the best of walleye fishing during open water and the best of ice fishing during hard water — for the first time, a friend probably signed you up! Target Walleye/Ice is brought to you by Al and Ron Lindner, Jim Kalkofen and other walleye and ice fishing nuts like you.

Today's Top 5


Rock Melons of the week!
A couple of shoulder-bearing hawg heads (the fish not the guys) caught pre-fishing for the Kenora Walleye Open on Lake of the Woods: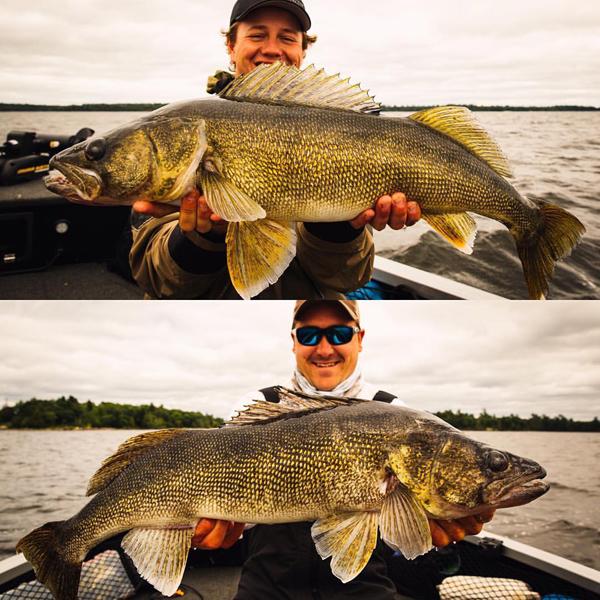 Kris Guane popped this 29-incher riggin' Northland bottom-bouncers on the Winnipeg River: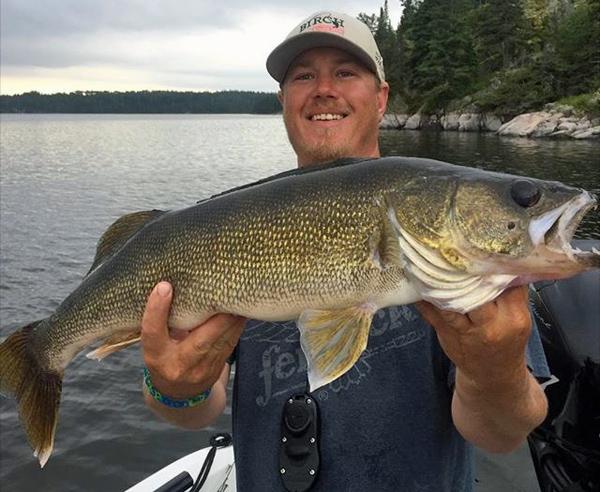 Cole Trudeau cracked his new PB gravel lizard on Lake of the Goooods. Have fun topping that one bud! Great fish: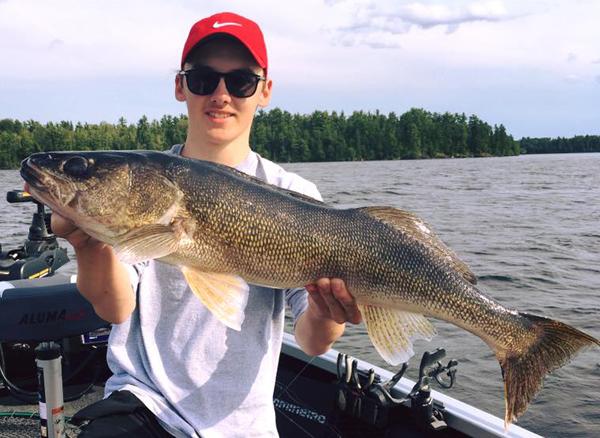 Laurel Lake, KY (yes, KENTUCKY) quadfecta. Greg Hibbard caught 'em trolling Rapala Husky Jerks in 15-20′ under a full moon: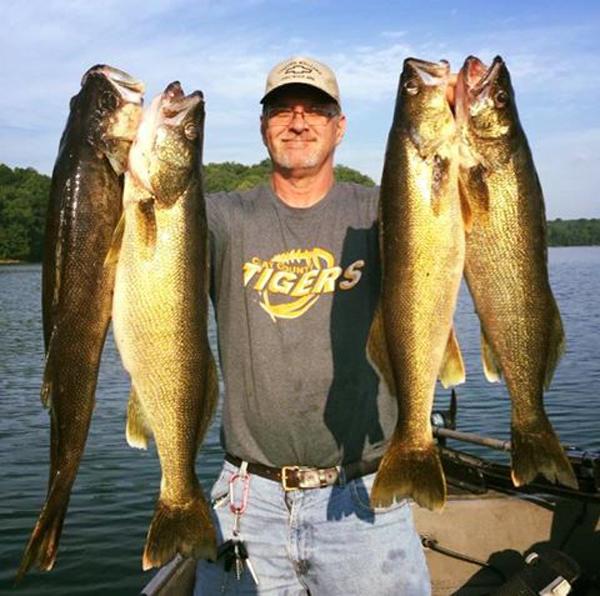 Fancy little trick from Robert Blosser to quickly switch out bottom-bouncers without retying: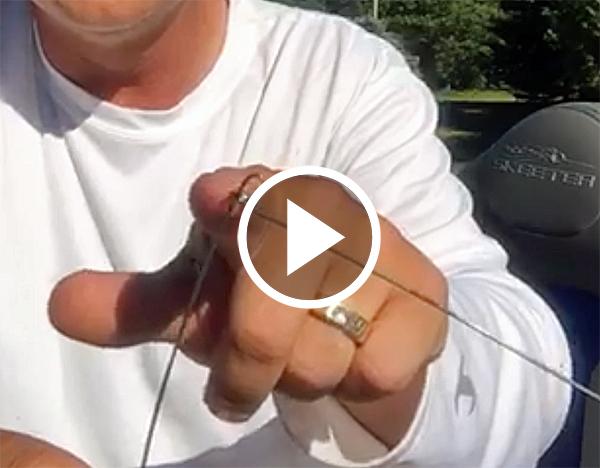 Why you gotta run down-imaging.
From graphmaster Doc Sonar:
> "Down imaging has a narrow wide cone and the 2D sonar has a round cone, so they view targets differently — comparing the two makes interpreting sonar much easier.
> "This image is showing trees and the 2D sonar on the left is difficult to interpret but the down imaging shows the trees well:
> "On this image the bait ball and the larger fish near it are missed with 2D sonar: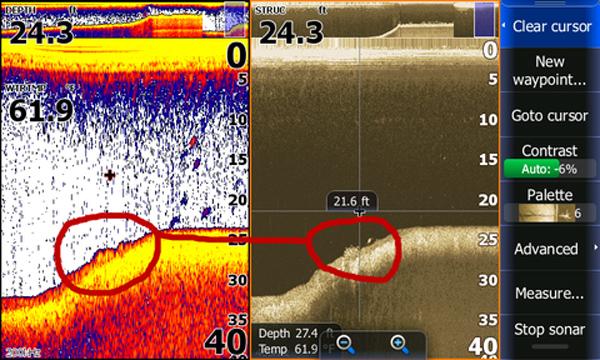 > "This image looks like stacked fish because of the arches but it is a common when you have posts or trees:"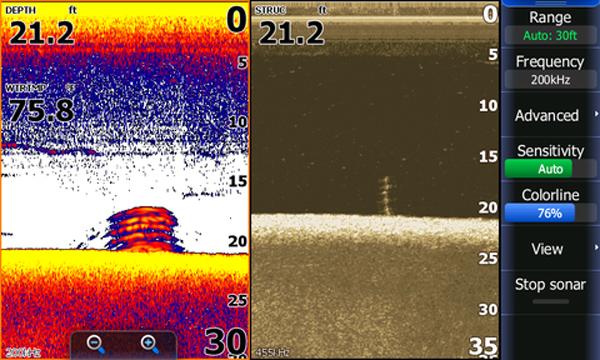 Very cool Bruce! Lots more great info on using your 'lectronics on Doc's site.

You ever seen a wally caught on a cane-pole? Ben D. done-did-it on a recent trip to BWCA #OldSchool: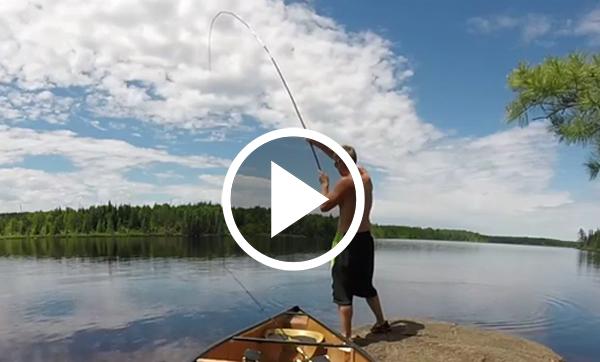 His rod break at the end? Getcha one of those beefy ones the guys up north are using for next time: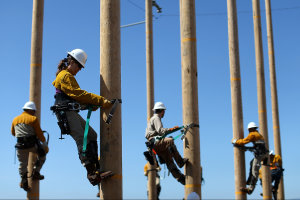 Making yardwork somewhat more tolerable.
When you'd rather be fishing: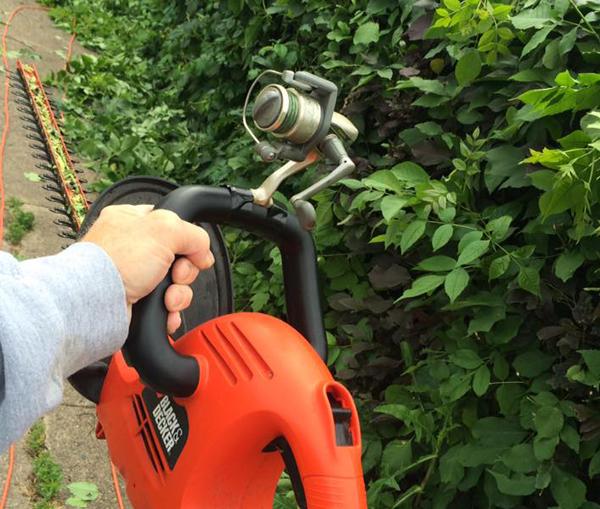 Better have it spooled with braid.

News
1. MT: Fischer/Hinderager win Canyon Ferry.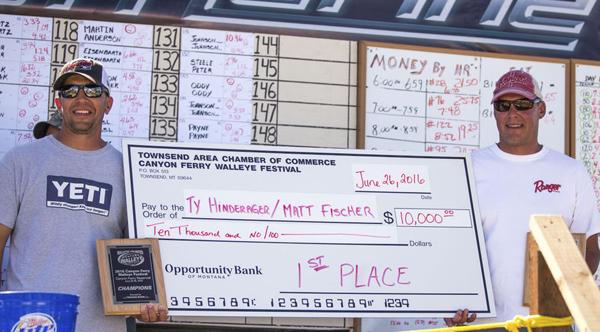 Matt Fischer and Ty Hinderager took home $10K for their 2-day total of 46.14 lbs.
Big fish of the tourney was a 15.44-lb (33.5″) giant! If you've got a pic of it, let us know….
2. ND: Kolden bros win AIM Sakakawea.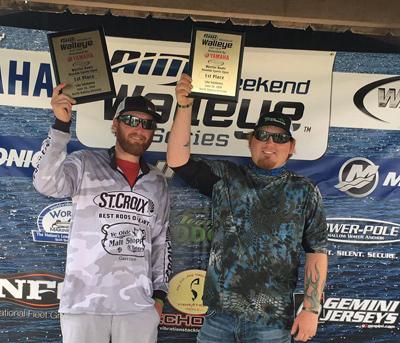 Craig and Christopher Kolden trolled Berkley Flicker Shads in 11-12′. Said they usually target 3-4′ but cold mountain runoff pouring into Lake Sak dropped water temps. Solid adjustment guys!
3. ON: Fish tampering leads to charges.
> "Conservation officers are alleging an angler at a Sioux Lookout walleye tournament cut the tails of the fish in order for it to meet the provincial size standards."
4. ON: C.O.'s hand out 107 tickets.
> "The offences included…catching and keeping too many walleye, possessing live invasive gobies, catching and keeping more than 120 baitfish and having open liquor in a place other than a residence [to name a few]."
5. Northland Tackle: 40% closeout bin.
6. Devils Lake giveaway winner.
Jeremy Lund from ND. Congrats dude!
Comes from Tide and Pampers, sounds like he doesn't fish…might be a tough road?
Fishing Reports
1. MN: Leech Lake.Toby Kvalevog:
> With the large amount bait in the system, the best piece of advice I can give you is to fish fast and force the reaction bite if you're struggling to find active fish.
> Fish 14-20′ on the main lake pulling bottom-bouncers and spinners. Trolling crankbaits such as a #7 Rapala Shad Rap also has produced fish at times.
> The west end of the lake has seem some good fishing in 6-10′ off windblown points. Also the flats around Goose Island in 9-14′. Lindy rigs with crawlers/leeches and a 4-6′ snell has been best going 0.4-0.8 mph.
> In Walker Bay, shoreline breaks in either 9-15′ or 20-25′ has been best. Some of the humps or points have also produced some fish.
> The trolling bite has been pretty consistent this last week, some guys are finding fish shallow still but a lot have been pushing out to 15-25′. Look to troll at 1.0-1.2 mph with a spinner.
> Focus on sunken roads, weedlines or structures like sunken rockpiles. Once you catch a fish or two, make sure to mark that spot or turn around and go back over it. As a general rule of thumb where there's 1 walleye there's usually more. Trolling crankbaits at 2.0-2.5 mph has been working well too.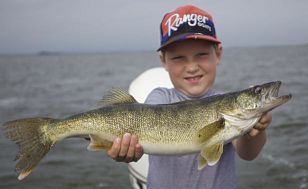 > Pulling spinners (gold or silver) tipped with a crawler or leech in 8-17′ has been best. Anchoring and jigging with a minnow on reefs in 14-30′ is also producing walleyes. We've also had reports of schools of fish in the middle of the lake in 28-32′.
Great places to catch 'em
Sign up another walleye-head!
If you're forwarding Target Walleye/Ice to a friend who loves to walleye-fish or want your fishing buddies to get these emails, just
send us
their email addresses and we'll take care of it! (We won't sell the addresses, use them for spam, etc.)

Catching walleyes in flat-calm conditionas isn't easy, but it can be done. Here James Holst and Quintin Biermann use Off-Shore-Tackle planer boards to troll Jointed Rapalas through flooded timber/barns/shed (you name it) to get to the fish: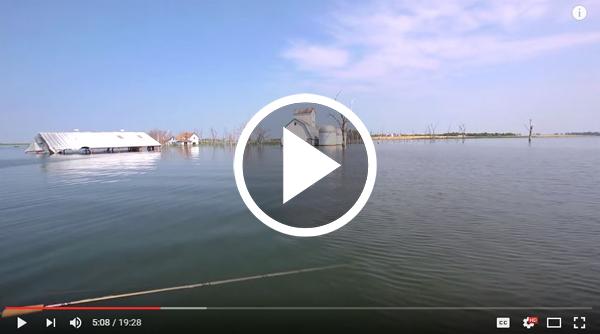 Quote of the Day
Sometimes little people pack a mean punch.
Check this stuff out!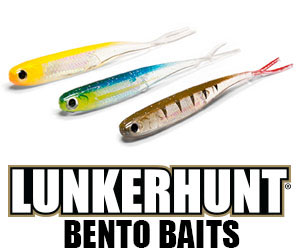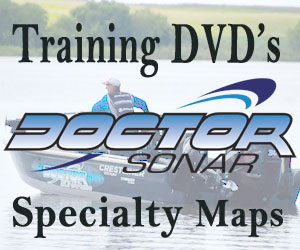 About Target Walleye
Target Walleye/Ice
brings you the BEST walleye and ice fishing news, pics, tips and events year-round, and is brought to you by Al & Ron Lindner, Jim Kalkofen and other walleye nuts like you!

TargetWalleye.com | Rapala.com | IceForce.com