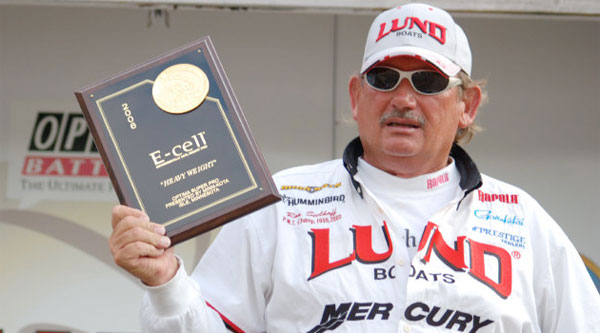 by Jim Kalkofen and pro walleye anglers
Three years ago, I wrote a piece about Ron Seelhoff. At the time, he was undergoing serious surgery for thyroid cancer. Surgeons removed his voice box, vocal cords and lymph nodes. But he recovered, and in the past 3 years, Ron hunted coyotes with friends, visited northern Minnesota, continued to fly, fished some tournaments, and lived the final years of his life. He passed away last week, and will always be remembers as one of the toughest pro walleye anglers.
He was best known for a smile that was always lurking just beneath an outwardly gruff countenance. Ron was always respected as one the best, if not the best, trollers in the pro walleye ranks. On the walleye tour, he often had three or four tails and heads poking out the windows as he whistled down the highway or launch ramps.
He was a record-setter. He did it his way, usually trolling crankbaits anywhere and everywhere. He didn't just troll, he invented the art. If something wasn't working, he innovated.
There was a walleye waiting for his cranks wherever he fished, but he also won tournaments jigging and rigging.
Add two more exciting passions to his resume: Ron was a champion coyote caller/hunter/tournament-winner, and a long-time crop-duster in the prairies where the corners of Colorado and Nebraska meet.
A born winner
Key accomplishments on the Professional Walleye Trail include pocketing $670,000, qualifying for 16 championships and winning two of them, and three 2nd-place finishes at elite events.
He won on Mille Lacs in 2006 by trolling cranks. He won on Fort Peck in 2000 by rigging. The next event that year was the championship, and he won that trolling cranks on riprap. In 1999, he won the championship and became the only back-to-back PWT Championship winner. In 1993 and 1995 he won Lake Oahe tournaments and claimed the prestigious 1995 Angler of the Year title.
He has been in winner's circles on many other tours and events. The wins came naturally. Ron was the last angler to launch on any given tournament morning, and to the casual observer it appeared he was never in a hurry, that he might not be taking life and walleyes too seriously. But he was calculating. He was assessing every situation. Every change in wind direction. Every twist in the current. Every tiny detail.
At the Madison PWT Championship, one of many Seelhoff tales was born. He spied a crankbait floating in the lake, picked it up, checked the color and size, and wondered why a lure like that would be in the middle of the lake. He tied one on and went trolling. In a lake where walleyes were at a premium, this was the key for limits of big fish and another major victory.
Personal insights
I've fished with Ron many times. Filmed him at numerous tournaments. Photographed him. Interviewed him on stage and in the boat. Talked late into many nights. Listened to his ideas and theories. Tried to gauge what made him tick.
Some of those articles described his actions with those long K-Mart rods. He was always fiddling, moving, dropping lures back and swinging them forward, changing course and speed, swinging shallow and then deep, bumping lures into rocks, and never comfortable unless the rods were straining under the weight of a big fish.
It was uncanny how he could feel when the lures were in the sweet spot. Or, more exactly, how he could march those cranks again and again across the precise, tiny insignificant little "something" that was holding walleyes when long stretches either side of those hungry fish were devoid of life. For that matter, he was able to catch fish in areas that most other pros thought were like fishing on the moon.
Some of his fellow competitors had this to say about Ron:
Scott Glorvigen: "Ron is the classic fly-by-the-seat-of-your-pants guy. He fished that way with great success. Being an old crop-duster, he knew exactly what his plane could do and it was the same when he got in his Lund and started trolling. At that point, we all knew we were fishing for second place."
Daryl Christensen: "I don't think I've ever met a competitive angler that was so confident about his craft. He reminds me a lot of Bob Propst Sr., in that he was so good at finding fish then quickly stitching together a pattern to catch them. He never over-analyzed the bite and always seemed mystified that other anglers (like me) struggled with trolling but could be good at other presentations."
Scott Fairbairn: "Obviously Ron is one of the best trollers of all time and much of the use of leadcore line for contour trolling by the general walleye public is a direct reflection of his ability to consistently win using his well-honed skill.
"What was always of interest to me about Ron's skill is that I think his crop-dusting background was actually a prologue to his leadcore trolling skill. Put another way, I have watched those crazy crop-dusters sweep into a field and start their spray only to get to a point where they need to accelerate and lift out of the field at the very last second, all the while being very efficient about how much time their trail [spray] spends in the zone [field].
"I think leadcore trolling is very similar in that the leadcore line allows you to use the speed of the boat to lift or drop a lure into little nooks and crannies of a breakline or piece of structure. I'm not sure if Ron would agree, but I think the two skills are highly correlated. In fact, maybe we should ban crop-dusters from tournament competition. That and former dentists, doctors and window salesmen."
Gary Parsons: "Ron Seelhoff was a natural-born predator. During my years of rubbing elbows with some of the best outdoorsmen on the planet in the worlds of both fishing and hunting, very, very few compare to Ron. He has a natural feel for walleyes – always has – and his stellar tournament record proves it. He was also one of the most knowledgeable hunters I knew, especially when it came to predators."
Steve Fellegy: "Before Ron's trolling win on the PWT, it was all live bait. Many of us thought all he did was go trolling and that was it. He was perhaps as savvy – maybe more so – than most of us gave him credit for being. Once we learned the finer points of trolling, we realized it took skill and mental ability to visualize where his lures were at all times.
"I've got to tell about my first-ever meeting with Ron. I was talking to a friend about catching fish on Rainy Lake with a Lindy rig. Ron parked his boat at the Thunderbird Lodge dock, listened for a minute or two, and then walked up and asked, 'What's a Lindy rig?' He didn't introduce himself, just walked up and blurted out a question. He wanted to know.
"The Lindy rig was the most common term in the walleye kingdom, and he didn't know it. This is one of many classic Seelhoff stories that portray a man who was unafraid to learn, ask questions or share his knowledge."
A prayer
At the Cabela's NWT tournament on Leech Lake, a special prayer was said on the final morning. Many of the "old" pros on hand who spent years running with Ron from Lake Erie to Fort Peck and dozens of lakes in between had their heads bowed especially low, and it took them (and me) a little longer to look up at the morning sky.