Today's Top 4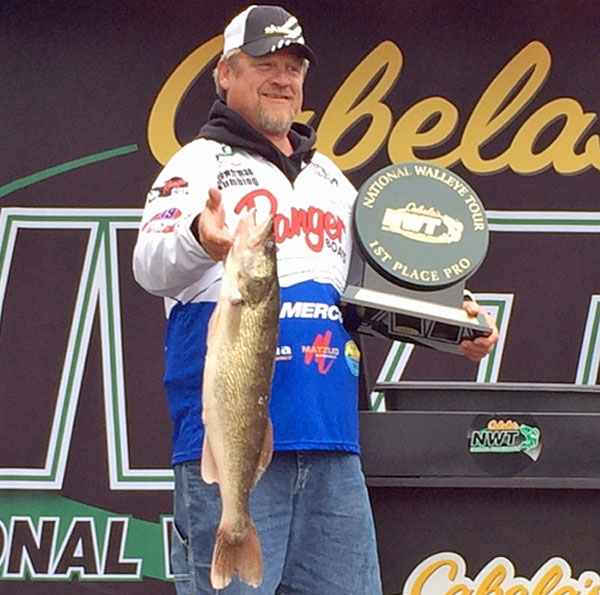 On the Mississippi River. How 'bout this:
Bill Sutton won by less than 0.25 lbs.
He won after NOT CATCHING A LEGAL WALLEYE IN 5 PRACTICE DAYS.
He only weighed 3 fish the final day! (No culling.)
More:
> Sutton's 46.58 total bested a field of 126 pros….
> On Tuesday, his luck changed when he identified a promising backwater area in Pool 4. He sampled it again Wednesday and determined it was his best bet.
> Sutton was second-guessing himself on the way back [on the final day] with only three walleyes in the livewell. "I actually caught four fish. And I was on the verge of a meltdown in the weigh-in line. At 8 this morning I let a 16-incher swim. I chose to send her back…. My mentality was that I was going for the win — I didn't want to bring little fish to the scale."
> In this tournament, culling was not permitted. Pros and co-anglers, fishing together, were allowed to keep seven fish each day and then weigh their best five.
> Sutton's backwater area, located off the main channel in Red Wing, was littered with trees, rocks and clam beds…. He fished in water 9 to 13 feet deep, with 13 being the magic number.
> "We were three-way rigging. I used a 1 1/2-ounce pencil weight with a 1-foot dropper. Then I used a 3-foot lead to a Matzuo single hook on two of them. The other two rigs were Matzuo Death Roll hooks. Two of the lines had crawlers, the others had a leech and rainbow chub. Those Death Roll hooks gave the crawlers better action than the Slow Death."
This is interesting:
> "Typically we live-bait rig with the rods in our hands. But by leaving them in the holder, it allowed the fish to really get a hold of it. By leaving them in, my hooking percentage went way up."
Sutton won a Ranger 620FS rigged with a 175-hp Evinrude plus contingency bonuses and Anglers Advantage cash for a total…of $71,478.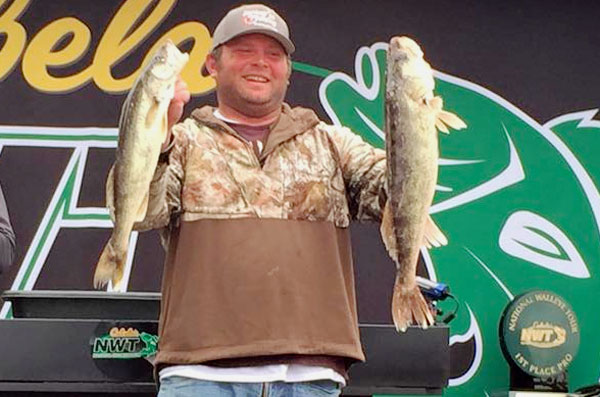 2nd: Jeremy Wildeman — a local — finished 2nd in a heart-breaker. He had an 8-oz dead fish penalty the final day, and lost by 0.19 lb. Not only that:
> "We lost a big fish 2 or 3 feet below the surface that was easily over 5 pounds. We also threw back a 21.5-inch fish thinking we would need more weight to win. Instead, we had to weigh a 20.5. That could have been the difference…it just wasn't meant to be."
> He used live-bait rigs on shallow-water clam beds to catch his fish – his bait of choice being willow cats and creek chubs. "I was in Pool 4 at the head of the lake. The fish were shallow, in like 3 to 6 feet of water."
Not bad for a first NWT event!
3rd: Jeremy Evans from Hastings, MN:
> "We sat on one wing dam up in Pool 3 for the entire tournament. It's a 45-minute run to get up there, but that's home to me."
> Evans said the fish more or less stayed in the vicinity of the wing dam all day. But they have different areas where they fed and where they rested.
> Evans fishes many bass tournaments…. To that end, he was not able to patiently sit and soak live bait like the 1st- and 2nd-place pros.
> Every walleye he caught came on a
No. 7 Rapala Shad Rap
. "Color didn't matter…when they were eating, they were eating. The top of the wing dam is about a foot and a half deep. You would cast your Shad Rap over it and as soon as it quit bumping rocks, then you would get hit. The fish were probably sitting in 3 or 4 feet."

Korey Sprengel practicing for bass derby.
Hahaha! Love it! He said:
> Sturgeon Bay "bass" Open practice… Couldn't help but go out and take care of some business and knock the dust off the Green Bay sticks! 31-incher will do.
Yes it will!
Btw he finished 8th at the NWT.
Don't know where you stand re: the Uncut Angling guys, but we love 'em. This'll be tough to top, even for them: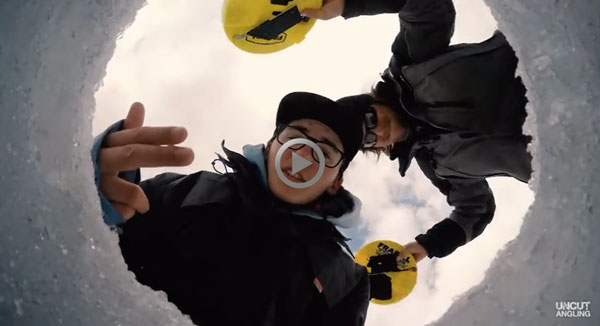 #bringonthefunk
Just in case you think it was all funk and no fish:


News
1. OH: Corps still want to dump in Erie.
Contaminated sludge:
> "Based on updated information, PCB levels in walleye have inexplicably increased, and we are dangerously close to exceeding the one-meal-per-week threshold. If exceeded, Ohio would have to recommend that thousands of anglers only eat King Walleye once a month. This is simply not acceptable."
2. MN: Mille Lacs resort re-opens.
…after $10 mil remodeling project last year. Yes, $10 mil!
> It's the Mille Lacs Band of Ojibwe's first ground-up hospitality project since opening Grand Casino Hinckley in 1992….
3. MN: New C&R records proposed.
4. MN: Walleye stamp supports stocking.
5. WI: 160 peeps help grow walleye eggs for Pewaukee.
6. NJ: Record number of walleyes collected.
> …hatchery staff captured a single-day record 244 walleyes in just one night alone. Upon return to the hatchery, the crew spawned 50 female walleyes, the highest number ever.
7. UT wants walleyes out of Green River.
Threatening toothless native fish.
8. Anglers, hunters send $1.1 bil…
…back to states for fish and game work. #booyah!
9. Marine industry: ethanol is bad.
Uh…yep!
…for law enforcement. Don't laugh. At the recent CA Delta Bassmaster Elite Series event, CA officials had dogs sniff boats for non-native aquatic species. Seriously!
Events
1. OK: Canton Walleye Rodeo starts Thurs.
Runs thru Sun. 47th annual!
2. SD: Lake Poinsett Dakota Sportsman tourney.
June 13, $12,000 in prizes.
Fishing Reports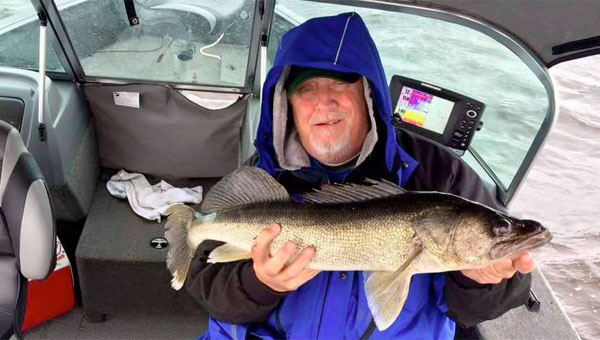 > Waters were low for the 2015 Minnesota walleye opener, but anglers still walked away successful. Limits caught all weekend with a mix of walleyes and saugers and many slot fish thrown back: 19.5″-28″ must go back and you can keep one over 28″.
> Pine Island was a popular spot. Anglers fished 15-19 feet jigging with a live minnow or frozen shiner. Heading west towards Zippel Bay, Long Point and Rocky Point, anchoring up in 17-19 feet over rubble worked well. Hot colors were white, gold and pink.
> Rainy River fishing was very active mornings and evenings. Saugers helped fill limits and a few smallmouth bass were caught and released. Sturgeon were hitting from Clementson to 4 Mile Bay over deep pockets using a 4/0 or 5/0 circle hook with 2-3 oz of weight baited with a gob of crawlers and by unsuspecting walleye anglers using a jig and minnow. Catch and release open through May 15.
> Up at the NW Angle, active fishing deep. Limits of nice sized walleyes caught in 25-30 feet while those chasing trophies found larger fish in 15-20 feet. Jigging with a minnow best near Oak and Flag Islands.
2. Leech Lake bite is on!
Just one example, and a nice one: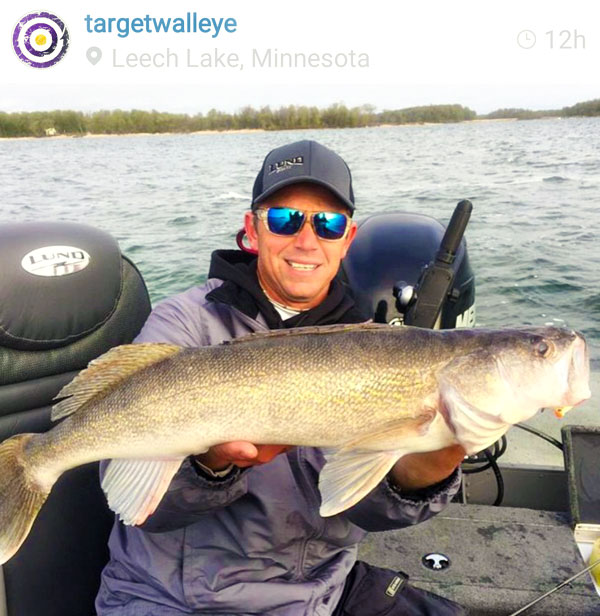 ---

---
Quick tips from Jason Mitchell on prairie dish-bowl lakes:
> "You can't go wrong working the shoreline. Shoreline contours that have the right depth profile combining either weeds or a harder bottom like sand, gravel or rock often hold walleyes for much of the year."
> "Any saddle that was basically a high spot between two potholes when the water was lower…."
> "Submerged roadbeds and points are other good locations. At times, fish will randomly scatter across these basins, but any structure present can be a calling card for walleye."
---

Quote of the Day
"I just beat 125 of the country's best walleye anglers. That's better than the prize money in my mind."
– NWT winner Bill Sutton talkin' it like he walked it.
---
Shot of the Day
Sean K. nailed this 31″ gravel-muncher on a Jackall Squad Minnow jerkbait: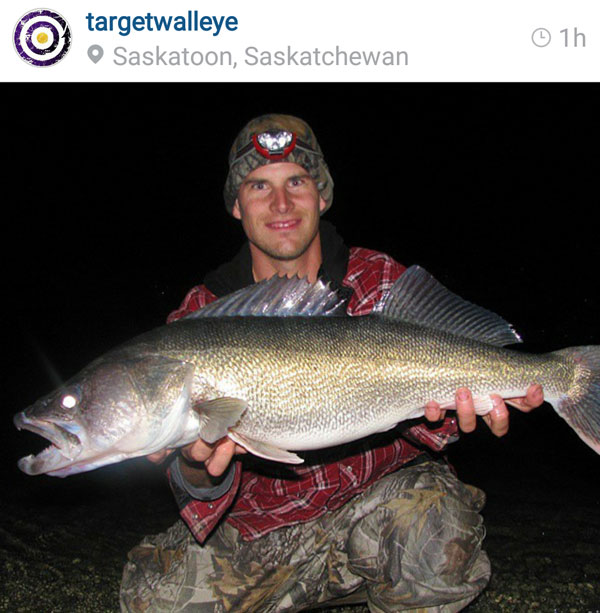 Gotta check this stuff out!

---
About Target Walleye
Target Walleye
brings you the BEST walleye and ice fishing news, pics, tips and events year-round, and is brought to you by Al & Ron Lindner, Jim Kalkofen and other walleye nuts like you!
---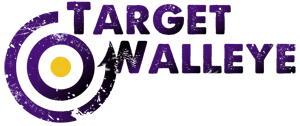 TargetWalleye.com | Rapala.com | IceForce.com