Today's Top 4

Catawba State Park, OH, 14.1 lbs of bottom-dwelling toad sent in by TW reader Scott. Wow!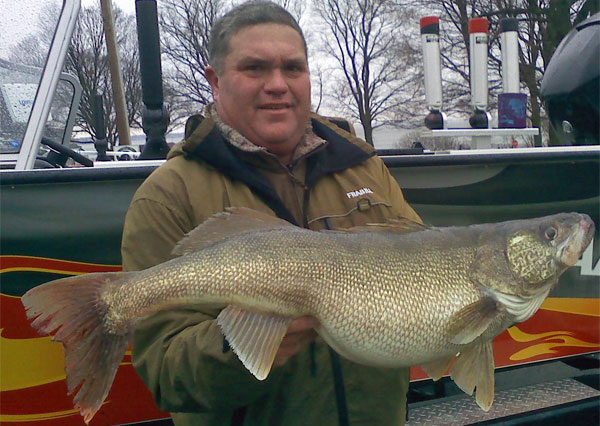 Detroit River: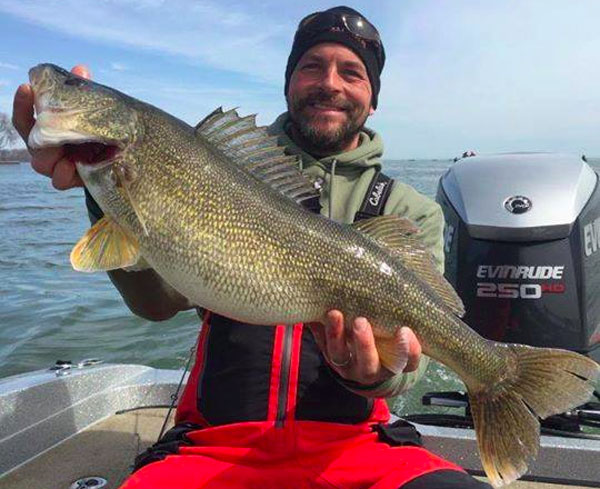 Another from the Detroit River — 11 lbs: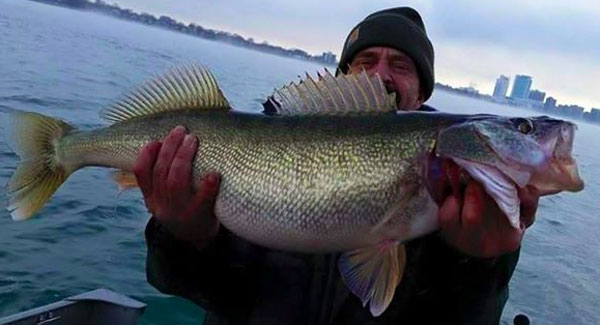 Yet another huge slab of Detroit River walleye beef:

One more: Tony Tierney with 32.5″ and 13.75 lbs of (yep) Detroit River 'eye: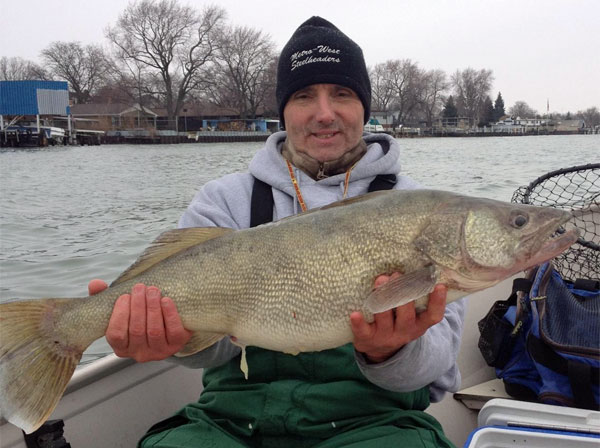 Nice one using an X-Rap: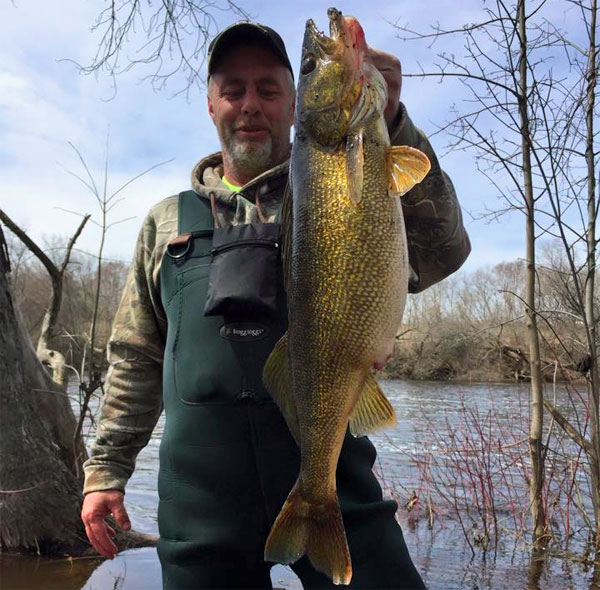 "Hooch" with another one — not last weekend, but so big we had to include it!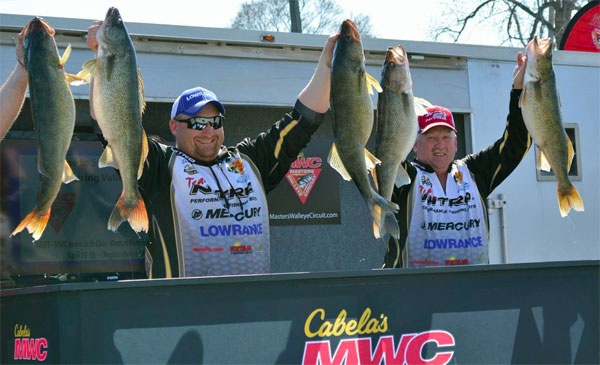 Wasn't the 100 lbs some thought might happen, but it was close. Steve and Dan Bodinger caught 90-11 over 2 days — 47-8 on day 1 and 43-3 on day 2 — to take home the win on St. Clair/the Detroit River…barely.
2nd-place finishers Curtis Olivier and Doug Galant weighed 90-10!
> Winners fished 3/4- to 1-oz jigs tipped with 3-4″ shad-tailed Berkley PowerBait. "Green was our hot color. I snap-jigged while Dan fished more slowly on bottom, and both approaches caught fish."
> Best spot was a rocky straightaway lying in 22-25′ on the Canadian side, about a mile from Lake Erie. "We didn't catch a lot of fish…."
Trivia:
MWC's prior 2-day weight record was 87-03.
The Bodingers won at the same location in 2010 with 10 fish for 72.5 lbs.
4th-place finishers Ryan Dempsey and Adam Adler had the big fish, a 13-04, also a MWC record. [Anyone have a pic of this fish?]

Just a few years ago, I saw a walleye larger than the 22-lb, 11-oz world record, and there could still be other giants out there too.
– AR fish biologist Tom Bly talking. More:
> The record-sized walleye Bly saw was released alive into Greers Ferry [Lake]. That huge fish was captured and stripped of its eggs during the Commission's annual walleye project, a project that provides the fertilized walleye eggs needed by state fish hatcheries to raise stocking-size fingerlings.
Here's Al Nelson with the 22-11 WR, caught in 1982 from Greers Ferry: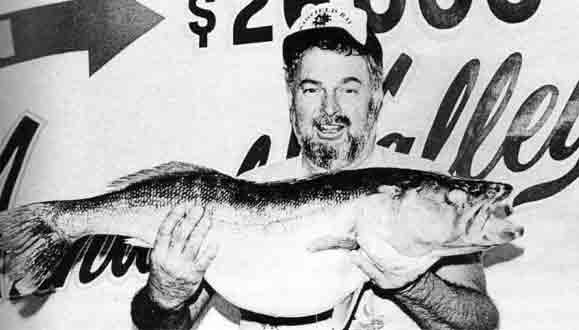 …in one day! How 'bout this (Lake Erie), Bigwater Fishing's Ross Robertson. Two 30s, a 31″ and a 32″ = fish of a lifetime x 4: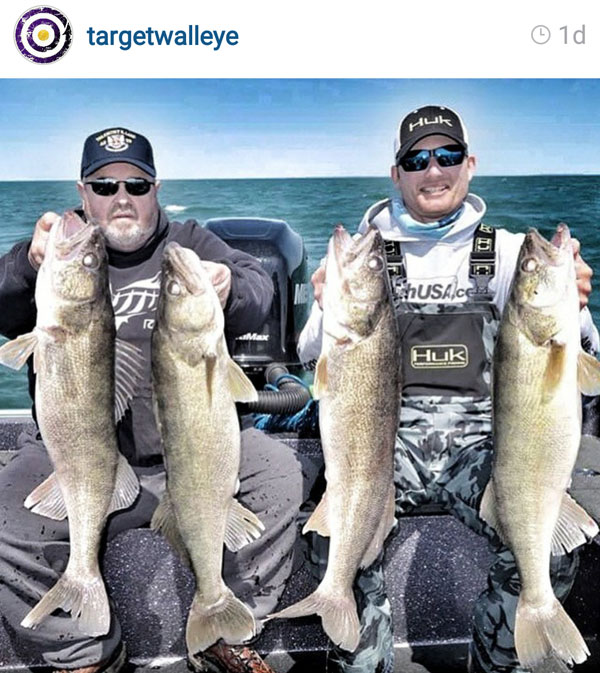 > Reef Runner 800s (deep-diving crankbaits) behind planer boards.

News
1. SK: 4 fined $50K for walleye netting.
Wow!
2. MN finds way to control zebra mussels.
Sort of…an expensive 3-part process for "initial infestations" that needs special permits.
3. Fishing 411 joins Walleye for Wounded Vets project.
Cool.
4. 'Nother Northland giveaway!
5. Inaugural AIM Great Lakes winners.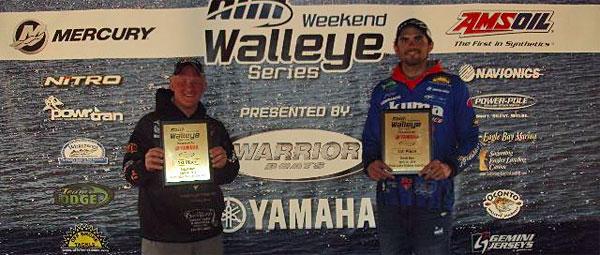 6. IA Walleye Weekend coming up.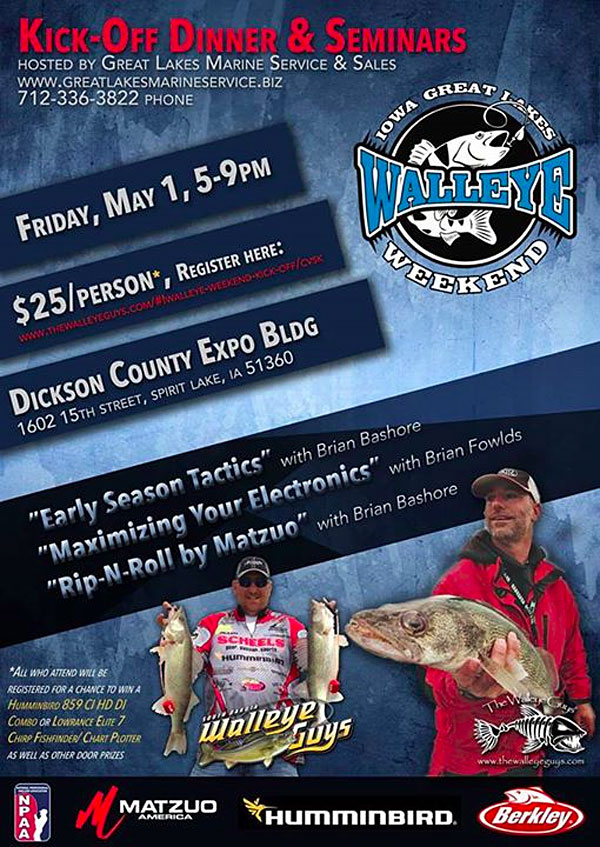 7. MN: Muskies don't hurt walleyes.
8. ON: Walleye fishing closing on Scugog?
9. MN: History of Rainy River sturgeon.
A great bite with big fish.
Events

Say that 10 times fast…. Great tips in this one, click here for a full read:
> Al Lindner: "For a really big bite, find a feeder creek dumping into a main-river area with rip-rap rock and pitch a Shad Rap up shallow. Little feeder creeks that are dumping into the river will attract a lot of fish."
> James Lindner: "A lot of times in early-spring river conditions, you're fishing darker water, where you need that vibration for the fish to find the bait…. You sort of reel it down there and you pulse it and go brrrrrtttt! You want to be able to keep the bait vibrating."
> James likes to use a 7-foot, medium-action spinning rod for this particular presentation. He uses 10-lb braid with a 3-4 foot 10-lb fluorocarbon leader. Using braid helps you feel how the bait is moving in the water and increases your casting distance.

Beaut Green Bay 10+, caught on a firetiger Shad Rap — from our Target Walleye Instagram, which we're beefing up!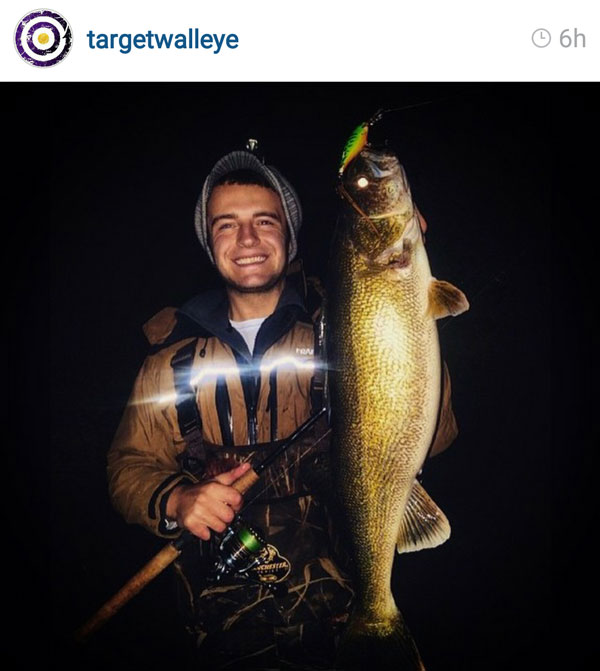 ---
Gotta check this stuff out!

---
About Target Walleye
Target Walleye
brings you the BEST walleye and ice fishing news, pics, tips and events year-round, and is brought to you by Al & Ron Lindner, Jim Kalkofen and other walleye nuts like you!
---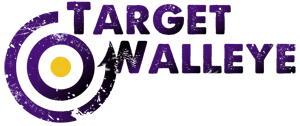 TargetWalleye.com | Rapala.com | IceForce.com