If you're receiving this Target Walleye/Ice email — covering the best of walleye fishing during open water and the best of ice fishing during hard water — for the first time, a friend probably signed you up! Target Walleye/Ice is brought to you by Al and Ron Lindner, Jim Kalkofen and other walleye and ice fishing nuts like you.

Today's Top 4


Mille Lacs walleyes showed up.
Too much negative talk about the Big Pond during the off-season — fishing was lights out on opener, both numbers of fish and size. Will "the walleye whisperer" Roseberg and gave us the deets on how things went down:
> "Our first fish hit the net within 10 minutes and when we headed in for breakfast at 7 am 53 walleyes had taken a quick boat ride."
Big Willy Style said that they boated 131 gravel lizards over the weekend — in just 11 hours of trolling Rapala crankbaits. Dang!
> "The water temps were colder than I had expected at 49-50 degrees, which in my experience is when stickbaits shine. They have a loose, slower wobble that tends to outproduce shad-style baits until the water temps reach the low to mid 50s. Green/pink tiger
UV Rapala HJ12s (Husky Jerks)
were the hot baits."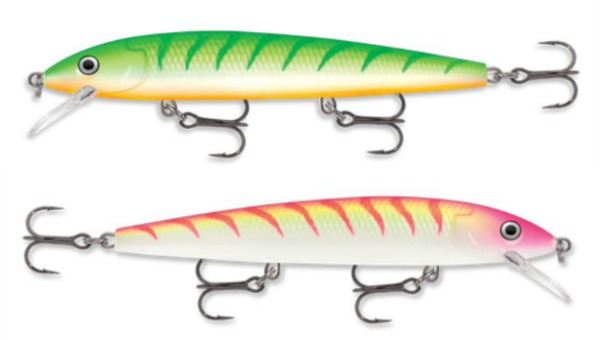 > "Not only were the sheer numbers of fish impressive, but we had at least a half dozen different year classes hit the net ranging between 10-27″. We counted 22 fish over 20″ and another 20+ fish that would have been in last year's 18-20″ slot."

So you want to be a fishing guide?
It's not all glitter and sparkles, and being able to catch fish will only get you so far. Sam Cook helps to put things into perspective — some of our favorite quotes:
> "If you were creating a priority list, understanding how to catch fish might fall somewhere below the midline…it's mostly being patient and being able to adapt to all different kinds of people who will be in the boat."
> As a guide, you might not be fishing as much as you think. "When I'm guiding, I usually don't pick up a rod."
> "Guys are plastering things on social media and doing it all for a 20% discount (on gear). I'd say we're putting almost too much emphasis on sponsorship and deals and fancy shirts."
> "I did not get paid by anybody — not a single paying sponsor — until my 29th year. The only real way to count on making money is to do the fishing trip and get paid for it."
> "The first few years are hard because a guide needs to invest in top-quality gear but has less cash coming in."
> "There are always days where you don't do good. I hate it more than the clients do. It's their trip of the year."

Here's the easiest way to tell if a walleye has already spawned: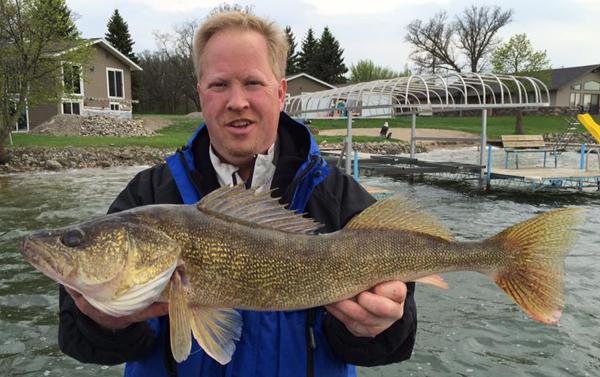 Not a walleye, but check out this Devils Lake goofball: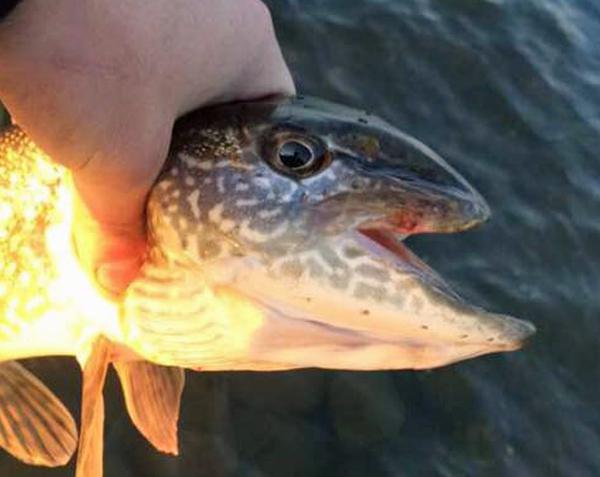 News
1. WI: Father/Son team wins Green Bay AIM event.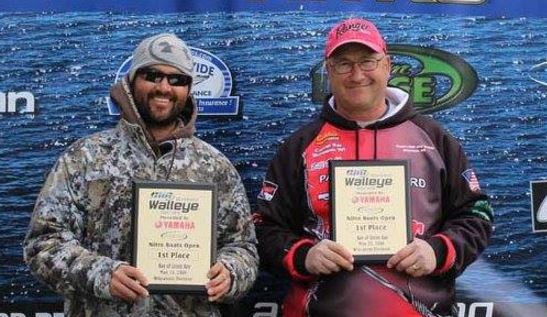 Matt and Bill Bobber's 41.40-lb bag was good for another $7,500. We say "another" because they won the Fox River AIM event just a month ago. #DoingWork
They pulled 3-way rigs with undisclosed cranks downriver for better boat control. That's all we can get out of 'em — these are some tight-lipped fellers! Their last fish was 28.75″ — came late in the day and put them over the top. Congrats guys!
2. SD: Study shows anglers aren't over-fishing Oahe.
> "Total walleye mortality in Oahe is about 35-40%, below the typical range in North America of 40-55%."
3. WY: Walleye tagging study in Buffalo Bill Reservoir.
DNR is trying to figure out if they can eradicate the "unwanted fish" (walleye) from the system by tagging them and putting them back into it? Ummmm here's an idea: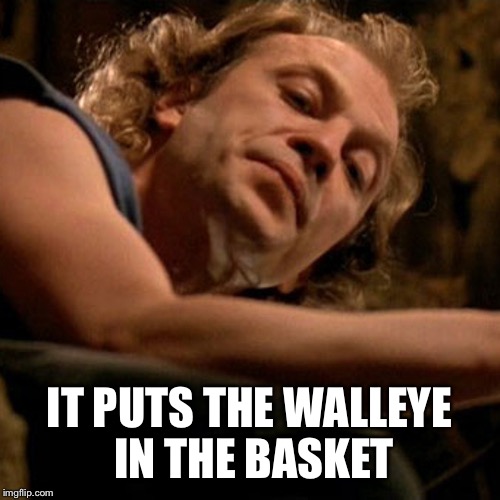 4. MO: Spawn kicks out 79 mil eggs for hatcheries.
#WalleyesFerDayz
5. SK: The family that fishes together stays together.
Top 6 teams (out of a 50-boat field) at the Boundary Dam Walleye Classic were father/son teams:

6. MN: 2017 Governor's fishing opener set.
Greater St. Cloud area on the Mississippi River.
7. MN: "Changing Minnesota Traditions" campaign.
New partnership to help stop the spread of invasive species.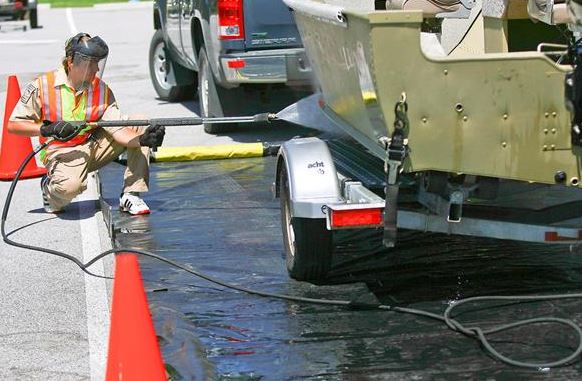 8. WI: Night-bite walleyes from shore.
9. ON: Opening day walleye tips, where and how.
Thought they'd still be ice fishing up there (northern ON)?
10. Doc Sonar: Targeting individual fish.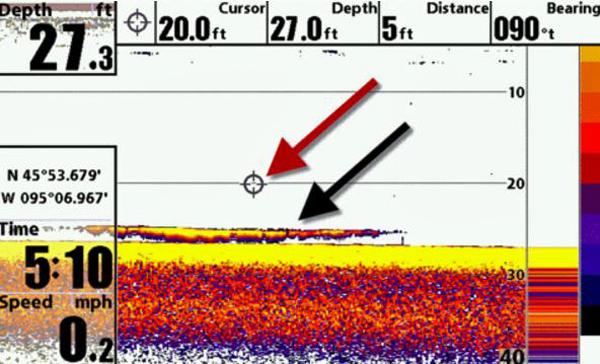 > "If I mark a fish that I want to target, I will place the cursor over that fish and create a waypoint … using the menu or the touch screen to spot lock on that waypoint from your Humminbird."
11. Check out this Rapala Scatter Rap Tail Dancer video.
Will help you catch 'em:
12. NH: Lead ban effective Jun 1.
$250 fine if caught using lead jigs/sinkers — a little bit cheaper than buying tungsten lol
Have a shot at winning all this stuff from Rapala — including a giant Original Floater! Just click on the pic, enter your email addy and then share the link you get for more chances to win. Good luck!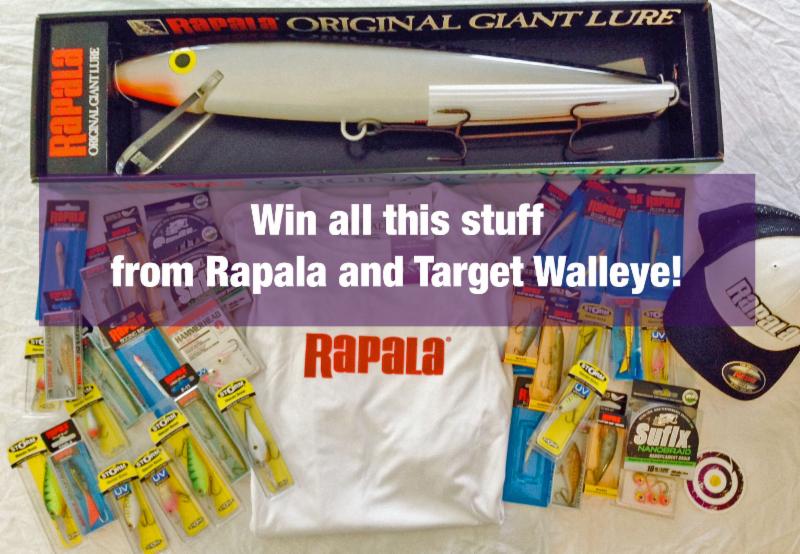 Great places to catch 'em
Sign up another walleye-head!
If you're forwarding Target Walleye/Ice to a friend who loves to walleye-fish or want your fishing buddies to get these emails, just
send us
their email addresses and we'll take care of it! (We won't sell the addresses, use them for spam, etc.)

From Dr. Jason Halfen, The Technological Angler:
> "A visual reminder from Humminbird CHIRP 2D sonar of what fish do when Canada springs a leak and sends a major cold front your way: they go deep and bunch up.
> "Here are two big bunches of fish sitting in deep depressions that are each 18-22′ deep, in the middle of a 14-16′ flat:"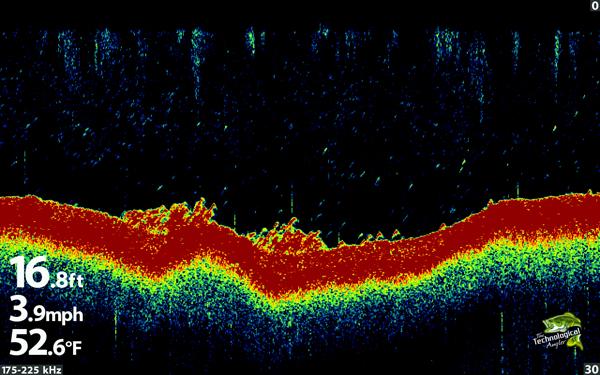 Something to keep in mind since half the month of May is usually one big cold front. That's one reason we call 'em bottom suckers lol. Thanks for the great visual Jason!


Quote of the Day

I thought all Iowa had was bullheads and carp.
– Russell Kemp, a Korean War-era Army vet, talking after spanking the walleyes at the Clear Lake "Fishing With Vets" event.
FWV is a non-profit dedicated to honoring those who have served in the military, getting them in the boat to set the hook and build lasting friendships. #Stout
Stuff you NEED to know about!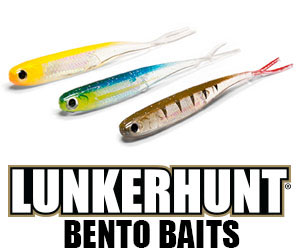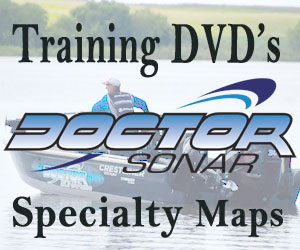 ---
About Target Walleye
Target Walleye/Ice
brings you the BEST walleye and ice fishing news, pics, tips and events year-round, and is brought to you by Al & Ron Lindner, Jim Kalkofen and other walleye nuts like you!

TargetWalleye.com | Rapala.com | IceForce.com