If you're receiving this Target Walleye/Ice email — covering the best of walleye fishing during open water and the best of ice fishing during hard water — for the first time, a friend probably signed you up! Target Walleye/Ice is brought to you by Al and Ron Lindner, Jim Kalkofen and other walleye and ice fishing nuts like you.

Today's Top 5


Nico's 31.5″ rock carp is what dreams are made of. Released so she could drop a few lbs.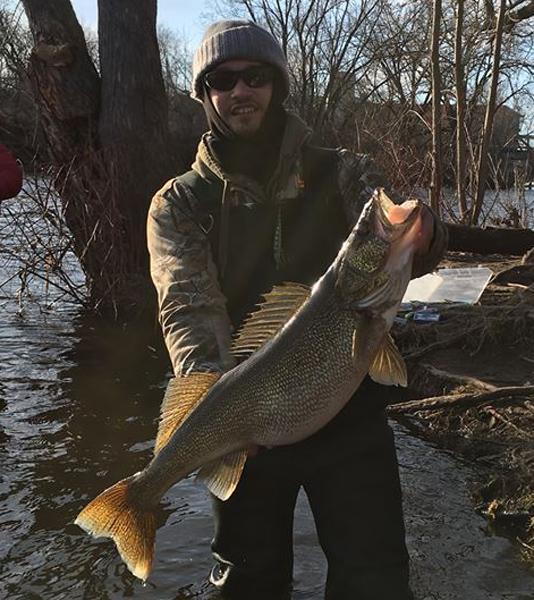 Voluptuous Green Bay pre-spawner — caught casting a 3.5″ Powerbait Pro Shad on a 3/8-oz Northland Tackle Eye-Ball Jig: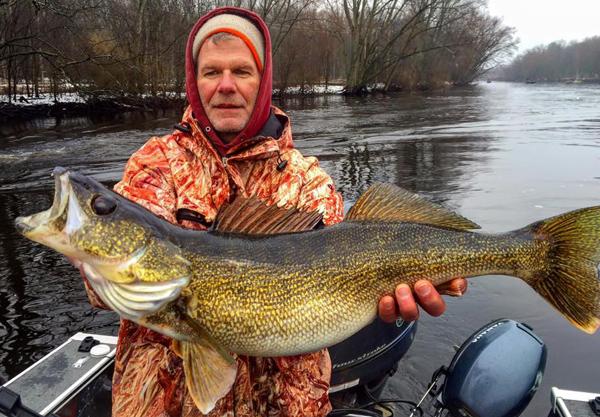 A rather stout wallaby fooled by Josh Wetstein with a Northland Tackle RZ Jig on the Mississippi River. #Perky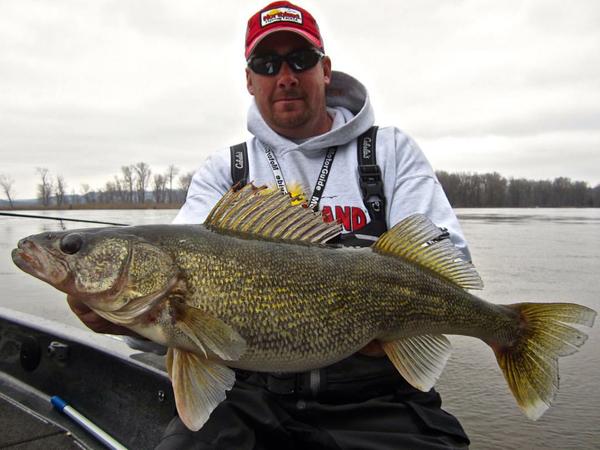 30 inches of egg wagon caught by Austin Gates on a #12 Rapala Husky Jerk (glass purple sunfire):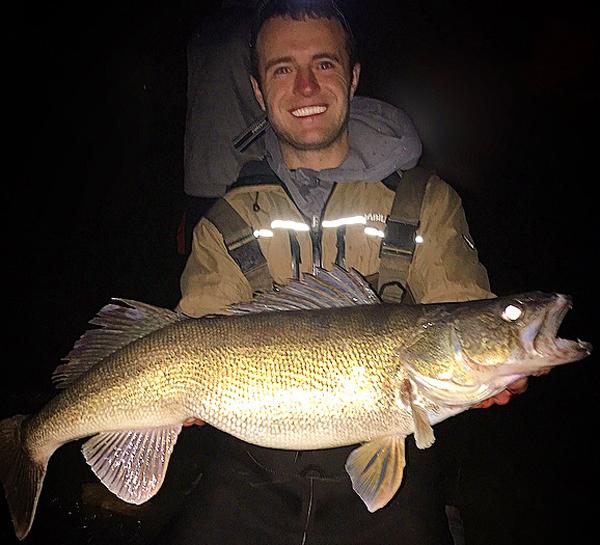 Live bait ban lifted on Mille Lacs.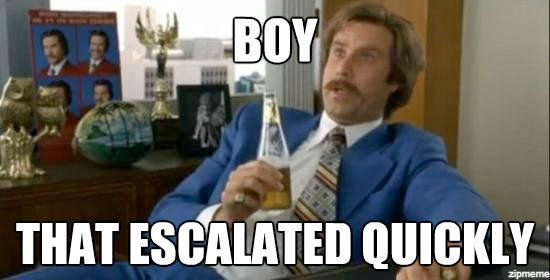 Not sure if this is positive or just not a negative (from here):
> This year's Mille Lacs regulations will not include a live bait restriction due to feedback from anglers and stakeholders.
> "The DNR is hearing that anglers are accepting of the catch-and-release aspect of the walleye season, but members of the Mille Lacs Fisheries Advisory Committee heard clear concerns about the live bait restriction, as did the DNR."
> DNR staff learned that it would be difficult for some anglers to adapt to using only artificial bait, and it could particularly discourage young anglers. [How did they not know this??]
Then again more youngsters are stepping up to the artificials-only revolution…while older folks are picking up their dozen 'crawlers/leeches on the way to the ramp.

No necesitas pelvic fins? Not sure what's causing it — some are saying that they were ripped off by nets but there's not so much as a blemish on 'em. Must be fishing near a nuke plant: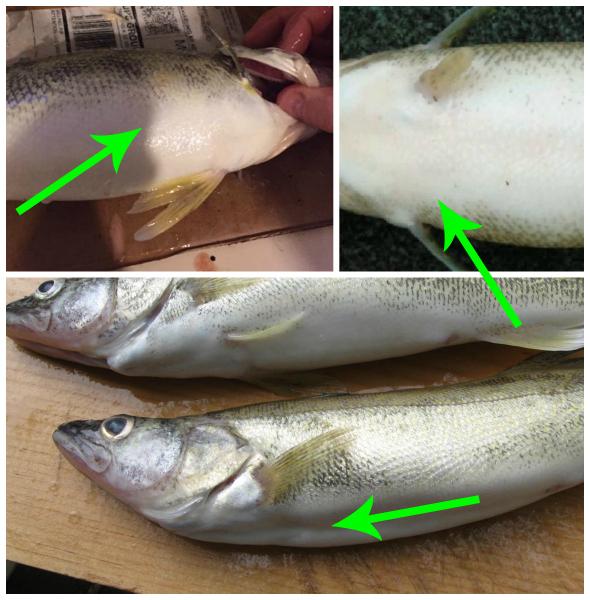 Golf fishing celebration.
Isn't it a little early in the year to be rippin' that jerkbait so aggressively Nick Faldo?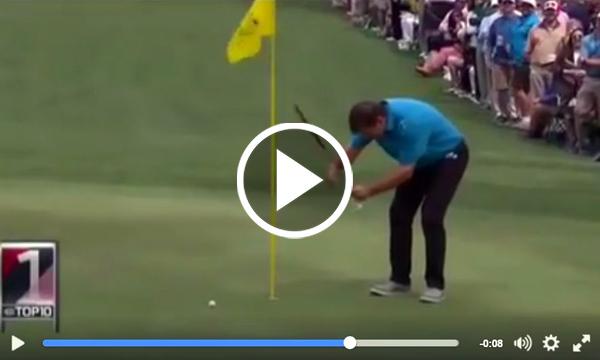 #Stout

All walleye fishermen can relate — bass guys not so much, they jump right in the boat lol.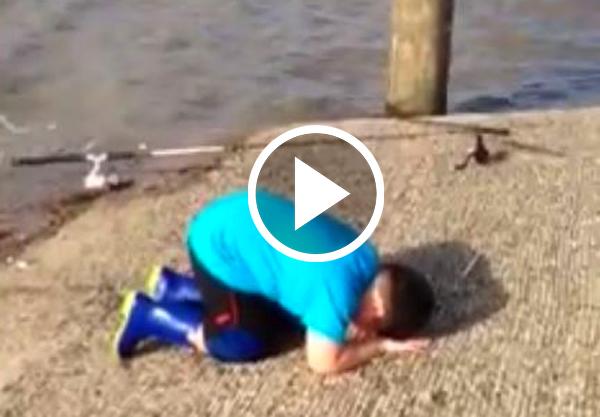 Saw a buddy pull the same stunt last weekend and he was 5x older than that little man. Keep doing your thing bud!
---

---
News
1. MN: Fishing trip winners caught 'em!
Matt and Nate were the winners of the Target Walleye giveaway for a guided fishing trip on the Lake of the Woods with Brian Brosdahl.
Super-tough conditions but quality fish were caught and good times were had. Actually has to be physically impossible not to have a killer time when you're in the boat with Bro — check out the video of Nate's new personal best 'eye.
2. MN: Lake Vermilion walleye strong.
> Test-netting recorded an average of 19.1 walleye per net, the third-highest average recorded in 30+ years.
3. WI: Only big walleyes in the Milwaukee River.
> The 11 walleyes caught (3 males and 8 females) ranged from 20″ to 27″ with 3 fish weighing more than 8 lbs. But the real story is not the healthy-looking, mature walleyes — it's the lack of small fish.
> No natural reproduction of walleyes has been documented. All the walleyes caught were from the 2008 stocking — which was the last time they stocked the river.
Many lakes would have little to zilch walleye fishing opportunities if it weren't for their stocking programs. Get after it boys!
4. OH: Now's the time to fish Erie.
5. AR: Hatcheries boost walleye pops.
Yep, Arkansas:
> Fish hatchery in Hot Springs hatched more than half a million walleye for area lakes last week. Even more are in the nursery pond on the west end of Lake Ouachita, thanks to the AGFC's annual walleye spawning project.
> "Unlike bass and other sunfish, walleye do not build and defend nests or fan the silt away from their eggs. Instead, they let free-flowing water keep them clean and out of the silt."
Those guys get it!
Video of what it looks like underwater here.
Cap'n Ted Peck talks about how to catch saugers when they're relating to hard-sand bottoms on the Mississippi River in April.
8. IL: 17-yo fighting cancer gets a new boat.
Through Make A Wish and Bass Pro Shops. Cool.
9. Ranger offers military incentive.
10. Johnson Outdoors buys Northport.
For mapping. Johnson is Humminbird's owner.
11. More info on Toyota Bonus Bucks.
> Only national tow-vehicle program that pays you to fish. Free and available to anglers who tow with a 2012 or newer Toyota Tundra, Sequoia, 4Runner, Tacoma or FJ Cruiser and fish in Bonus Bucks-supported events.
> You don't have to win your qualified "Bonus Bucks" walleye tournament to get the bonus cash — you simply have to be the highest-finishing eligible Bonus Bucks participant in your tournament.
---
---
Fishing Reports
1. MN: Lake of the Woods + Rainy River.
> The Rainy River is cutting away at the ice just past lighthouse gap into the main lake. Heading into the weekend, the river is cleaning up and the walleye bite continues to improve despite the cold snap — more eater fish combined with some big females.
> UV jigs with shiners and rainbow chubs are the go to but some anglers are using bright plastics with success on larger fish. Water temps dipped a bit but we heard reports that the snow didn't muddy up the water.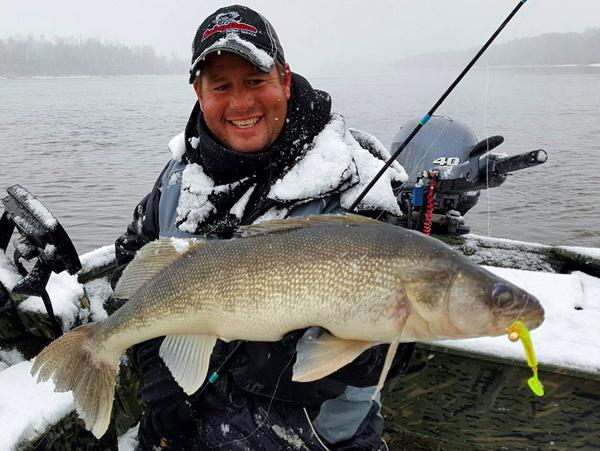 > Sturgeon fishing remained steady throughout the week — decent numbers of large fish being caught in 4 Mile Bay and upriver.
Updated river info, sturgeon fishing info and boat access map here.
> Warmer tributary waters of the Fox, Oconto, Peshtigo and Menominee rivers starting to see walleyes show up — primarily fishing slower with plastic grubs and paddletails in the cold water. Also jigging/casting #6 Rippin' Raps on shoreline breaks in 8-10 ft.
> Sturgeon Bay bite is just getting going with water temps finally reaching high 30s. Slow your troll! Pulling Rapala Husky Jerks at 1.3-1.5 mph in the cold water has produced quality fish.

Great tips not just for Devils Lake, but while many lakes are out for the prespawn and spawn, walleye season is open at Devils! Excerpts below,
full tip here
.
> "There's some fish activity around the bridges right now, but water temps are still 38-41 degrees in most places," says Feldner. "But in a week or so it should be game on for pre-spawn fish. With forecast temps in the 60s next week, it could be very soon."
> "I cast out, and as soon as the bait hits the water I close my bail, keeping my rod tip at 75 degrees. The line will be tight, but as soon as the bait hits bottom it goes slack. I reel down to tighten the slack, lift the rod to 75 degrees again and hold it right there. When you bring rod tip back to that spot, the jig sails back to the bottom. Then repeat. Most times they smoke it right before the bait hits bottom."
> For those days when plastics and cranks aren't producing numbers, Feldner switches to a pre-spawn technique he's convinced is overlooked by most anglers. "Lindy-rigging over shallow humps in 6-10′ can produce good numbers of both males and females during early-season. But the key is going finesse."
---

---
---
---
Great ice stuff!
---
More great stuff!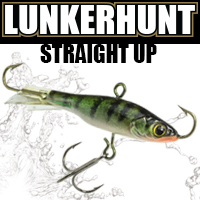 ---
About Target Walleye
Target Walleye/Ice
brings you the BEST walleye and ice fishing news, pics, tips and events year-round, and is brought to you by Al & Ron Lindner, Jim Kalkofen and other walleye nuts like you!

TargetWalleye.com | Rapala.com | IceForce.com