If you're receiving this Target Walleye/Ice email — covering the best of walleye fishing during open water and the best of ice fishing during hard water — for the first time, a friend probably signed you up! Target Walleye/Ice is brought to you by Al and Ron Lindner, Jim Kalkofen and other walleye and ice fishing nuts like you.

Today's Top 5


Gravel lizards of the week.
A SoDak night-ops mission produced this 10-lb razorback for Austin Lund. Lunchboxed a 5″ Berkley Ripple Shad in fire perch: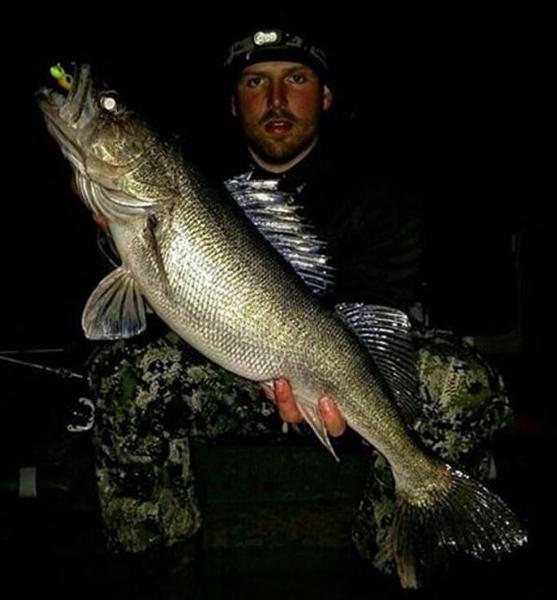 Max Wilson's first walleye after being away in the Marine Corps was this 28.25″ stone roller — which ate a #11 Berkley Flicker Minnow during the AIM Green Bay event. Thx much for your service Max: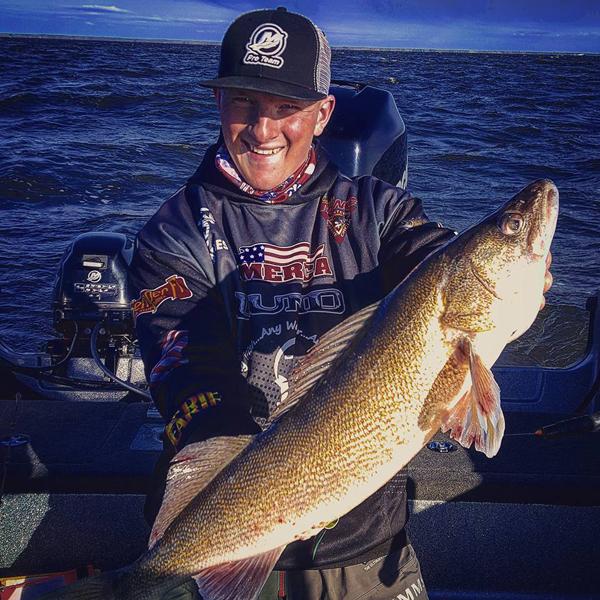 Joe M. was fishing the eastern basin of Lake Ontario when he cracked this 10.75-lb dumbbell — engulfed a Rapala Down Deep Husky Jerk (firetiger):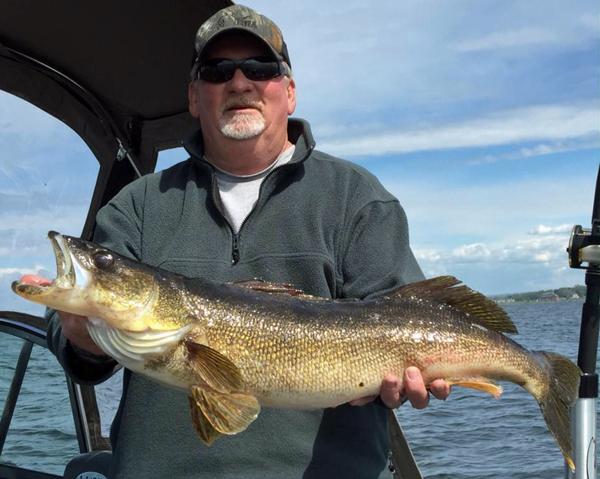 Mikey P kicked off his soft-water season with this 30″ Lake Vermilion rock melon. Fish munched a rainbow on a Lindy Rig in 15′: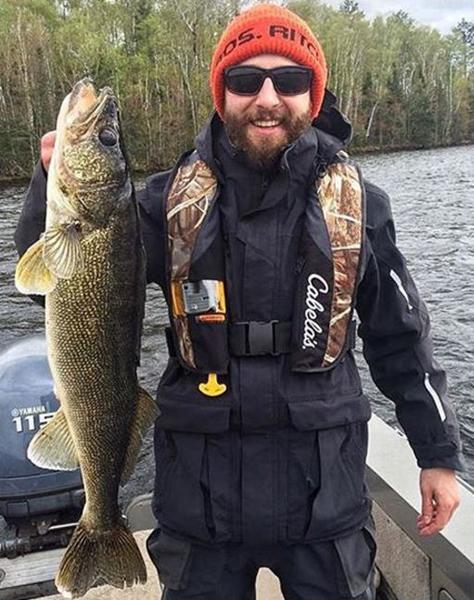 All of the winning boats from the AIM Green Bay event got their fish from the mouth of the Fox River, while the 'lake guys' ran north for a slow day.
Randy and Kyle Bethe sent us this pic while waiting for take off and said, "Here's one reason not to go 15 miles up the lake to get 23rd place!"
Found 'em lol! But you never know what else you'll find when fishing Green Bay — Jason P came across this apparent ice-fishing trip gone wrong — think we'd rather graph the walleyes: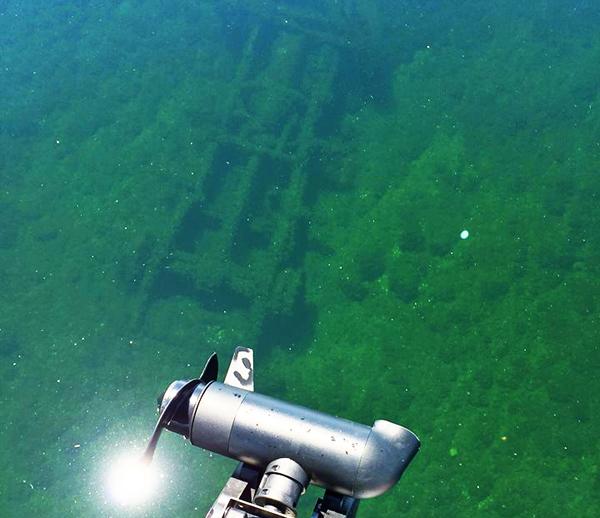 Three-way rig alternatives.
For early-season rivers, Danny Plautz talking:
> "One of my favorite early season river tactics involves using a three-way rig that has a short 6" dropper tied to a big 1-oz jig tipped with a fathead, and a 3′ leader tied to a shallow-running minnow bait like the Reef Runner Little Ripper.
> "The big jig won't catch many fish but the ones you do hook up with usually run big.
> "I'll slowly troll the three-way rig upstream along the edges of current breaks, and lift and drop the jig to let it thump hard. That thump can attract fish, and when they zero in on it they'll either grab the jig or scarf up the crankbait.
> "Getting the speed right is important and you should be in the range if you're line is running at about a 45-degree angle.
> "Another thing I'll do with the three-way rig is replace the crankbait with a floating jighead, especially if things are a little tough, and it's a great way to deal with a lot of pressure. When too many anglers converge on a spot, you can still catch fish by moving outside of them and slowly trolling the heavy jig and floating jighead combination."

Jimmy Houston gives up bass fishing for walleye?
Check out this video from the 69th annual Governor's Fishing Opener on Big Sandy Lake. See our governor kickin' his feet up, puffin' a seegar lol. MNers are for sure a different breed: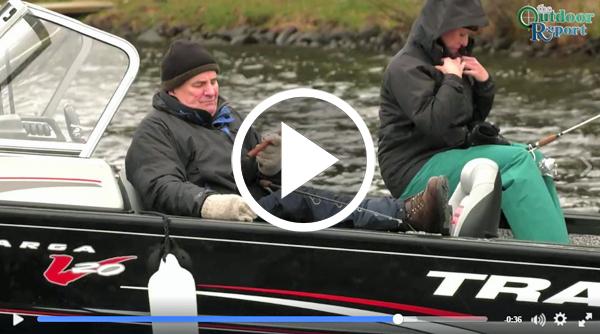 Admit it — you tried it, and failed: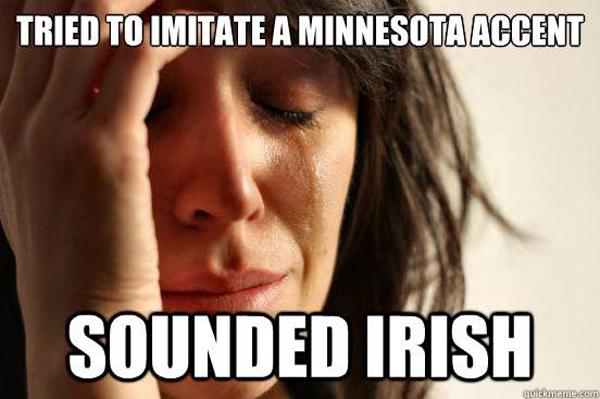 News
1. MI: Cabela's National Team Championship on now…
…Bays de Noc, Escanaba, MI:
250 teams after $250K in cash/prizes. Mike Defibaugh and John Stalling (pictured) are leading it with 5 for 24.11 lbs. Only 8 teams were able to find 5 fish yesterday. Watch the live stream weigh in for day 2 here.
2. MN: Mille Lacs DNR station stiffed.
But not bike trails:
> "House of Representatives on Wednesday unveiled a bonding bill that marks $3.6 million for improvements to the mountain bike trails in the Cuyuna Country State Recreational Area, but nothing for a proposed DNR fisheries management facility on Mille Lacs Lake."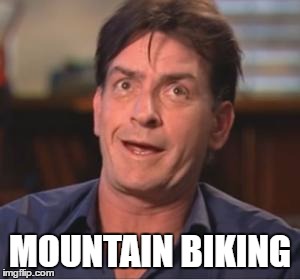 3. MN: 3,000 walleye tagged in Woman Chain.
> "…to get a population estimate for the chain of lakes over the summer using the angler catch reports."
4. NY: Niagara River emerald shiner population down 75%.
Tasty little treats have made up 90% of the stomach content for walleyes.
5. WI: Help stop the spread of round gobies.
> "Round gobies can survive even in poor-quality water, spawn multiple times per season and displace native fish by eating their eggs and young, taking over optimal habitat."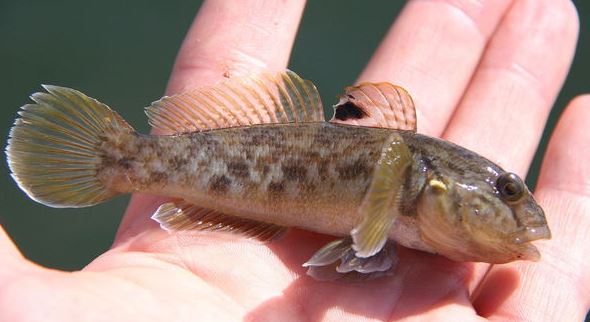 5. LEER "Cover Cash" for tourney anglers.
> The LEER "Cover Cash" program provides great cash bonuses to walleye anglers who purchase a LEER truck cap or tonneau cover, and finish high in the standings of a "Cover Cash" qualified tournament.
Always good to snag some extra dough.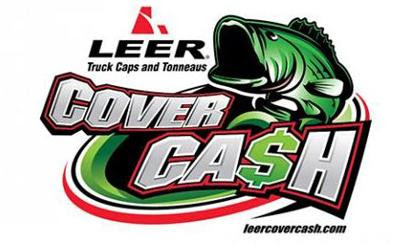 6. Target Walleye on the radio.
Target Walleye's Jim Kalkofen recently was on the "Gone Outdoors" radio show with Brewer-Agre Outdoors explaining how Target Walleye got started and what we do…sort of? lol
Did you enter to win this Rapala stuff yet?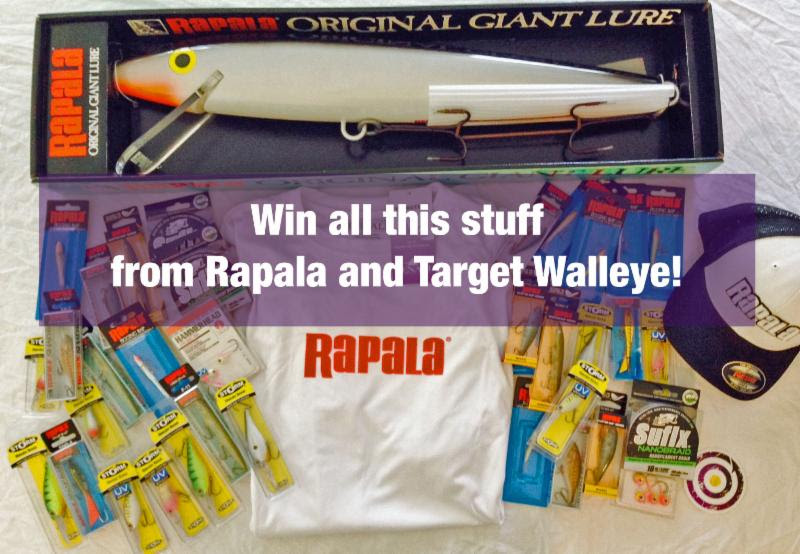 Have a shot at winning all this stuff from Rapala — including a giant Original Floater. Just click on the pic, enter your email addy and then share the link you get for more chances to win. Good luck!
Fishing Reports
1. MN: Leech Lake.
Trapper's Landing Lodge
:
> Most of the fish have started to move from the shallows and can be found in 10-14′. Fan-casting jigs or drifting worked best. We also saw a decent night bite on slip bobbers and trolling crankbaits. As the weather turns more consistent, those bites should only get better.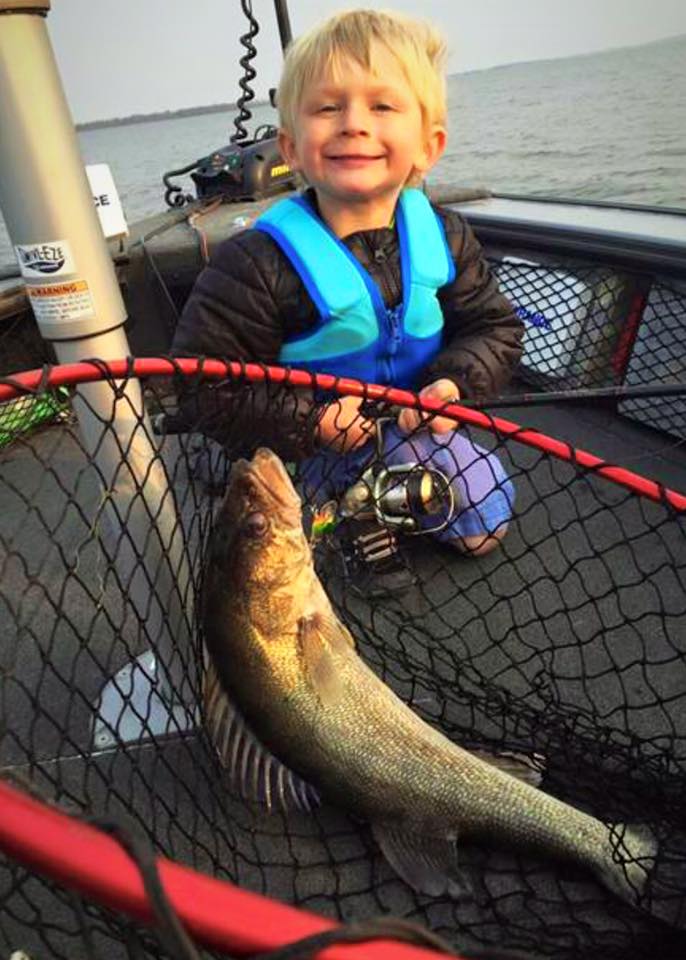 > Find shallow, backwater areas that have the warmest water in the area — dark bottom with stained water is the key. Shallow cranks and jigs/plastics are producing quality fish up to 26″.
> Strong NW winds kept many anglers off the big water and closer to the mouth of the Rainy River. Fish were caught up and down the river with walleyes caught from 4 Mile Bay all the way to Birchdale. Most walleyes caught in 5-15′ using slow presentations. Gold and bright colors worked best when tipped with a minnow.
> Anglers fished various depths up to 28′ on the main basin to find walleyes. Nice-sized saugers are also being reported. Gold, orange, pink and chartreuse jigs tipped with minnows….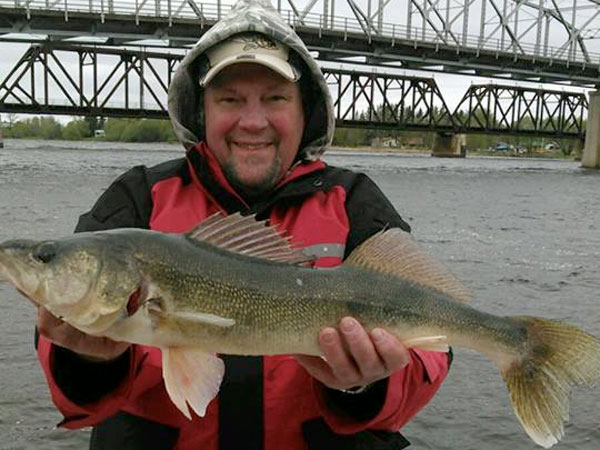 > With consistently warm temps all of this week, fishing will be ramping up nicely for the weekend and next week. Though we predict jigging will be the go -o method, don't be afraid to see if there is a crankbait bite to be had….
Current info on the limits/regs is here.
> This past week has been a grind! Cold air, along with strong and steady winds blew cold water in from Lake Michigan and made for inconsistent weather patterns so we had to work hard to find fish.
> Walleyes have been fussy as well. Some days we get a limit and some days we get only a few bites. Trolling Berkley Flicker Minnows and Flicker Shads have been good behind Off Shore Tackle planer boards — targeting 4-12′ for warmer water temps. It will only take a few warm, sunny days and it will be game on.
Great places to catch 'em
Sign up another walleye-head!
If you're forwarding Target Walleye/Ice to a friend who loves to walleye-fish or want your fishing buddies to get these emails, just
send us
their email addresses and we'll take care of it! (We won't sell the addresses, use them for spam, etc.)

Whether they're feeding or traveling, walleyes love to follow the contours. Brian Bashore learns ya some knowledge on targeting shallow, post-spawn walleyes now: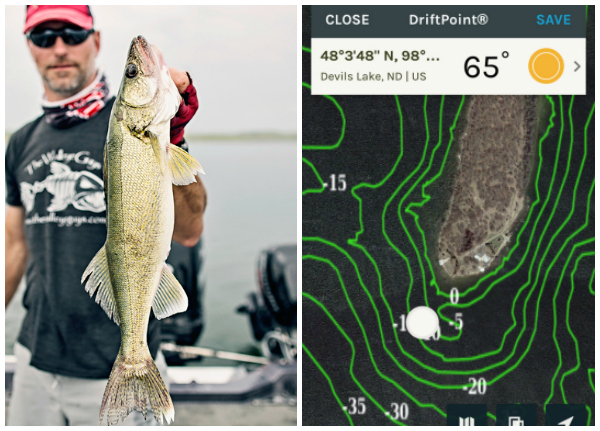 > As soon as the spawning phase is over, walleyes are on the move to find some food to replenish all the calories they've exhausted…look for these fish to transition along the river or creek channel into shallow-water coves or windblown points — the warmer water attracts early-season baitfish.
> Look for changes in contours between deep breaklines and shallow flats. An area may have just one little ledge at 7′, and then jump suddenly up to 5′, with some rocks or timber along it. This is an excellent spot for a walleye to hang out ready to feed — with deep water nearby it can easily slide back down if need be — whether the cause is too much fishing pressure or too much overhead sun.
> Walleyes will use the smallest of contour changes to plan their attack…don't overlook the "little" areas on your maps if there isn't much else around. For the most part, once you locate one walleye, you can mimic that same pattern most anywhere on the lake….
> Also acting as a sort of "contour change"…are abrupt changes in bottom makeup. Examples include sand to gravel, gravel to mud, mud to weeds, and so on. Just like contour changes, walleyes will use these bottom changes as a "transition path," much like deer utilize field edges.


Quote of the Day
He might be the only person I have ever seen curse out a 19″ walleye as it came out of the hole.
– Guy talking about a hardwater fisherman who couldn't catch a crappie but caught everything else.
Meme of the Day
Congrats, you made it to the weekend! Catch 'em good: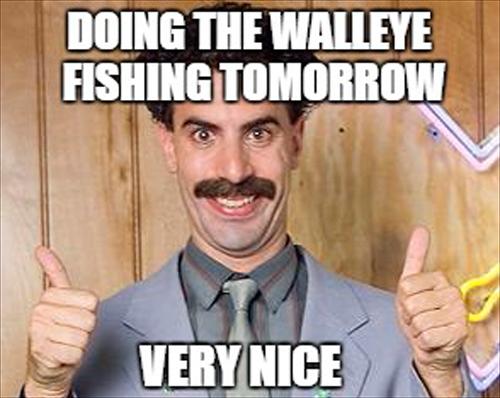 Stuff you NEED to know about!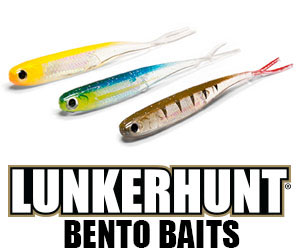 Target Walleye/Ice
brings you the BEST walleye and ice fishing news, pics, tips and events year-round, and is brought to you by Al & Ron Lindner, Jim Kalkofen and other walleye nuts like you!

TargetWalleye.com | Rapala.com | IceForce.com