No Target Walleye emails next week folks! Sorry, vacation — we will have withdrawal too (lol). Stay up to date on everything walleye on Target Walleye
Facebook
and
Instagram
. Then get out and fish!

Today's Top 5

Lizardsauruses of the week.
Nathan with a 32.5-incher from Gunisao Lake, MB: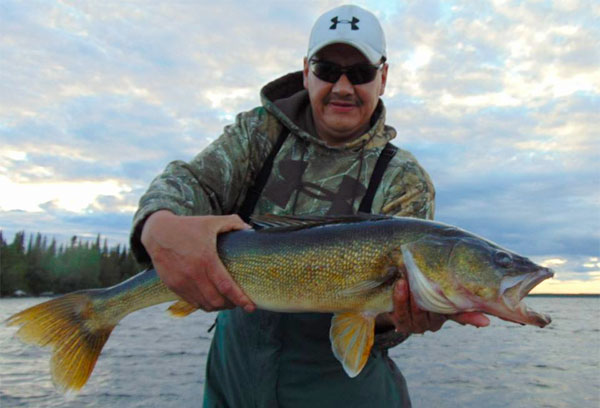 SK bruiser caught on a jigging spoon: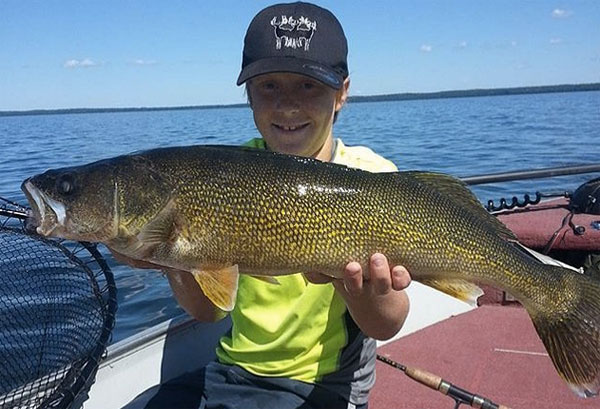 30″, 10-lb saurus caught by Amanda K. on the Columbia River, WA: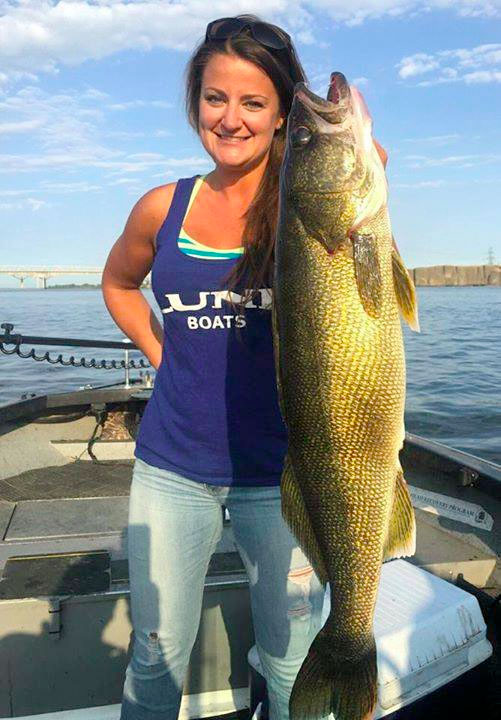 Why run 2D and down-imaging.
Here's the benefit of running 2D sonar and down-imaging at the same time (screenshots are from Bill Carson's Humminbird Onix):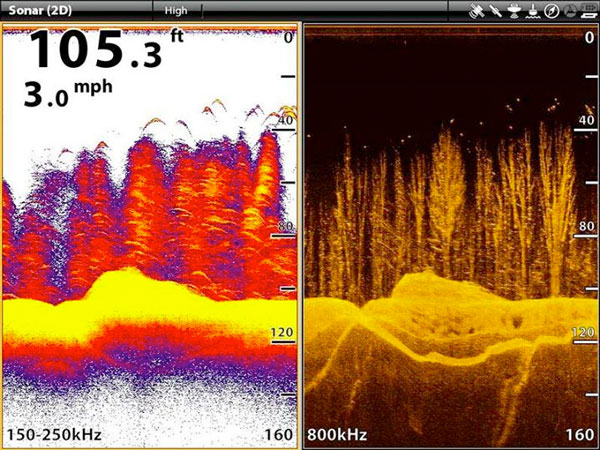 2D (left) allows you to pick out individual fish, while the down-imaging does a way better job of detailing what the structure and cover actually looks like.

How much do you love your favorite lure.
This much?

Guy posted @ Rapala: "I love your bluegill SSR #9 so much and have caught endless fish of all species on it that I commemorated it in the flesh!"
Yes you did!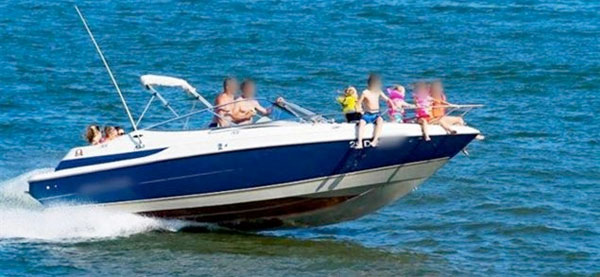 > The photo shows five small children sitting on the bow of a speed boat. They are not in proper seats and are dangling their legs over the edge of the boat. At least one is not wearing a life jacket.
Wow. Don't seem like anglers, but as we all know a lot of folks tend to disregard boating safety. Be safe out there folks!
Made Supe mad too: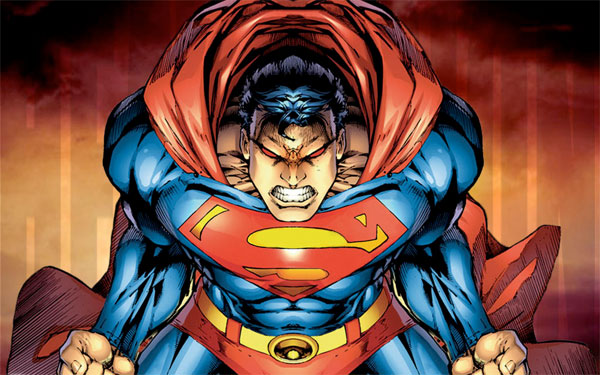 Let us know what kind of award the driver should get here on Target Walleye Facebook.
---

News
1. MN: Mille Lacs stocked next spring?
Goes against the grain of everything the MN DNR has been saying, but guess it can't hurt.
Also, here's an interesting perspective: Is Mille Lacs too big to fail?
2. Boating pioneer Bill Elk dies.
RIP fishing brother.
Brian "Bro" Brosdahl is one of several anglers catching walleyes shallow right now, in his case 10 feet or less with chubs on Northland Fishing Tackle RZ Jigs.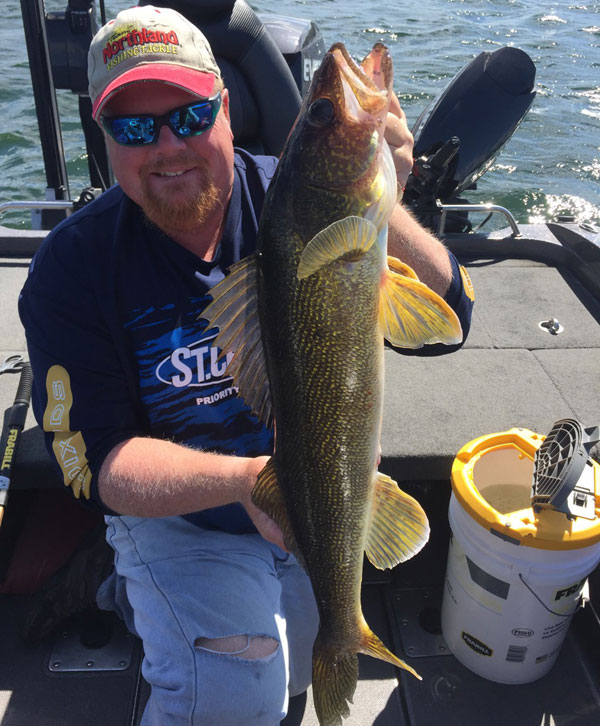 4. MN: Lake of the Woods report.
> Limits of walleye and sauger with a variety of methods. Windy days have been perfect drifting with spinners and bait fishing. Try hammered gold, orange or green tipped with crawlers or leeches. Best luck jigging with gold or chartreuse.
> Others having luck down-rigging with Shad Raps and other crankbaits out in the basin of Big Traverse. More walleyes being caught in Big Traverse and south shore than in past weeks, depths of 10-33′.
> On the Rainy River, anglers have been hitting the evening hours for walleye with great success near the International Bridge heading east towards Timbermill. Sturgeon fishing keep one season open through September: 45-50″ or one over 75″ allowed. Deep pockets still best using a circle hook with a gob of crawlers and anchoring upriver.
> Up at the NW Angle, consistently good walleye fishing in 26-28 feet over reefs and rocky points off of Little Oak ,Oak in MN and Falcon Island in ON. Bright-colored spinners tipped with crawlers or minnows. Also try casting with spoons in 21-23 feet. Muskie and pike active in weed beds using jerkbaits.
5. MN: Leech Lake fishing report.
> The best tackle setup to use is a long-leader Lindy rig, pulling a crawler or leech. Trolling with perch-colored crankbaits on main lake bars and flats during the day or in the evening in 10-12 feet has been producing fish.
> Also during the day in the weeds in 7-8 feet, or in the evening in 10-12 feet, using a slip bobber and a leech in the Walker Bay's Sand Point area has been good.
7. MN looking at muskie management in lakes.
8. OH: Emerald shiner shortage.
Tough news for the Erie perch anglers.
9. MN/ND: New invasive regs on Red River.
Zebra mussels found recently so:
> Anglers may no longer transport live bait in water away from the Red River.
> Boats need to pull their plugs after they exit the river.
10. ON: $10K fine for illegal spearers.
11. 7 tips for great walleye fillets.
12. Boy Scouts and Take Me Fishing partner.
13. New Alumacraft Edge Series.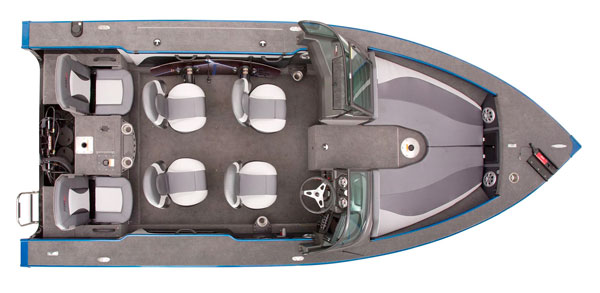 14. New Fish Seeker diver for trolling.
15. New knob steering wheel for rough water.
16. New Seaguar flipping lines.
Bass fishing but technique-specific lines are coming. #trend
18. TN: Potential record flathead.
Watts Bar, well over 50, "it was almost as big as the 5-9, 110-lb fisherman," released. Current state record is 85-15.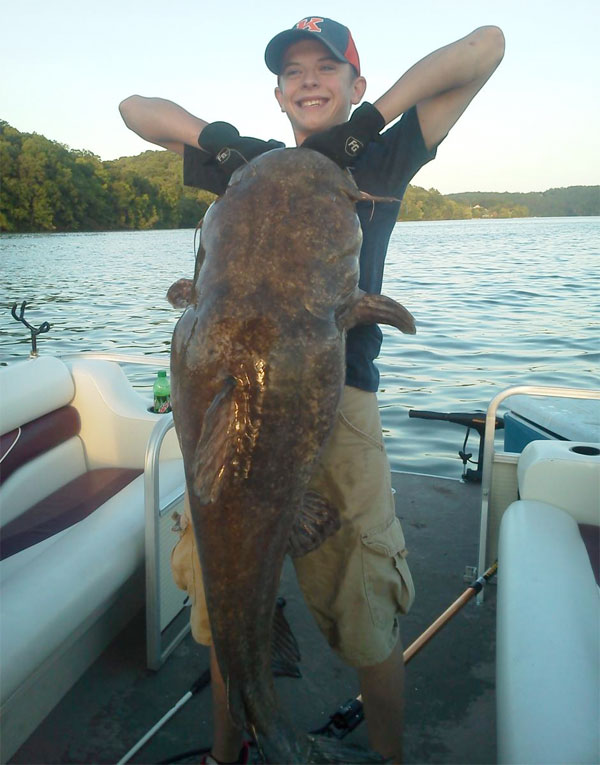 19. MD: Potential record snakehead.
State and world, 18.8 lbs but…eaten: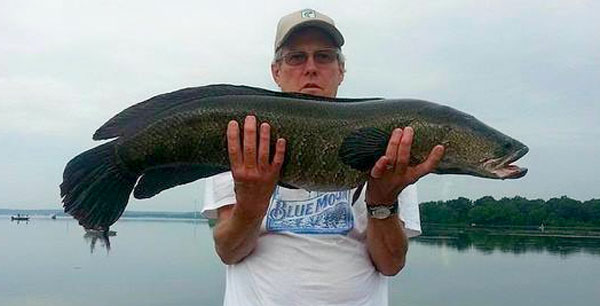 _____
Click here to enter and win! And please forward the link!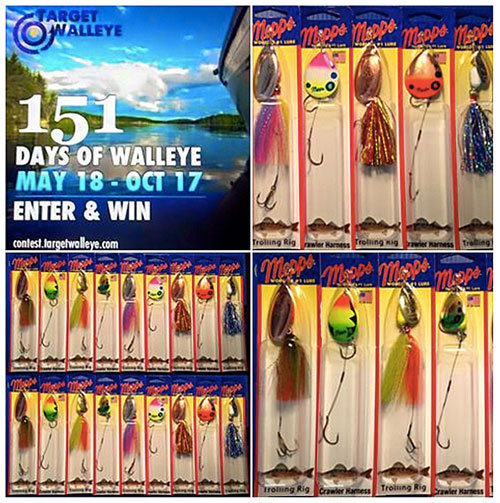 Events
---
---
Jason Mitchell fishes the
Devils Lake
area and uses spinner rigs about 70% of the time during the summer:
> Weed growth is really maxed out this time of year — we are seeing weeds in several different depth ranges based on the water conditions…. The weedlines are irregular in a lot of cases, making it difficult to follow the edge with trolling baits.
> The beauty of the bottom bouncer and spinner rig setup is that you can run it down close to the boat, allowing you to turn on a dime while still moving quickly (from 1.5 to 2 mph).
> The beautiful thing about bottom bouncers is that they can act as a big weedguard. Weeds and algae will slide down your line and collect on the bottom bouncer, keeping your bait nice and clean. Some people worry that walleye won't bite with all the weeds built up on the bottom bouncer, but that's not an issue as the walleye are keying in on the rig.
> The deep-cup Colorados have been the ticket out here because of all the stained water…. I've been using a lot of #4- and #5-sized blades, but I will occasionally go to bigger blades.
> It's important to use a bigger snell when you upsize your blades. I will often run 20-lb test to prevent the snell from getting twisted and kinked due to the additional torque of the bigger blade.
> This time of year…the faster I troll, the better the result. The walleye's metabolism is high and they are going to react to what you give them. If you fish dainty and slow, you're going to get weak bites. If you fish fast and aggressive, you're going to get hard bites. People underestimate walleyes as predators.
> If you're getting missed or short strikes during these late summer months, just continue dragging the rig along. Stopping your rig is often the worst thing you can do because the fish will typically finish the job if you just continue trolling. That's why the rod holder will oftentimes outfish the fishermen!

If the lake was once world class can it not be again with the total cooperation of every one involved?
---
---
Gotta check this stuff out!

---
About Target Walleye
Target Walleye
brings you the BEST walleye and ice fishing news, pics, tips and events year-round, and is brought to you by Al & Ron Lindner, Jim Kalkofen and other walleye nuts like you!
---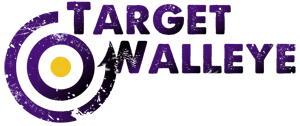 TargetWalleye.com | Rapala.com | IceForce.com