It's a great day everyone! Hope you and yours have a fish-filled, safe and blessed weekend.
– Al, Ron, JK, Jay, Dawn and Brett — the walleyenuts!
If you're receiving this Target Walleye/Ice email — covering the best of walleye fishing during open water and the best of ice fishing during hard water — for the first time, a friend probably signed you up! Target Walleye/Ice is brought to you by Al and Ron Lindner, Jim Kalkofen and other walleye and ice fishing nuts like you.

Today's Top 5


Gravel lizards of the week!
14-lb Green Bay blimp hoisted up Nolan Koepp. Got her on a Rogue — along with 10 others breaking the 10-lb mark that day. Dang!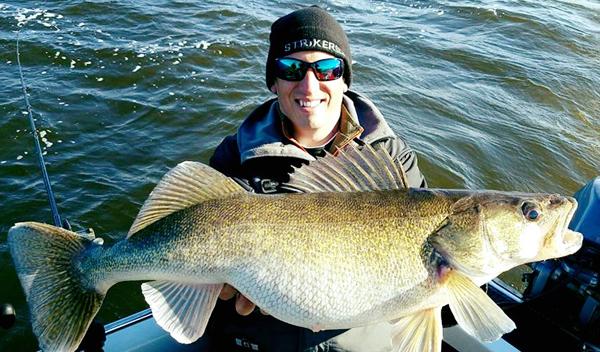 Big water = big fish. Best part is she was released to do her business: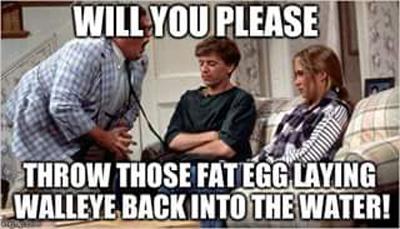 Ken Rice's 13-3 behemoth seduced by a Rapala Husky Jerk: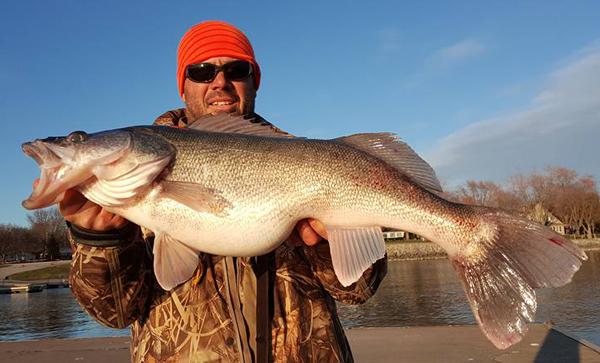 Luke H.'s Lake Erie 12-lber caught on a Lunker City Fin-S Fish. You can always tell the Great Lakes guys by the steelhead-type holds: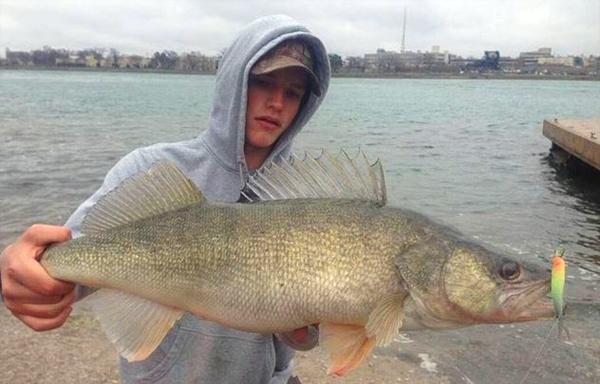 Pitching plastics for walleyes.
MN guide Josh Wetzstein talks shallow Mississippi River 'eyes:
> "In my river experience, 90% of the big fish are caught in 10′ or less. I'll pull Dubuque rigs in 6-15′, but I prefer to pitch plastics in shallow water.
> "You've gotta get out of the fast current. The big fish aren't there. Don't be scared to cast into the wood and sticks. Walleyes feel safe there — they'll even spawn in there. Boggles my mind that you have guys in $50k boats who cringe at losing a bait. Burn through jigs if you have to."
> Right now — water temps of 40 degrees through 50 degrees – he's pitching a
B FISH N Tackle Ringworm
to find fish, then sizing up to a
Moxi
on a 3/16-oz
H20 Precision Jig Head
. "Beefier-profile plastics like the Moxi just do better on big fish this time of year." Stick to fluorescents and the occasional dark pattern for dirty water, and natural colors like oystershell for clear water.
> "It kind of depends on the day, but I usually cast upstream and lift the jig off bottom, reel in slack, and keep the line tight as the current sweeps the jig. Then repeat when the jig hits bottom or lightly shake the rod tip as I reel in slow."
Great stuff.

Local businesses talk new Mille Lacs regs.
We've all heard about the new Mille Lacs regs: catch/release only and no live bait. What you haven't heard is what the local business owners have to say about it — "best winter I've ever seen," "plenty of fish in the lake," that kind of thing: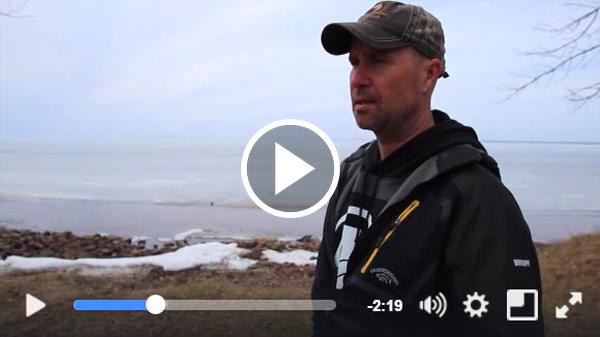 There's more to fishing than keeping, otherwise you'd just hang out at the grocery store every Saturday morning sunrise instead. Still outstanding fishing at Mille Lacs — stop by the local bait shop, buy the hot lure, grab dinner before you leave the lake, and support the local businesses that support the sport we love.
Mille Lacs is the of the of the walleye world so whatever happens there is a BIG DEAL.

New best fishing celebration?
Ends like this, click it for the full version — looks like a sturgeon: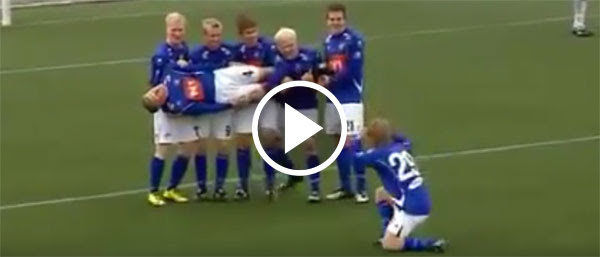 Yep, and not only that seems like he eats walleyes: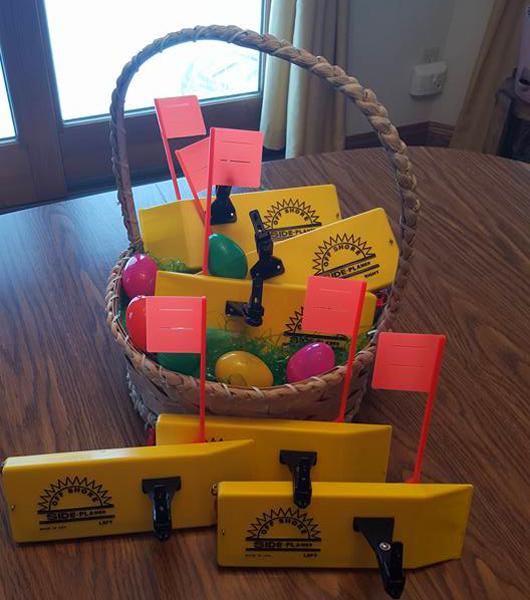 News
1. MN: DNR/Chippewa Mille Lacs talks should be public.
2. WI: DNR scraps Metonga musky stocking plan.
Walleye guys causing an uproar. Do you think muskies have a negative effect on a lake's walleye population? Let us know here on TW Facebook.
3. MI: Slow fishing on the Detroit River.
DNR advising anglers to head south towards Brest Bay on Erie.
4. MI: Mercury levels still a concern.
> "…that's half of the walleye and the pike that should not be consumed."
5. IA: Collecting walleyes for the Spirit Lake hatchery.
6. KY: New regs protect breeder-sized walleyes.
18-26″ protected slot and 2-fish limit on some rivers. Takes 5 years to produce a 20″ KY 'eye.
7. Ice fishing for the biggest brown trout in the world.
2016 highlight reel. No way around it — Eric Haataja is a beast: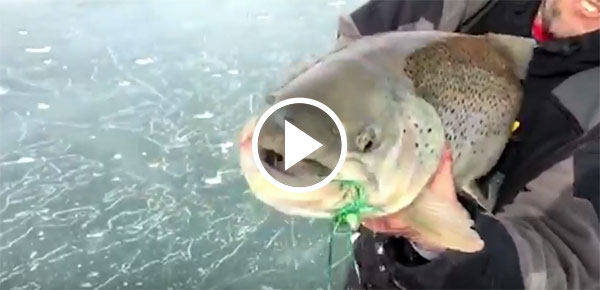 8. MB: Be aggressive for Winnipeg greenbacks (video).
9. ND: Spring Devils Lake slip-bobber walleyes.
Jason Mitchell's bobber is never-not going down.
10. OH cleaning up the Maumee River.
11. MN: Historical Rainy River ice-off dates.
2nd-earliest in 17 years.
12. Riggin' up your ice-fishing ride.
Sketchy and/or no ice got you tinkering in the garage? Tips for decking out your ice-ride during the off-season.
15. Random shot of a laker…

…on a
Scatter Rap Tail Dancer
…too huge not to include: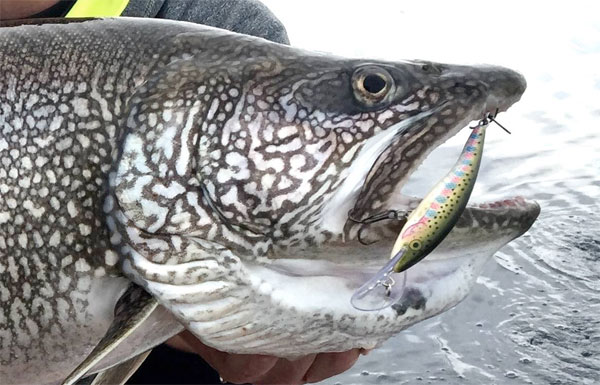 ---
Fishing Reports
1. MN: Lake of the Woods.
> All boat landings are now open from Birchdale to Wheeler's Point. Water temp is 34.5 degrees. Water level is low, clarity is 6-12″ and getting better by the day. Walleye bite has been sluggish but should get better in a few days. The current is fast so upsize to 1-oz gold or pink jigs tipped with a minnow.
> Sturgeon fishing has been good! Anglers are finding some nice sturgeon in and on the incline of the deep holes of the Rainy River. 5/0 hooks and a 2- to 4-oz weight with a gob of night crawlers working well.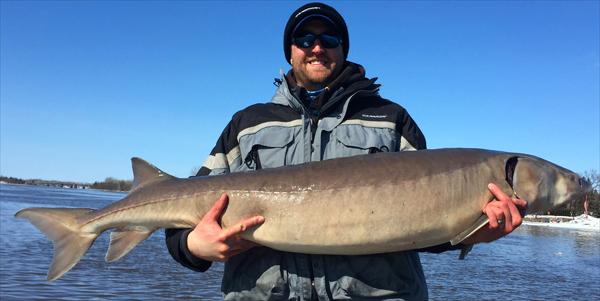 The Big Fork River feeds into the Rainy and recently 'broke' — adding to the dirty-waterness: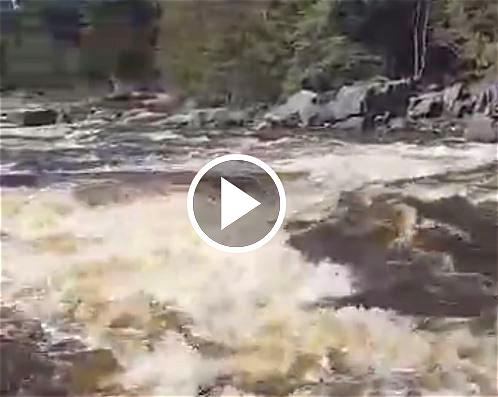 Sign up another ice/walleye-head!
If you're forwarding Target Walleye/Ice to a friend who loves to ice- and/or walleye-fish or want your fishing buddies to get these emails, just
send us
their email addresses and we'll take care of it! (We won't sell the addresses, use them for spam, etc.)

> "Given weather trends, I'm finding fish right on the bottom in 20-30′ adjacent to spawning areas," he says. "In the past we wouldn't have even targeted these fish because they're neutral, so we'd go after the suspended fish. But for whatever reason, on average our big walleyes have been deeper the past couple years."
> "Pull your cranks like you'd pull spinners. Don't run your kicker – use your electric. I'm trolling with the Minn Kota Ulterra on the bow, running 0.8 to 1.2 mph at maximum with slight turns and bouncing in the chop. Think about the precision a good leadcore fisherman has with increasing speed to rise over a hump or decreasing to go down the back. Same deal with this approach."
> These slow speeds in mind, Robertson warns anglers from using any heavier than 1-oz snap-weights. "I see guys dropping giant lead, and that's just a recipe for snags. With a 1-oz snap-weight at slow speed, I can pull baits 2-4′ above the fish. Then every once in awhile I'll shut off the motor to stall the planer boards for a few seconds, letting the bait stall, suspend or drop a little bit, depending on the bait.
> He also uses water clarity as a good indicator for finding big early-season Erie 'eyes. "Muddy water has a lot of junk fish and a poor strike zone. Gin-clear water is often a few degrees colder and serves more as a fish highway. But chalky water? That's baitfish and cafeteria mom territory. Game on!"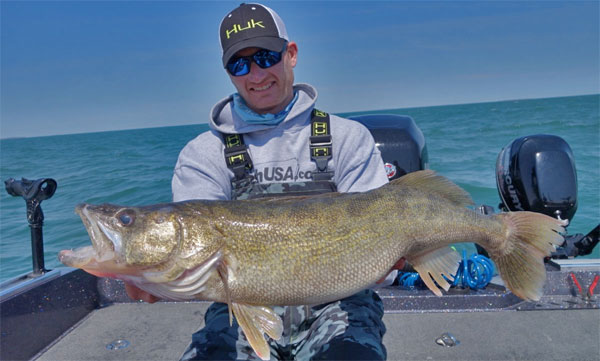 ---

---

Meme of the Day
Yeah, yeah…we know lol.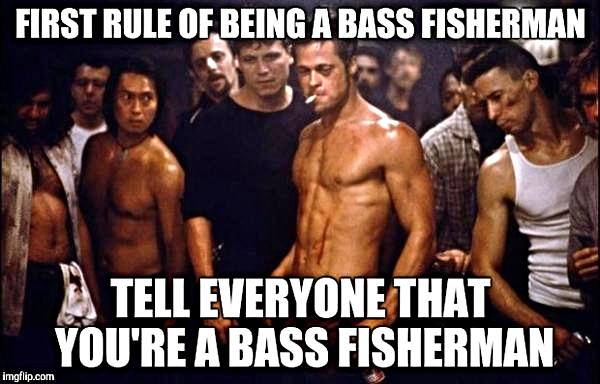 ---
Great ice stuff!
More great stuff!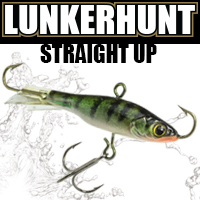 ---
About Target Walleye
Target Walleye
brings you the BEST walleye and ice fishing news, pics, tips and events year-round, and is brought to you by Al & Ron Lindner, Jim Kalkofen and other walleye nuts like you!

TargetWalleye.com | Rapala.com | IceForce.com