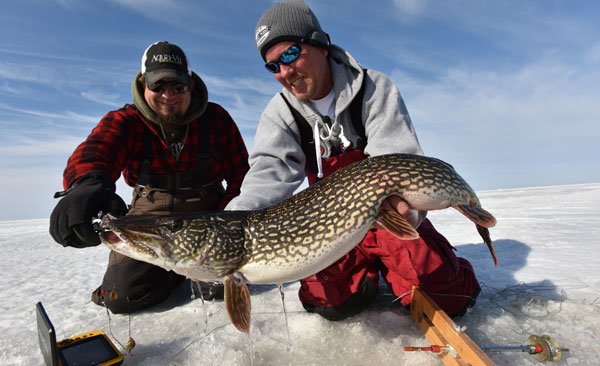 by Jim Edlund
The ice is going fast, pushing us farther north to bookend a short hardwater season. That being said, consider this late-ice encore: a trip to MN's Lake of the Woods for big pike – fish that routinely eclipse the 40-inch mark.
"It's like big-game hunting," says Mark Arnesen of Arnesen's Rocky Point Resort. "Every time a flag goes off it could be the fish of a lifetime. Each trip we're shooting for a 45-incher – 48 inches is a truly big fish and we get a handful each year."
The optimal bite is typically the last 2-3 weeks before ice out. Some years that happens early, like this year, other years it's well into April.
Late March 2015 I shadowed Arnesen and resort guide Tim "Wingnut" Hill as they drilled dozens of holes across a reef and its edges, giving our large group of anglers a shot at monstrous toothy critters. "Changes in depths around breaks, points, humps, and areas of current or flow can be key. Lots of good stuff from Pine Island to Muskeg Bay," says Arnesen.
Presentation-wise, It all starts with buckets of Frabill rail tip-ups, a 10-inch auger and a Stanley measuring tape.
The measuring tape
"I learned the measuring-tape trick from a game warden friend years ago. It's great for getting a sense of the bottom composition. You can feel if it's rock or mud. And, when it comes to telling you depth, tapes don't lie. For $10 you've got a depthfinder you can put in your pocket."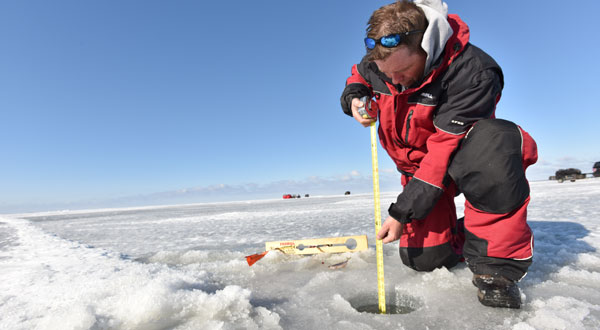 But the measuring-tape trick goes beyond that. I watched Arnesen peel 30-lb Dacron off the tip-up spool and lay it on the ice next to the tape, making easy and precise work of sinker and depth marker adjustment.
Hot dogs
On the business end, Arnesen, impaled a 12-inch sucker or similar-sized dead bait to the beaded and spinner-adorned Quick Strike Rig. "These big pike are feeding primarily on ciscoes, so big suckers and dead bait are often the ticket, but not all the time. Sometimes they'll eat hot dogs."
Yes, you heard right. Hot dogs.
"It's something we picked up from the guys in the Dakotas. Like everybody, at first we shook our heads. Then we started catching big fish. And on those days when suckers or dead bait work better, you can grill the dogs," Arnesen says, laughing.
On that particular day I fished with Arnesen, no Oscar Mayer flags flew, though we did fill our bellies with a few. That day, the pikes' favorite footlong was a beefy sucker minnow. We caught several large pike, but Arnesen took top honors with a 42-incher.
Besides mad dashes to flying flags, on-ice grilling is also part of the fun. With the ability to accommodate groups up to 30 anglers, Arnesen and crew often drag out open-sided skid houses that serve as mobile cook stations where guys can get out of the wind, eat lunch and swap stories.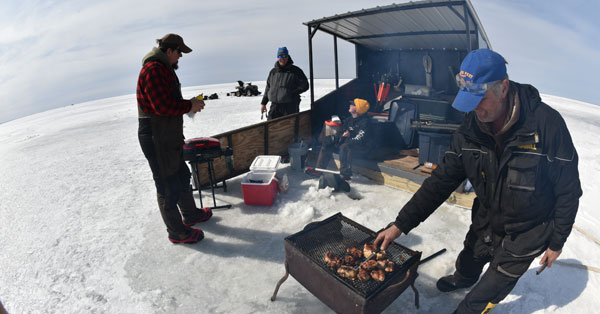 Looking to make one last ice trip this year? Think about big pike on Minnesota's Lake of the Woods. Not only is the big pike action phenomenal, the walleye action can be pretty great, too.
Another smart option is to trailer the boat: fish open-water walleyes on the Rainy River one day and chase hardwater pike the next – the best of both worlds during a time of seasonal transition.
For more information, visit arnesens.com and lakeofthewoods.com.
[All photos Bill Lindner.]