If you're receiving this Target Walleye/Ice email — covering the best of walleye fishing during open water and the best of ice fishing during hard water — for the first time, a friend probably signed you up! Target Walleye/Ice is brought to you by Al and Ron Lindner, Jim Kalkofen and other walleye and ice fishing nuts like you.

Today's Top 5


Rock melons of the week!
Layne Maier was HAMMERING slobby humpback whale-eyes on the new Rapala Flat Jig (said he got turned onto it by TW!). This one went 31.5″ and was stacked up on the edge of a feeder creek in 20′ with a bunch of other plus-sized friends: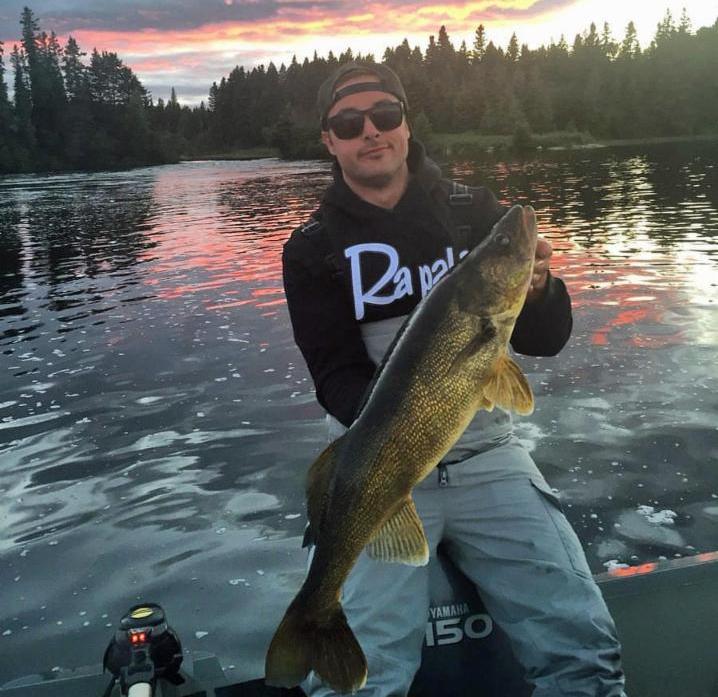 Tanya "I only catch giants" Regush with another Tobin Lake horse caught pulling a crawler harness. Let us know when you've got an open spot in your boat! Great fish: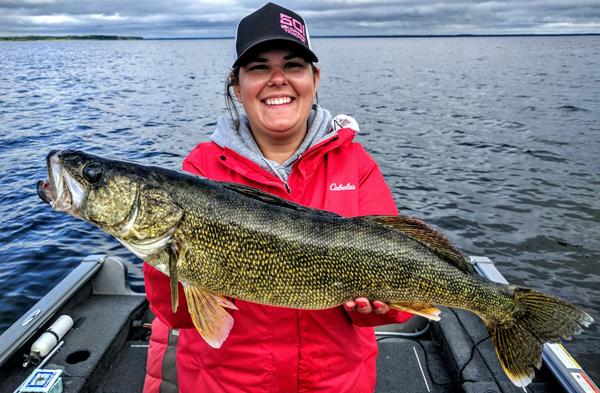 Jake Alexander was working a VMC Neon Moon Eye Jig on the Canadian side of Lake of the Woods when he popped this 30-incher. First thing out of his mouth after was, "This walleye is bigger than any you've ever caught, Dad!" Lol take that old man: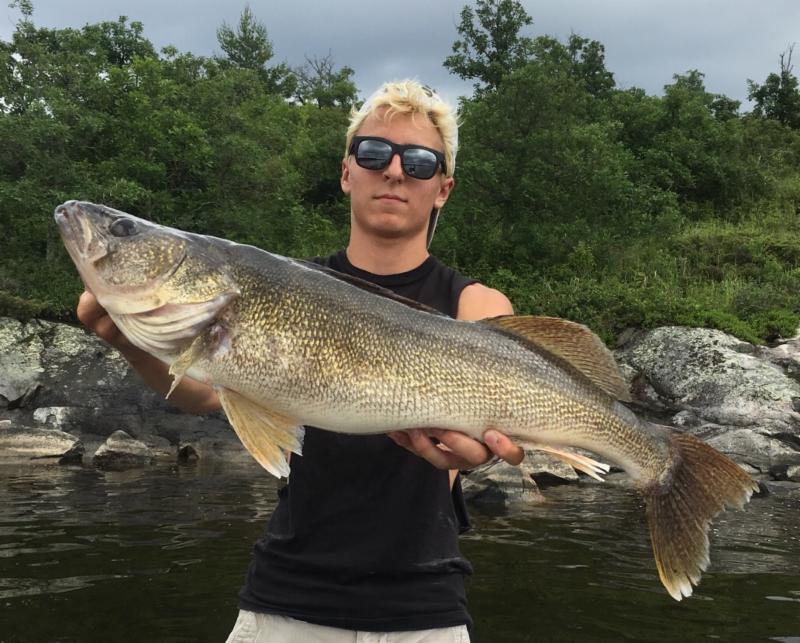 Ryan Cameron stuck this 29″ Saskatchewan rock melon while jigging with a Lunkerhunt Swim Bento. Not a bad 1st fish of the day: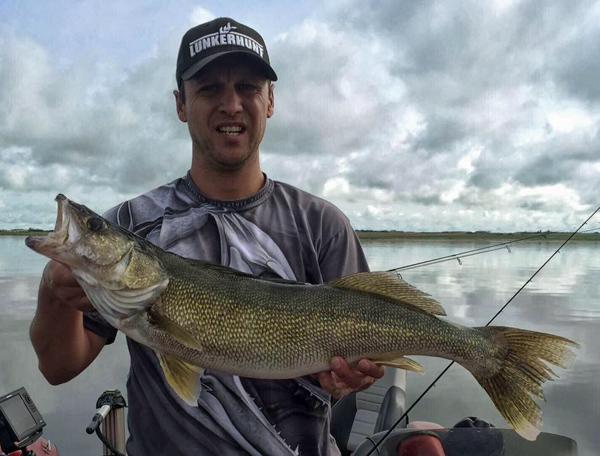 Brian "Bro" Brosdahl and Paul Nelson took 2nd place at the GRAHA Walleye Shootout on Pokegama Lake, MN over the weekend. It was a crazy tough bite that had 52 of the 100 teams zeroing (!) but they cashed some $$$ with an 18.80-lb bag-o'-lizzies: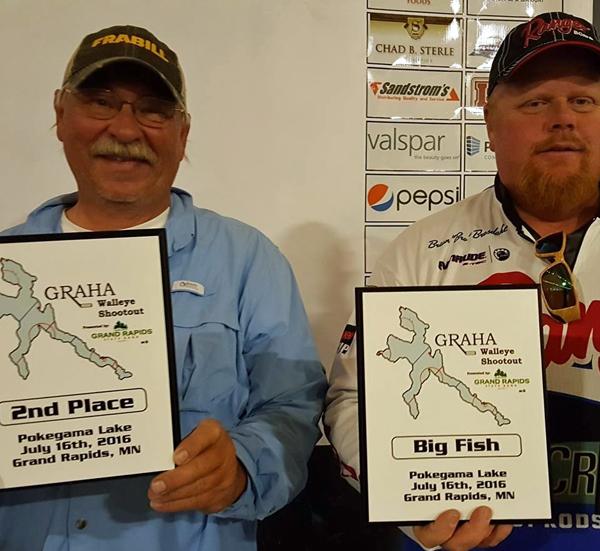 Bro was at ICAST all week so no pre-fishing for him — he opted to go for big fish versus a full card of small ones:
> "Caught our fish on community holes that were full of boats but our cutting edge was speed. Most people were going slow — we were going really fast [normally pull chubs at 0.4-0.6 mph but they upped it to 0.9 -1.4 mph]. Our whole philosophy was big or nothing.
> "Used Roach Rigs with a Northland Rock-Runner Bottom Bouncer (parakeet) in 18-23′. We experimented with super-long 14-15′ snells but got no fish on it — went down to a 7-8′ snell and tagged all the fish. All of them ate the 3.5-4″ redtails and wouldn't touch the bigger ones.
> "Some boats were sitting on suckers all day. We used the Humminbird HELIX 12 and CHIRP to pattern both the suckers and walleyes, then avoided areas where we knew suckers would be.
> "It's a really fun event with one of the most lucrative payouts of all walleye tournaments in MN [$15K payout for 1st]. They pull you through an arena for weigh-in with a WWE style ring announcer getting the crowd jacked up. Felt like it was Animal and Hawk, the Road Warriors, against Paul and I in a cage match."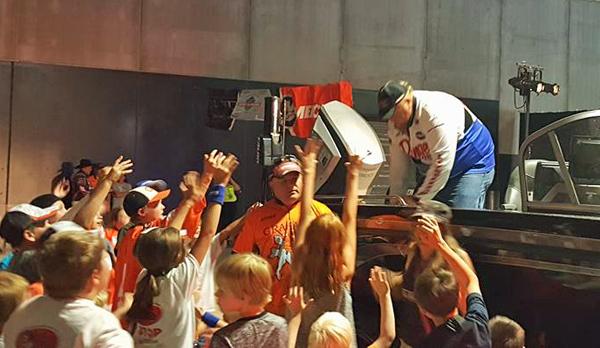 Sounds like Bro was in his element…and now we might know his secret favorite hobby outside of fishing. Here's the vid of him flexing his way into the arena: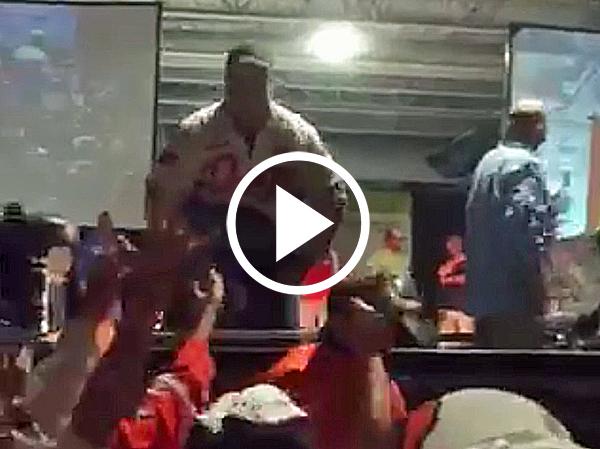 Move over Brock: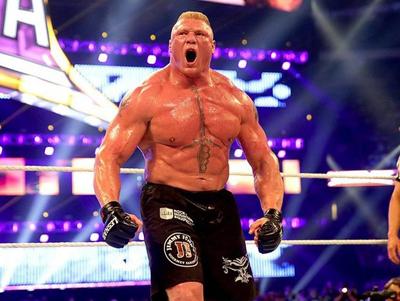 How to catch your own creek chubs.
All you need is some dog food and a couple Snoopy poles. Here's Andy Walsh:
> "Whether we're out fishing for fun or competing in an AIM tourney, our team likes to target walleye using big creek chubs — and we're able to save quite a bit of dough trapping our own. You likely have fertile streams in your neck of the woods that will hold your favorite bait-shop minnows, and catching them isn't as hard as you'd think.
> "I'll chum the creek with a handful of ground up dog food before I ever throw traps — sounds goofy but they LOVE it. When I see surface chatter, I know this creek is the one and that they're there in numbers.
> "Once the traps are set, I'll spend time fan-casting the area with my ultralight. I'll pull back ever so slightly when I feel that faint nibble, and bring them in with a super slow, constant retrieve.
> "Prepare for river shiners, suckers and other surprises in your traps — they all work for walleye. Having a bullhead in your trap may mean the area is a poor site for creek chubbin', but more than likely you simply set your traps for too long."
Then put all the $$$ you save on bait towards buying your wife flowers…you'll need 'em if you plan on being gone another night of the week just to fish for bait now lol: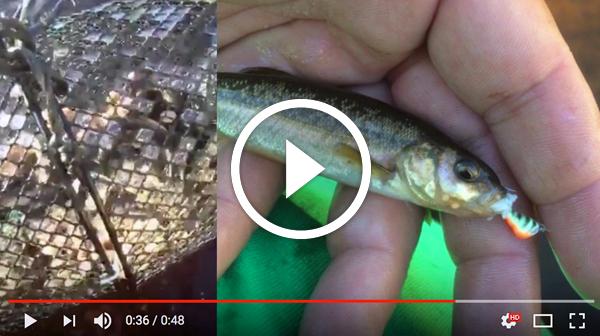 Hot enough for ya yet? Here's MN guide Chris Granrud helping ya chill out with a Rainy River chunk from just 3 months ago…tough to believe: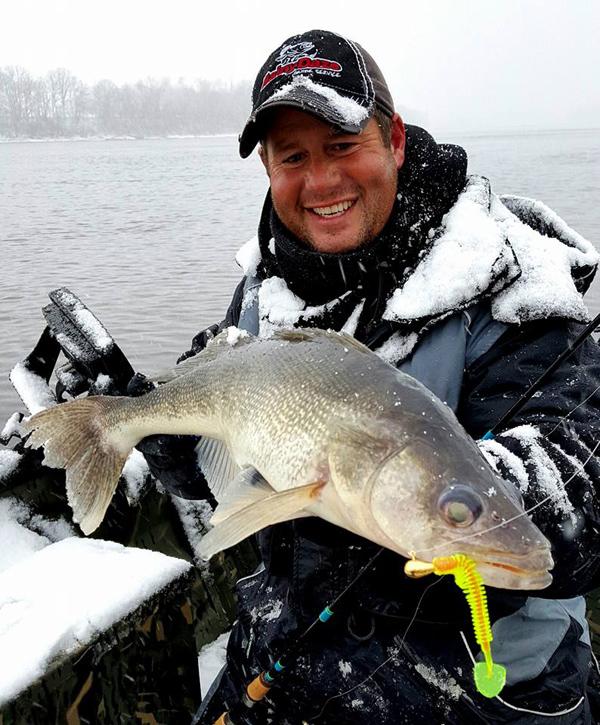 Ahhhhhhhhhh yeahhh — sorta like sticking your head in the freezer, closing your eyes and pretending it's early ice again. If you can't tell, the crew at Rainydaze Guide Service is on 'em year 'round. In fact, we think they may have coined the term "shiner hand."
For sure beats bass thumb….

Definitely not as much as Canadian walleyenut Steven Gottfried: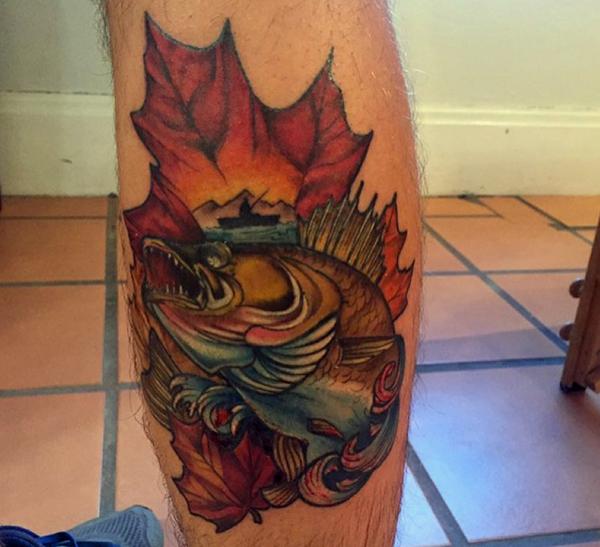 How'd he take the pic without a single moose, bottle of maple syrup or plate of poutine in the background?? lol

News
1. MN: Bymark/Marinucci win GRAHA on Pokegama.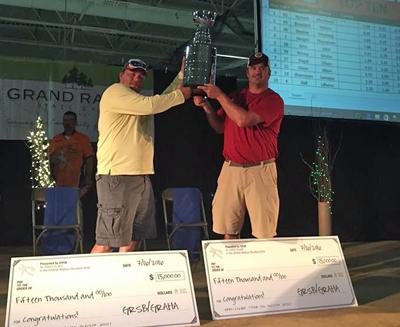 Tim Bymark and Chris Marinucci scraped up 19.79 lbs to put $15K (!) in their pockets. Trying to find out how they did it since the fish were lock-jawed for over half the field:
> "The bite was good all week until Saturday [how it always seems to go!]. The change in bite could have been caused by the shift in weather, from storms earlier in the week to a calmer lake Saturday."
Tim's also the tournament director, so he must have a special bond with those Poke' walleyes. Something like this: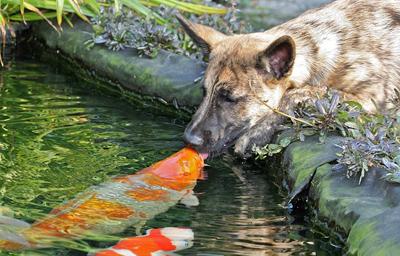 2. MT: Giant weights brought in at Governor's Cup.
Norm Sillerud and J.R. Rasmusan's 2-day total of 58.92 lbs took top honors. We heard of many double digit fish, up to nearly 14 lbs. Working on getting more deets/pics.
3. OK: New Oologah Lake record.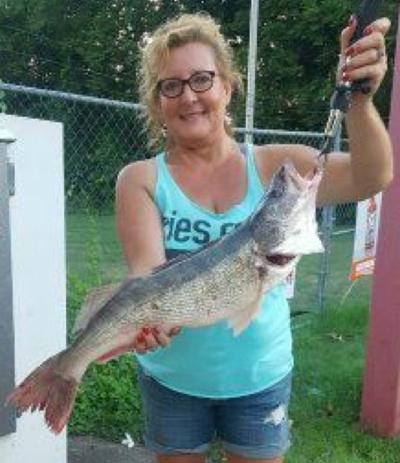 Caught by Joanna Knight and weighed 6.5 lbs (27.75″). Keep in mind this is in OKLAHOMA!
4. CO: Chasing a state record on Cherry Creek Rez (video).
> "Every spring they see these fish that are pushing that state record material (18-13). So we're talking 19- to 20-lb walleyes live in this very impoundment right in the middle of Denver."

5. MN: 90 years young and still catching walleyes (video).
Love these ladies keeping it fun!
6. WI: Testride Ranger/'Rudes at LaCrosse.
Fo FREE.
7. Aqua-Vu: View your lure while trolling (video).
Can't wait to get this puppy on the water.
8. Humminbird wins 'Electronics Best of Show' at ICAST…
…with the HELIX 10 SI. That's their 6th consecutive win….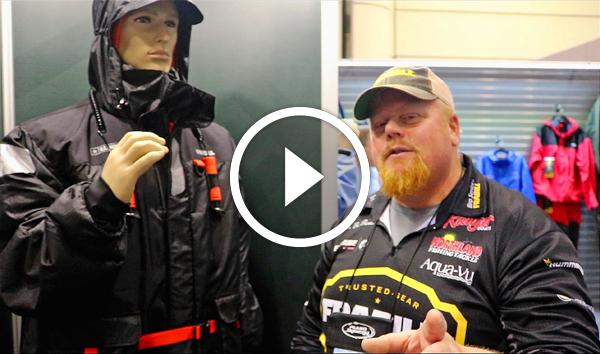 Only ice-fishing suit on the market to be recognized by the USGC as a certified personal flotation device. #SafetyFirst
10. Plano Synergy names Dudick new CEO.
> "These loon deaths come just weeks after the implementation of a new law strengthening the ban on lead fishing tackle in the state."

12. Rapala Flat Jig in action (video).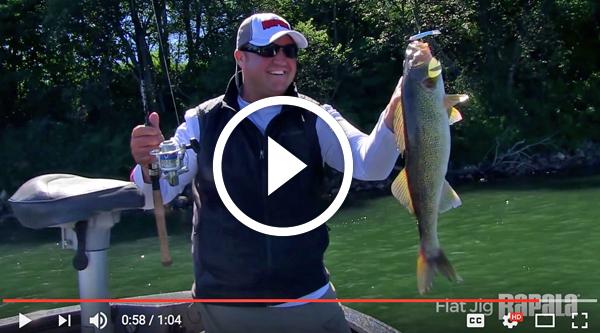 Awesome new bait for current and deep water.
Have a shot at winning all this stuff from Northland Tackle and Target Walleye! Same deal: Enter your email addy, then share the link to earn more points toward a win. Good luck!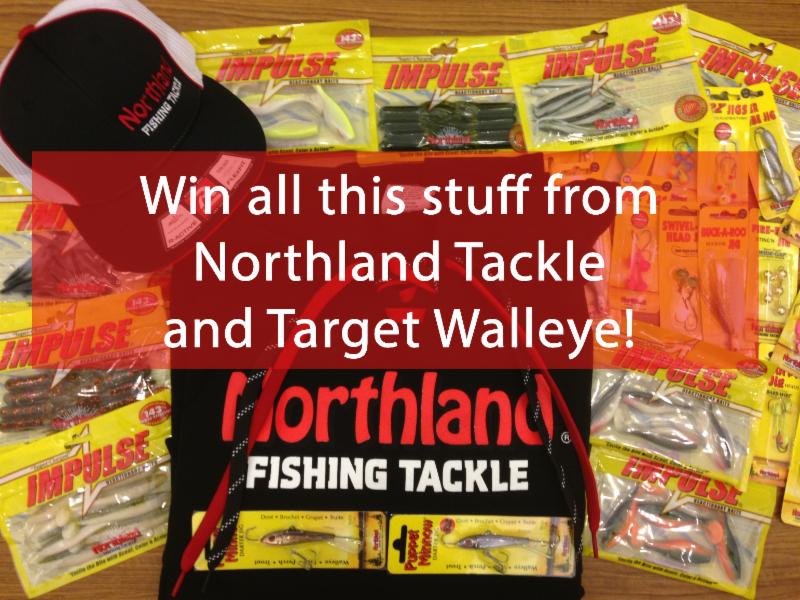 Fishing Reports
> "The trolling bite has still been going strong. It seems that most fish are starting to be caught in depths right around 20′ off old submerged shorelines. Try using a 1.5-oz or 2-oz bottom-bouncer with a spinner to get down to them.
> "Red and white or hammered gold spinners/plastics have been working well. If you happen to be out fishing after one of the major weather fronts, don't be afraid to mix things up and tip your spinner with live bait such as a worm or leech.
> "Slip-bobbering along weed edges or sunken rockpiles has still been working and seems to be the go-to when a front hits and slows things down."
> "The bite has been incredible! Many resorts are downrigging and pulling crankbaits though jig-fishing and drifting spinners is still producing. Look to 28-32′ on the main lake using gold and silver colors. Also don't be afraid to try white baits because the walleyes are chasing schools of tullibees.
> "Up at the NW Angle, the water temp is near 73 degrees. The north and west side of Little Oak has been producing good numbers of saugers and walleyes in 25-30′. Work the offshore reefs and humps using spinners and bottom-bouncers with crawlers, or a jig/minnow combo."
The In-Depth Outdoors crew was just up there and spanked 'em. You can watch the video here.
> "Peak feeding windows are during the early morning hours and late evening — they'll slide up into 5-10′ and can be caught on slip bobbers, jigs and cranks. During the daytime it's all about the reaction bite.
> "Slow death hook/plastic pulled at 1.2 mph to cover ground and provoke them into biting. Also try upsizing your spinner blades and going even faster (1.5-1.8 mph) to trigger that reaction bite. The
Rapala Jigging Rap
craze (#7 or #9) is going well with both crayfish and perch patterns producing."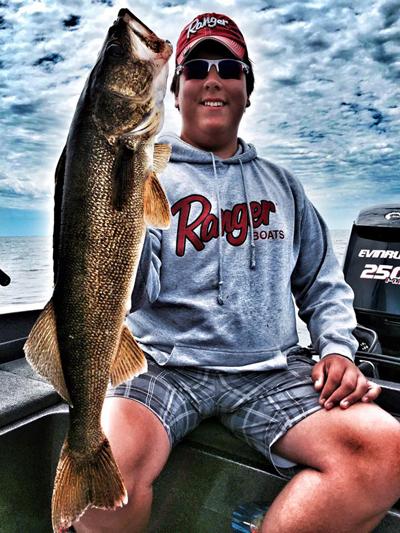 > "Walleye fishing continues to improve with limit catches of eater-size walleyes. They are mostly biting on Berkley Flicker Minnows using 25-35′ of line behind Off Shore Tackle planer boards in 5-8′. On calmer days — monitoring the wind direction and wind speed — we are finding walleyes in 10-18′.
 > "Crawler harnesses have been working well with 1-oz in-line lead weights. Most gold and silver deep-cut blades are working. Maintain speeds of 1.1-1.4 mph while pulling behind Off Shore planer boards."
Great places to catch 'em
Sign up another walleye-head!
If you're forwarding Target Walleye/Ice to a friend who loves to walleye-fish or want your fishing buddies to get these emails, just
send us
their email addresses and we'll take care of it! (We won't sell the addresses, use them for spam, etc.)

Topwater walleyes? Lol:
> "Why topwaters? Baitfish drawn to the moving clean water can be found breaking the surface to feed on food washed into the main river channel. In turn, the walleyes don't mind chomping at the surface one bit."

A-rig 'eyes:
> "Troy Lindner may be keeping this close to the vest…. Seems that not long ago he and Cherokee Lake TN tournament partner Derrek Stewart accidentally hit walleye paydirt slow-trolling A-Rigs over submerged humps in the lake's main channel."
Doctored cranks for wood:
> "Jason Mitchell doctors #6 H6F Salmo Hornets & #6 Salmo Super Deep Runner Bullheads, removing stock front and rear trebles. He leaves the front hook off entirely and sizes up the rear two sizes…."
SUPER jumbo depth probe:
> "Slowly backtrolling a homemade 2-hook crawler harness — no blade, with 1 red bead, and a 1/2- or 3/4-oz egg sinker — up the side of a 30′ hump surrounded by 50′. Instead of a crawler, he impaled each of the 2 hooks with the biggest jumbo leeches…."

Today's 'Eye Candy
Clownin' around: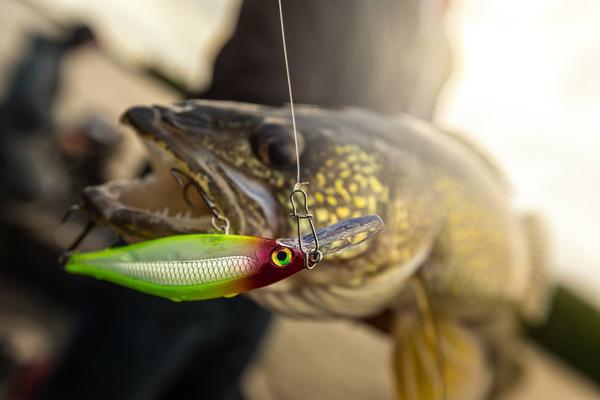 Great snap from the guys over at Rapala Army. She T-boned a Rapala Shadow Rap Shad Deep (clown) then said cheeeeeeeze.
Check this stuff out!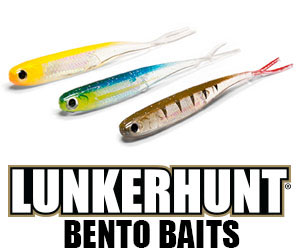 About Target Walleye
Target Walleye/Ice
brings you the BEST walleye and ice fishing news, pics, tips and events year-round, and is brought to you by Al & Ron Lindner, Jim Kalkofen and other walleye nuts like you!

TargetWalleye.com | Rapala.com | IceForce.com