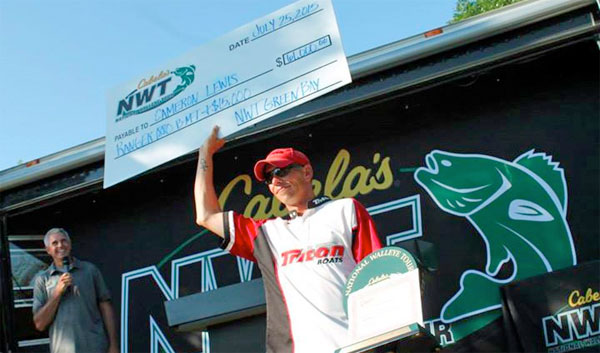 Cameron Lewis won the National Walleye Tour event at Green Bay this weekend — his first ever — with 65.86 lbs over 2 days. He took home a huge $61,000 by trolling big crankbaits when most were trolling crawler harnesses.
> Lewis' crankbaits were 800 Series Reef Runners. When he was in the mud, he used flashy, silvery colors. In the sand up north, he used perch and goby patterns. With his kicker, he would troll at 1.6 to 1.7 mph. With his bow mount, he would travel at 1.4.
> "What won this for me was pulling them on the bottom. Before I came up to the structure, those things were ticking bottom in 27 feet of water and then I'd pound them into the sandy bottom and leave a trail."
Dave Van Oss finished 2nd with 63.42 lbs. He pulled crawler harnesses day 1, but had to switch to cranks on day 2 due to the changing conditions.
> Van Oss ran his crawler harnesses with 1-oz weights. He was traveling between 1 and 1.2 mph with his baits 30 feet back. For his crankbaits (#9 Berkley Flicker Minnow), Van Oss varied the distance between 60 and 120 feet back. With both baits, he was targeting the 15- to 20-foot range.
John Gillman finished 3rd with 63.31 lbs pulling spinner rigs. He was using 1-oz inline weights, chartreuse beads, and both Bugsy Blades and Northland Baitfish Blades in gold and chartreuse. He was running his rigs 40-45 feet behind the boat, just above the bottom in 26 feet.

Kids catching some big ones!
Dylan H. with a 29.5″ out of Adrian's Resort on the Rainy River, MN: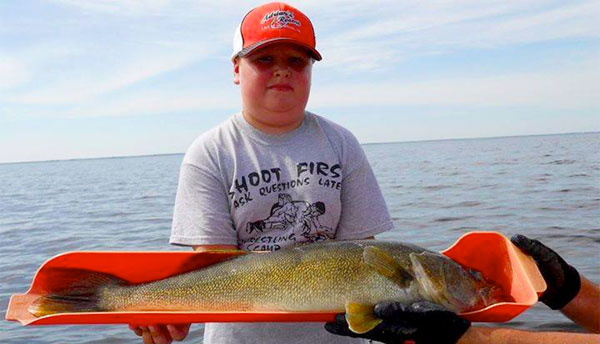 Casey A. caught this HUGE 31″ 11-lb walleye in CO's Chatfield Reservoir:
Check this out, from an 1992 In-Fisherman article:
> A half day or more of wind from a consistent direction usually creates a current moving toward structural elements on the windward side of the lake. But Coriolis force bends water currents to the right of the wind direction. In large lakes like Ontario and Superior, the current bends as much as 45 degrees.
> Not only is the surface current not moving in the same direction as the wind, but a substantial subsurface reverse current is moving in the opposite direction of the wind, so 10 to 20 to perhaps 30 degrees farther to the right. First figure the to-the-right deflection of the surface current; then note that below this surface current a reverse current rebounds like a pool ball bouncing off a cushion at another angle to the right of the surface current.
> This often overlooked current affects walleye position near mid-depth structural elements. Fish in shallow water usually face into shallow surface current. But fish holding deeper than about 5 feet often face the opposite direction-into a reverse current.
Great article, read it here.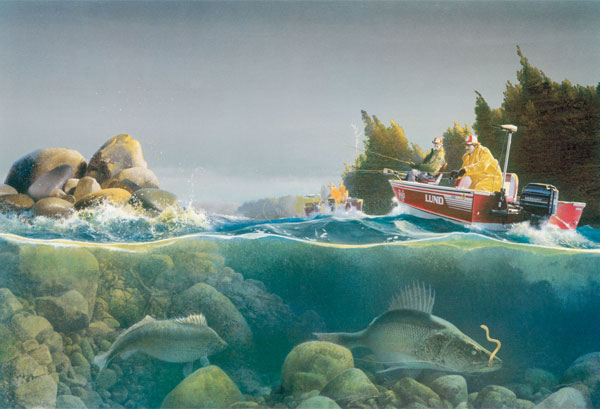 32-inch 14-lb walleye catch on video!
Esnagi Lake, ON: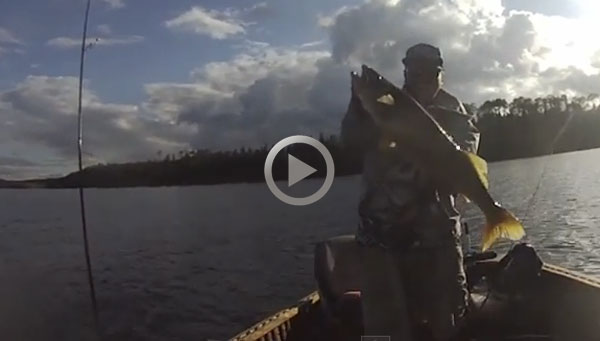 ---

News
1. MN governor may call special session on Mille Lacs.
Sounds like he's preparing a $20 million disaster rescue package to help out the local economy.
2. MN: Mille Lacs AIM results.
Mark Feriancek and Doug McCallum caught 24.13 lbs on leeches. Slowing their trolling speed was the key to triggering the bigger bites.
3. ON: Gogama winners get $5,000.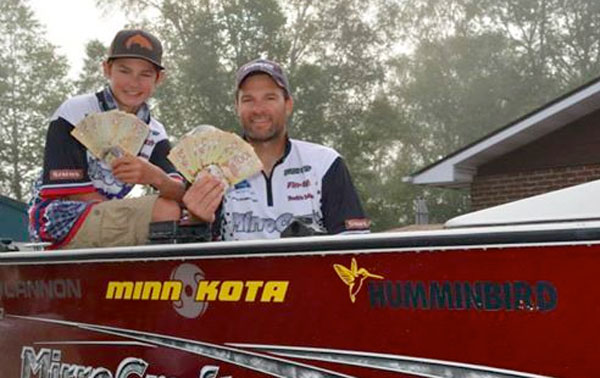 > Minisinakwa Lake is so full of walleye. We boated somewhere between 100 and 150 walleye each day with most in the 12 to 13″ range with the larger ones mixed in. Having never been there it was my Humminbird electronics and AutoChart Pro for the mapping that definitely was the difference and had us figure out key spots so quickly.
4. WI: St. Marys Walleye Cup winners.
5. NY: Sunset Bay Shootout results.
6. WI: FLW tourney director Reynolds honored at Oconto.
Awesome.
7. Humminbird ChartSelect expands.
> …added more exclusive lake maps available as individual downloads.
8. NWT Angler of the Year standings.
9. FL: 2015 ICAST the biggest yet.
Click here to enter and win! And please forward the link!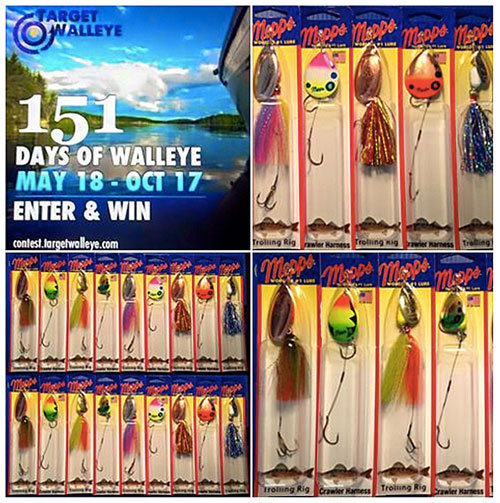 Events
---

'Eye Candy
33″ caught on Green Bay…with a 4-foot pole?? Not sure what that means but was mentioned on the Faebook post.
---

They ain't got wings and they ain't got shovels!
– Former walleye pro and current Leech Lake, MN guide Steve Fellegy talking about not being able to see anything on his graphs for 4 straight days of tournament practice one time. And then:
> …they reminded Fellegy that the lake's walleyes had to be somewhere and that sometimes walleyes suspend high in a column of deep water, escaping the sharp eye of sonar units….
> "So I switched tactics, and without seeing walleyes on the graph, I fished 5 feet down in 40 feet of water. That's where the walleyes were! I won the tournament going away."
When this happens to us, we think: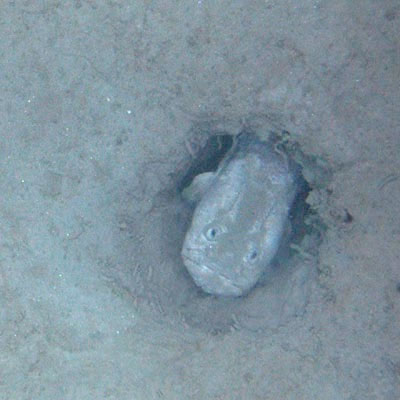 Hahaha!
---
---
Gotta check this stuff out!

---
About Target Walleye
Target Walleye
brings you the BEST walleye and ice fishing news, pics, tips and events year-round, and is brought to you by Al & Ron Lindner, Jim Kalkofen and other walleye nuts like you!
---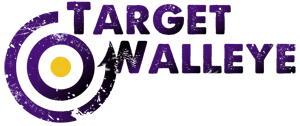 TargetWalleye.com | Rapala.com | IceForce.com