While you were in the deer stand…Jake Caughey, Scott Ramey, Bror Linnerooth and Desmond Janousek road-tripped to Pine Falls, Manitoba and beat the snot outta some last-chance Lake Winnipeg greenbacks. #diehards #tillerlife

> Jake: "Might have been the only boat on Lake Winnipeg yesterday…. Either everyone was deer hunting, called it a season already, or they didn't like 22°F and 15 mph NW winds with heavy snow…."

This might just be the shot of the dang year:

And they didn't just catch one…

Said the average size was 19-22″ with 27″, 26.5″ and 25.5″ being the biggest. Their program:

> Heavy current near the mouth of the bay…fishing in 14-16′ just off the river channel. Northland Fire-Ball Jigs (3/8-oz) and frozen shiners were the ticket.

> No joke…best tactic was to get the jig just barely touching bottom and lay your rod down on the edge of the boat…let the waves bounce it up and down. Soon as the tip stays down…grab it and set the hook. Really kept the hands warm that way too.

Nicely done, fellas!

"The tweak that makes fish freak."

We've mentioned the all-new VMC Bladed Hybrid Treble during the open-water season…but seriously can't wait to play with it on the hard stuff:

> …a small silver willow blade attached by a resin-sealed swivel to the back of a 1X-strong, wide-gap, short-shank, high-carbon steel VMC Hybrid Treble.

> …suspended on a swivel…can rotate 360 degrees, so a bait's built-in action can make it kick out in any direction. Each time it does so, it will catch any light penetrating the water column and flash.

Here's what some of the pros — that got to test it last ice season — are saying about its tweakability. Full write-up here, few excerpts below:

> "When you're jigging with it, you get the added flash of that blade. It's really a cool deal. I'm actually wondering how we've gone so long without this, it seems so must-have now!

> "It makes [VMC Tingler and Tumbler Spoons] really erratic…can make them drift head-first…or go sideways. There's no way of predicting how it's going to go.

> "When you jig up and that blade catches the water, it's slows it right down [by about 40%].

> "When you put it on the belly hook [of a Jigging Rap] it acts kind of like a parachute and causes the bait to drift sideways and kind of pendulum down in a wider jigging circle, which is really awesome…."

> "A little extra flash and vibration will be especially helpful in stained and dirty water."

> "I like it for the types of spoons that tend not to have as much flash, roll, or action on their own…that's where adding the Bladed Hybrid Treble gives you the perfect trifecta: rattle, color and flash.

> "There's a lot of people who use a whole minnow on a jigging spoon to make it twice as long…a more enticing snack to bigger fish…but sometimes [that causes] you get short strikes. The cool part about this bladed treble is it will bulk up your presentation without being too long that you get short strikes.

> "[On Jigging Raps] that blade makes it a focus point, so get a lot more fish T-boning that bait, rather than just nipping at ends or tails….

> "You're still going to get a decent amount of glide, with a slowed-down action. …especially walleyes, when they're super finicky, you don't want to be making big sweeps and swings with a Jigging Rap. They'll come up from below and hit that bladed treble."

I've been having plenty of date nights with my split-ring pliers in the garage, getting ready to play with different combos…will keep you posted on some of my tweakering after they're walleye-approved.

In the meantime, FishUSA has all sizes of the VMC Bladed Hybrid Trebles in stock…for now….

Random thoughts from the deer stand.
Didn't "catch any deers" last weekend, but did get to gaze into a Buddy Heater — in a box blind — and daydream about ice fishing…among a zillion other things. #ClicheHuntingPics
I love deer hunting, but am far from a diehard — just don't do it all that often because: FALL FISHING. Had the chance to sit in the stand over the weekend again and it sure gives a guy/gal a lot of time to think about everything, nothing, and whatever's in-between.
Was thinking to myself that if anything walked by — whether it's a doe, buck, swamp donkey, heck…even freakin' Bambi herself — I was gonna light it up. Haven't shot a deer in 5-ish years and the whole fam would loooove to get some venison back in the meal plan.
Got me thinking about how often I preach catch and release — or selective harvest — when it comes to keepin' fish…. Realized that maybe some people just don't have the same opportunities as you and I far as fishing goes…maybe they've got that same craving for a fish dinner as us rookie deer hunters do for venison? Maybe we shouldn't be so quick to jump on someone for keeping a legal fish….
Just some random thoughts from a deer stand in northern MN….

6 must-have jigging spoons for hardwater walleyes.
Ice fishing: Are you THIS diehard?
News
1. MN: Peeps rescued off Upper Red Lake…AGAIN.
After big winds broke open a monster crack in the ice sheet…. Seems to happen every year up there with people and resorts all trying to be the first. It's soooo early yet…PLEASE BE CAREFUL AND DON'T PUSH IT.
2. MN: Man falls through the ice on Skogman Lake.
Was (luckily!) able to pull himself out.
3. NPAA annual conference comin' up.
Jan 3-5 in Wisconsin Dells. That's the National Professional Anglers Association. Couple of this year's featured speakers are pro basser Mike Iaconelli and Bass Pro Shops owner Johnny Morris. Great chance to network with pros who've had success on and off the water, and learn about the business side of the sport.
4. MN DNR put the kibosh to a lead-ban petition.
Received a petition from a slough of environmental/conservation groups requesting they initiate rulemaking to (among other things):
> "Ban the possession and use of lead or other toxic fishing tackle on MN waters located within the common loon range…."
DNR's response and what factors their decision was based on here.
5. MN: Zeebz found in Lake of the Woods…sorta.
Zebra mussel larvae — no adults or juveniles found yet.
> DNR research scientist Gary Montz: "We don't know if the lake's water chemistry is conducive to zebra mussel survival…it's possible that calcium levels or other factors might prevent propagation."
Honestly thought zeebz were already in there…. Will be added to the infested waters list so that "people who harvest bait, fish commercially or use water from the lake take necessary precautions."
6. MN: Still no adult zeebz found in Red Lake…
…but the DNR says they're in there:
> "There is no viable explanation for seeing multiple veligers [zebra mussel larvae] in two different sites in both Lower and Upper Red Lake other than an established zebra mussel population."
7. NY: Warrior Boats breaks into western New Yawhk.
**My attempt at a Brooklyn accent 'cuz I don't know how western New Yorkers sound**
D'ja know de farthest east Warriawh Boats dealuh is in Cleveland, OH? Not anymawh. Now New Yawhkers will be able tuh drink deir cawhfee on de big watuh wit'out any feah. Ya dig?
If that made zero sense to you (lol) feel free to read this press release instead.
8. ND's biggest ice show happenin' in 30 days.
Called the Fargo Ice Show and happenin' Dec 13-15 at Scheels Arena = 45,000 sq ft of ice-fishing goodness! Know how fast calendars fill up…so slap it on!
Pumped to hear they're doing the New Product Showcase again. Hit up their Facebook page for tons of updates, ticket giveaways, discounts and more.
9. Was this bait dipped in gold?
That's the new Clam Jointed Pinhead Mino in the "red glow/gold glitter" color. It's no secret how well jointed baits can work during the open-water season — gives the bait an extra little wobble — this is the first I'd ever seen one designed specifically for ice. And that face-down design is for upward feedin' fish….
10. Lake Superior: Lamprey numbers dropping…
…but still too high. Was an estimated 780K before "lamprey control" started in 1958…now believed to be roughly 180K:
> Sea lampreys feed on the blood and body fluids of fish by attaching to them with a tooth-filled, suction cup mouth and file a hole through the fish's scales and skin with a razor-sharp tongue.
> The average sea lamprey kills up to 40-lbs of fish during its adult, parasitic stage. Sea lampreys prefer trout, salmon, whitefish and sturgeon, but they also attack smaller fish such as walleye and perch.
11. Okuma has a new 3-in-1 ice rod.
Called the Trio Ice Rod Kit. Lets you swap out for a 24″ light, 26″ medium light, or 28″ medium blank depending on the type of fishing you plan on doing.
More info on those and Okuma's other new-for-2020 ice rods in this vid:
12. Michigan Walleye Tour 2020 schedule out.
This is their 25th year! Put on by the Saginaw Bay Walleye Club:
Apr 4-5, Detroit River
May 2-3, Lake Erie
Jul 11-12, Saginaw Bay
Aug 7-8, Bay De Noc
Championship, Sep 12-13, Burt and Mullet Lakes
13. SIMMS has some new walleye shirts.
I'm gonna need that hoodie asap:
Plus a TON of other new stuff here.
14. Sea Foam has another awesome giveaway going on.
Giving away 6 cases of their newish Marine PRO product designed just for marine engines — hope you're lucky enough to get your hands on some! Cleans and lubricates your motor, helps prevent corrosion caused by ethanol and water, and stabilizes tank fuel up to 2 years [!!].
15. Someday Isle Tackle has 25% EVERYTHING.
Awesome pre-ice sale, but on their open-water baits too. Don't need a special code — all their prices are automatically chopped down.
If you still haven't seen their made in the USA Water Puppets, here's a few different ways to fish 'em and what they look like underwater:
TargetWalleye.com Highlights
Tip of the Day
Talking BIG walleyes…not just Ross Robertson (lol):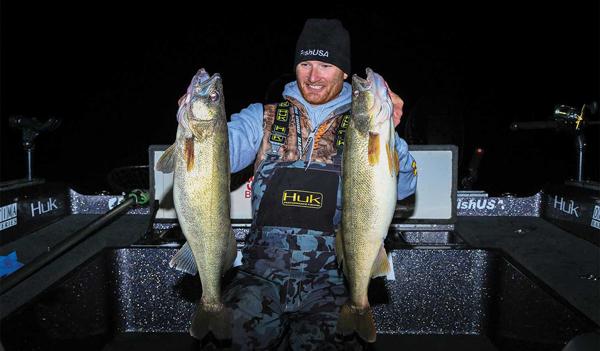 Still lots of fish to be caught if you're willing to bundle up! Really no better time to stick a bruiser than the late-fall after-dark bite. Full Ross Robertson write-up here on OutdoorLife.com, few excerpts below.
> This time of year, the big fish move shallow after dark for one reason: to gorge on large baitfish before winter sets in….
> Covering water after dark is just as critical as it is during daylight hours, though simplifying your approach to improve your trolling efficiency pays off. If you prefer trolling with planer boards, be sure to use reels with a line-counter feature. During the day, you can eyeball line length, but at night, having the ability to set your lures at exactly the same distance once you start getting bites is key.
> …can use [planer boards] to put lures in water too shallow for the boat. I'll hug contour lines using my GPS but use my planers to get baits to shallows where fish would spook — or bang up my prop — if I moved in right on top of them. To ensure your boards are exactly where you want them, use tape to affix a glow stick to each one.
> Suspending stickbaits such as the Rapala Shadow Rap are my go-tos. While there's some debate over the importance of color after dark, I prefer baits with good contrast, such as those with a black back and chrome or white sides. Suspended stickbaits also don't get hung up easily, which spares some headaches that are even more painful to remedy at night.
Ross talks a lot more specifics, and how he targets falleyes from shore, here in the full write-up.
Quote of the Day
"It's that time of year! Don't forget to put tire chains on your Crocs and flip 'em into 4×4!"
– Hilarious post from Ben Kron talkin' what might just be the most popular permanent fish-house accessory out there:
In other Croc news: Luke Combs has a new line of Crocs coming out tomorrow that I'm legit thinking about buying — don't judge lol. Though I'm sure he can make 'em look a lot cooler than we can:
Sign up another fish-head!
If you're forwarding Target Walleye to a friend who loves to walleye-fish or want your fishing buddies to get these emails, just send us their email addresses and we'll take care of it! (We won't sell the addresses, use them for spam, etc.)

Who is Target Walleye

Target Walleye

— walleye during open water and all species during hardwater — is brought to you by Al and Ron Lindner, Jim Kalkofen, Brett McComas and other diehard fish-nuts like you! #fishheads

Brett McComas

is the main man for Target Walleye He was discovered in Brainerd, MN after years of wondering how in the heck people break into the fishing biz. He's in it now, but still can't answer that question…. Brett is one of those guys who majored in marketing, only because there was no such thing as a "fishing degree" at the time…. Get him at

brett@targetwalleye.com