For walleye anyway: the dropshot rig. That's according to Gord Pyzer, who caught this 34-INCHER at Lake of the Woods doing just that: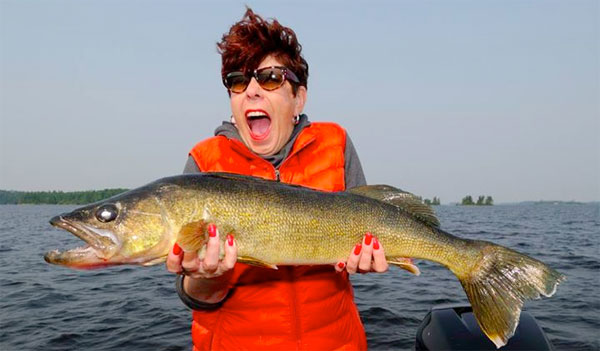 He was using dropshots tipped with live bait and a slinky weight 12″ below the hook, which he said is key for avoiding snags. Try it and let us know!

Speaking of 30-inch fish…
…here are some more!
Manitoba Manny with a 32″: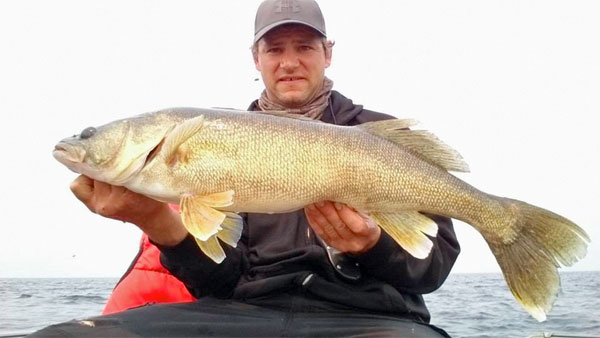 [Btw, Manny does a pretty good Al Lindner impression….]
A 31″ from Canyon Ferry, MT — nice fish Jeff!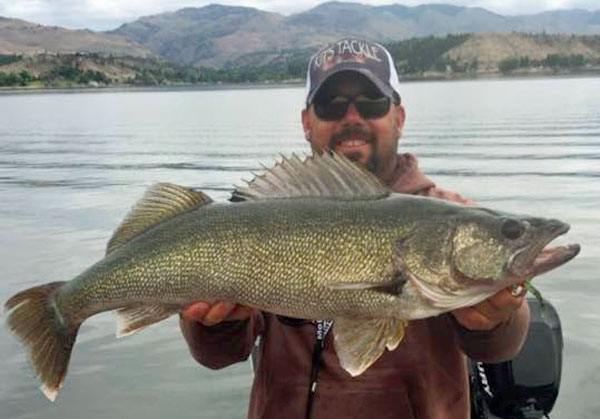 Here's a nice Lake of the Woods 31.25 caught out of Ballard's Resort: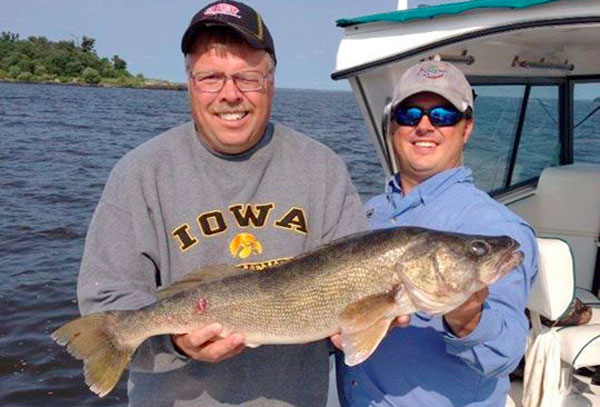 Not sure where this 30+ was caught, but it's a nice shot!
Green Bay still kicking out some BRUTES:

Walleye boats getting bigger?
That's what Rick Pierce of Yar-Craft says:
> …average size has also increased from when BassCat acquired the brand in December 2011. In the 2012 model year, the company sold almost exclusively 186 models. "Now that market is 20s and 21s. We hardly build a 186 now."
How about this:
> Minn Kota's new EO is a small outboard motor designed for jonboats, canoes and kayaks. Replace your gas engine with clean and quiet electric one. Comes in 1 and 1/2 hp, and features variable speed control, a 36-inch adjus shaft, and an adjus clamp-on bracket. Will run for 9 hours straight at half speed….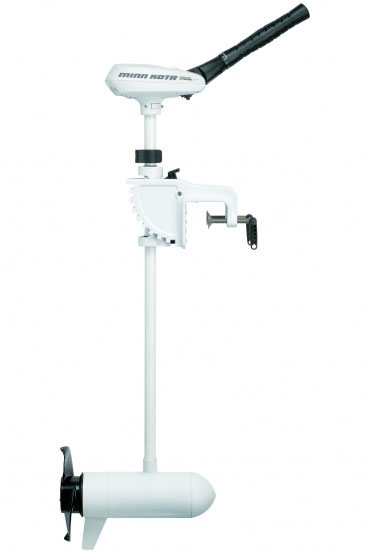 We've heard of trolls under bridges and trolling for walleye, but walleye under bridges?? lol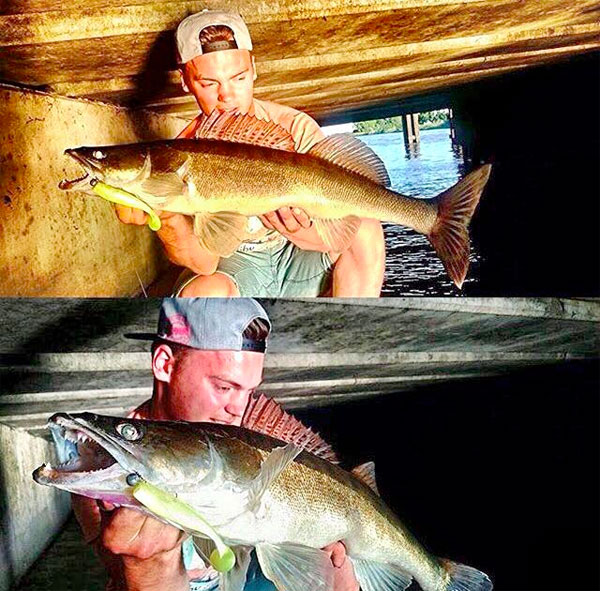 News
1. MN: Pool 2 best trophy fishery in MN?
MN HOFer Dick 'Griz' Grzywinski:
> "In all of Minnesota, you won't find a better place for trophy walleyes"
> "I caught my biggest walleye ever –14 pounds, 6 ounces — here. And I've had customers catch walleyes 10, 11, 12 pounds."
Hard to argue. The DNR made that stretch of the river catch-and-release in '93 and the results have been wildly successful. Imagine what would happen if harvest was eliminated on some of the state's classic walleye fisheries….
2. Eric Naig promoted to VP sales/marketing.
For Northland:
> "I'm extremely honored and grateful that Northland Fishing Tackle has provided me this opportunity,. I look forward to working with our customers, rep groups and others to expand our business, while maintaining our commitment to offer high-quality, value-conscious products that are 'Made by Fishermen for Fishermen.'"
Not sure if you're aware that Eric is a heck of a fisherman: He competed for 11 years as a pro on the PWT, NAWA and FLW walleye circuits.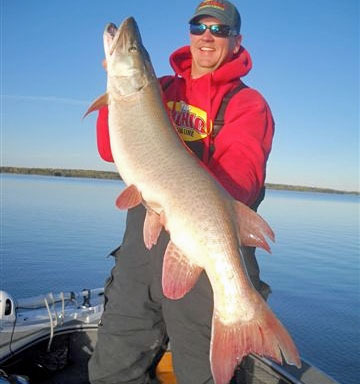 3. SD: Mitchell got 52,000 walleyes.
4. NY: Cazenovia gets 'eyes for 1st time since 1978!
Stocking 23,000.
5. MN: New Lake of the Woods fishing map.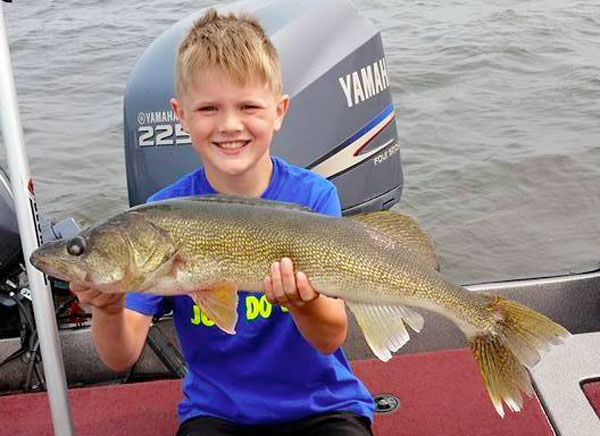 > The mayfly hatch has set fishing on fire! Lots of anglers catching limits of walleye and sauger. Trophy and picture-worthy walleyes in the mix, usually deeper. Pine Island, Light House Gap, Graceton, and Zippel Bay have been good for jigging 25-30′. Long Point to Archie's Reef jigging in 22-26′. Those pulling spinners have had luck in the same areas, 10-15′. Knight and Garden Island reefs have also been good for pulling spinners, 8-16′. Hot colors are pink, gold, orange. Some resorts starting downrigging in similar areas.
> On the Rainy River, sturgeon season opened July 1. Strong currents call for more weight and more crawlers, but hit pockets around 22′. Anchor up and fish the bottom. Walleyes and saugers making anglers work a little harder on the river. Evenings best in 16-18′.
> Up at the NW Angle, walleyes actively filling limits along shorelines of islands. Try shallow depths of 14-16′. Jigging with leeches best. Reefs in Little Traverse heating up on flat days. For pike and bass, fish bays and weed beds. Many muskies caught and released this week, some by walleye anglers.
For info on lodging and guides, go to www.LakeoftheWoodsMN.com/Lodging.
7. MN: Leech Lake report.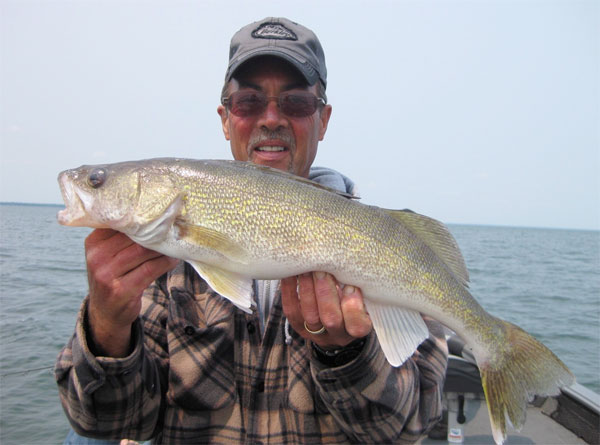 > Mark Christensen — long-time Leech guide, tournament angler and resort owner — with a nice walleye. Walleye action is hot on the rocks in 15-20′. Rigging with crawlers or leeches has been popular. Mark's peak bite most days is 10 am to 2 pm.
Did you see the new duds yet? These are some of our faves:
9. Garmin says victory vs Lowrance.
If you're curious about the legal shenanigans in the $500 million fishfinder market, background is here.
10. FL: Girl killed by leaping sturgeon.
Heartbreaking. Support the family here if you're able.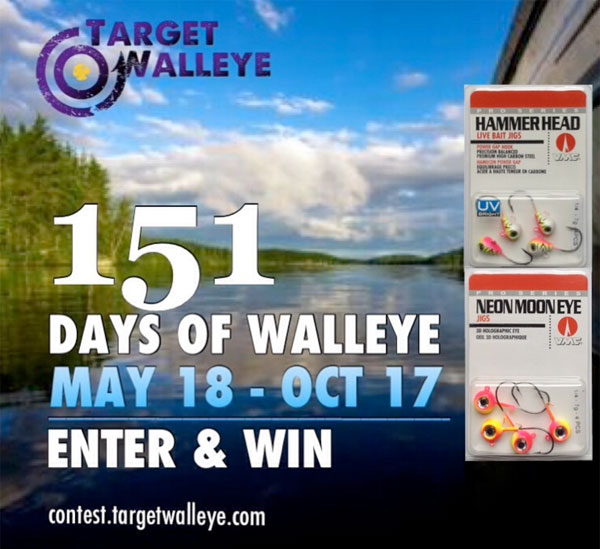 Events
1. MN: AIM on Leech Lake this weekend.
Danny Thompson:
> "We're live bait-rigging kinda guys, and honestly the bite there has been phenomenal this year, so there's a lot of big fish to be caught. We figure 30 lbs will only put us in the top five.
> "You'll need some big chubs here, but you can do anything from leeches to crawlers. A large concentration of us will be using big creek chubs, hunting the big fish."
2. MT: Governor's Cup this weekend.
200 teams.

'Eye Candy
Not sure where this shot is from, but we feel this way every time we catch one too!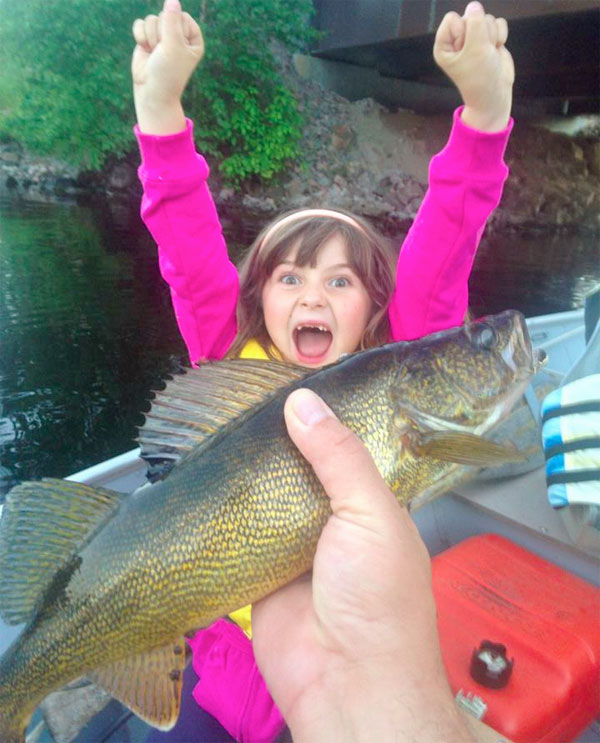 Now's a good time for leeches.
> Leeches work great once water temperatures start to get above 50 degrees. They're especially effective in warmer water because their active movement does a good job of tempting big 'eyes that don't want to bite. (In cold water leeches become inactive and curl up.)
> Look to hook the leech near the sucker, which is the back of it's "tail." This allows maximum swimming movement when you're pulling it along. If you're bobber fishing, hooking it wacky-style through the middle is generally best.
> Keeping leeches cool is critical if you want to keep them active and healthy. Color usually doesn't matter when you're fishing leeches. Black, brown, grey or whatever — it doesn't seem to make much of a difference. The liveliness of the leech is
way more important.

Don't ask me why we've been calling this a pickerel tournament for 77 years.
> "Even though it's called a pickerel tournament, there are no pickerel around here. Pickerel and walleye are two different fish."
Yes. Yes they are.
Gotta check this stuff out!

---
About Target Walleye
Target Walleye
brings you the BEST walleye and ice fishing news, pics, tips and events year-round, and is brought to you by Al & Ron Lindner, Jim Kalkofen and other walleye nuts like you!
---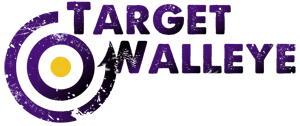 TargetWalleye.com | Rapala.com | IceForce.com