If you're receiving this Target Walleye/Ice email — covering the best of walleye fishing during open water and the best of ice fishing during hard water — for the first time, a friend probably signed you up! Target Walleye/Ice is brought to you by Al and Ron Lindner, Jim Kalkofen and other walleye and ice fishing nuts like you.

Today's Top 4

Look at this Lake of the Prairies BEAST!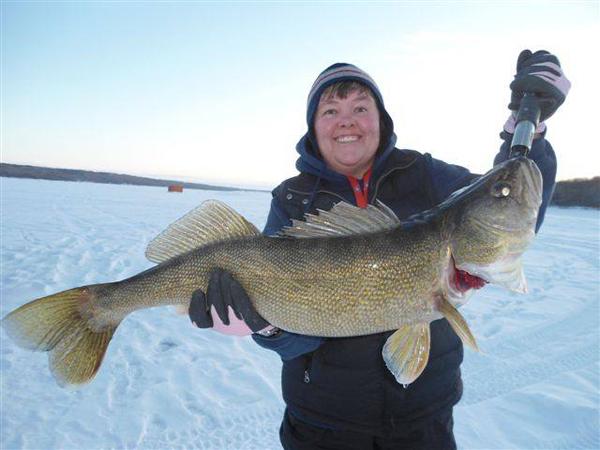 Susan G., Lake of the Prairies, MB, 31″ and 13.5 lbs. And…how 'bout barbless!
> They had seen a large Mark on their flasher come in and out a few times but would not take the Lures they had been using. Susan told Roger she was going to tie on a 1/4-oz PK Flutterfish firetiger pattern.
> She pinched the barbs, added a small minnow head and
Bait Button
as to not lose the minnow head. She dropped the Lure down and twitched it a few times. The fish charged in and smashed the Flutterfish, almost ripping the rod out of her hands.
After an epic 5-min battle the monster was on the ice and in Susan's arms. Susan could hardly speak and was shaking! (Add a tear or two!)
Way to go, Susan!

What a tank! TWI reader Rob H. with another Lake Ontario sow: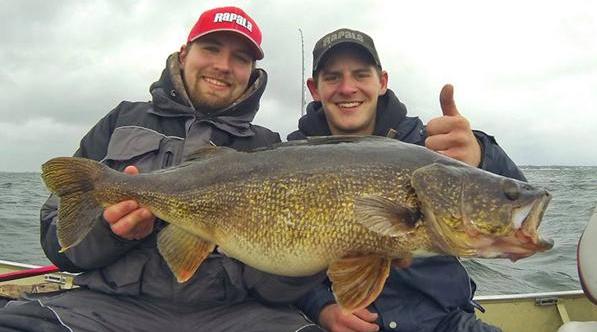 12lb-class fish smashed a Size 12 Rapala Jointed Husky Jerk.
Dudes didn't give the lakers a break either!

Kids ice perch smackdown.