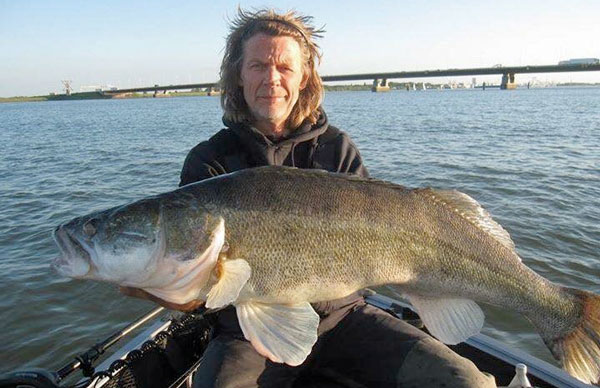 WOW!
Backstory: The 2015 Predator Tour (held in the Netherlands) begins tomorrow. It's a "catch-photo-release" European derby where anglers chase three species of predator fish including the walleye-like Zander.
Team Lund's Marcel Asbrock was practicing for the event when he crossed paths with this over-the-top 104-cmer (40.94-incher).
A walleye that big is almost impossible to even comprehend…but we'd love to catch it!
More at the @Predatortour Facebook page.

Crayfish defeats walleye.
Mano y mano (or mouth to claw, whatever that is in Spanish!), this crayfish lives to fight another day: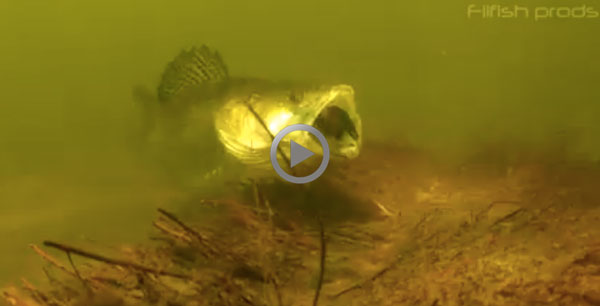 Not sure whether to give him a high 10 or feel a little bad for him (augers can't dance?), but love the shot!
Maybe this kid wins?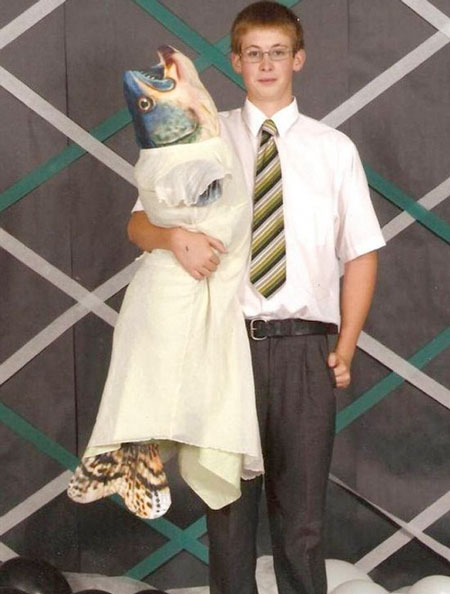 A little inspiration for the weekend:
Ross Robertson on Erie — fish is so behemothistic it looks like a redfish: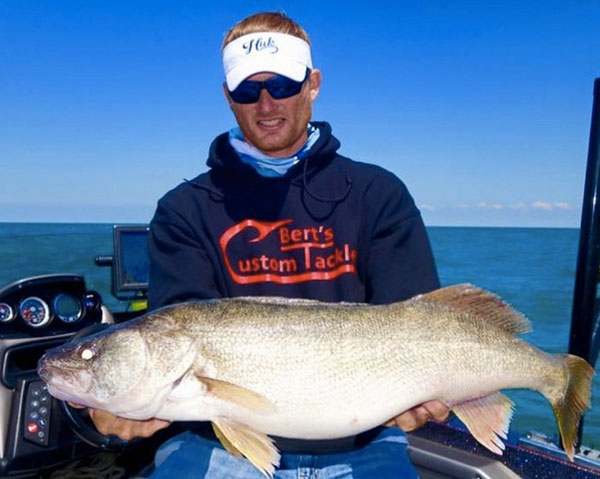 32-inch COLORADO walleye — impressive, though looks like it borrowed an eye from Kermit the Frog: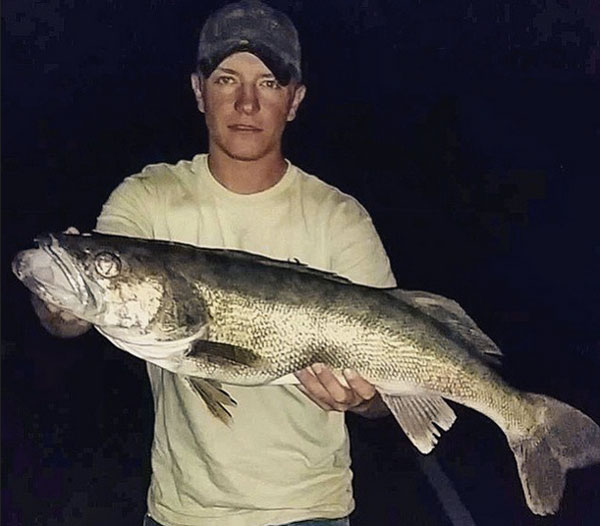 Here's an Erie 33 sent in by Target Walleye reader Chris C: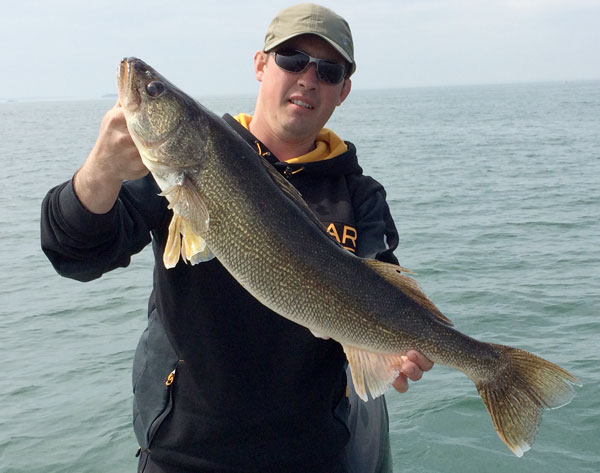 News
1. Why to use the new Mepps Trolling Rig/Harness.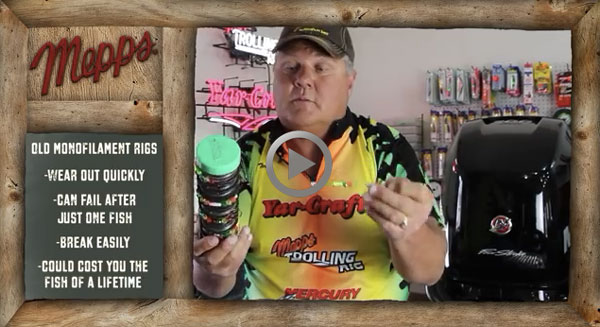 2. MN: Big fish spanking still on at LOTW.
Just one example: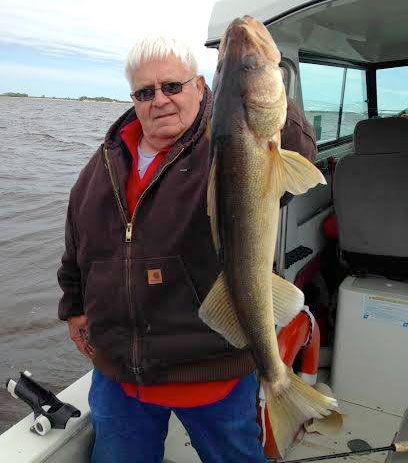 3. Marianne Husky fishing Predator Classic.
4. KS: Best places to catch walleye.
5. MI: Prisoners help raise walleye.
6. MN: Bighead carp found near Stillwater.
> Five bighead carp were captured in the St. Croix River in the past week, just south of Stillwater…. This is the furthest upstream invasive carp have been detected in the St. Croix, and is about 7 miles north of the previous point.
Carp invasion still underway in the U.S….
7. Randy Hopper new C.A.S.T. board member.
Randy runs Ranger Boats. Great charity.
> AguaDrone can first tell you where the fish are, and then fly your lure to that spot.
And the fish will never notice it…lol.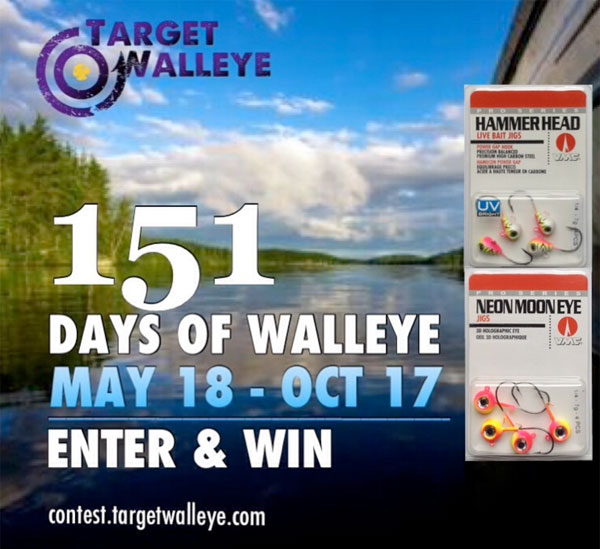 Pike, Musky News
1. NY: Muskie size limit increased.
> Minimum size has been increased to 54″ on Lake Ontario and the Niagara and St. Lawrence rivers to make it consistent with Lake Erie; throughout the rest of the state, minimum is increased to 40″.
2. MN: DNR wants feedback on pike regs
Proposal aims to reduce the population of hammer-handle northerns and increase the average size across the state. Let the DNR know what you think here.
http://www.dnr.state.mn.us/pike/index.html
3. WA: DNR wants pike removed from Roosevelt.
Events
1. ND: Devils Lake Fishing Tournament June 26-28.
Are you signed up yet??
> "Late June is considered THE time to be on Devils Lake," said Johnnie Candle, world walleye champion, fishing educator and Devils Lake guide.
> TV host and guide Jason Mitchell said: "This is really one of the 'funnest' times to fish Devils Lake."
> $61,000 in cash and prizes, and a host of special prizes including big fish for walleye, pike, perch and white bass, plus a northern pike optional shootout on day 2. "There is still time and space for teams to enter, and this year's event is special with the highest Chamber tournament payout in history," said Suzie Kenner, tournament coordinator.
Did you know you can strike gold at Devils Lake:

2. MN: NPAA Future Angler clinic.
Free, June 13 in Walker.
3. MN: Kraus-Anderson Walleye Classic.
June 13 on Bemidji. 100 teams with a $12,500 1st place payout.
Fort Peck, July 9-11.
---
---

'Eye Candy
Yep, wallys can be fooled by flies too: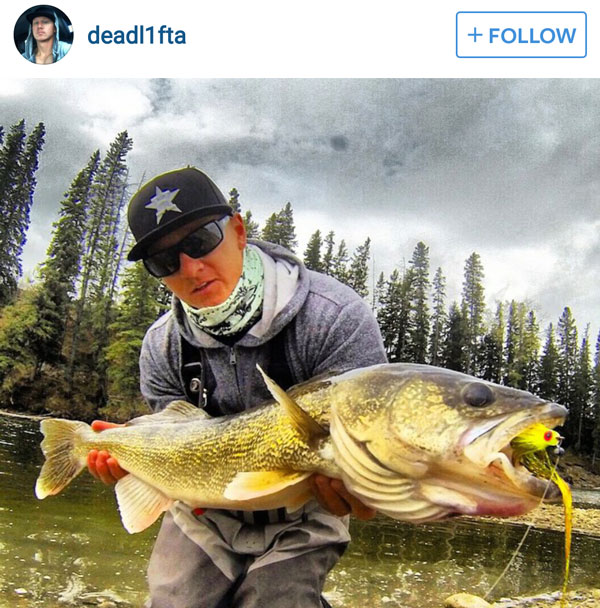 > Throughout my career, I have found that the fall rate of the jig is the biggest key to frequent bites. Be it faster or slower, it's a critical factor nearly all of the time.
> If I really need to get slower [drop speeds], I switch out line types, going from FireLine to mono. Mono, by nature, is thicker in diameter and will slow the descent speed of the jig. Secondly, I look at my tail type, selecting one that creates more resistance and in turn slows the speed down.
> Some great fishing for river walleyes can be had right from the bank by fishing eddies where you find holding spots where the current swirls back on itself behind an obstruction. Simply start on the downstream side of the swirl, then take a step or two upstream and cast. Keep repeating until you've covered the entire eddy.
> Don't fish memories. Walleyes could be literally miles from the point that you caught a limit last year or last week. Walleyes aren't loyal to areas, only food. Once you recognize that, your success will improve.

---
Scientists with the Washington Department of Fish and Wildlife say that too many walleyes can be a bad thing.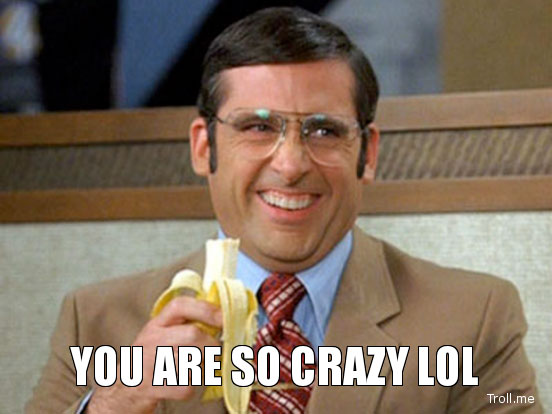 ---
Shot of the Day
Yell "heck yeah!" right now if you hope this is what your well looks like this weekend: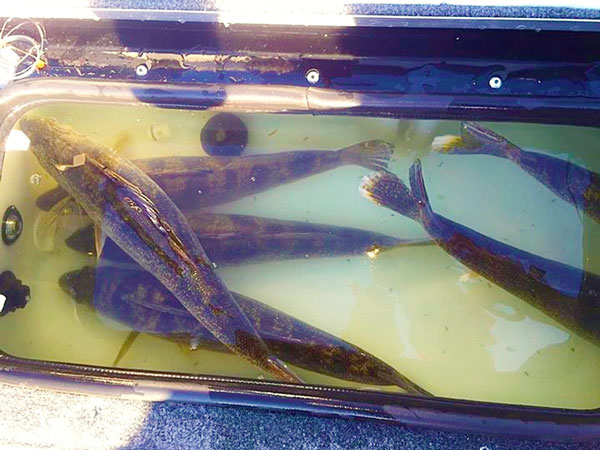 ---
Gotta check this stuff out!

---
About Target Walleye
Target Walleye
brings you the BEST walleye and ice fishing news, pics, tips and events year-round, and is brought to you by Al & Ron Lindner, Jim Kalkofen and other walleye nuts like you!
---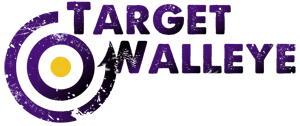 TargetWalleye.com | Rapala.com | IceForce.com