Back from vacation – temporarily – so here we go again!

Today's Top 5

Trolling a dipsy [!!] with the new Off Shore Tackle OR37 SST Pro Mag Planer: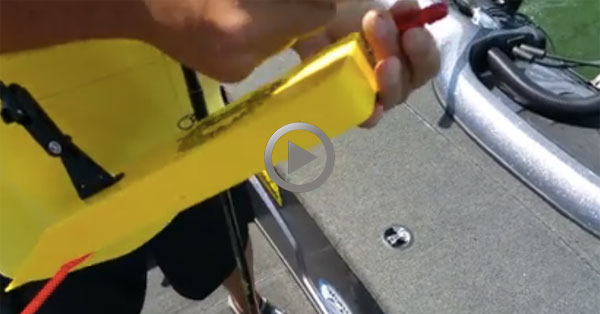 > Use a 1-oz bottom-bouncer for depths around 10 feet deep, a 2-oz bouncer for up to 20 feet and a 3-oz bouncer to stay 30 feet down. This is a very general rule, as bottom bouncer are extremely speed dependent.
> If you are using the correct weight, your line will never trail alongside the boat at more than a 45-degree angle when your bouncer is close to the bottom. So, if you have to let out so much line to maintain bottom contact that your bouncer is trailing back at less than 45 degrees, use a heavier bouncer.
> The key to bottom-bouncing is having the bouncer riding along anywhere from a few inches to a foot or so above the bottom.

Mille Lacs walleye drought continues.
Some updates:
1. Gov. Dayton went bass-fishing on Mille Lacs and:
> The entourage caught a dozen or so small walleye, a few bass and some perch, but no northerns.
But there's a walleye problem?
2. Dayton says no special session to help Mille Lacs.
Political finger-pointing results.
3. One opinion:
> Why not remove the slot limit completely and let fisherman keep three fish of any size to cull larger fish from the lake and achieve a better balanced ratio between large and small walleye?
> The resorts that surround the lake are already hurting…. Gov. Dayton should step in and reopen the season with an allowance of two walleye of any size to cull some of the larger fish and alleviate the suffering of resort owners and surrounding businesses.
4. Tribes wanted only catch and release for 'eyes…
…this year.
5. Even the NY Times covered it…
…though they have no idea what a walleye is…so we sent them this pic: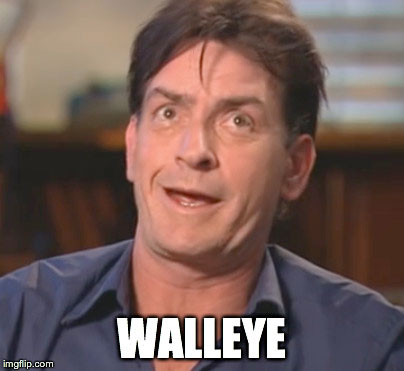 WA joins OR to remove walleye limits…
…on the Columbia River, one of the best walleye waters in the country. Choice quote from an OR DNR biologist:
> "While it is unlikely the removal of bag limits will have any real biological effect on salmon and steelhead, it sends a message that the recovery of ESA-listed species is the priority and that fish managers will take all the actions they can to reduce these threats."
Let's do some math:
No effect on salmon/steelhead
+
Potentially crush a trophy walleye (and smallmouth) fishery
=
Smart?
Lets look at the evidence: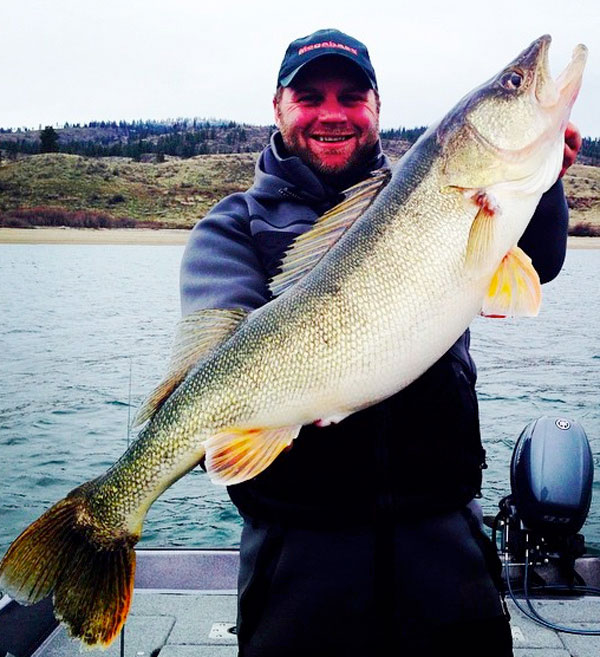 News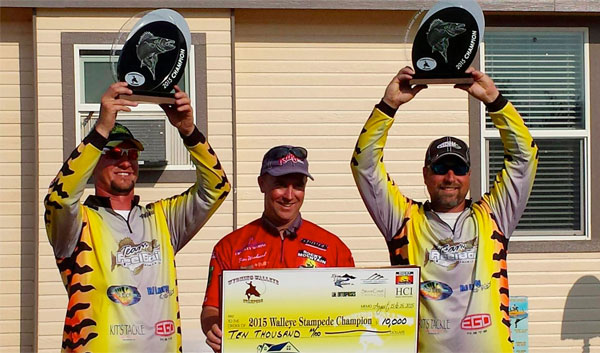 Some big ones at Pathfinder!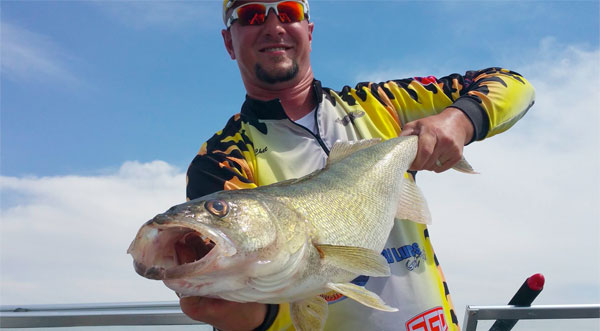 We had multiple 29″+ fish throughout the weekend with our biggest being 31.25″….
2. MI: Ustishens AIM Great Lakes champs.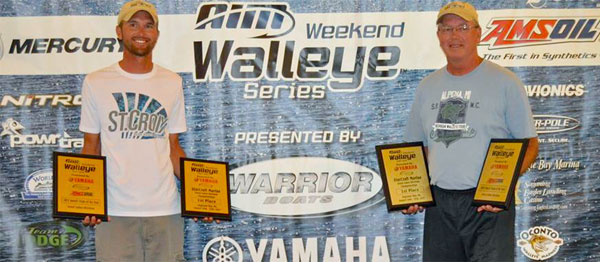 Rick and Kal Ustishen had 42.39 lbs on Saginaw Bay. Led after day 1 too, here's a video about what they did — pulling 1-oz in-line weights with spinners in 22-54′ of water, trolling suspended fish, 30 to 65 back.
3. MN: Rainy Lake regs being reviewed.
4. SD: Walleye length limit changes proposed.
5. Erie: $5 mil for less nutrients in western basin.
Love it!
7. MN: IN anglers 676 panfish over limit.
Guess they ran out of fingers….
8. MI: Cass River passage = more walleye spawning.
9. MI: Glen Lake launch reopened.
10. MI: 4.7 mil 'eyes stocked this year.
Wow!
11. Humminbird Helix giveaway.
1 per day, already started, sign up here:

12. ON: Tribe pulls nets from Nipissing.
13. TX: Meredith rising, not many walleyes yet.
14. AL: Now this is interesting.
Donate $10 to get locations of fish attractors in Weiss Lake. Crappie but interesting.
15. New marketing person for Merc.
_____
Click here to enter and win! And please forward the link!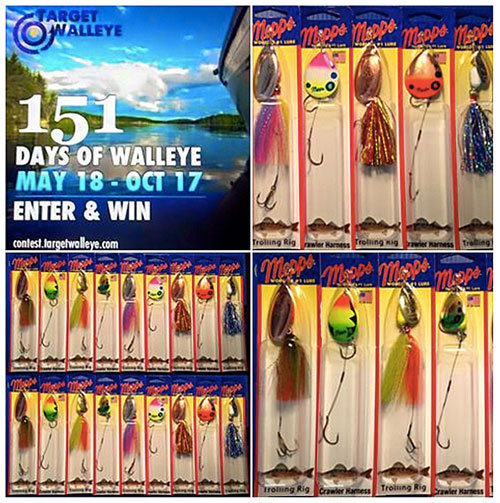 Events
1. WI: AIM Green Bay this Fri-Sat.
2. MN: Don't miss this on Saturday!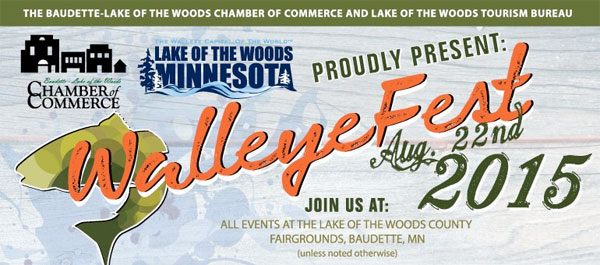 Also the 2nd annual Pay It Forward charity event, a 3 night/2 day fishing experience on LOTW for injured and disabled veterans, is tomorrow through Saturday. More info here.
3. MN: Mille Lacs Full Throttle tourney moved to Borden.
Wonder why…. This Saturday.
4. OH: Eric Lewis Memorial Tournament this weekend.
Perch and 'eyes, 3-man teams, $120 entry includes dinner and raffle tickets. Enter at Erie Outfitters in Sheffield Lake or at erieoutfitters.com.
5. ON: St. Lawrence derby this weekend.
---
GREAT places to fish – check 'em out!



---

'Eye Candy
Colby with 30.5″ of healthy-looking SK walleye: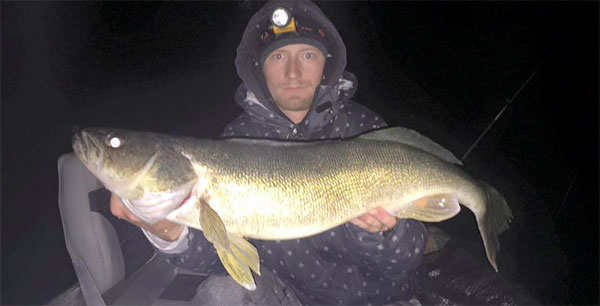 On Lake of the Woods and other deep-water lakes:
Crawler harnesses:
> Many anglers will go to about a 3-oz bottom-bouncer in an effort to keep that desirable 45-degree angle. Locate walleyes on your electronics and set up upwind of the school. If trolling, the ideal speed is about 1.25 mph.
Trolling cranks with leadcore:
> Roaming schools of baitfish, blood worms, tulibee, perch minnows, young of the year perch, larvae from hatches, etc. are all very prevalent across the basins of Lake of the Woods. Using leadcore to pull your favorite crankbait about 1-2 feet off of the bottom is an excellent way to cover lots of water and put a bunch of walleye in the boat.
> One of our favorite baits for this situation is the
Rapala Shad Rap
. Experimenting with different colors can be critical, as you never know what the fish might be biting on any particular day. Gold, chrome, firetiger and UV are all excellent colors in relatively stained water….

Quote of the Day
You've got tickets to the Rolling Stones, okay? And just before the concert, Mick Jagger quits.
– What the
wife of a bait shop owner
near Mille Lacs said is like showing up at the lake to fish for smallmouth and perch instead of walleye.
We'd say it was more like having tickets for the Stones and instead you get:
---
Gotta check this stuff out!

---
About Target Walleye
Target Walleye
brings you the BEST walleye and ice fishing news, pics, tips and events year-round, and is brought to you by Al & Ron Lindner, Jim Kalkofen and other walleye nuts like you!
---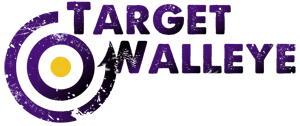 TargetWalleye.com | Rapala.com | IceForce.com