If you're receiving this Target Walleye/Ice email — covering the best of walleye fishing during open water and the best of ice fishing during hard water — for the first time, a friend probably signed you up! Target Walleye/Ice is brought to you by Al and Ron Lindner, Jim Kalkofen and other walleye and ice fishing nuts like you.

Today's Top 5


Today how about thanking a veteran for your FREEDOM…to fish, among other things.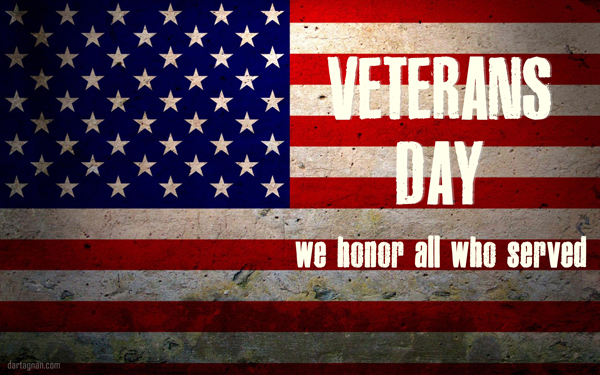 Invite a vet on the water (or ice), like this cool organization.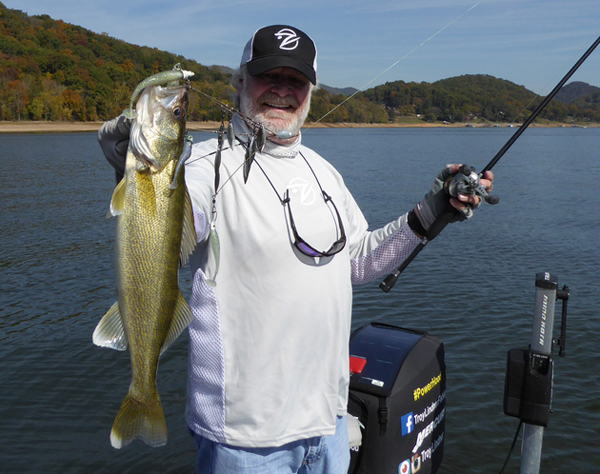 Especially where trolling spinnerbaits work, we're surprised multi-arm Alabama rigs haven't caught on for plus-sized 'eyes. We've seen it a little on the Great Lakes, but that's about it. Maybe guys are keepin' it hush-hush?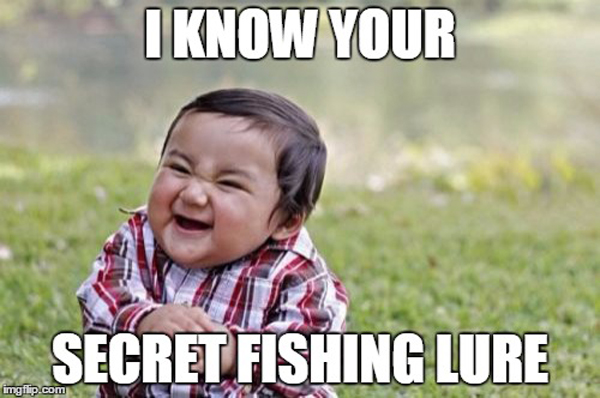 #SecretsOut

…on the fly!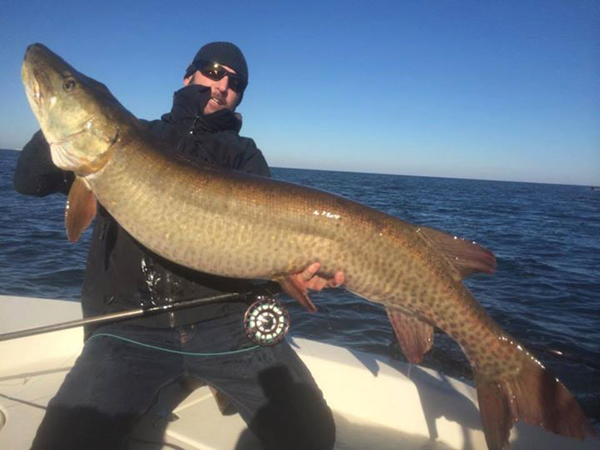 Stats: 57″ long, 26.5″ girth, 50 lbs! Bob Mitchell's Fly Shop owner Robert Hawkins caught it fishing with buddies on Mille Lacs. Hawkins caught it on a pattern he tied himself, gives props to buds:
> This would not have happened without Ben Olsen's amazing knowledge of lake muskies and Gabe Shubert teaching me the ways of muskie fly fishing.
Word is they got it on video, supposedly forthcoming.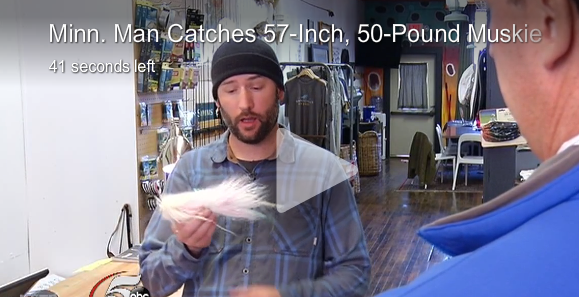 Our guess is that fly was created to mimic a tulibee…or a snowshoe hare….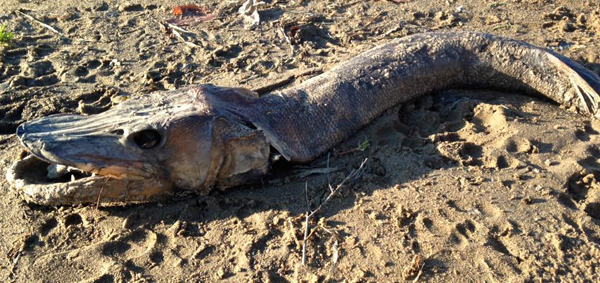 Fish remains found washed up on the St. Croix River have people freaking out:
> People wonder why I wouldn't water ski or swim in the river. Really what is this?
Silly non-fishing folk: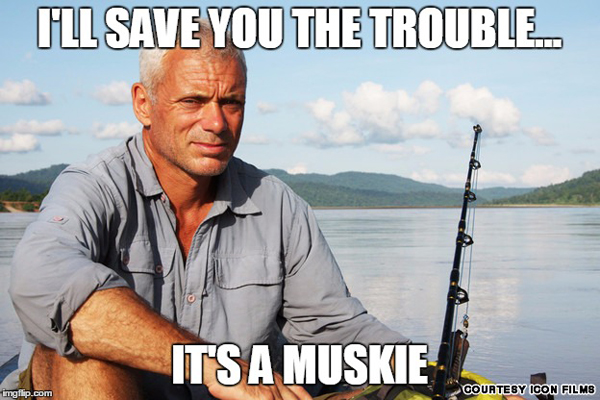 News
1. MN: Mille Lacs updates.
> DNR getting heat for not enough public input.
> Bassmaster tourney coming to Mille Lacs.
2. MN: Suspect in stabbing going to court.
Fatal stabbing happened in April along the St. Croix after bank anglers exchanged words. Tragic.
3. MN: Keep 3 walleyes in Upper Red.
4. MI: DNR approves regs for Gogebic walleye.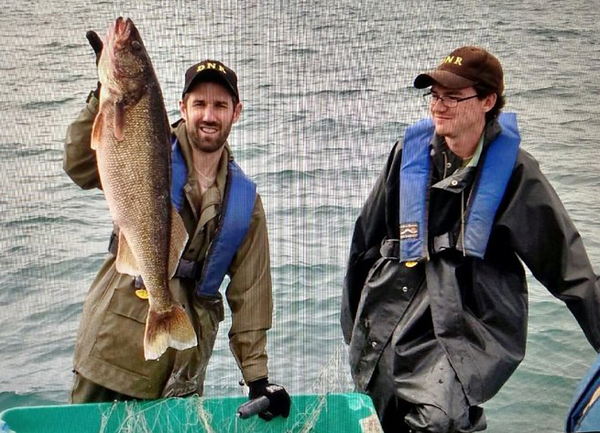 6. MI: Boosting Cass River 'eye reproduction.
Live web cam. Looks like one heck of a fishing spot!
7. Surface feeding walleyes on Mississippi?!
8. NY: 6K walleye stocked on Great Sacandaga.
10. Keith Kavajecz talks social media.
11. MN: Judge rejects restraining order on muskies.
12. MI: Erie pollutant solutions are working.
> Efforts in Michigan to cut down on the pollutants feeding algae in Lake Erie have been showing signs of success. This includes changes to reduce farm runoff and the amount of phosphorus that comes out of Detroit's wastewater plant and makes its way into the lake.
13. MI: Lamprey control in Cheboygan.
> The Sterile Male Release Technique: This newer technology involves trapping male lamprey from the Cheboygan River, then transporting them to the Hammond Bay Research for sterilization, then transporting them back to the river and releasing them. Sterile males will still construct their nests and attract the females that will release their eggs, but the male is unable to fertilize them."
14. MB: People urged not to buy MB fish.
15. EPA asked to revise 2016 ethanol mandates.
Ice Fishing
1. Mechanical vs digital ice flashers.
2. REEDS exclusive: Genz Pack Vexilar FLX28.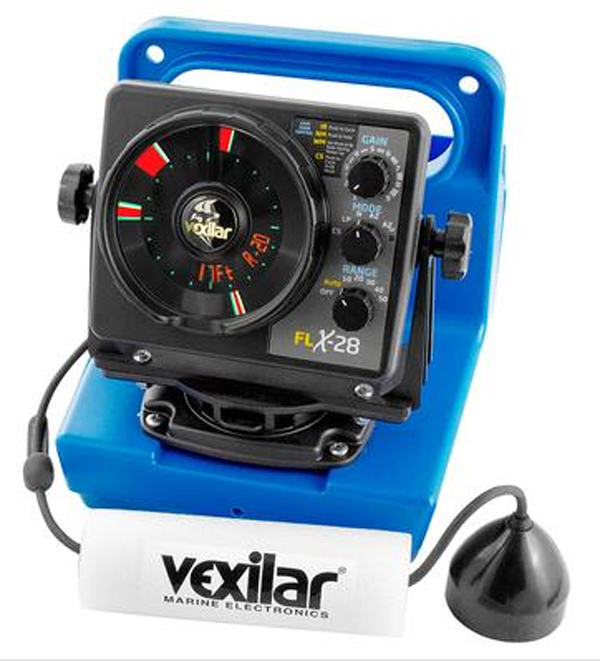 Free shipping. And 20% off all apparel and footwear.
Get the Reed's ice catalog here.
3. New Pro Series Tow Hitch from CLAM.
5. Choosing the right ice auger.
6. Hardwater home theater experience.

Events
1. MN: Hardwater Expo in Blaine, Nov 20-22.
2. MN: Reed's Ice Classic, Nov 27-29.

3. MN: St. Paul Ice Show, Dec 4-6.
Fishing Reports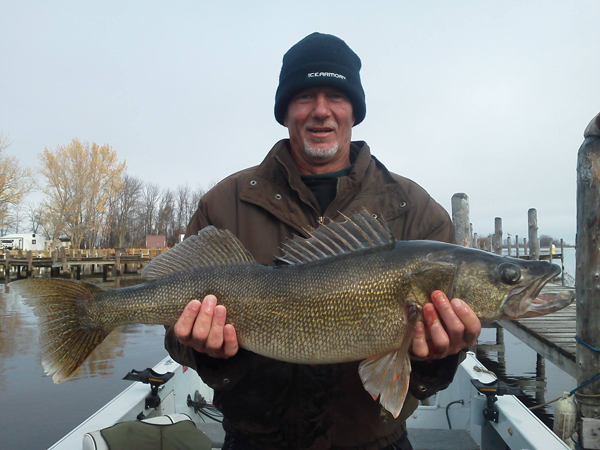 > Some guests are hunting morning and evening and fishing during the day. Walleyes are being caught in 20′ in front of Pine Island jigging with a minnow. This school of fish have been there for weeks. Looks good for early ice. Fishing has been good near NW Point, Morris Point, Zippel Bay, and near Twin Islands.
> Rainy River: Water temp is 44 degrees. More and larger walleyes are showing up in the river. Good reports at various spots from Wheeler's Point to Frontier Access. Wabanica Chapel, Winter Road River, Baudette Bridge, Hattie's Hole have produced this week. Orange, and gold mixed with bright color, tipped with minnow. Sturgeon fishing is catch and release.
> NW Angle: Walleye action in 15-26 feet jigging near Oak Island, Rabbit Ears, and Hay Island. On the ON side, areas with current adjacent to deep holes best. Walleye and crappie bite excellent at various locations along Falcon Island. Muskie fishing going well trolling in 10-18′ adjacent to windblown points.
From guide/pro Johnnie Candle:
> The fall bite is not as good as years past, but it is still pretty strong. The water temp is 46 degrees so we have some open water left. Trolling leadcore and Flicker Shads seems to be working very well. Flooded roads and steep breaks from rock to the basin is where the most action is for trolling.
> …very good
Jigging Rap
bite. Deep rock humps and any current area is the place to be for that. The fish are gorging on young of the year white bass as we had a very strong hatch this year and they are easy pickings. White baits or anything chrome is working very well. Perch and firetiger are still go-to colors….
---

---
Sign up a fishing buddy!
If you're forwarding Target Walleye/Ice to a friend or friends or would like your buddies to get these emails, just
send us
their email addresses and we'll take care of it! We of course will not sell the addresses, use them for spam, etc.

'Eye Candy
Rippin' and rappin' Walters: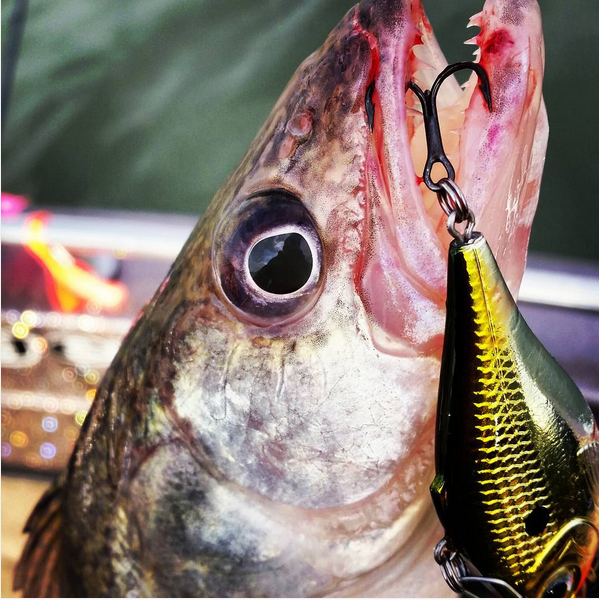 ---
Brian "Bro" Brosdahl:
> We're currently in the period between fall and ice when walleyes begin slowing down a good bit. As a result, this a great time to target them vertically. I'll drag a big minnow across the bottom looking for walleye marks on my electronics and once I see them, I stop and fish them vertically.
> I'll typically catch a few fish when I slow-troll through a school of walleyes this time of year, but setting up on top of them with an anchor or Spot Lock almost always works better than dragging through. Using Spot Lock is ideal because it's quicker, easier and less-intrusive than an anchor.
> When it's this late in the season, I start leaving the remote humps and structures, instead heading for the large shoreline-connected points and reefs. If you can find weeds, rocks or a combination of both on any of these structures, then you're in the right area. It's even better if they are facing big, open water.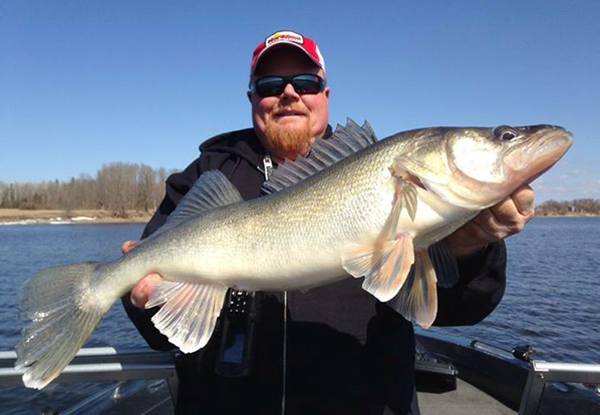 > During the summer, I like to run 6-8 foot leader lengths on my live bait rigs — I'll shorten that length down to 2-4 feet this time of year because the walleye are lazy and you don't want them to have to work too hard for your bait or they'll give up on it.
> Ideally, you're using big creek chubs or redtails, but if those aren't available, sucker minnows, bigger golden shiners, and rainbows will work. Remember, you need to let them eat it a bit before setting the hook….
> I'm also using Puppet Minnows and Jigging Raps when the water temperature gets colder. They won't bite the bigger ones, but the small, panfish-sized baits are still working. Smaller blade baits (1/8- or 1/4-oz) will come into play once the Puppet Minnow and Jigging Rap bite slows down.
> Make sure you're not aggressively ripping them. Lift just enough to make it vibrate, then follow it down real slow. Winter spoons tipped with a half a minnow work great, too. I use Buck-Shot Rattle Spoons a lot in the golden perch color.

---
---
---
You ready for ice?
Have you checked this stuff out yet?

---
About Target Walleye
Target Walleye
brings you the BEST walleye and ice fishing news, pics, tips and events year-round, and is brought to you by Al & Ron Lindner, Jim Kalkofen and other walleye nuts like you!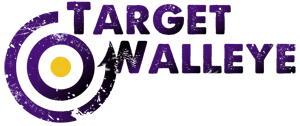 TargetWalleye.com | Rapala.com | IceForce.com