If you're receiving this Target Walleye/Ice email — covering the best of walleye fishing during open water and the best of ice fishing during hard water — for the first time, a friend probably signed you up! Target Walleye/Ice is brought to you by Al and Ron Lindner, Jim Kalkofen and other walleye and ice fishing nuts like you.

Today's Top 5


Oddball technique wins NWT Championship!
Jason Przekurat was crowned walleye king at the NWT Championship on Lake Oahe, SD — the biggest event in professional walleye fishing. Aside from having the ultimate bragging rights, Jason also nabbed an $88.5k payday: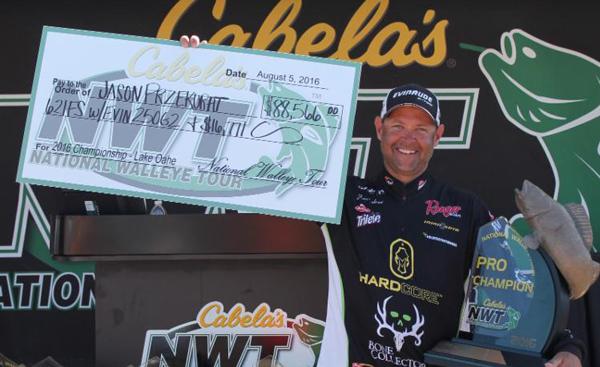 Jason was pulling cranks through trees in as deep as 105'…would you ever think to try and target those fish?! You know his co-anglers were all thinking the same thing: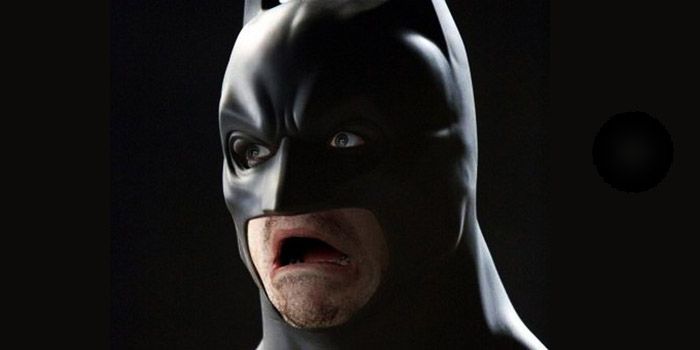 > "Trolling over a mix of old cottonwood and willow trees. The fish would hover on top of the willows and bury under the cottonwoods.
> "I was targeting the outside river bend turns that came up on the flat. The flat then intercepts the shoreline break. It's a strong summertime pattern, it was just a matter of getting the baits to them.
> "The trees were down 50-60′ in water 95-105′ deep. To get his crankbaits that deep he used 6-oz weights and trolled at 1.8 mph. His main line was 15-lb Fireline with a 12-pound Trilene 100% fluoro leader."
Never had a bite at his best spot on the final day, do Jason ran down south and pulled 2 key fish out of some shallower trees he hadn't touched since practice. Caught 'em pulling Berkley Flicker Shads behind
Off Shore Tackle planer boards
to coax 'em out…including a 21 incher that sealed the deal on some mouth-watering hardware: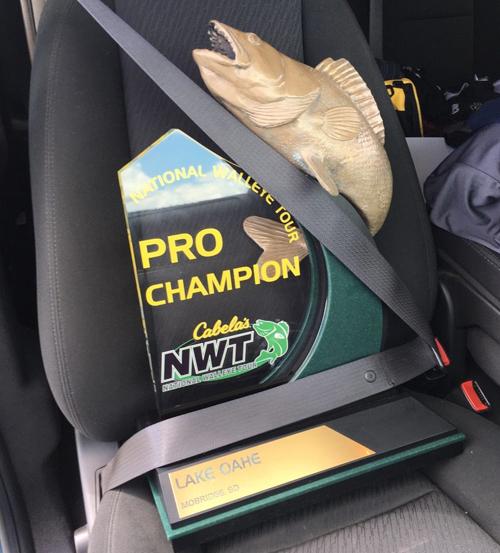 J's a top-notch pro, much deserved man!

Columbia River Basin guide Kimo Gabriel led Tim to this monster WA water dragon that was dang near as long as a yardstick: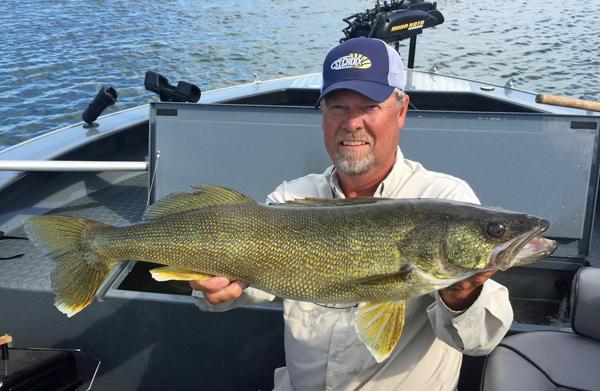 > "Caught while flatline trolling a #11 Berkley Flicker Minnow upstream at 1 mph in 15-18′. The lures must be 'super tuned' in order to run straight because of the heavy current."
They boated (and released) 60+ walleyes that weekend between 20-34.5″. Guess you could say Kimo's dialed in! Here's the video of the 34.5″ waving goodbye: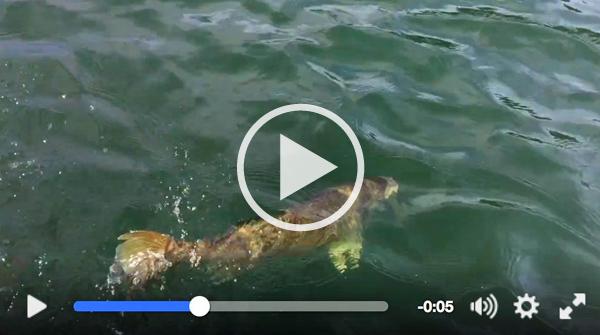 Stout.

Walleye fishing by the numbers.
Some walleye-fishing factoids we put together with Ron "seen it all" Lindner. For sure worth a read if a guy who's been in the industry as long as Ron thinks they're fascinating (click the pic to make it bigger):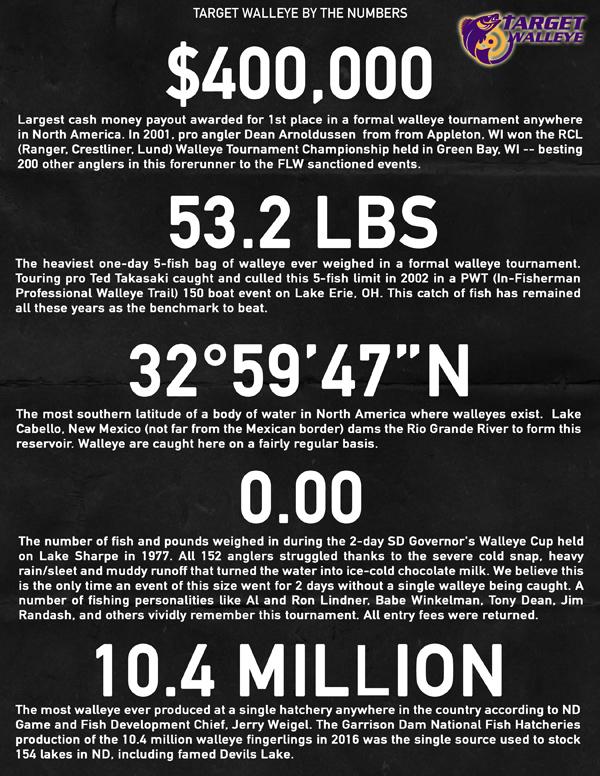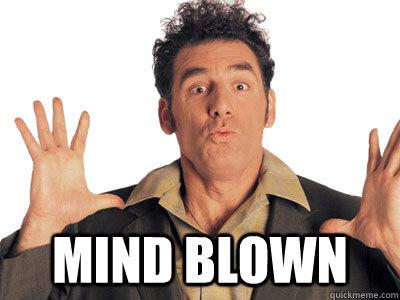 Leave a comment here on our website if you want to see more "walleye by the numbers" going forward.

Waterfowl call maker Bill Saunders has got a soft spot for catching big glass eyes. Guess what'll be on his mind while sitting in the blind this fall: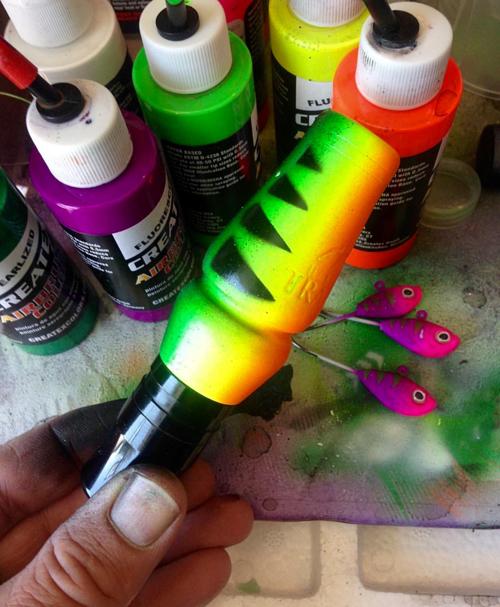 You better slap a pair of treble hooks on that bad boy, Bill! Can't tell us you'd rather be flinging BB at sky carp when there's 15-lb chub chasers like this to be had: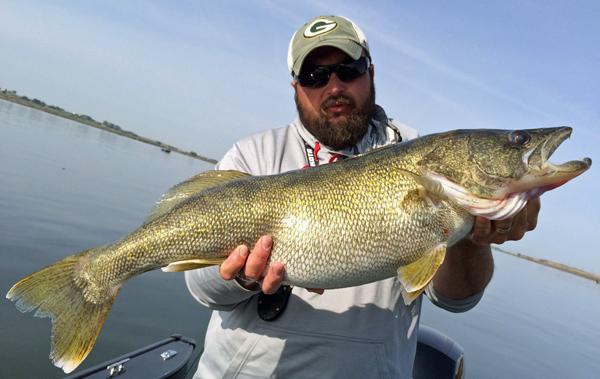 Lol keep doing your thing, Bill!

Gargantuan sheepshead caught.
Sheepshead, barn door, manhole cover — whatever you wanna call 'em, freshwater drum will have you thinking you've hooked into a record-sized walleye…before shattering your heart (and gear). Big fish junkie Spenser Samplawski somehow wrangled up this lip-wielding blimp while fishing WI's Green Bay: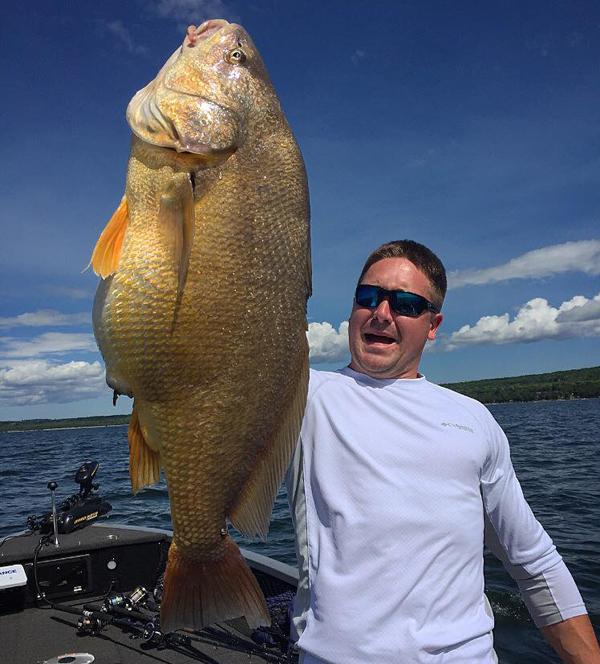 Careful man — they're big, but sensitive creatures: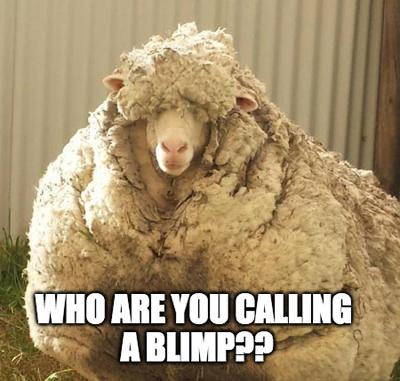 News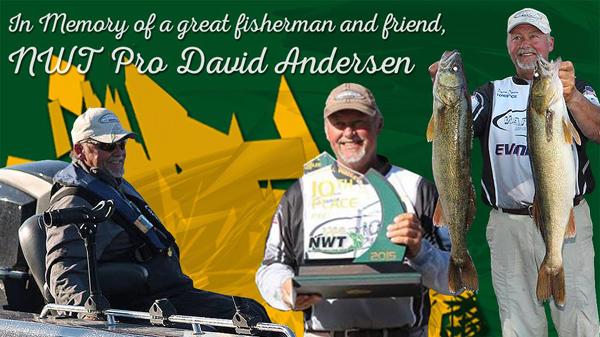 Dangit. RIP fishing brother. Now you're fishing the ultimate walleye hole.
2. MN: Mille Lacs fishing to remain open…
…despite reaching the quota/kill limit.
> Gov. Dayton: "I have directed the DNR not to close the walleye fishing season on Lake Mille Lacs, and I have contacted tribal leaders to ask for their understanding and forbearance."
The Mille Lacs Band has responded and are "deeply disappointed."

3. Stachowski crowned NWT AOY.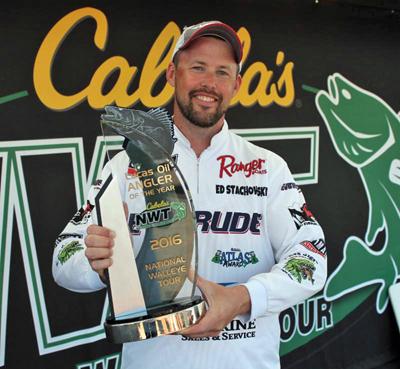 MI pro Ed Stachowski won the NWT Lucas Oil Angler of the Year — meaning he was the most consistently good angler through all 4 events. Way to put it together the ENTIRE season. Seriously impressive!
4. SK: Dygdala/Schlosser win Nipawin Walleye Cup.
Brian Dygdala and Bob Schlosser weighed in 39.89 lbs over the 2 days to bring home the $48,300 payday. If you do the math, that means those walleyes were worth about $1,242 per pound lol.
5. ND: Gibbs/Zimmerman AIM Divisional Champs.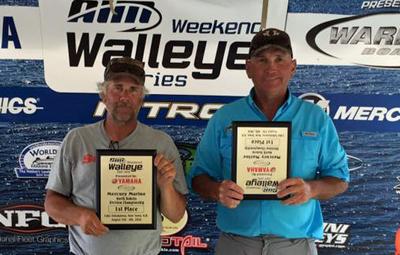 Mike Gibbs and Larry Zimmerman's 2-day total of 51.31 gave 'em the "W." One of the 1st times they had ever tried pulling Off Shore Tackle planer boards was during the championship. Looks like they more than paid for themselves! Congrats guys.
6. MN: Eggert/Narducci win Full Throttle on Gull Lake.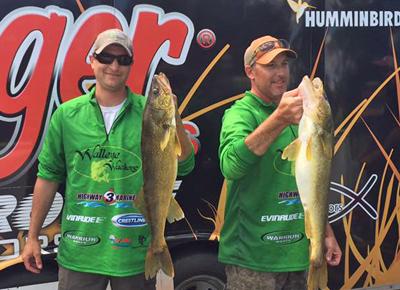 Chuck Eggert and Tony Narducci won the event for the 2nd year in a row weighing 5 for 18.73 bs. Their bag included a pair of 27″ gravel lizards that were caught using Rapala Jigging Raps in 10-25′ (also caught 1 dragging a redtail). Nicely done guys!
7. OH: Apply to work for the DNR.
Looking to hire several new natural resources officers.
8. MI: DNR using remote control sub…
…to study Lake Huron fish populations. Yup, it even has side imaging: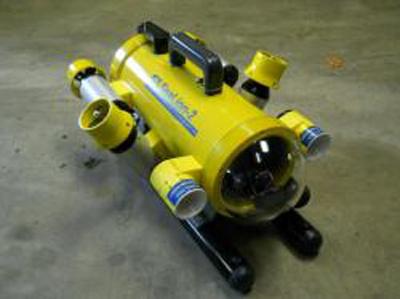 9. NEW Marcum RT-9 w/built in GPS.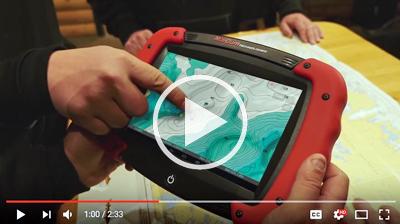 Sonar, underwater camera and GPS in one 9″ t. Holy smokes.

New e-book talks about what it really takes to pay the bills as a fishing promoter. Co-author is Target Walleye's Jim Kalkofen.
_____
Have a shot at winning 3 new Pro Walleye Series rods from Jason Mitchell and Target Walleye! Same deal: Enter your email addy, then share the link to earn more points toward a win. Good luck!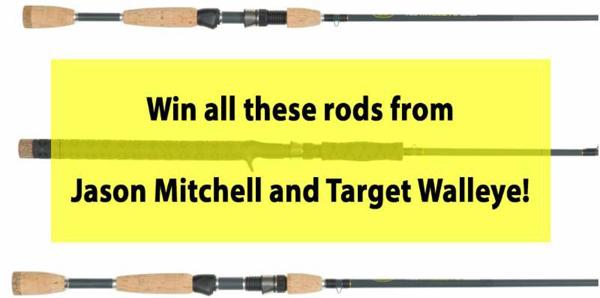 The last 3 winners were Kevin S. (Hatton, ND), Jason H. (Grand Forks, ND) and Shannon R. (Ann Arbor, MI). All've been contacted and product shipped — maybe you're next?
Great places to catch 'em
Sign up another fish-head!
If you're forwarding Target Walleye/Ice to a friend who loves to walleye-fish or want your fishing buddies to get these emails, just
send us
their email addresses and we'll take care of it! (We won't sell the addresses, use them for spam, etc.)

The full Jim Edlund write-up (with diagrams) is on
TargetWalleye.com, but here's a few excerpts:
> "Too many anglers connect their kicker to the big engine and steer with the wheel. What ends up happening is anglers aren't able to stay on their trolling paths over fish-holding contours or structure, areas which are sometimes quite narrow.
> "This would be the equivalent of driving a rear-wheel drive vehicle in the snow, where the car wants to slide when trying to turn. A boat does the same thing on the water when only propelled from the rear. As a result, anglers have a tough time keeping their baits in the strike zone.
> "A better way is to allow the bow-mount trolling motor to "pull" the boat simultaneous with "push" from the big engine or kicker in the rear.
> "When trolling, I'm using the Minn Kota Terrova or Ulterra in conjunction with the gas kicker. It's a push/pull technique that's similar to driving your vehicle in four-wheel drive. The boat is always more responsive when it's controlled by the front, while being pushed from behind."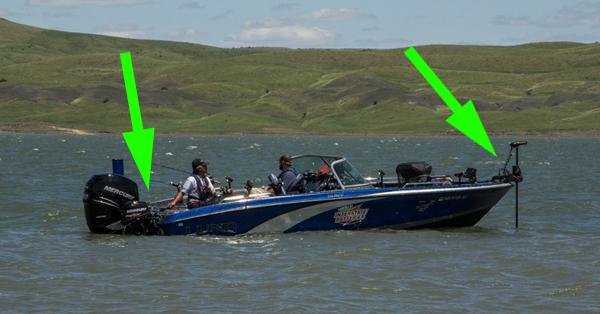 Keep reading
here
.

Quote of the Day
You try and pull, and it just says, 'Nope,' giving you the false sense of being snagged on the bottom.
– Bret Amundson of Northland Outdoors TV comparing the fight of a mammoth 56-lb lake trout to hooking into a giant walleye: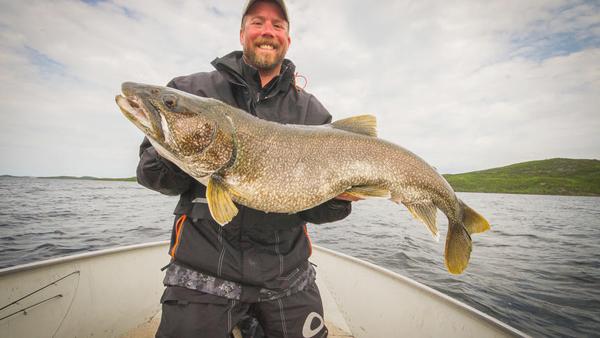 Wowza.

Today's 'Eye Candy
Are you ready for the hard stuff yet? Looks like Target Walleye editor Brett McComas has got a little brain freeze (ice on his mind). That one scarfed up a giant #7 Rapala Rippin' Rap in pearl grey shiner: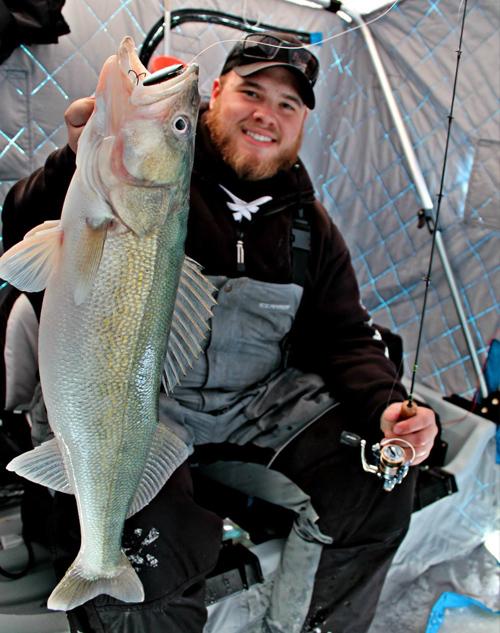 Never swim like a Rapala if you want to stay alive!
Random
A WI man finally got his prosthetic leg back after a couple of paddlers found it sticking out of a beaver dam….
> "I was sure we had found a dead body that someone dumped into the creek."
That would get the heart pumping! Turns out the guy had flipped over his canoe a month back, recovering his fishing gear and cooler, but the prosthetic limb got away.

Check this stuff out!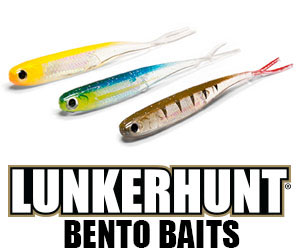 About Target Walleye
Target Walleye/Ice
brings you the BEST walleye and ice fishing news, pics, tips and events year-round, and is brought to you by Al & Ron Lindner, Jim Kalkofen and other walleye nuts like you!

TargetWalleye.com | Rapala.com | IceForce.com