The ice-fishing rod market is chock full of amazing fish-catching tools right now. You might be confused as to why some are using "pasta" (aka noodles) for rods? Or getting disorientated when the guy on the bucket next to you is bragging about how short his pole is??
It can be straight-up overwhelming to choose which panfish rods will truly help you put more fish in the bucket, or in front of a camera lens. If I could only buy 2 rods to fit all my panfish needs, here is what they'd be and why I'd chose 'em.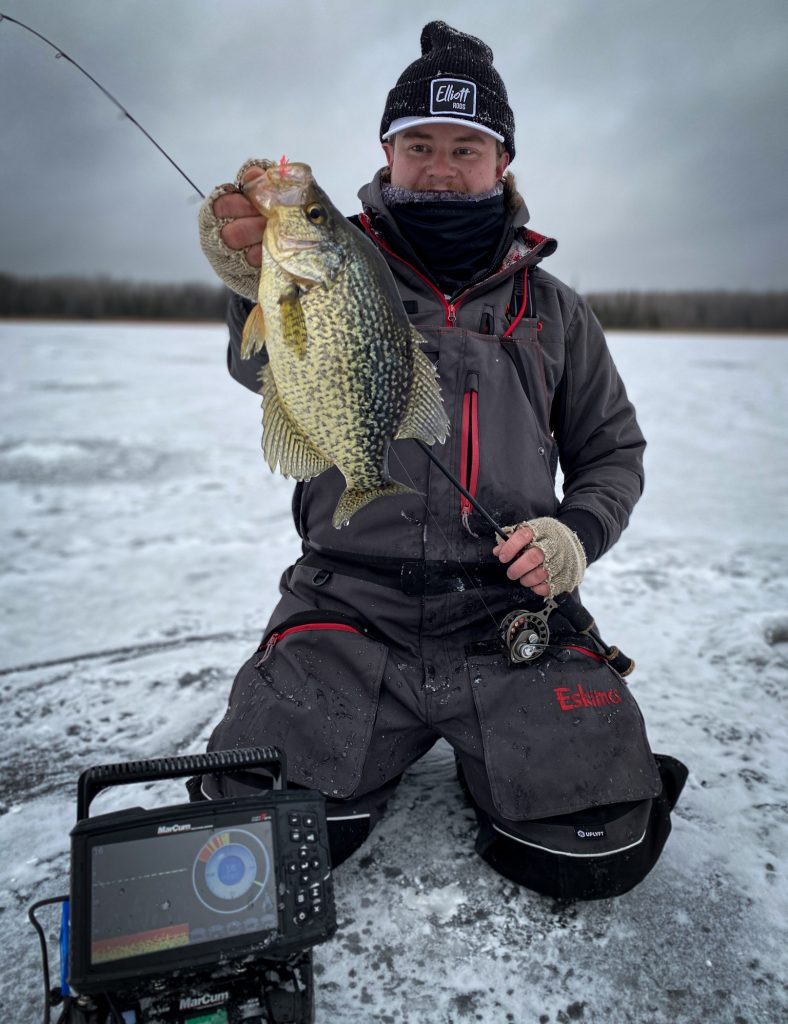 This rod is 100% designed for the nomadic hole hopper…the guy/gal that just can't sit still…that just bought that fancy new ice-fishing suit to stay warm while fighting the angry side of mother nature. This is a NOODLE rod which means it has an extremely soft tip for stellar bite detection while fishing small (3-5mm) tungsten jigs, but transitions quickly to the backbone of the rod.
This style of rod gives you the ability to see the infamous 'up-bite' of northern MN crappies yet can sense when an Okoboji bluegill is mouthing your bait. Don't let the typical noodle fool you though…these sticks have a serious amount of backbone so just in case you do hook into that roaming pike feeding on your basin panfish.
So what makes it so different? This specific tool by Elliott Rods is different than most noodles on the market being that it's abnormally long at 44″ [!] of solid fiberglass. Woah, woah, woah…a 44″ ice rod? You bet! Leave it to 2 industry innovators like Paul & Gregg Thorne to come up with this, eh?

The extra length helps you keep the rod tip closer to the hole while hopping around in the wind, ultimately eliminating the bow in your line which causes a lack of bite detection and sensitivity. The added length is also a life-saver for your knees whilst chasing a fast-moving school down a weed line, throughout an expansive basin or a vast sand flat. No need for the 5,000 up-downs a day on the ice anymore! Get to your local dealer to pick up this hot twig before they are gone for the season!
Unlike the rod explained above, this is a 'feel' rod instead of a 'sight' or noodle rod. To simplify, you will feel the fish bite your lure using a Paragon instead of staring at the tip to detect a bite. The Paragon is a solid carbon-fiber rod that features a Syncork handle = a staple at Elliott Rods. Syncork is an incredibly light weight, durable and comfortable alternative to your normal cork handle! If you haven't felt one of these feathers for yourself, find your nearest retailer and Feel The Difference for yourself! I promise, you will NOT believe how light this rod is when you pick it up! Slap on your favorite inline or spinning reel, some 3-4 lb line and you're ready to rock!

Okay, back to fishability…
This is the second key to the 1-2 punch in panfishing. Knowing your bite, knowing your technique and most importantly, knowing your intended cadence.
I prefer to use the Paragon when using small spoons, itty-bitty rattle baits, and larger tungsten or lead jigs. The tip section is going to be slightly more stout than a fiberglass rod, which allows you to create a more-responsive action out of your baits. The 'pounding' cadence (that you get with a Paragon) with your bait is a more aggressive tactic than a 'bounce' on a noodle rod. Once you rile up that school, hang on tight and get back down there ASAP because the feedbags have been latched on!
Mobility, simplicity and efficiency are 3 things that come to my mind every time I hit the water to chase panfish. Having a couple 'Swiss army knife' rods in your arsenal while dissecting water can be the small advantage you need to out-fish your buddy or bring home dinner for the fam. I'm 100% guilty of buying the newest and coolest products on the market, but these 2 rods are a stellar duo when packing light and chasing the next master angler bluegill or trophy crappie!