If you're receiving this Target Walleye/Ice email — covering the best of walleye fishing during open water and the best of ice fishing during hard water — for the first time, a friend probably signed you up! Target Walleye/Ice is brought to you by Al and Ron Lindner, Jim Kalkofen and other walleye and ice fishing nuts like you.

Today's Top 5


Rock melons of the week!
Rock 14-lber caught by Target Walleye fan Kenneth Greenwood. It's no fluke, he's got a ton of pics of lizzies just as big…. No other deets on the catch yet, but holy smokes we can't stop drooling: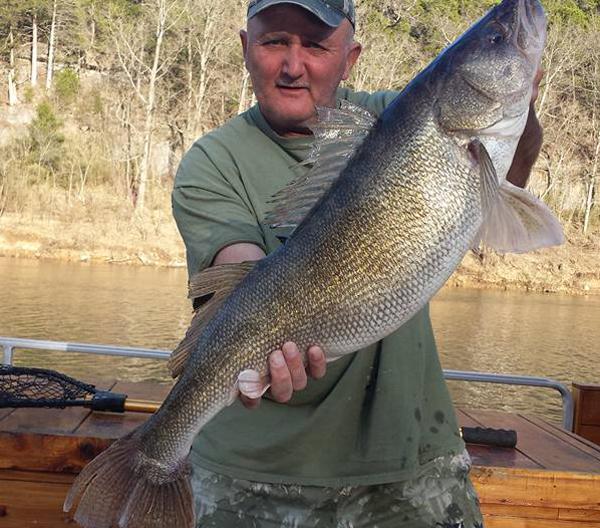 Guide Chuck Hasse caught what "Might be the heaviest fish I've ever laid the naked eye on from Leech Lake [MN]." He was fishing deep water in Walker Bay with a green tiger UV Rapala Jigging Rap — would have loved to see that rod LOAD up: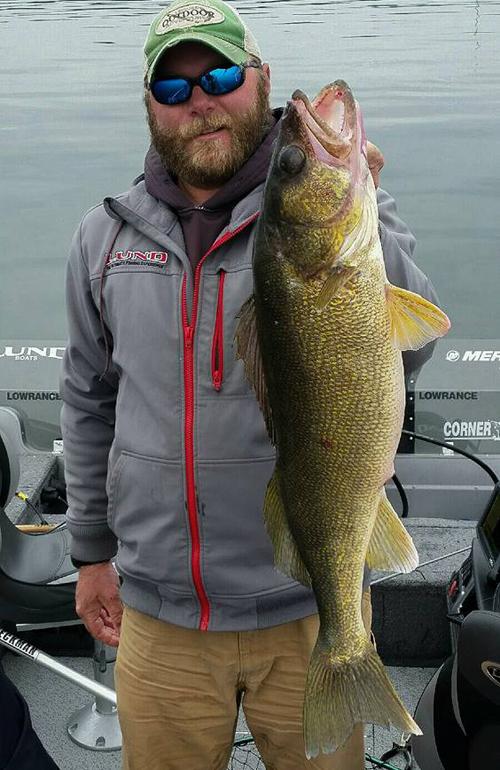 Lac Seul ON kicked out this 31.5″ rock donkey for Brenden Schneiders boat. She old-school munched a jig/minnow, then said "Hi" to the camera: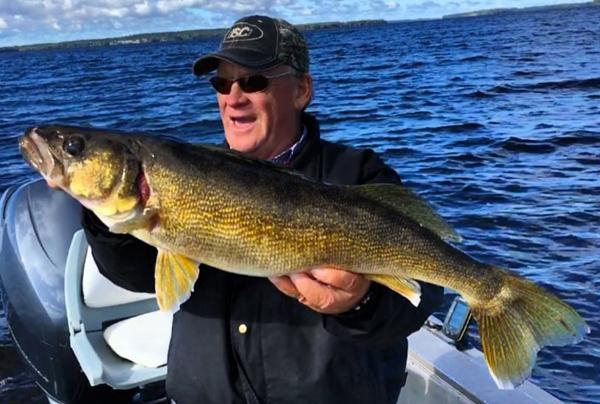 Jeremy Kantyluk with a shallow-water rock moose from Lake of the Woods — straight t-boned his Smithwick Rogue jerkbait. Purrrrrtty: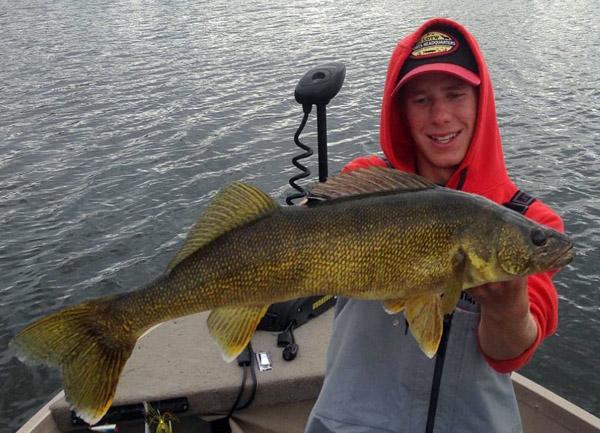 How the top ice fishermen in the world find new spots.
Brandon Newby and Ryan Wilson have won 3 consecutive NAIFC Team of the Year titles beginning in 2013. This ain't your local softball team on ice…they've done it against some of the best ice fishermen in the world: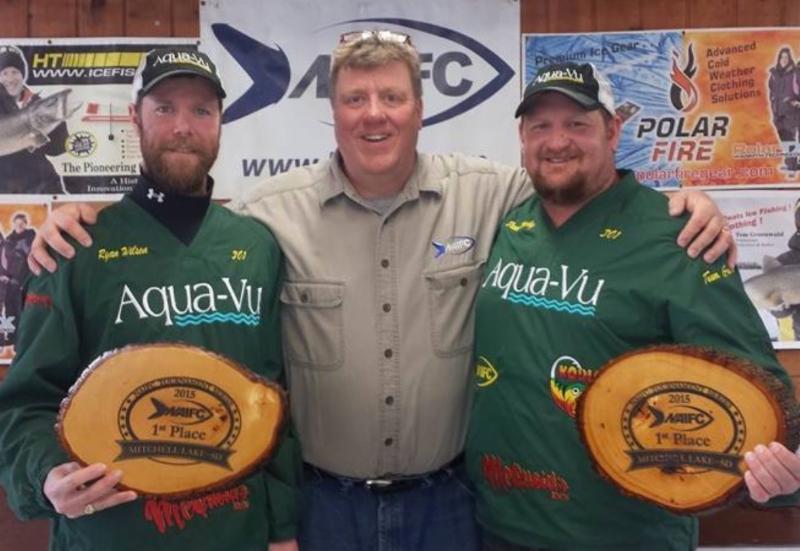 Ted Pilgrim tracked them down to find out what it is they do differently than others on the circuit. You can read Ted's full write up here, but there's a few excerpts below:
> "When we arrive at a new lake, our number one priority is to find fish that haven't seen lures in a while. It's not unusual for us to drill 600-800 holes [!!!] during pre-fishing.
> "Lots of years, we don't wet lines before the tournament. It's a stealth thing. Our Milwaukee M28 hand-drills let us travel light, as do our Aqua-Vu Micro cameras, which fit into our coat pockets.
> "Last year, we also designed a new
Pro Viewing Case
, which allows us to actually wear our camera around our neck. It's a huge time saver."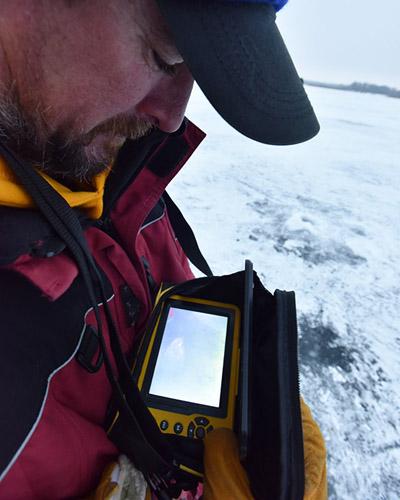 > "We like to record what we find on the Micro Plus with DVR…go back to our hotel rooms and study the footage on our laptops. [That way we can] determine if the fish we find are the right ones.
> "The other advantage to our mini cameras is the built-in depth and water temp functions. You can't believe how often finding slightly warmer water — say 37 or 38 degrees surrounded by 36 — can be the difference that holds fish.
> "Sometimes, we even fish warm water pockets in specific depth ranges. Those are just some of the details that lead us to bigger panfish."
Love the water temp info…not too many people paying attention to that through the ice. Keep on grinding gentlemen!

Frog fishing for walleyes = confirmed.
Two days ago we told you a little secret about frog fishing for fall walleyes…. Less than 24 hours later Target Walleye fan Jordan Lounsbury gave it a shot:
Thanks for sharing Jordan! Love it. If the stuff you're reading in the Target Walleye emails is working for you, let us know by tagging us in your pics or leaving a note on Facebook.

DIY ultimate ice-scouting vehicle.
A Polaris Ranger mod where they put a Round Catch Cover on the passenger-side floor for the ultimate hole-hopping machine: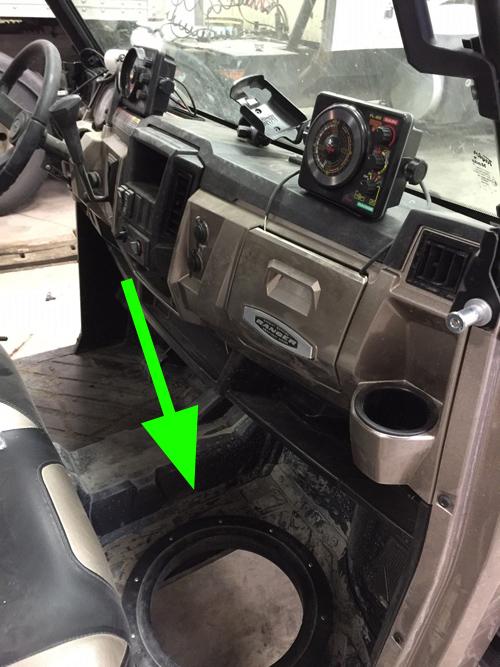 That'll get you tinkerer's brains-a-runnin'.

Coffee with Ron Lindner and Rapala's Mark Fisher.
The coffee was flowing at the office this morning!! Mark Fisher, Rapala's lure design guru, is in town testing some new secret lures from Finland with Al Lindner. You'll also see why Ronald is a wizard when it comes to knowing what's going on in the fishing industry: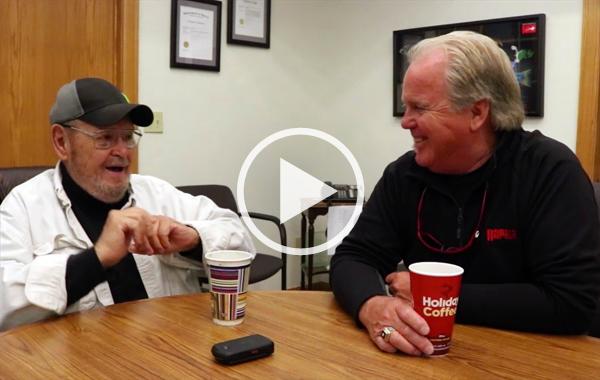 #RingRing #Hollywood
News
1. Remembering Gary Clancy (video).
Legendary outdoor writer who passed away in July. Bet the hunting and fishing is incredible waaaay up north, Gary…. RIP.
2. MI: World Walleye Championship comes to Green Bay.
Best of the best. This is going to be a slugfest!
3. MN: Live-release ice-fishing tourney on Minnetonka.
Called Kraus-Anderson Walleyes on Ice. Feb 11. They've been stocking the snot out of it with 'eyes — hope to see a few brought in.
4. OH: Erie walleye hatch down…
…but not too shabby. Last year's was the 4th highest evaaaaa, which means solid fishing for years to come.
5. NM: Walleyes in NEW MEXICO.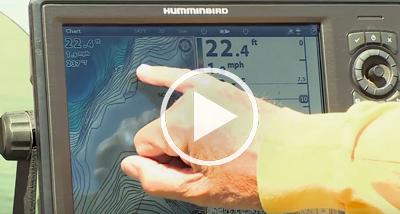 Seriously…. Al and Troy get on lots of 'em in Ute Reservoir. Good way for a snowbird to get sidetracked.
6. MN: Chemical treatment kills 100% of zeebz.
> "A copper-based chemical called Earth TecQZ…said to specifically target zebra mussels, and is apparently not harmful to humans or other organisms in the lake."
If that's true, then we might be onto something here….
7. Invasive Asian carp in upscale restaurants.
Move over walleye, there's a new top dish on the menu: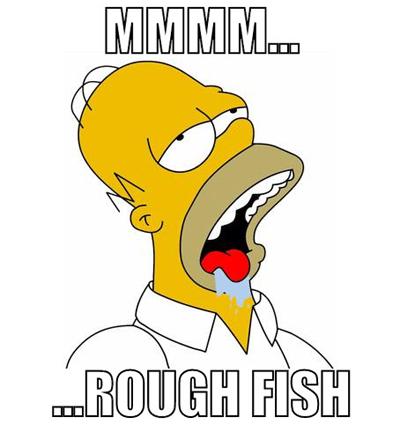 8. Steve Pennaz earns Hall of Fame induction.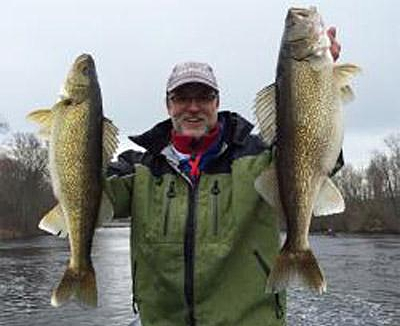 Well-deserved, congrats man!
9. Ted Takasaki Lund walkthrough.
A guy like Ted could fish out of any boat he wanted to — so here's why he chose to fish out of the Lund 219 Pro-V GL Sport: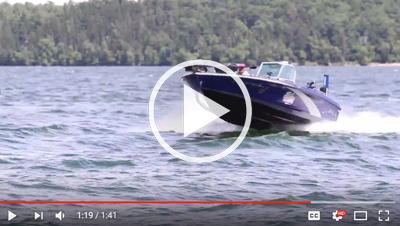 10. Aqua-Vu HD in the fish house.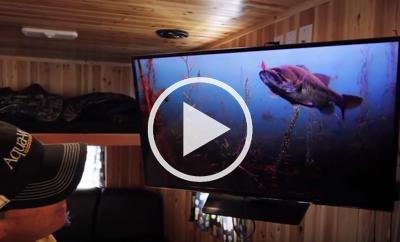 Add a cribbage board + some rattle reels = you're set!

Fishing Reports
> Walleyes and saugers continue to move south. There's good fishing in 23′ outside the Lighthouse Gap and all along the south shore. Lots of shiner minnows in the area are keeping large schools of walleyes active!
> Anchoring and jigging with a shiner minnow is working well with gold and pink being the colors of choice. There's been some crankbait action in the afternoons by those covering water to find active fish.
> The Rainy River bite continues to get better each day as more shiners and walleyes push into the river. Fall walleye fishing on the Rainy River can be some of the best fishing of the year…without nearly as much pressure as spring.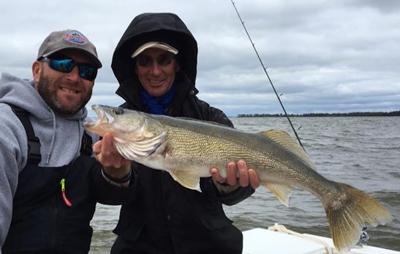 > "The water temp dipped a few more degrees this week down to 61. We are seeing more shiners in the river every day. The big walleye schools are moving in but not quite to the river yet…it won't be long now.
> "The best fishing continues to be in 22-26′ outside of Pine Island, Graceton Beach and on the northern reefs. Best techniques have been jigging with a 1/4- to 1/2-oz jig (gold or pink) tipped with a shiner, or a gold spinner/crawler behind a 1- to 2-oz bottom-bouncer."
> "Fishing on Devils Lake continues to produce quality fish with the recent nice weather. Some walleyes are being caught in shallow water 7-10′ with live bait, but we are also still catching walleyes jigging the deep rockpiles and bridges."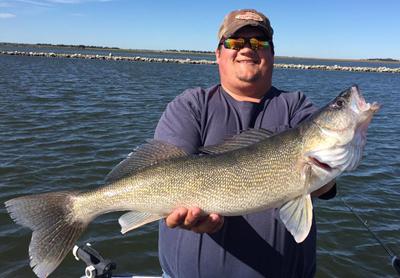 Great places to catch 'em
Sign up another fish-head!
If you're forwarding Target Walleye/Ice to a friend who loves to walleye-fish or want your fishing buddies to get these emails, just
send us
their email addresses and we'll take care of it! (We won't sell the addresses, use them for spam, etc.)

> "The tendency in the post-summer and fall period is to head to deeper water, but don't overlook whatever green weeds you can find — especially after turnover when water temperatures and oxygen levels equalize throughout the entire lake.
> "They [weeds] have to be green — as in alive and still producing oxygen, and attracting baitfish. Even better if they're in an area that breaks quickly into deep water.
> "Pitching down wind or directly into the wind is key. The current formed by the wind will move the weeds around — casting parallel to the weeds can cut down on hanging up.

> "10-lb. fluoro leaders tied to 10-lb Nanofil superline help to slice through the salad and make long-distance casts…[important when] throwing 2.5″ Berkley Power Tubes, small swimbaits, and 4" Gulp! Minnows on 1/8- and 1/4-oz jigs.
> "It's not just walleyes, either. You'll find a number of big crappies and bass in the same weeds. My guess is the combination of still-green weeds and wind are a baitfish magnet, a multi-species buffet."
Keep reading the Jim Edlund write-up here on TargetWalleye.com

Quote of the Day
SNAG!
– Captain Lonney Goman's 80-year-young client yelped that just seconds before that 'snag' turned into the heavy headshakes of a 29″ Green Bay walleye: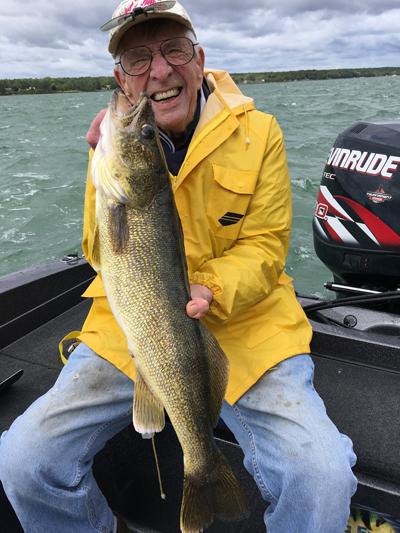 Today's 'Eye Candy
Brad Hawthorne's a hand model now…and pretty good at it: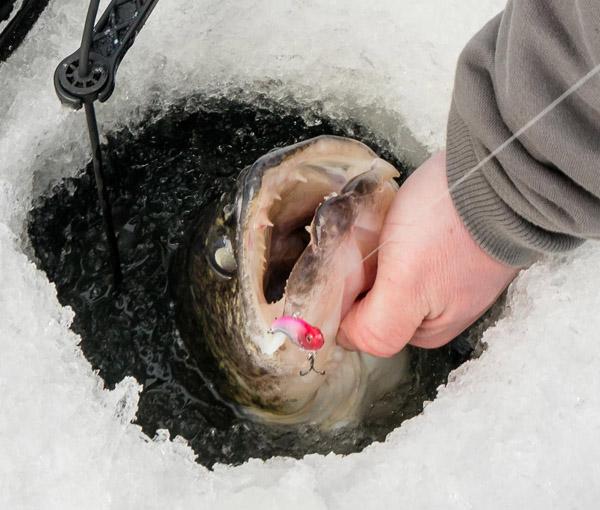 That gnarly 27″ mud lizard walloped a Rapala Slab Rap. Can't wait to fish 'em through the ice, SOON.
Check this stuff out!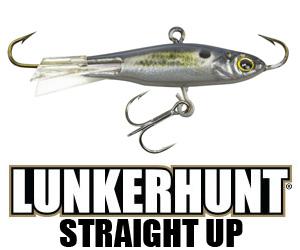 About Target Walleye
Target Walleye/Ice
brings you the BEST walleye and ice fishing news, pics, tips and events year-round, and is brought to you by Al & Ron Lindner, Jim Kalkofen and other walleye nuts like you!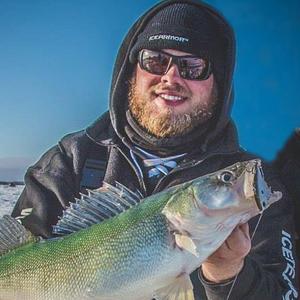 Brett McComas
is the main man for Target Walleye/Ice. He was plucked out of Brainerd, MN after years of wondering how in the heck people break into the fishing biz. He's in it now, but still can't answer that question. Brett is one of those guys who quit sports in high school because they were interfering with his fishing time…. Get him at
brett@targetwalleye.com

TargetWalleye.com | Rapala.com | IceForce.com