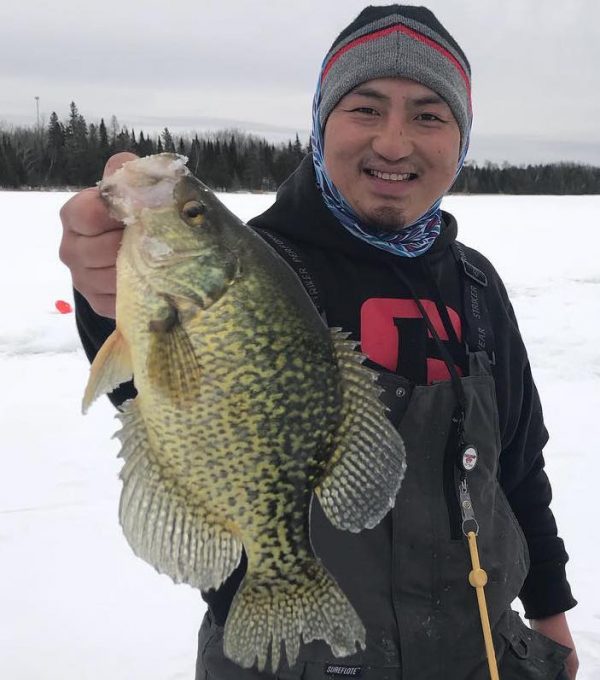 by Will Stolski
We all look forward to that first month of ice…it's a great time to "knock the rust off" and put that new gear to use.
Problem is early-season panfish can be scattered and not "set up" yet. Sure you can pluck one here or there, but dialing in that first reeeeally good bite can be frustrating….
Why I reached out to Ice Force pro and panfish guru Kee Kong to get the low-down on his early-season plan of attack for big pannies:
> Kee: "I think my early-ice approach is a little unconventional compared to some guys, but getting away from the norm seems to pay off."
Location
Instead of spending a lot of time drilling out vast weed flats or basins, Kee looks for sharper break-lines that butt up close. Less drillin' time = more fishin' time. The best part: A lot of times 'gills and crappies will be hanging close together. #2for1s
> "I really like the first or second break off weed flats in the 10-16′ range. The money spot is the break in between the weed flat and a basin. A lot of early-ice panfish are slowly transitioning to their mid-winter haunts, so this is a great ambush point.
> "A lot of guys will start right in the basin, but most of those fish haven't moved deep if there's still decent weed growth shallow."
> "Even though I'm usually not fishing right in the weeds, the kind of growth matters. Cabbage is king, but in a lake with tons of it I'm looking for irregularities within — think milfoil or coontail.
> "Fishing this way is cool because as the season goes on you kind of get a feel for when the majority of the fish have vacated the shallow stuff and moved out into deeper basins."
Gear
> "Lighter tungsten jigs like a 1/32-oz VMC Tungsten Tubby Jig are my go-to for both crappies and 'gills."
Couple reasons he likes the smaller tungsten: 1) Easier for fish to inhale, and 2) you can visually see "up-bites" better due to less pressure on the rod tip.
> "I like fishing plastics more than waxies or spikes early in the year because I'm in search mode…allows me to be waaaay more efficient.
> "My go-to plastic is a 'purple' Dave's Wedgee —  super durable and has a nice subtle action."
> "Purple is the deal — not a ton of true purple plastics on the market — but it can represent a lot of different things (minnows, bugs, etc). Crushes in both clear and stained water.
> "I run a 500-size Shimano Sienna paired with 3-lb Sufix Ice Magic mono…3-lb because it can handle bigger fish and saves time on having to re-tie."