Pics or it didn't happen! These snaps are the ONLY "golden walleyes" I've EVER come across after yeeeeaaaars of scouring the interwebz! Hope you get to see one in real life some day, but in the meantime, enjoy!
1. The golden ticket
Craig Orf was lucky enough to punch his golden ticket at Sydney Lake, ON. Welcome to the yeller-belly club, dude!
Here's what Craig was told:
> "…normally the fish scales receive incoming white light — and different molecular structures — convert white light to blue or yellow, which make the fish look green. In the golden walleye, it's likely that some spontaneous mutation occurred that prevented the scales from making the proper molecular structures to convert white light to blue.
> "Without the structures that convert white light to blue, the fish looks yellow (gold) rather than green (which is what you see when blue and yellow combine). It's not that the walleye has gained a yellow pigment but rather lost the ability to produce the blue colours that make its scales look green."
How cool is that? No idea if that's actually how they come about…regardless, they sure are fun to look at!
2. Biggest yeller-belly ever?!
Steve Wasko sent us the ultimate yeller-belly checkmate: A 29.75-incher [!] he plucked from the St. Louis River during a Twin Ports Walleye Association tourney in May '14. Said he was longlining spinner rigs in 4-5′ with Gulp! Crawlers at 1.2 mph:
Congrats dude! Can you imagine when that thing first hit the net:
3. The Cheerio fish
Remember this St. Louis River walter that was eating too many Cheerios? The first "golden walleye" to show itself online. If you know who this is in the pic — hit us up!
4. Special father/son moment
Jason Powers stuck this golden-doodle on Oneida Lake, NY. Even better is he got it 5 minutes after his 6-yr-old son caught his first walleye ever. Said it was released and he's having a replica mount made of both fish for a memory that will last a lifetime: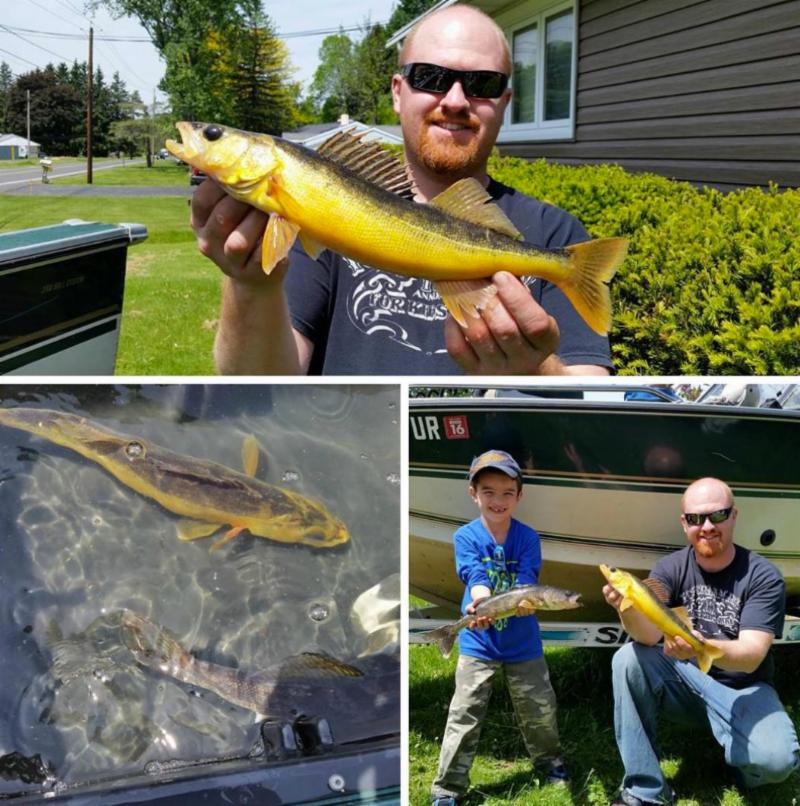 5. Golden walleye 3-for-1s???
Apparently Jerry and John Nicholson caught 3 in the same day [?!] pre-fishing for the Canadian Tire Angler's Cup on Lesser Slave Lake, AB. Here's a good look at one of 'em:
Fish up there must be on a strict diet of "gold flame" color Yo-Zuri Pin's Minnows lol:
Only other person to ever catch more than one golden walleye was some chocolate-loving kid named Charlie something:
6. Skinny-water treat
Was sent this pic/info (Sep 2019) from SD fishing guide Joe Honer of a Glacial Lakes orangie he had a customer catch and release the other day. Said Sandy Stewart was casting to shallow water with an 1/8-oz white jig and 3″ Gulp! Minnow Grub (pearl white) when she popped the fish of 47 lifetimes: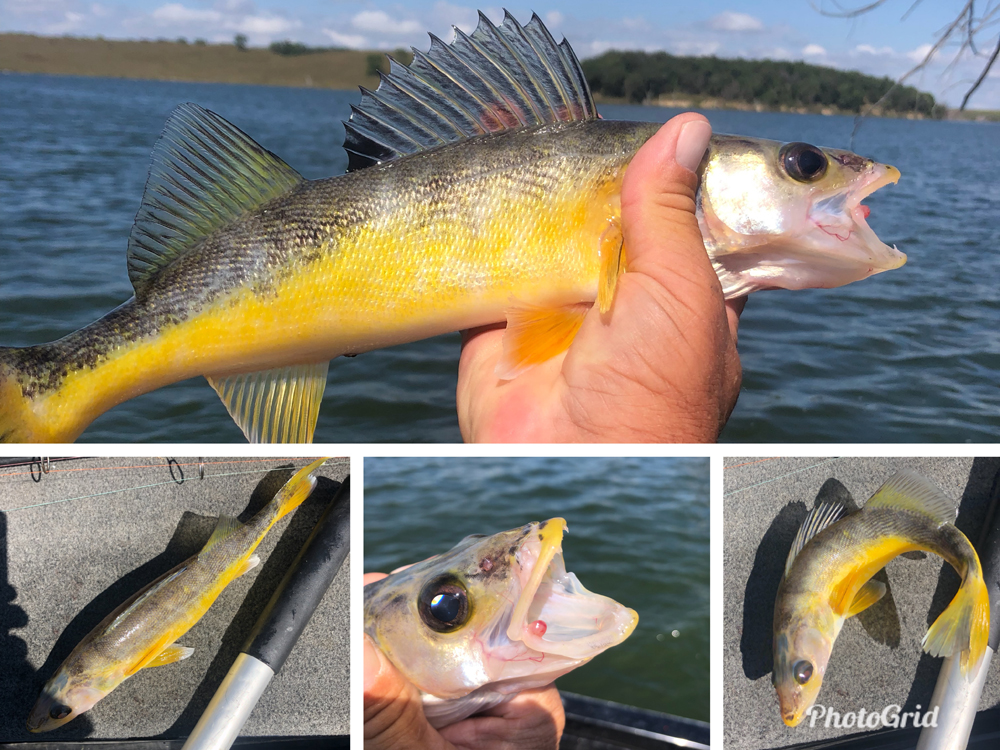 It's still swimming — time for a roadtrip!
7. The tie-dye fish
Jesse Meyer caught this freak o' nature soaking a slip-bobber on a southern Alberta reservoir:
Looks like a tie-dye shirt made out of rotten bananas lol:
Bonus orange walleye
Here's another little something you don't see every day, and may not ever again… Gino C. (@captaincoleslaw) caught this orang'eye out of Shenango River Lake, PA:
Wonder if it tasted like a Creamsicle? Lol kiddin' of course. Believe it was released which would be super #Stout. Gino's original post said:
> "On a day where multiple walleyes were caught and released, one specimen was incredibly special. This ORANGE fellow expresses a rare mutation called 'xanthism' which is a partial form of albinism found in fish. Only certain melanin color pigments in the fish's skin are lacking, and in turn the cholesterol found in the fish's skin turns the colorless cells bright orange!"
Now you know…
Bonus greenback walleyes!
First off: What's a "greenback" and how do they get that way?
A greenback is an emerald/iridescent green walleye people believe is unique to Lake Winnipeg, Manitoba. Here's one I pulled outta the Red River (tributary to Lake Winnipeg) during the annual fall run:
Supposedly their b-e-a-utiful greenish coloration comes from the limestone-rich waters of Lake Winnipeg's northern basin…or maybe it's from all that Mountain Dew they chug before making the 200-ish mile trek south? Lol either way they're cool to look at and FUN to catch.
Case you need more convincing…they grow 'em BIG, too!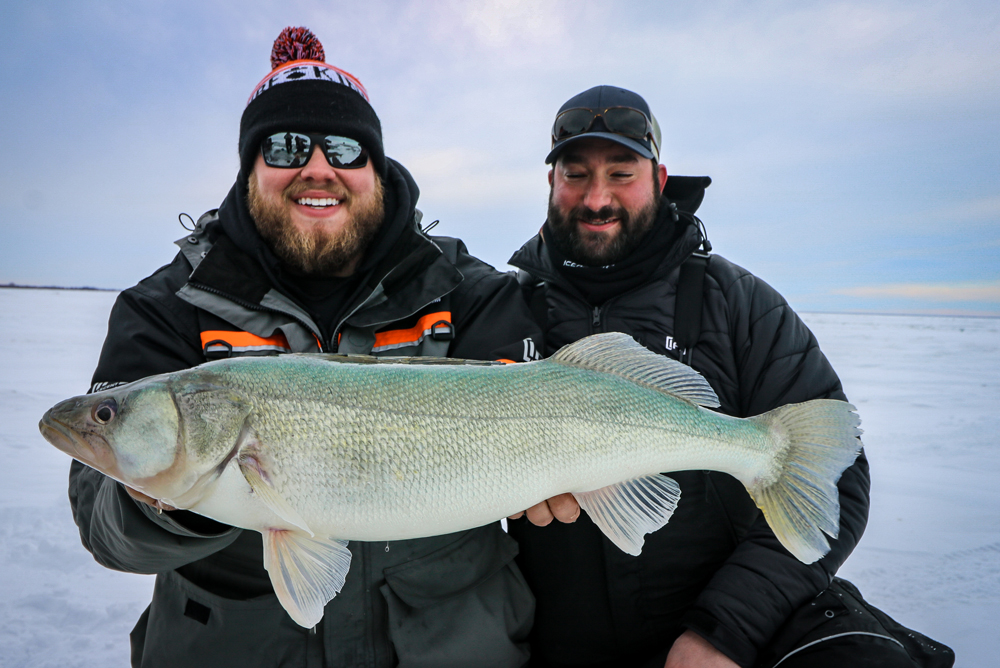 Got a legit pic of a unique walleye? Send it our way! Make sure to include a few details on what/how/where it was caught….
Oh, and want to see more fishy stuff like this? Sign up for the FREE Target Walleye emails — packed full of fishy goodness and sent straight to your inbox twice a week: