If you're receiving this Target Walleye/Ice email — covering the best of walleye fishing during open water and the best of ice fishing during hard water — for the first time, a friend probably signed you up! Target Walleye/Ice is brought to you by Al and Ron Lindner, Jim Kalkofen and other walleye and ice fishing nuts like you.

Today's Top 5


World Walleye Championship deets.
Randy Gaines and Mike Rhoades tackled both the big-water and river bites to win the MWC World Walleye Championship on Green Bay/Fox River, WI. They led all 3 days of the tourney (impressive!!) with a final total of 52-12…fattening up their wallets by $15K and earning a lifetime of bragging rights: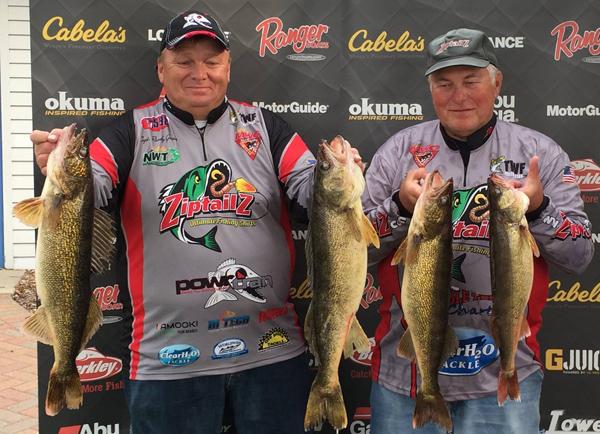 Believe it or not they didn't even catch a fish their first day of practice:
> "We just kept working, trying different things and fortunately peaked at the time of competition, so it turned out to be the perfect storm for us."
They made a 40-mile run to an area near Sturgeon Bay where they vertically fished swim jigs (weighing up to 1.25-oz) on bottom at the base of a sharp dropoff in 60-70′:
> Mike: "Slow lifts and tight-line drops were key. We used fast-action baitcasting outfits spooled with a superbraid mainline and a heavy 2′ fluorocarbon leader to limit tangles."
Gale-force winds limited everyone to the river on day 2, so they covered ground by trolling Berkley Flicker Shads and Flicker Minnows behind Off Shore Tackle planer boards to maintain the lead going into the final day.
Looks like a World Walleye Champion sleeps a little better once the trophy is in hand:
We're glad that Randy got a new toy to cuddle with — maybe now he'll leave those poor walleyes alone: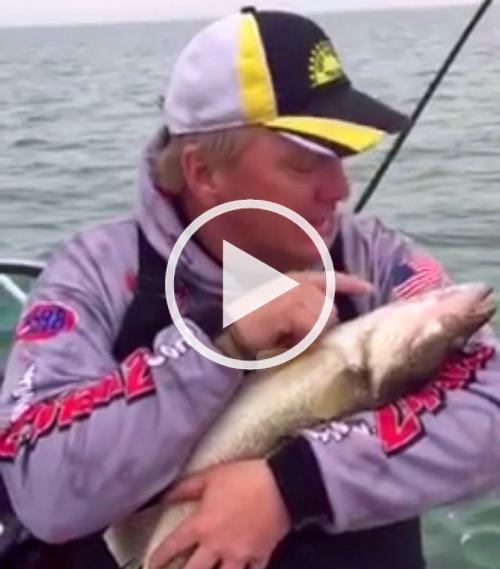 Lol that's a special kind of connection man — congrats!

Al Lindner: Why tournaments make you a better angler.
Even if you don't fish tourneys, it's still important to pay attention to the results and how they're won — which is why we cover them in Target Walleye. Tournaments force anglers to fish under nasty conditions, when most others would've stayed home…and no matter how tough the bite is, someone always gets on 'em.
Nearly every major breakthrough that we've seen in the last 20 years in the world of walleye fishing has come from a tournament-fishing situation — here's Al's take on it: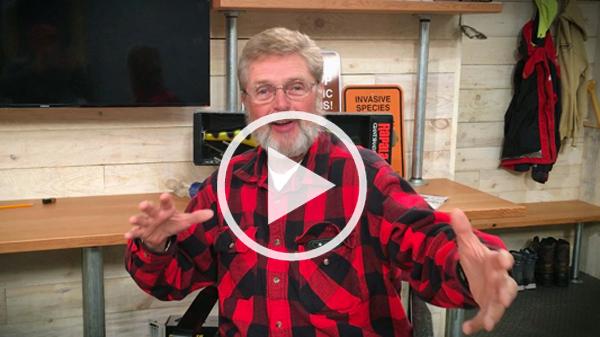 Here's one of the more interesting newbies we've seen in awhile…. It's a biodegradable fish-attracting super ball called BaitCloud that looks like it's going to work as well as a hand grenade: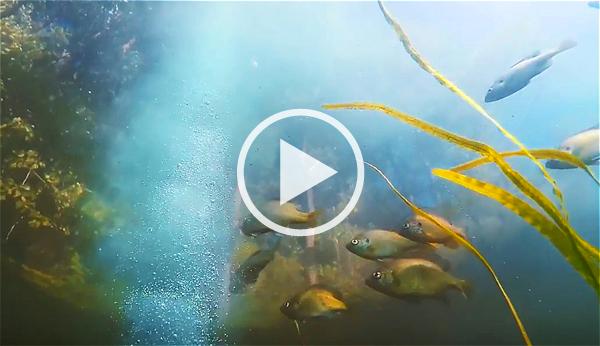 Imagine using these for ice fishing…in a hole a couple feet away so your flasher isn't affected. You can buy 'em right here before your fishing buddy does. We can't wait to try 'em.
Not sure there's any way they could work better…only thing that comes to mind: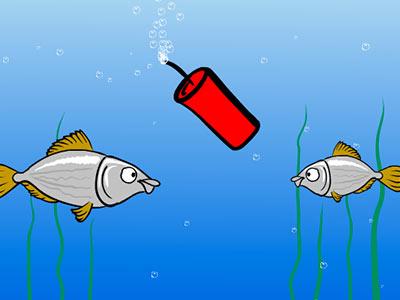 Kid's…don't try this at home.

How Canadians spend Thanksgiving Day.
Danny Kleinsasser and fam skipped the turkey last weekend (Canadian Thanksgiving) to bond over bonfires and greenbacks: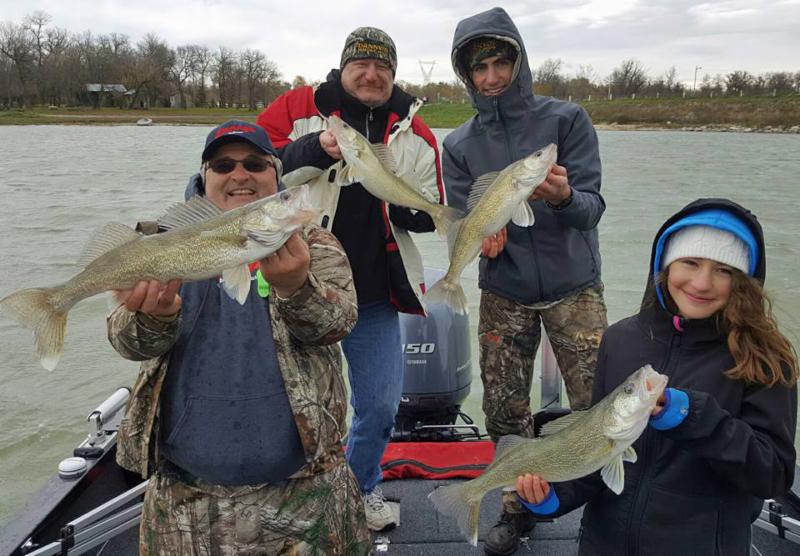 Looks like some quality family time up at the Lake Manitoba Narrows. Stick a wall-hanger then out comes the "stuffing" lol?

How Korey Sprengel spent his duck opener.
We also like how he keeps his "duck hunting" spots secret: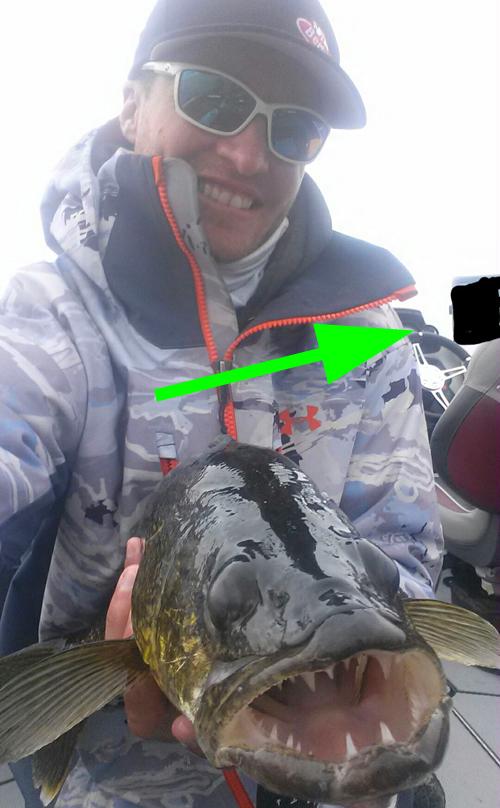 Must be a diver. #QuackQuack
News
Vic Klosterman and Tim Reitan sacked up 8 greenbacks over 2 days to weigh 37.58 lbs and win the $20K prize pack. Don't look too excited lol: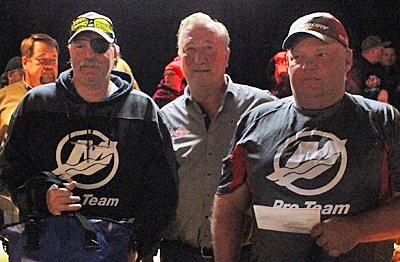 Hey tourney organizers — How 'bout some photos with fish??
Ted Takasaki and Dave Randash weren't far behind in 2nd place with 35.87 lbs. Ted: "Caught their fish jigging with 3/8-oz jigs tipped with shiners." They weighed the big fish on day 2 with this 9.51-llb milky greenback: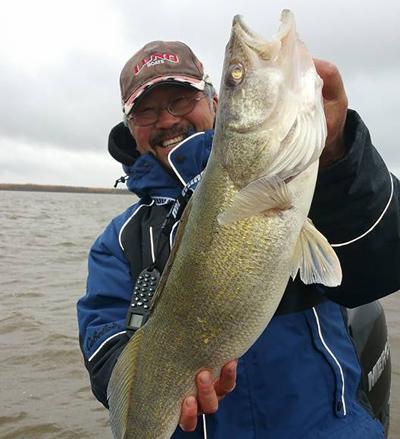 Nicely done fellas!
2. AB: Will you ever get a walleye dinner?
Lakeland area water has a zero-catch limit on 'eyes. They did it to protect the once declining population that's no thriving. You only have a few more days to voice your opinion if you want to be able to keep a fish or two this season: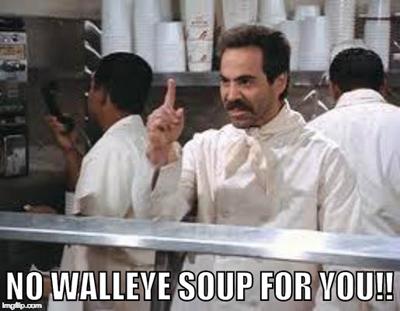 3. ND: Fall walleye catch rates super high.
Most lakes across the prairie are looking healthier than ever…it's tough to imagine the fishing getting even better over yonder….
4. Morris indicates where Bass Pro Shops/Cabela's split will be.
In an open letter:
> The prospect of bringing together our time-tested, iconic outdoor brands: Cabela's — a leader in hunting, Bass Pro Shops — a leader in fishing, and White River Marine Group — a worldwide leader in boating, is very exciting!
5. Hooking an Aqua-Vu up to your sonar.
Tommy Skarlis uses an awesome 1-2 punch he calls "search and identify," to make sure the marks he's fishing are walleyes and not suckers. Did you know that you can actually view your underwater video on the big screen? Slick: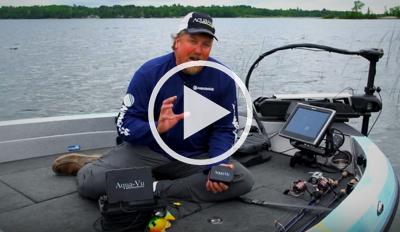 6. Jason Mitchell chasin' hardwater greenbacks (video).
Shot at Lake Winnipeg last Jan. If this doesn't get you pumped up for hardwater, something's wrong.
7. MN: Check docks/boat lifts for zeebz…
…after you make your kids pull 'em out of the lake.
8. Clam's revamped glove line-up.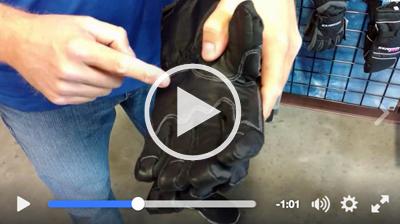 Fresh new ingredients to make 'em warmer and last longer. Lookin' good.
9. New Frabill Citadel 3455 shack…
…has a rod storage system built into/under the seat. Click the pic for more details: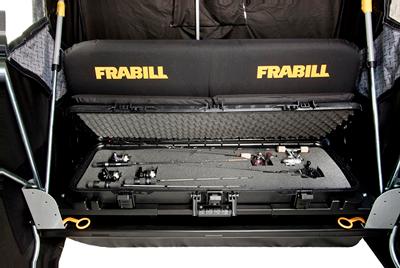 _____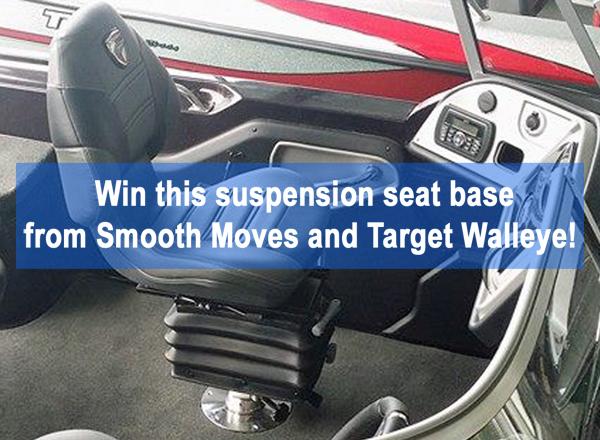 Have a shot at winning a Smooth Moves Ultra suspension seat base worth $550! Your back will thank you in rough conditions! Just enter your email addy, then share the link you get for more chances to win. Good luck!

Events
Great places to catch 'em
Sign up another fish-head!
If you're forwarding Target Walleye/Ice to a friend who loves to walleye-fish or want your fishing buddies to get these emails, just
send us
their email addresses and we'll take care of it! (We won't sell the addresses, use them for spam, etc.)

> "Fall walleyes can be caught lots of different ways. This time of year they may be shallow, deep or somewhere in between. Here are some suggestions for increasing your odds for walleye fishing success this fall."
Check various depths
> "Typically I like to target fall walleyes in shallow, weedy lakes by searching for still living, green weeds…which usually occur in water depths ranging from 3-10′. Deeper lakes often mean walleyes will be holding on sharp dropoffs where main lake structure tumbles into the depths.
> "These are only general rules…for that reason I like to keep an open mind when hitting the water. If the fish don't appear to be following 'the rules,' then I stay on the move looking for fish using my electronics."
Fish "fast"
> "Most anglers think of a jig and minnow combo when it comes to fall fishing, but the past couple falls I've been staying with my summer power-fishing methods with success. Fishing faster lets me put my bait in front of more fish throughout the day.
> "Spinner rigs tipped with nightcrawlers and fished at 1.0-1.5 mph have put lots of fish in my boat well into October. This method has been productive on the edges of [what's left of] weeds in small, shallow lakes.
> "Deeper, clearer waters have been best attacked by using a bottom-bouncer and fishing fast, but trade the spinner in for a plain snell tipped with a crawler."
Sleep in!
> "The walleye bite in the summer is usually best early in the morning and again during late evening, but the best fishing in the fall often occurs during the middle of the day and afternoons.
> "As fall progresses and the water cools, the bite often peaks during mid-day as the water warms to its daily peak and the fish get most active."

Today's 'Eye Candy
So that's why Al wasn't at our last Monday morning meeting: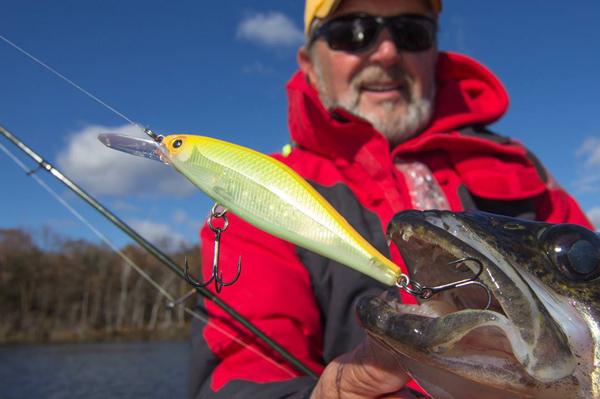 That Rapala Shadow Rap Shad isn't just for the bass guys — we're nearing prime time for that cold-water bite.
Check this stuff out!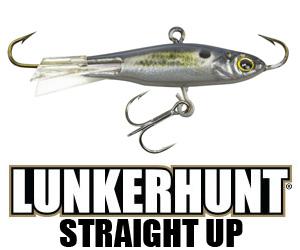 About Target Walleye
Target Walleye/Ice
brings you the BEST walleye and ice fishing news, pics, tips and events year-round, and is brought to you by Al & Ron Lindner, Jim Kalkofen and other walleye nuts like you!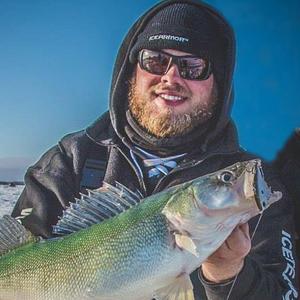 Brett McComas
is the main man for Target Walleye/Ice. He was plucked out of Brainerd, MN after years of wondering how in the heck people break into the fishing biz. He's in it now, but still can't answer that question. Brett is one of those guys who quit sports in high school because they were interfering with his fishing time…. Get him at
brett@targetwalleye.com

TargetWalleye.com | Rapala.com | IceForce.com