If you're receiving this Target Walleye/Ice email — covering the best of walleye fishing during open water and the best of ice fishing during hard water — for the first time, a friend probably signed you up! Target Walleye/Ice is brought to you by Al and Ron Lindner, Jim Kalkofen and other walleye and ice fishing nuts like you.

Today's Top 5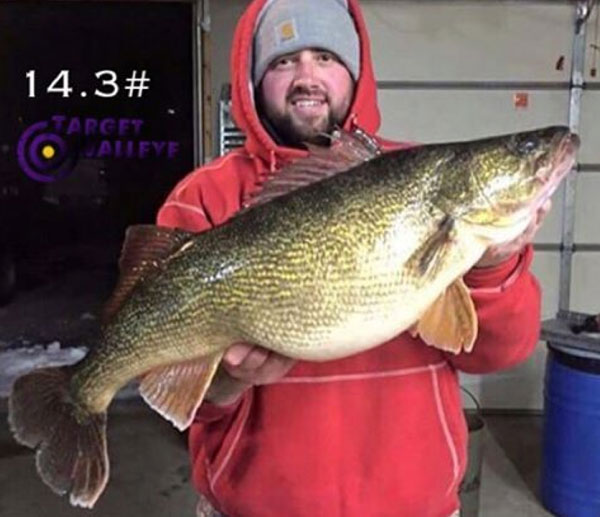 > Quinn Aguero wrastled up this 14.3-lb HAM out of a southeast Wisconsin lake. He caught it on a leech & slip bobber… Lol okay, made that part up — the fish was actually caught on a Rapala Jigging Rap. She's headed straight for the wall to be admired forever. This was no fluke, Quinn actually caught two 30″+ that night. Dang!

Blimp walleyes of the week.
Best of the rest — a lot of big fish are being caught!
Sham Wow! Kelly G.'s flawless & finned-out TANK! Winched out of Rainy Lake on a 3/16-oz Clam Bomb Spoon: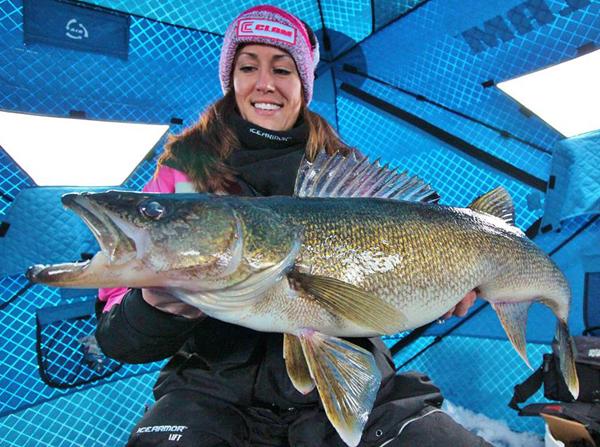 Jordan M. pans 30″ of Bay De Noc gold, using a tip-up and sucker minnow in 10 feet: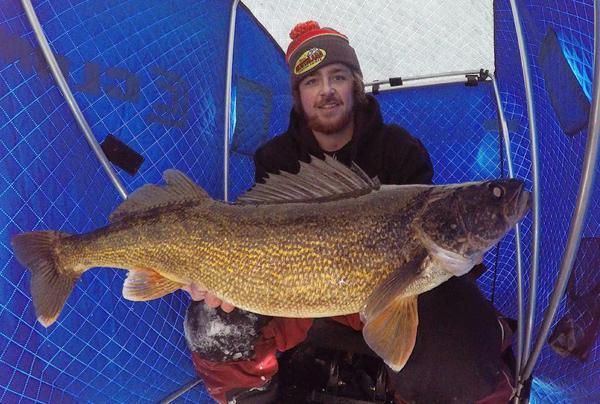 Brad D. and 34″ of Last Mountain Lake, SD ice lizard!
Greenbackin' it to the tune of 31.5″ with Kyle B. Are you even allowed to use an auger smaller than 10″ on the Red River??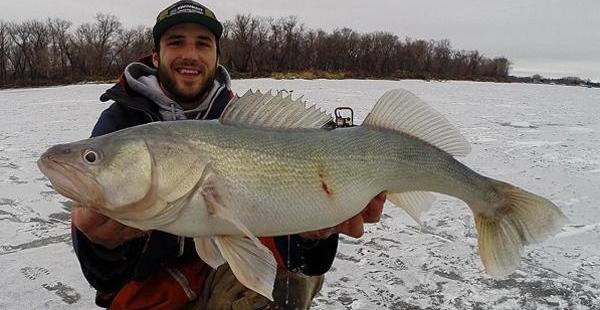 One more blimp 'eye, which just about fits that 8″ hole. Caught on a 1/4-oz pearl chartreuse PK Spoon:

How 'bout this 16″ crappie on a Trigger X Spike Worm!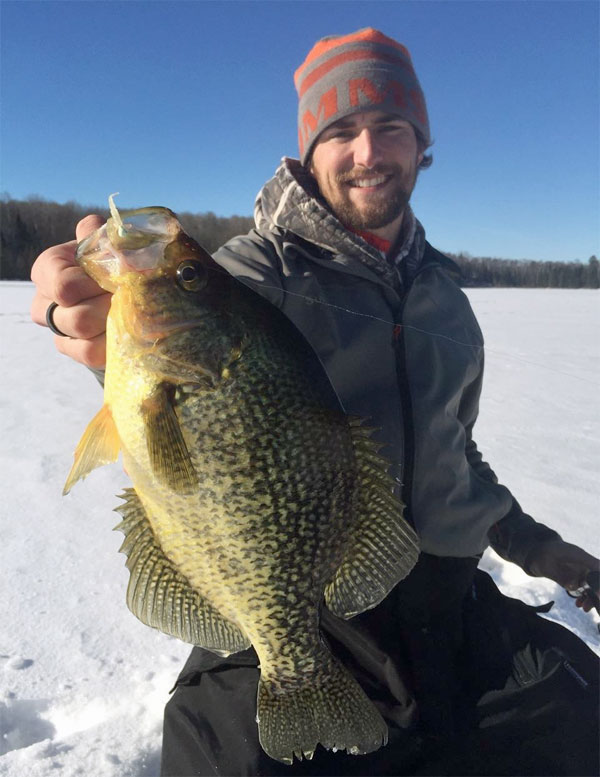 Mother Nature's hubcaps — three more and he would have a set!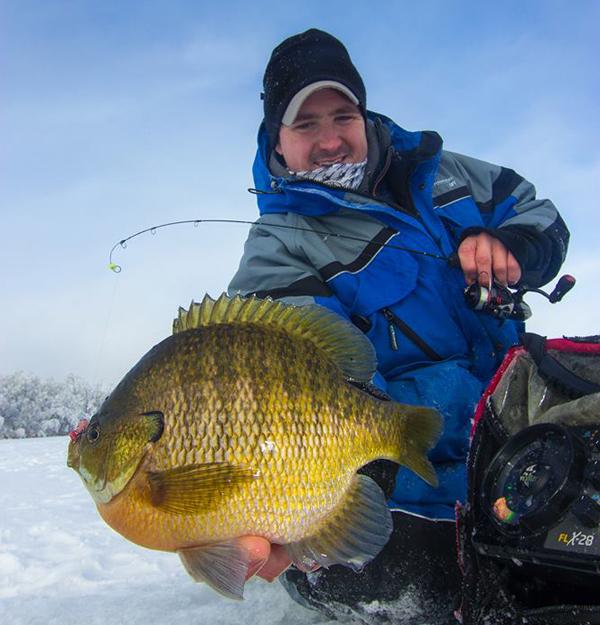 Travis Peterson on hardwater bass:

> I set up on the outside edge of the deepest green weeds I can find. Typically, on clear water lakes, that means in 15′-22′. Green coontail weeds are key; largies like to swim along the outside edge of them. The ends of points are obvious spots, but inside turns can be loaded, too.
> I catch most of my winter largemouth on lures meant for panfishing. My favorite jigs are the Hard-Rock Mooska Jig and the Hexi Fly; both are awesome fish-catchers that show up well on electronics.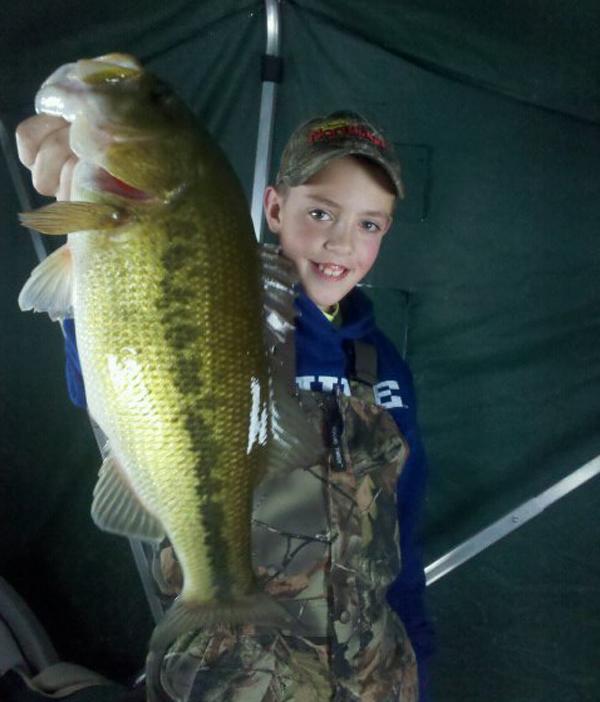 One of the best feelings ever.
Lol. Click it to watch it in all its glory: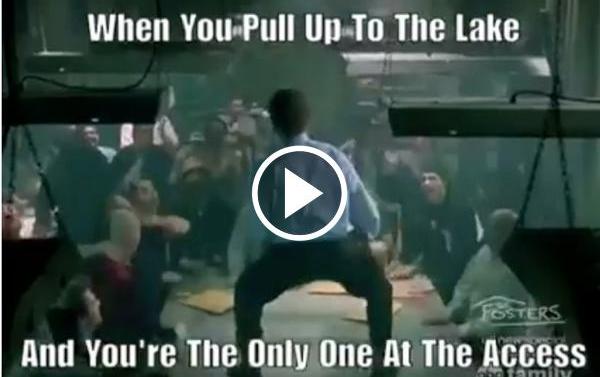 ---

---

Ice Fishing
1. New 6″ Strikemaster Lazer-Lite.
Drill all day with this 21-lb powerhouse.
2. MN: Loooooong article about fewer trophy pannies.
…with big fish magician Eric Haataja.
Eric Brandriet with hard evidence of why his Aqua-Vu isn't just a luxury, but a hardwater tool:
> Had a hot hole one night last week and it was funny because it was about the ONLY hot hole. My Humminbird showed a solid line about 2′ off bottom and never left. The next morning we dropped the Aqua-Vu down…and bam…a dead tree with limbs in 23′. This is VERY uncommon in this body of water, a rare find that now has plenty of waypoints marking it.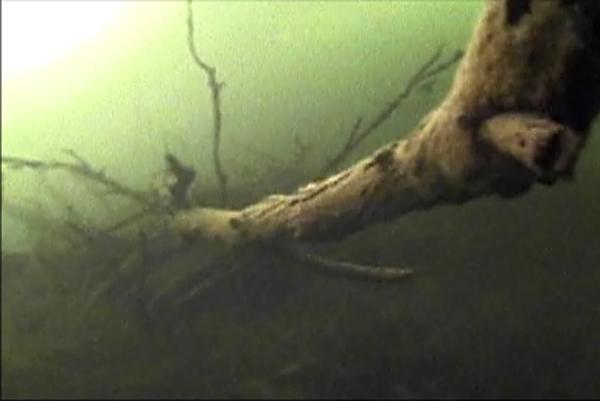 > In fact, after looking with the 'ice eyes', our Aqua-VU camera, we found about a 30-yard area of small brushpiles! Very UNCOMMON in this lake but would not be found without our Aqua-Vu cams.
5. Reminder: No ice is safe ice.
_____
Make sure you note the special code for Target Walleye/Ice subscribers!

Events
Over $20K in prizes, all proceeds go to CancerCare and the Children's Hospital Foundation of MB. #awesome
Fishing Reports
1. MN: LOTW fish-cleaning shacks busy.
Linda D. with 31.5″ of LOTW paydirt, caught on a Northland UV Buck-Shot Spoon in pink tiger: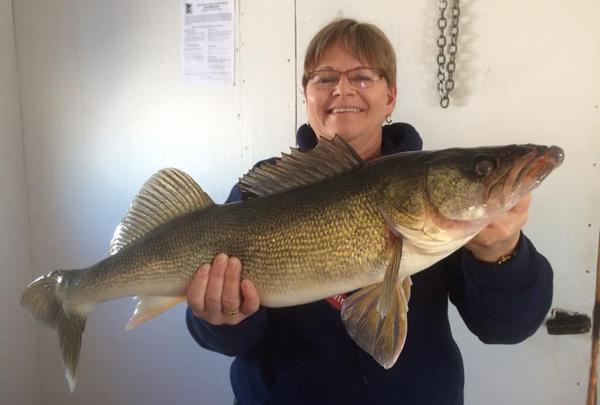 > Ice fishing is in full swing on The Walleye Capital of the World and the fish-cleaning shacks are busy! Ice trails marked for ATV, UTV, snowmobiles and other light ice rigs. Snowmobile trails across the lake marked and groomed. Resorts are shuttling guests to fish houses with light ice rigs.
> On the south shore, most fishing in 22-29′. Gold, glow red, pink, glow white and orange are hot colors. A mix of walleyes, sauger and jumbo perch. A few sturgeon being caught by walleye anglers. Numerous limits. One-two punch of jigging line and dead stick. Some trophy walleyes in the mix. As always, stay on the marked resort trails.
> The Rainy River is iced over in most areas but not safe overall. For safety, work through resorts. Some locals out on ice but they know exact conditions. Safety first. Most fishing the lake.
> Up at the NW Angle, fish houses are out and good fishing reported. There is a staked trail from Young's Bay to Flag Island and to Oak Island. Snowmobile trail to south end of lake is open. Good bite with limits in 22′-28′. Jumbo perch and pike in with walleye and sauger mix.
Stay posted to Lake of the Woods Tourism or your favorite resort's Facebook/Twitter pages for updates.
Note: Brad Hawthorne's hot bait/color on LOTW has been VMC Tumbler Spoons in any UV color on his jig line and VMC Glow Resin Trebles with frozen or live shiners on his set line.
Here's a LOTW video report from Keith Kavajecz.
From Woodland Resort:
> Ice conditions: Irvine: 8″-10″; Pelican: 8″-10″; Minnewaukan Flats: 8″-11″; North End of 6 Mile Bay: 10″; Creel bay: 6″-11″. Slush still remains on various parts of the lake. Track machines in these areas are best for getting around.
> Use of full-size vehicles is still not advised anywhere on the lake. People are primarily using ATVs, side-by-sides, snobears, and snowmobiles to navigate the ice.
> Perch are starting to become more active in the last few days. Walleyes and pike have been biting in shallower areas (7-20′). Buckshots have been the hot lure as of late, 1/16-oz in green, orange, and pink colors. Minnow heads and wax worms.
Zippy Dahl, Perch Patrol: "Perch fishing has been phenomenal. Lots of limits. Fish are in 14-28 feet. We're fishing by ourselves. We even landed a couple 2-lbers."
> Our houses saw some good numbers yesterday. Pink jigs were the catching ticket. We are fishing anywhere from 22-30′ just southwest of Gull Rock and at Twin Rocks. Electronics have been helpful. According to our guides, you need to fish as close to the bottom as you can.
> We are finding more safe, fishable ice daily and are expanding our fishing areas. Our sleeper houses are being placed on the ice this week. Colder temps are on their way, so expect more ice and progression towards the reefs. If you are fishing on your own, please remember to take extreme caution as the ice still varies around our area.
Report from Arnesen's Rocky Point. Visit Warroad info.

---
Sign up another ice-head!
If you're forwarding Target Walleye/Ice to a friend who loves to ice- and/or walleye-fish or want your fishing buddies to get these emails, just
send us
their email addresses and we'll take care of it! (We won't sell the addresses, use them for spam, etc.)

---
A little multi-species plastic trick hat might help you catch a few more fish this winter, especially on highly-pressured waters:
> Clip the nose off a micro tube, slide the spoon's treble up through, and re-attach it. This one works for everything from herring to big lake trout. Even more than the color and scent, a little tube also really helps slow a spoon on the downstroke.
> Clear, smoke or glow tubes do a good job imitating smelt or shiners.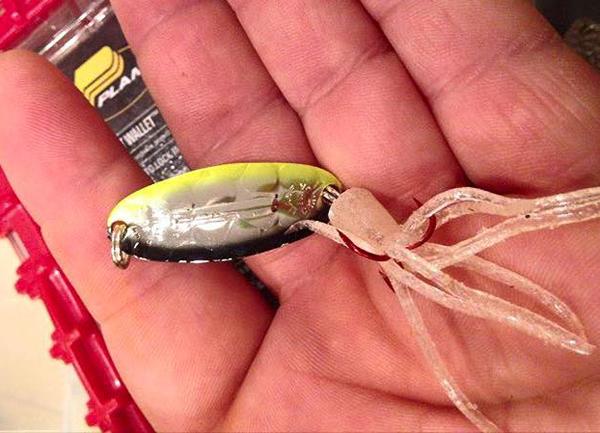 ---

---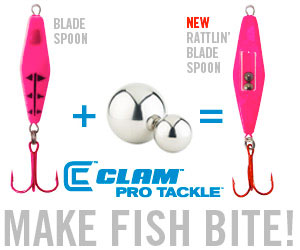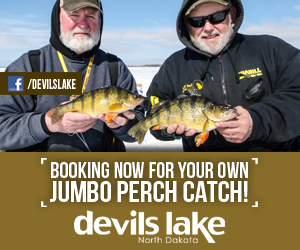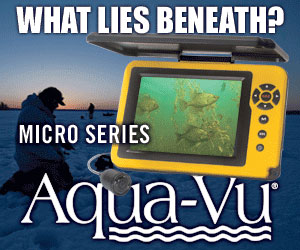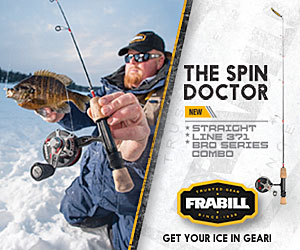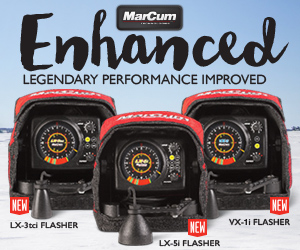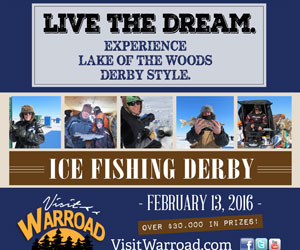 Check this stuff out!
---
About Target Walleye
Target Walleye
brings you the BEST walleye and ice fishing news, pics, tips and events year-round, and is brought to you by Al & Ron Lindner, Jim Kalkofen and other walleye nuts like you!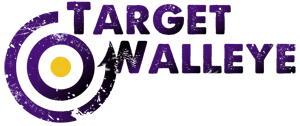 TargetWalleye.com | Rapala.com | IceForce.com