He was out bass fishing, hooked a muskie and then:
> Anderson, in the heat of the moment, grabbed the predator in its mouth as if lipping a bass. "I didn't realize their teeth were that big," he said.
> They brought the fish aboard, measured it at a whopping 55 inches long, snapped a photo and released the beast to wow another angler. "I was so excited I didn't realize my hand was bleeding."
Sure looks happy in this shot: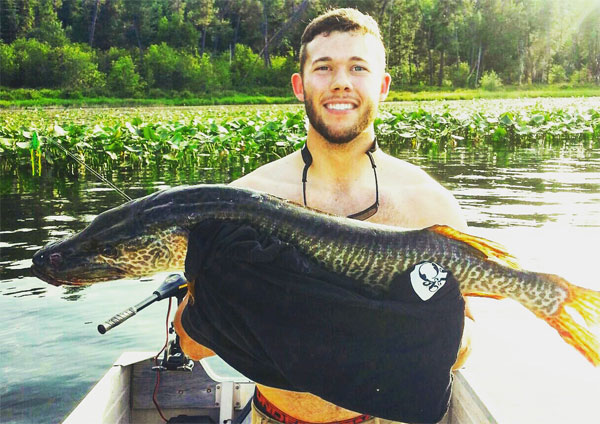 Take THAT animal rights nuts:
> Fish do not even suffer when they are hooked and fighting for their lives, according to research by an international team.
> They say fish do not have a brain system or enough sensory receptors in the nerve cells to experience suffering.
That would explain why fish go crazy after being hooked instead of running straight at the boat! Would also explain how a fish can eat a crayfish or a baitfish….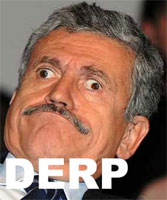 Not sure whether to be glad or alarmed that "an international team" actually spent money and time studying this….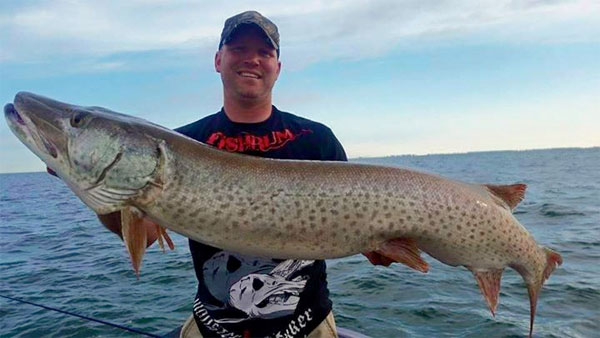 Here's what the angler said about that shot:
> Took me all of 3 casts to catch my first Lake St. Clair muskie!
If our math is right, that's 997 casts and about 99,700 calories in savings…!

News
1. ON: 444 International winners.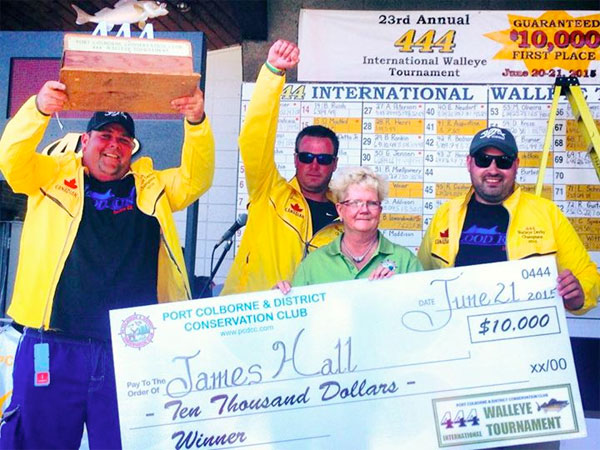 This year's 444 international walleye tournament winners were James Hall (captain), Rob Crowe and Brandon Ottoway. They had 64 lbs even, with an amazing one-day weight of 38.25 (only 4 fish!).
Full standings here.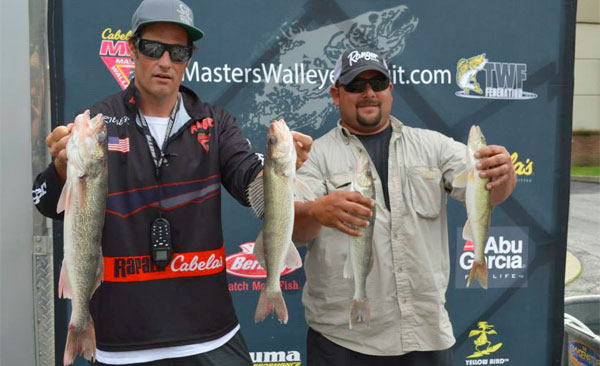 > PA's Ryan Rieger and Joe Papalia sacked a two-day, 10-fish limit weighing 15 lbs 6 oz to win the Cabela's Masters Walleye Circuit's Kinzua Reservoir qualifying tournament presented by Zippo Outdoors June 19-20.
> Rieger and Papalia primarily pulled slow death-style nightcrawler rigs along the tops and edges of offshore humps in 10 to 23 feet on day 1…. They added Berkley Flicker Shads to the program on day 2….
3. WI: Battle on Bago results.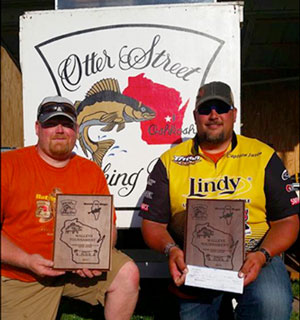 Jason Muche and Tin Feucht won with a 2-day 10-fish limit of 39.76 lbs. They used green and chartreuse 1/8-oz Lindy jigs tipped with leeches and crawlers, and trolled the Fox River channel banks in 8-14 feet, holding speeds of 1.4 mph upstream and 2.6 mph downstream. They beat 304 other boats.
4. MN: Father-son team win again!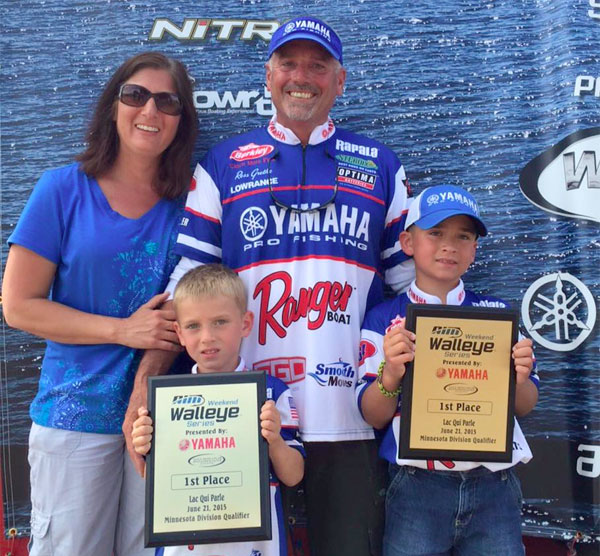 At Lac Qui Parle, Ross and Reid Grothe won it with a 1-day limit of 17.98 lbs. Father's Day weekend and that's two wins for them this year!
Btw, the deadline to enter the Great Lakes Division Lorain and the Wisconsin Division Petenwell derbies is TONIGHT. Go to aimfishing.com to register.
5. ND: State record wally swims in Red?
> "I don't remember seeing as many walleyes as we're seeing this year. The new state record walleye could easily come from this system."
6. ON: Nipissing stocking getting resolved?
Also:
– Parliament member wants 3rd-party assessment.
– A man was charged for having undersized walleye there.
7. BigJon has new trolling spoons.
8. MI: New state record white perch.
2 lbs, 13.57 inches, caught by Cindy Lou Cordo.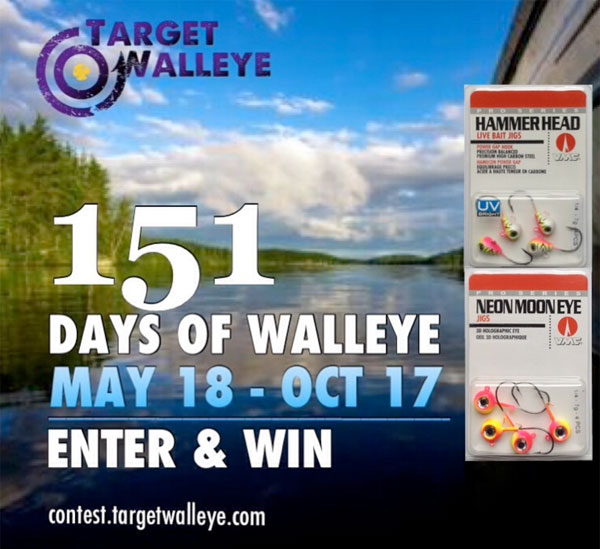 Events
---
---

'Eye Candy
The ladies of the lake can catch 'em! Via Rainydaze Guide Service: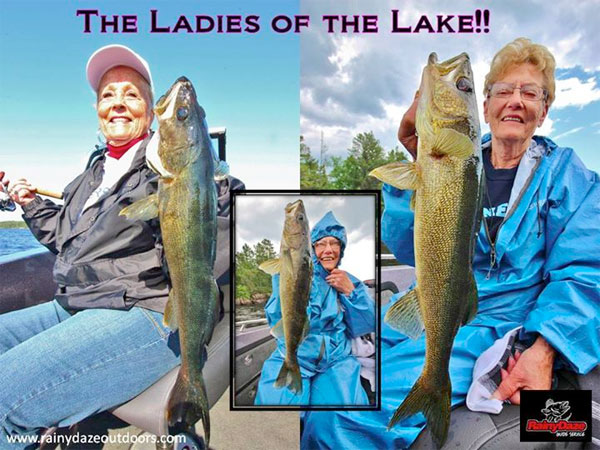 Quote of the Day
They're kind of like a high school beauty queen, who you admire a lot but is just beyond your reach.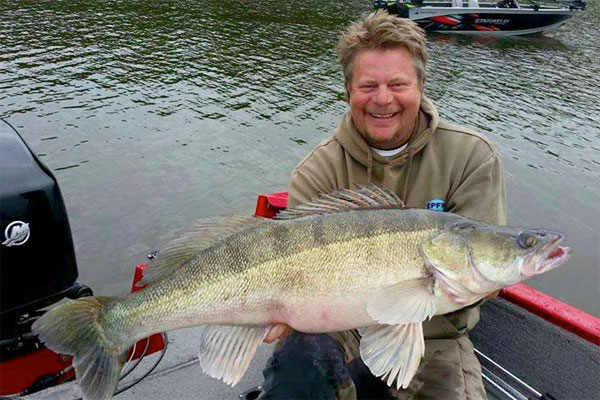 ---

---
About Target Walleye
Target Walleye
brings you the BEST walleye and ice fishing news, pics, tips and events year-round, and is brought to you by Al & Ron Lindner, Jim Kalkofen and other walleye nuts like you!
---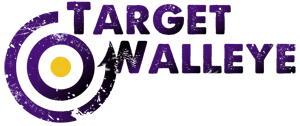 TargetWalleye.com | Rapala.com | IceForce.com