If you're receiving this Target Walleye/Ice email — covering the best of walleye fishing during open water and the best of ice fishing during hard water — for the first time, a friend probably signed you up! Target Walleye/Ice is brought to you by Al and Ron Lindner, Jim Kalkofen and other walleye and ice fishing nuts like you.

Today's Top 5

Ross Robertson cracked his biggest whale-eye of the year — and of most people's life times — while slow trolling cranks on Lake Erie. Stats: 31 X 23 inches, weighed over 13 lbs, and wears the same size jeans as Ross: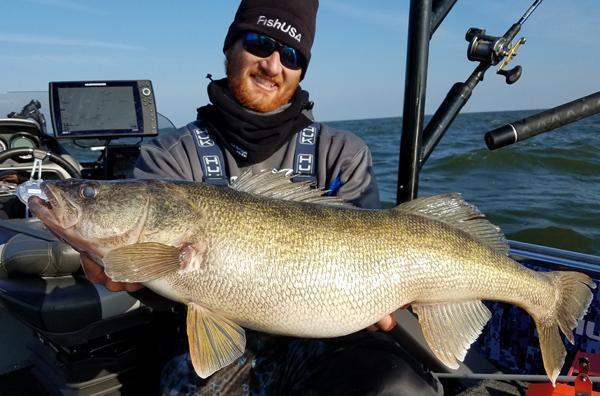 Mark Krupa Lion King'd this stout Bay of Quinte gravel lizard trolling #12 Rapala Down Deep Husky Jerks behind Off Shore Tackle Planer Boards. She was 29.75″ long with a 19.50″ girth: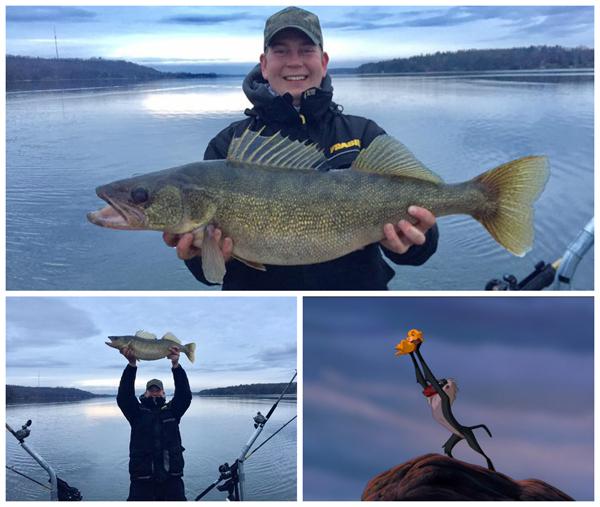 Max Wilson asked his significant other what she wanted to do for their anniversary…. He braced himself for "shopping or spa," but Xochitl Vargas said she'd rather "go deer hunting and then head to Lake Erie to fish for monster walleye." No arguing with that: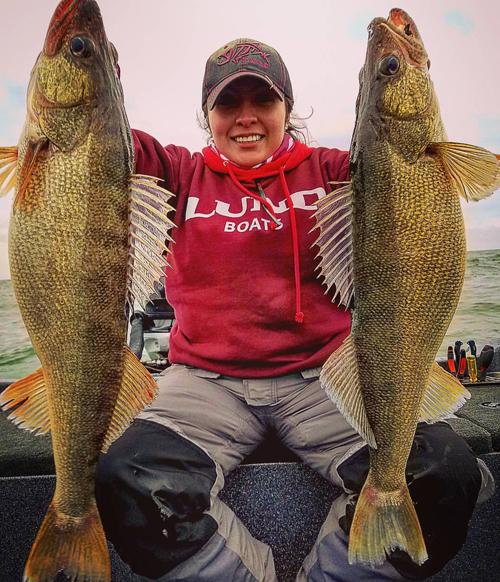 New PB alert: Finned-out 28-incher straight outta Forest Lake, MN: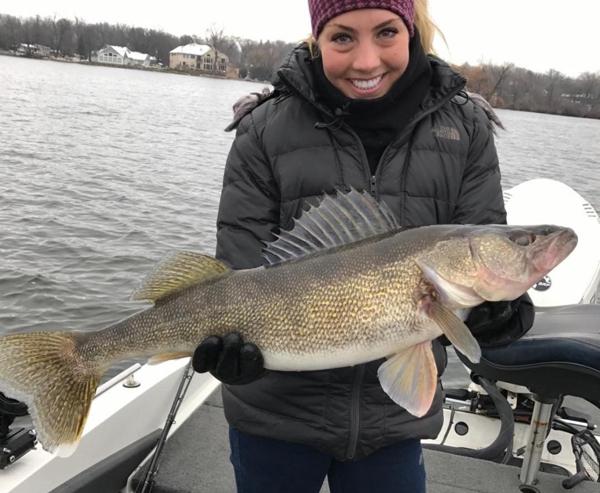 In-Depth Outdoor's James Holst and Paul Delaney whooped up on the Bay de Noc gravel lizards casting #7 Rapala Rippin Raps. Can't wait to see the video footage: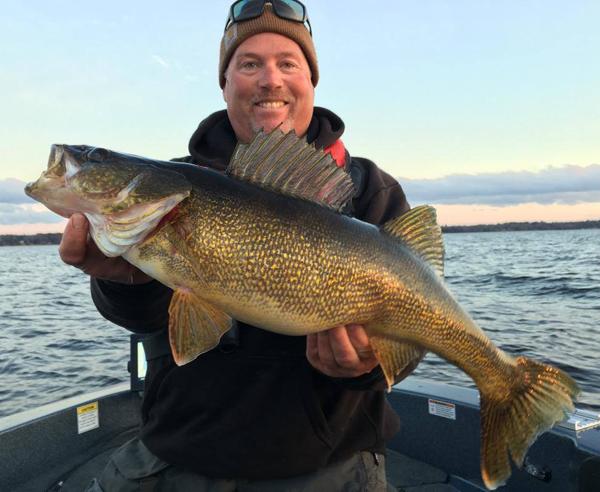 Anyone else notice that the Rippin' Rap's face looks like that one Snapchat filter?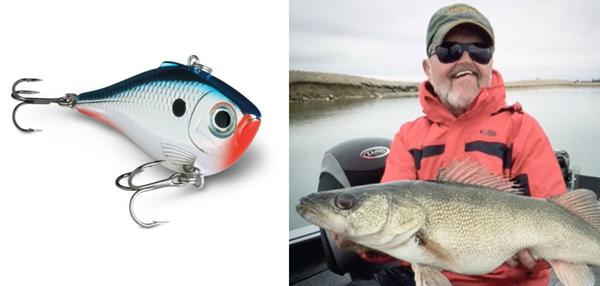 Sorry Al, had to.
Ice anglers are constantly tweaking their gear to give 'em the upper hand on their fishing buddies — rightfully so! Here's how Target Walleye's Brett McComas rigs up his Genz Box to make him more efficient on the ice. SPOILER ALERT: His flasher has a built-in cell-phone charger lol: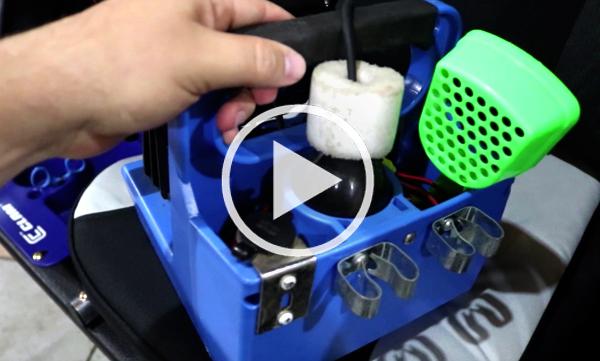 Some of the stuff you can find laying around the garage, but here's the rest of those trinkets: Genz Box, Cold Snap Rod Clamps, MarCum Transducer Support Arm, Plastic Minnow Scoop and Lure Lightning.
You know it's a biggun when it snaps your net like a chip in dip: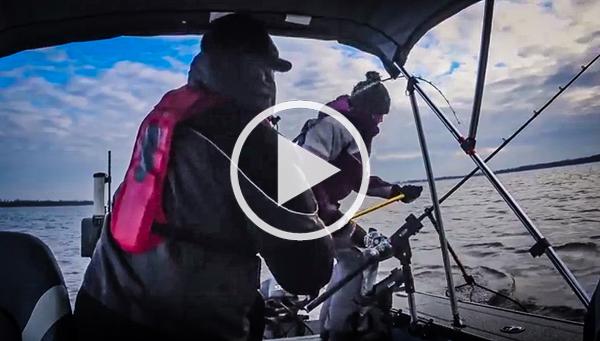 Can't believe they were able to keep the profanity to a minimum…. Yo Ashley Rae, with hands like that you'll be taking Gronk's job soon. #GreatSnag: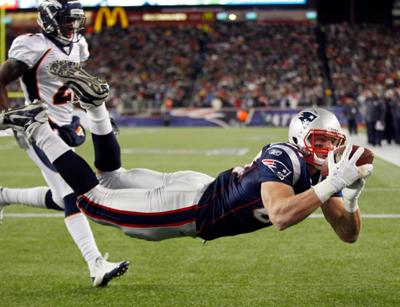 Not walleye or ice related, but a fish this big deserves some spotlight. Marshall Hopp skipped the Black Friday shopping to pull cranks on Mille Lacs instead, cracking this 56″ sand shark: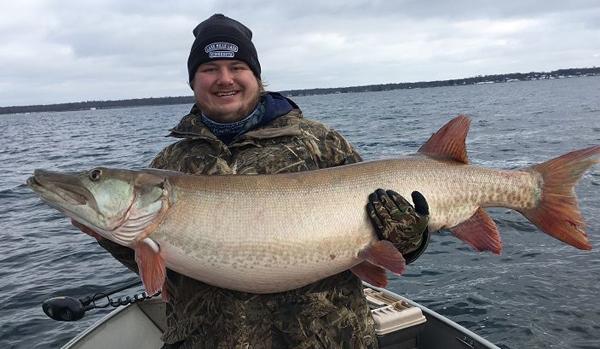 Said he was trolling a 14″ walleye on a 9/0 circle hook at 5.7 mph when she bit…. Ok not really, but would probably work lol!
We share a lot of pics of ridiculously-oversized fish, but gotta give some love to the little buggers that reeeeally test your bite-detection abilities…. Love the snarly attitude of this little bite-sized walter caught by TW reader Kit Cline: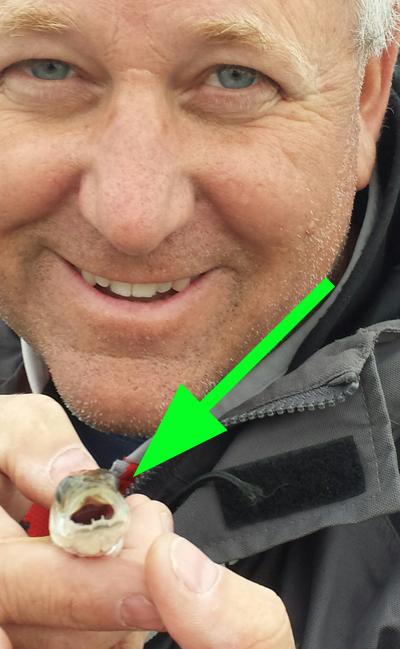 Great places to catch 'em
Sign up another fish-head!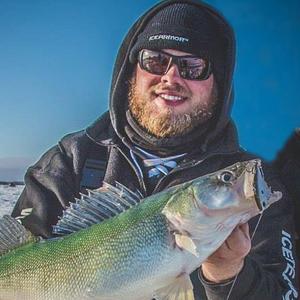 Related Items:
auger, fishing, fishing tip, fishing tips, fishusa, hardwater, ice, ice fishing, jigging, target walleye, tip up, trolling, walleye, walleye fishing, walleyes