Today's Top 5
Kids, this is what can happen when you spend too much time on your phone: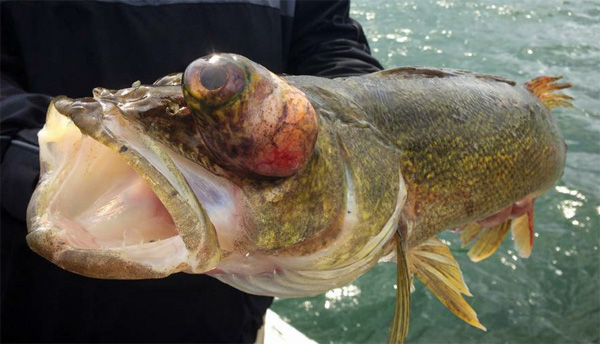 Whoa! Sent in by Toby K of Leisure Outdoor Adventures. Have a phreak phish? Send it in!
Check out this shot from Bry's Guide Service on Devil's Lake, from the belly of a 17″ walleye: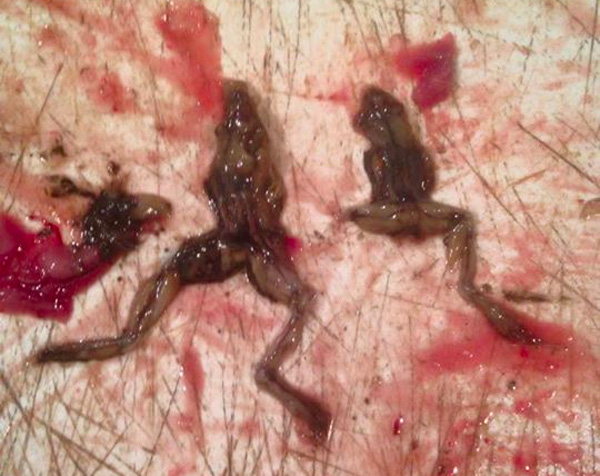 Korey Sprengel's tackle box.
Got a peek at "young gun" Korey Sprengel's tackle box (okay — we made him send us a pic!), here it is along with his four top tips for catching our favorite fish: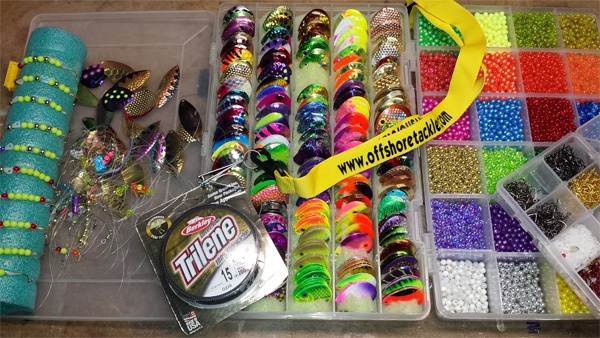 1) Preparation is most important step.
2) Understand the fishery and seasonal fish movements.
3) Let your electronics do the fishing and tell you whether you should wet a line.
4) Have confidence in yourself.
Don't forget: Have every color of everything ever made…just kidding Korey haha!
From cradle to grave, corn ethanol is more polluting than gasoline by 33%, according to recent research by the EPA.
– From a KeepAmericaFishing.org post. More:
> More than 5 million acres of wildlife habitat (and counting) have been cleared and planted over to grow corn….
> Ethanol contains less energy than pure gasoline, so it's less fuel efficient. Drivers get fewer miles to the gallon with greater concentrations of it.
>…5 gallons of water are needed to refine 1 gallon of gasoline compared to 170 gallons needed for one gallon of E10. [This is nuts!]
Write your congressmen – include as much money as you can so they'll listen….
#ethanolsux
If your lake was 385 feet deep…
…you might catch something like this: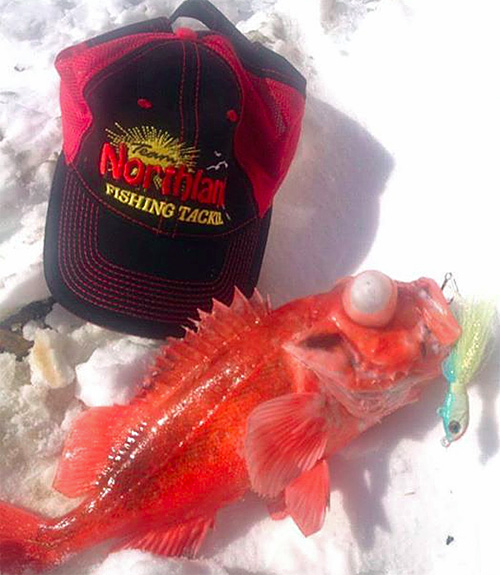 No idea what it is, but was caught by somewhere in Europe ice fishing in 385 feet. Seems like a long way to reel for a little fish….
---
Ice News
1. ND: Winnipeg monster greenback seminar.
This Thurs!
2. MI: 2 saved from Saginaw Bay.
Ice thin because of power plant nearby.
3. MN: 3 trucks go thru on Gull.
No injuries.
4. MN: Shaw's Reef, Mille Lacs.
We heard everyone was okay: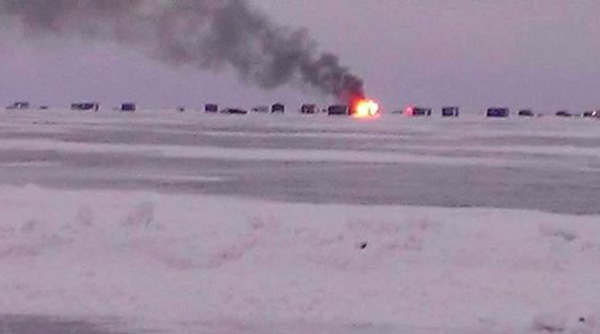 5. IA: Ice still iffy in south.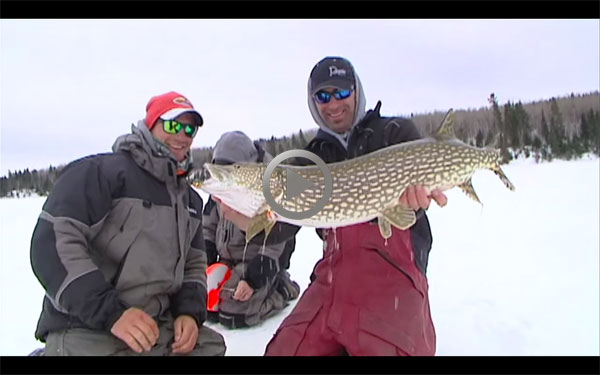 Here's the rig: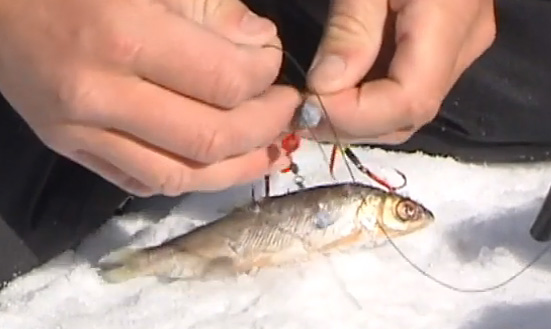 From the North American Ice Fishing Circuit:
> Getting dinner ready for the rule meeting! Let's get it started!!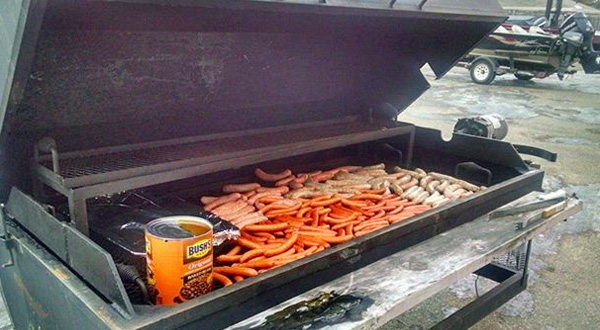 ---
---
Tip of the Day
Walleye pro Mark Brumbaugh:
> "I am always trying to fish close to cover, like weeds, rock and wood. But I also like to fish right over more subtle spots, like where the bottom composition changes, say where gravel butts up to clay or mud."
> …lowers the lens of an Aqua-Vu underwater viewing system and searches for structure and variations in bottom composite. If neither are visible, Brumbaugh cranks up the power auger and drills another set of holes, moving until a bottom irregularity appears.
> He fishes fast when he's hopping hole to hole. He uses heavy lures that fall fast, not wasting time getting into the money zone.
> …uses a 5/16-ounce Custom Jigs & Spins Slender Spoon with 10-lb superline and an 8-lb fluorocarbon leader.

Quote of the Day
Not a quote, but a picture is worth 1K words. Yes, StrikeMaster augers are cool even in photographs: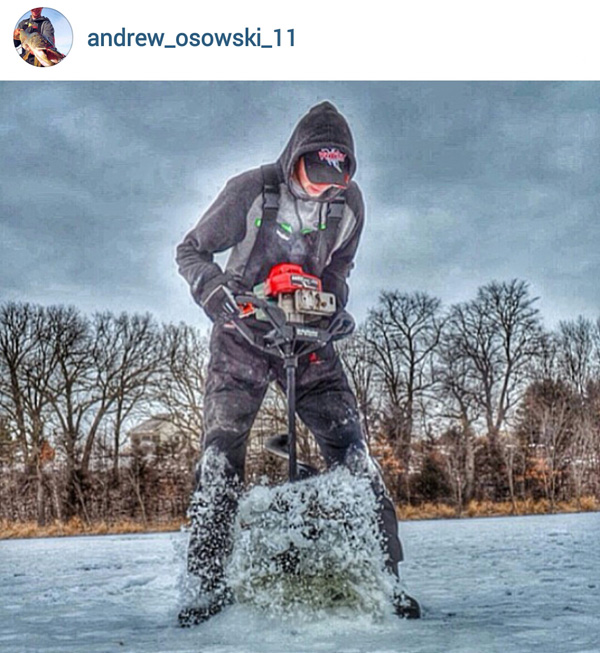 ---
---
Gotta check this stuff out!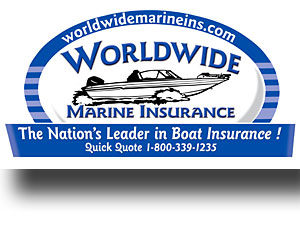 ---
About Us
Target Walleye
is brought to you by Al & Ron Lindner, Jim Kalkofen and other walleye nuts like you!
TargetWalleye.com | IceForce.com | Rapala.com