Hope yours was Merry, and hope you have a great start to 2016. Thank you for reading — it's been a great first year of Target Walleye/Ice!
Reminder that if you're receiving this email — covering the best of walleye fishing during open water and the best of ice fishing during hard water — for the first time, a friend probably signed you up! Target Walleye/Ice is brought to you by Al and Ron Lindner, Jim Kalkofen and other walleye and ice fishing nuts like you.

Today's Top 5

Sumo lizard caught by Tyler F. on a Shiver Minnow: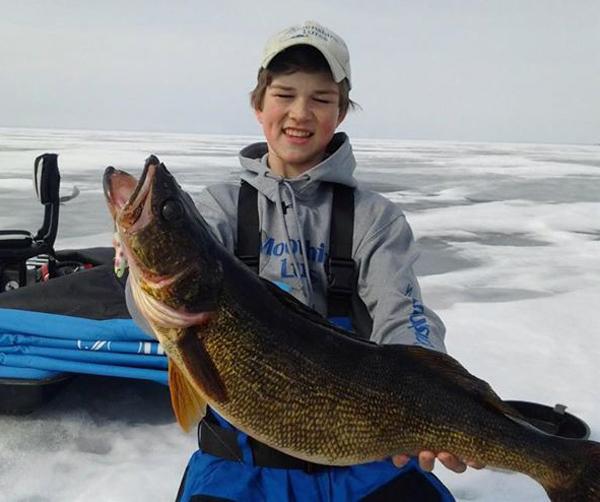 Welcome Jarrid H. to the 30″ club — teased up with a Northland Buck-Shot Flutter Spoon, released to be caught again near Duluth, MN: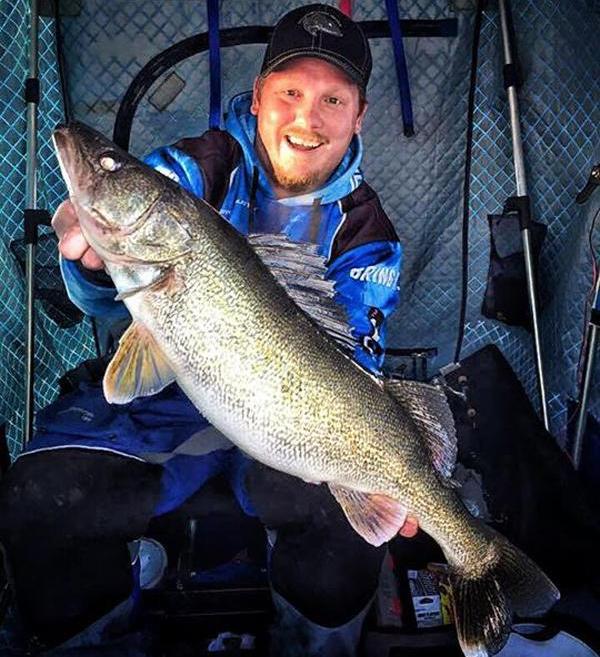 Jenn H. with a Lake Gogebic wolf: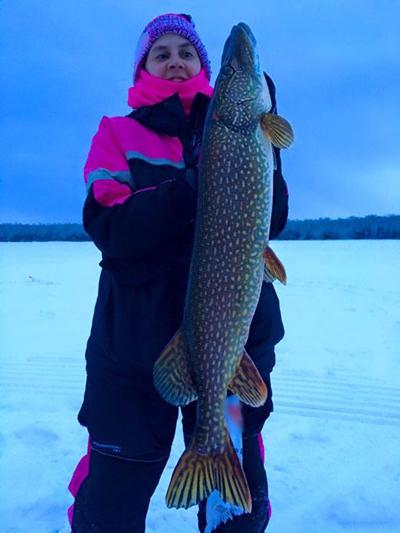 Evan P. with a true Bullgill. Inhaled a VMC Tungsten Fly Jig in 12′ near Ely, MN: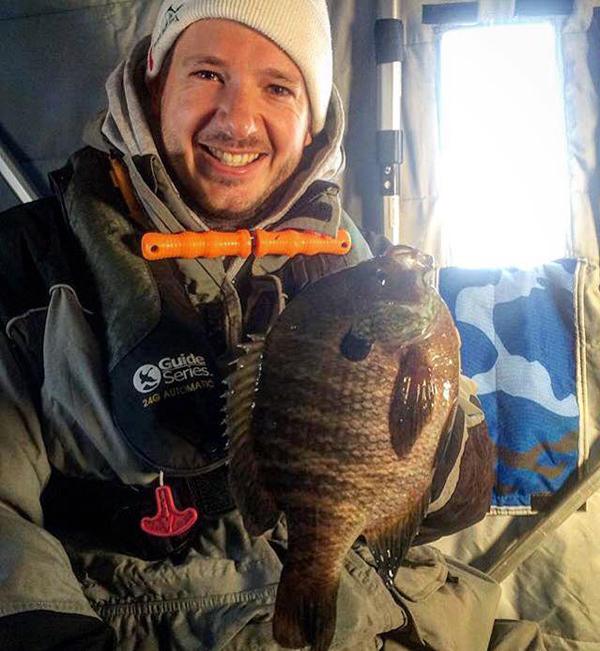 Bet you wish you hadn't!
That fish is perfect for pickling…in formaldehyde….

Despite what the calendar says, it's still "early ice" out there.
Truck won't start? Maybe the engine is flooded: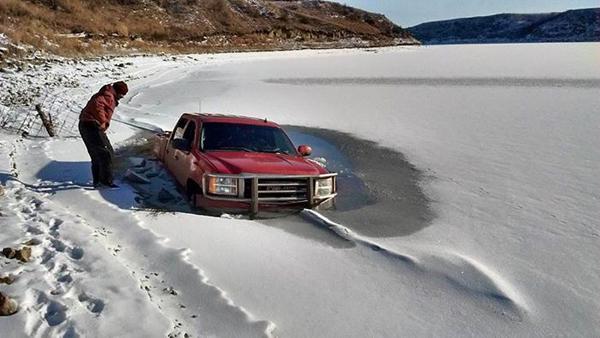 Bombs away at Lake Winnipeg:
"Soft spot" scare in Leadville, CO, helped by a Nebulus: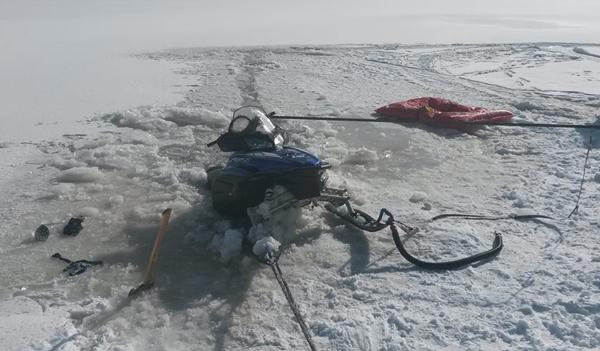 Glad everyone is safe. BE CAREFUL folks!

A fishing cat? Yep:
That's Ricky H. with Archie, somewhere in Alberta.

No public access? No problem.
Here's one way to get on those little lakes without ever stepping foot on private land: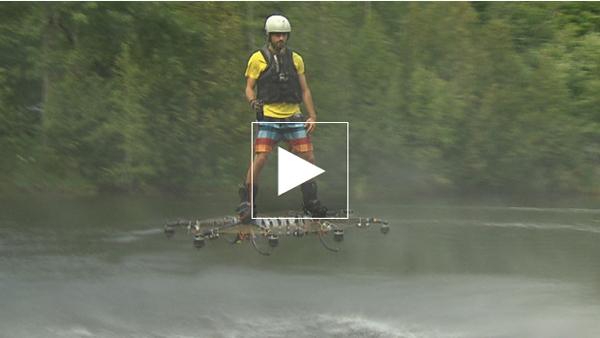 Or you could just take the Apache: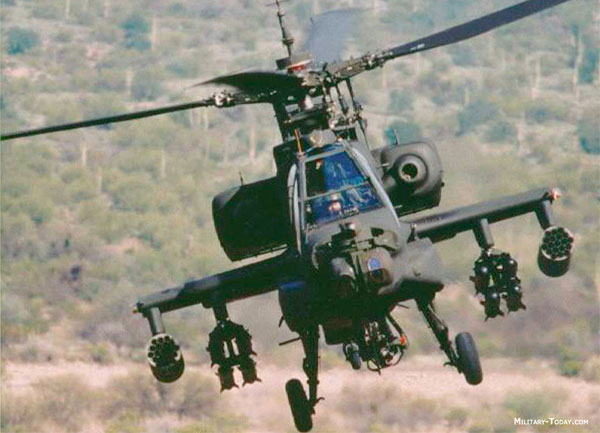 Ice Fishing
1. Mike Hoffman practicing…
…for the World Ice Fishing Championship in Ukraine this coming Feb.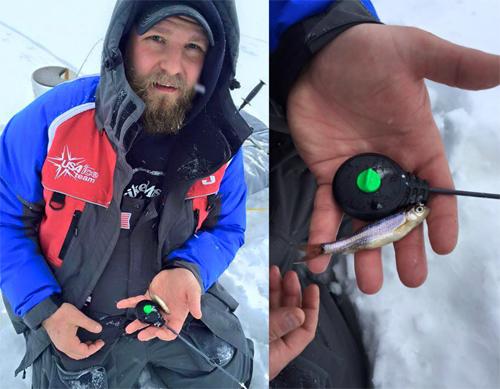 Digging the Russian palm rod — ultra-finesse. And yes, they basically fishing for species the size of American bait.
2. Video: Textbook deadsticking with Brad Hawthorne.
3. VMC Glow Resin Trebles hold a charge for 15 mins.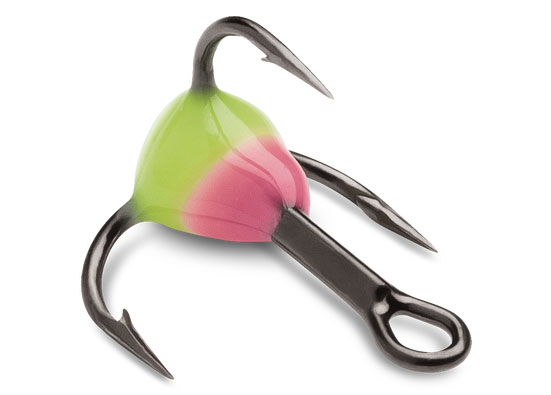 4. Why the Humminbird Helix ICE 5 rocks.
_____
Make sure you note the special code for Target Walleye/Ice subscribers!

News
1. MN: New regs on various lakes.
2. MN: Folks rescued from Partridge Lake.
Two snowmobilers broke through the ice — when family members tried to help, they fell in too.
3. WI: Two ice fishermen drown…
…after breaking through thin ice on Glen Loch Flowage. RIP fishing brothers.
4. ProChattrr partners with manufacturers.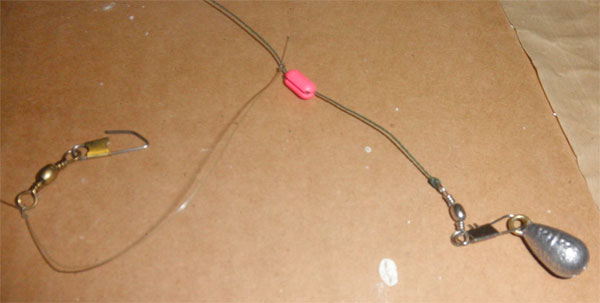 Fishing Reports
1. MN: LOTW has ice!
> GAME ON! Ice fishing is in full swing, most fish houses are out and reports are coming back positive. Ice trails marked for ATV/snowmobiles and other resorts are shuttling people to fish houses with light ice rigs.
> On the south shore, most fishing in 16-23′. As usual, gold and glow colors are hot starting out. A mix of walleyes, sauger and jumbo perch. Numerous limits. Some reports of trophy walleyes over 28″ in the mix. Ice depths vary, thus, stay on the marked resort trails. Do not venture out on your own unless you have checked the ice. This is still "early ice". Safety first. Work through resorts/resort marked trails for safety.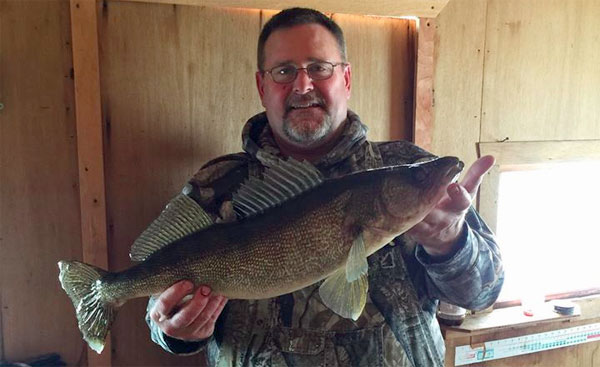 > The Rainy River is iced over in most areas and open in others. Most areas NOT yet fishable with thin ice. For safety, work through resorts.
> Up at the NW Angle, most fish houses are out and good fishing reported thus far. There is a staked trail from Young's Bay to Flag Island and to Oak Island. Stay on staked trail as other areas can be inconsistent ice. Snowmobile/ATV travel only so far.
Check out fishing the NW Angle by airboat: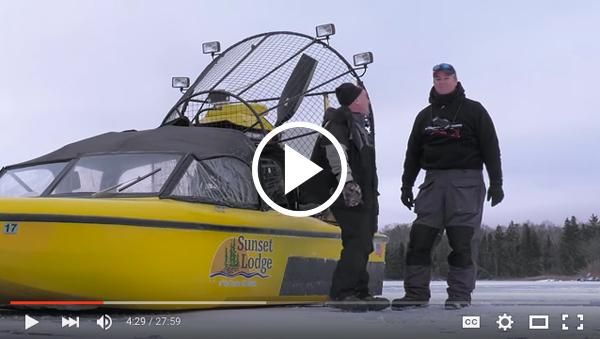 For last-minute lodging, try the lodging availability finder.
What's happening at Arnesen's Resort: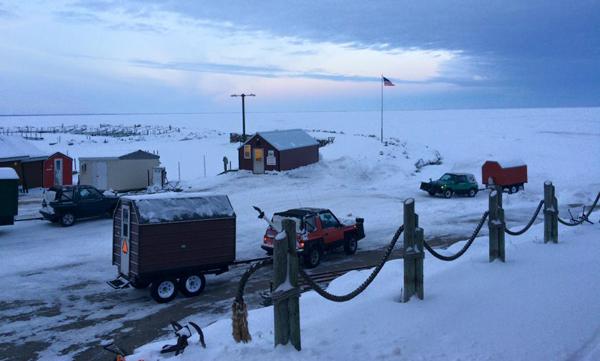 The main lake has finally iced over with 5 to 8 inches in most places. Some of the northern connected lakes have a foot of ice. Caution is the name of the game
> Zippy Dahl, Perch Patrol: "Perch fishing has been phenomenal this week. Lots of limits. Fish are in 14-28 feet. We're fishing by ourselves. We even landed a couple 2-lbers.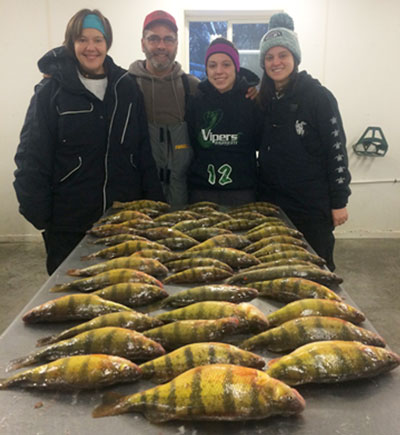 > Mark Bry, Bry's Guide Service: "The walleye bite is very good now. They're weedline-related, and the action in 4-8 feet is exceptional. A day ago, a large group of 18 people limited out with 90 walleyes. Limits are common."
> Clint DeVier, on the lake nearly every day: "Shallow walleyes in less than 10 feet are biting big-time in Lake Irvine, Lake Alice (open for the first time this year) and the north end of Pelican. Irvine has a lot of 18-22 inchers, while Alice has produced bigger walleyes around 5 lbs."
> …the most productive walleye lures…"I really like the Lindy flyer and Northland Buck-Shot spoons and the new Northland Flutter Spoon. Really good are Jigging Rapalas. I cut off the two end hooks so the Raps don't get caught on the bottom of the ice when fighting a fish through the hole. I also upgrade the treble to a larger size."
Full rundown right here.

---
Sign up another ice-head!
If you're forwarding Target Walleye/Ice to a friend who loves to ice- and/or walleye-fish or want your fishing buddies to get these emails, just
send us
their email addresses and we'll take care of it! (We won't sell the addresses, use them for spam, etc.)

Ice fishing status report tips.
Who would have thought we'd be talking about early ice in late December? We talked to MN guide Brad Hawthorne and picked his brain about the ice season thus far:
> In many of the smaller natural lakes, the weeds are green, there's limited snow cover, and bluegills are right there in their early season spots. It still might take 2 or 3 weeks yet for those weed beds to lay down, which mean we very well might head into February with an early ice bluegill pattern. Due to the relative lack of ice so far this year, those big gills haven't been pressured much and the bite is very strong.
> During a regular winter, we typically see a slow movement of fish out to the reefs and out to the deeper water. I think that migration is going to happen a lot faster this year due to the abnormal conditions. Ice is going to form faster than it normally would after first ice. That combined with heavy fishing pressure from anxious anglers will push a lot of those shallow fish out even quicker.
> I'm also predicting that we'll see bugs popping out of those mud areas way sooner this year. They are typically triggered by sunlight as the ice begins to melt later in the season. This year, there will be a lot less ice over those basins, so the hatch will probably happen a lot earlier than usual. We might see those basin bug hatches in mid-February instead of March.
> The key is getting out there yourself and experimenting on your particular body of water. The fish will be moving and keying in on different things throughout the course of the year. Stay mobile, keep an open mind, and adjust to what the fish are telling you on that particular day, and you will catch more fish this hardwater season.

I always joke that the NAIFC is 2/3 education, 1/3 competition. We work with the kids, other anglers, eat, and then we fish.
– NAIFC director Jack Backer, talking about what makes the NAIFC panfish tournament series so cool.
Meme of the Day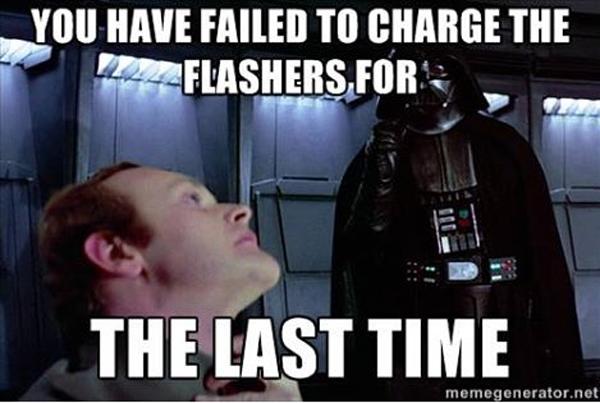 lol!
---
Let's go ice!
Check this stuff out!

---
About Target Walleye
Target Walleye
brings you the BEST walleye and ice fishing news, pics, tips and events year-round, and is brought to you by Al & Ron Lindner, Jim Kalkofen and other walleye nuts like you!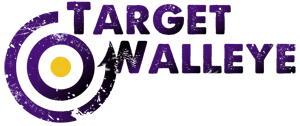 TargetWalleye.com | Rapala.com | IceForce.com