Merry Christmas everyone! This is the only Target Walleye/Ice this week — it's a special ice-fishing edition to help tide you over. We hope you and your families have a blessed Christmas — thank you for reading!
If you're receiving this Target Walleye/Ice email — covering the best of walleye fishing during open water and the best of ice fishing during hard water — for the first time, a friend probably signed you up! Target Walleye/Ice is brought to you by Al and Ron Lindner, Jim Kalkofen and other walleye and ice fishing nuts like you.

One more time: The top ice-fishing destinations for 2016-2017!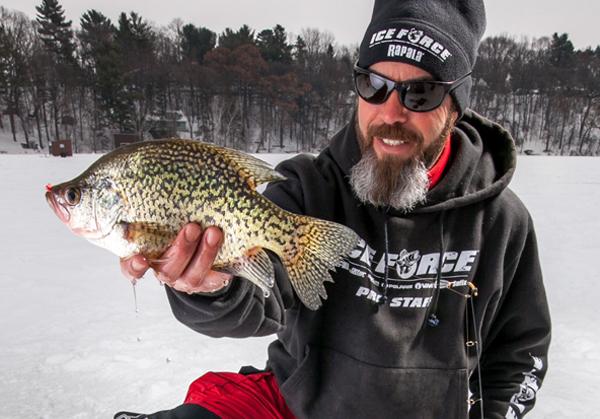 How did we come up with a list of the top ice-fishing destinations for the 2016-17 hardwater season? We reached out to hundreds of the top ice-fishing pros from across North America, used our own experience, and took your suggestions into consideration.
Check out the full list by
clicking right here
to see if your favorite lake made it (and why), but here are the top 10:
1. Lake Winnipeg, MB
2. Lake of the Woods, MN/ON
3. Devils Lake, ND
4. Lake Erie, OH/PA/ON
5. Glacial Lakes, SD
6. Lake Michigan, WI/IL
7. Upper Red Lake, MN
8. Lake Gogebic, MI
9. Fort Peck Reservoir, MT
10. Leech Lake, MN
Anytime you rank anything folks get a little "passionate" (lol). So of course you might feel your favorite lake should be higher on the list, or just be on the list. Well, we're doing this again next season so make sure you
leave a comment on the list at TargetWalleye.com
— fire away!

A few of our favorite behemoth ice walleyes from last season.
Trav Tourond iced this wallysaurus north of Dryden, ON, measured 34.5″ x 22″, estimated at 22 lbs! Caught in 35′ using a Lunkerhunt Bento Bait (dace):
This wally mammoth was caught by Rapala's Danny Quinn — word is she went 32″ and bit a Jigging Shad Rap (pink tiger UV):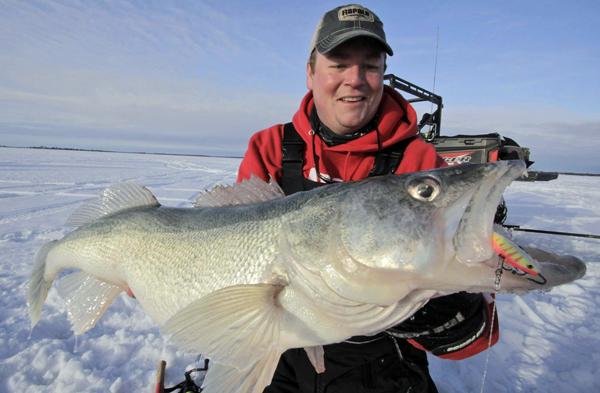 This finned-out greenback (Lake Winnipeg, MB of course!) shot off the bottom in 11′ to inhale a LIVETARGET Golden Shiner — welcoming Laur K. to the 30″ club: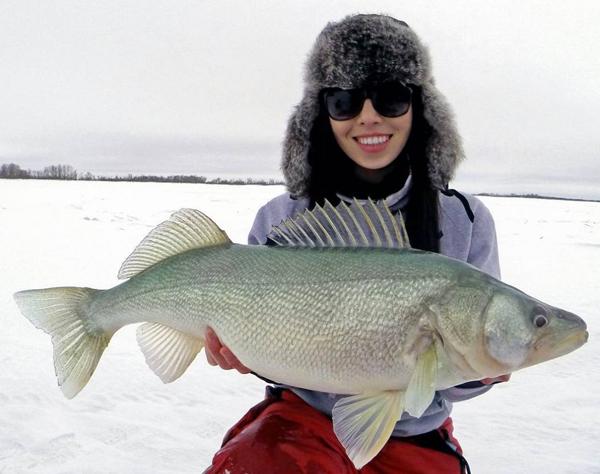 Check out this Megatron caught from Fort Peck Reservoir, MT by tourney angler Kyle Sando. Word is she went 17 lbs 10.5 oz on a certified scale and measured 34″ x 22″: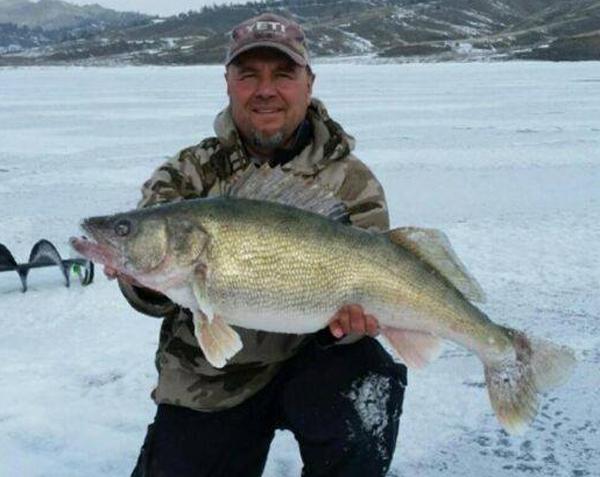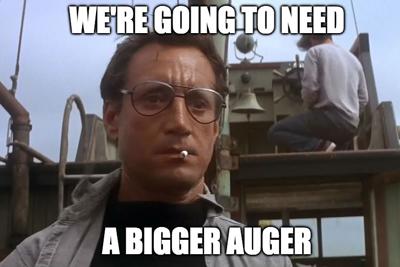 Whether you're shopping for yourself or another ice-head family member, this should help…even for a last-minute gift. Anything from FishUSA.com would be great, but here's some stuff they absolutely "need" (lol) — from our Special "Gotta Have Walleye/Ice Stuff" Issue.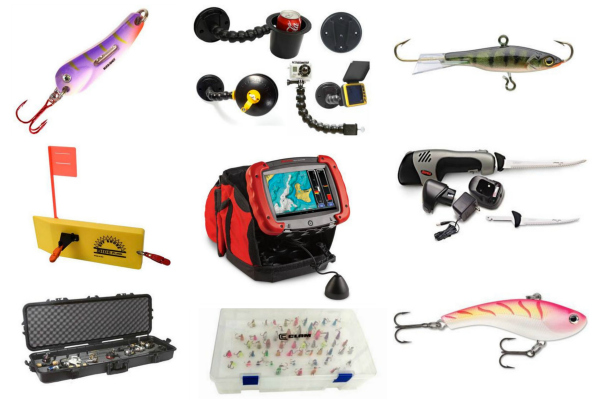 Don't forget the new Target Walleye/Ice gear! I (Brett) was wearing this stuff at the St. Paul Ice Show — believe me, any walleye nut would love it: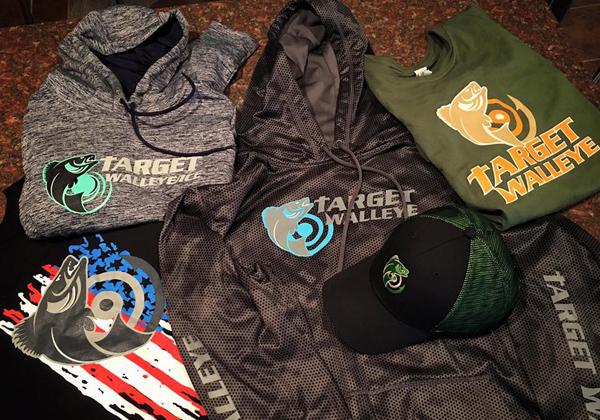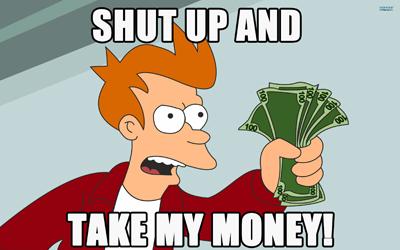 Hardwater "panfish" that were for sure too big for pans!
Some soooweee pigs, starting with this NE county fair 'gill that was bigger than the winning pie! Caught on an unnamed Northland Tackle bait. Reeee-diculous: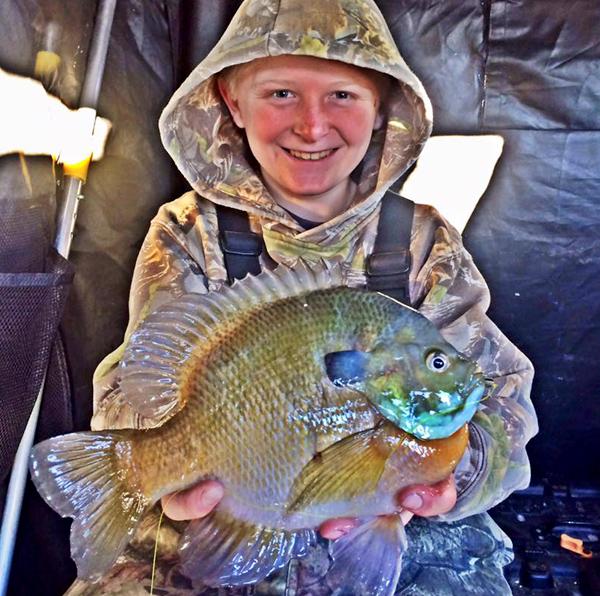 Check out this slabosaurus Eric W. brought topside! She went 16.75″ and weighed 2 lbs 14.2 oz — caught on a Clam Blade Spoon. #MinnesotaGrown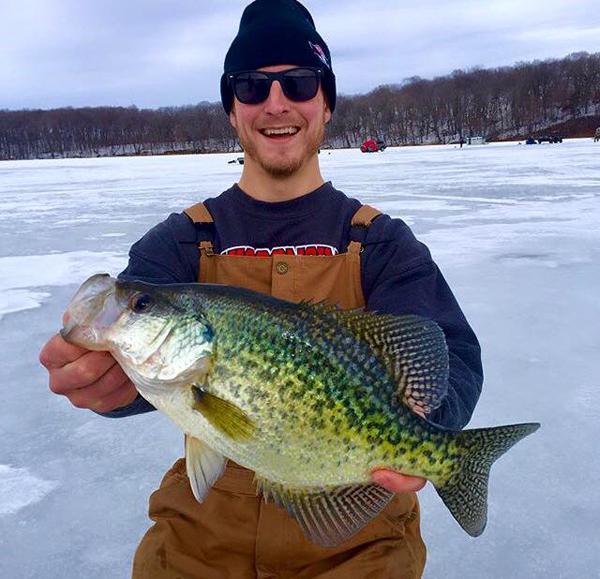 How about a pair of 15″ Simcoe egg wagons that flirted with the ON provincial record — caught by Matt Mitchell on a Lunkerhunt Straight Up Jig: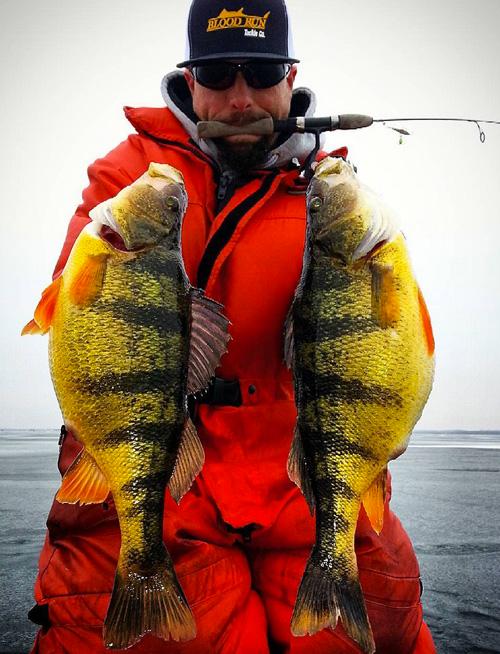 Evan Pheneger nabbed himself a true Bullgill. Inhaled a VMC Tungsten Fly Jig in 12′ near Ely, MN. Side Note: Check the life jacket and ice picks around Evans neck — safety first, fish second. Nicely done bud: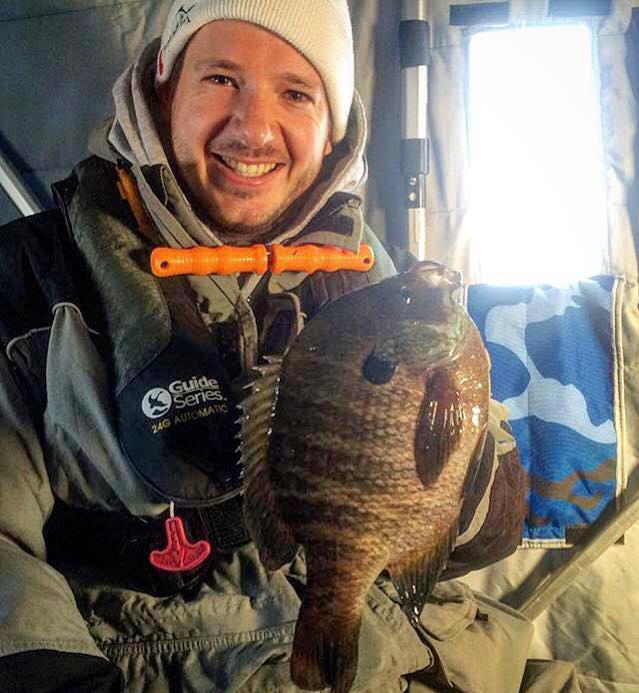 Best ice-fishing celebration of 2015-16.
Would you go nuts if you caught a gargantuan lake trout? This one was caught-and-released by the
Hang Loose Outdoors
crew last season, after they fought it for over an hour: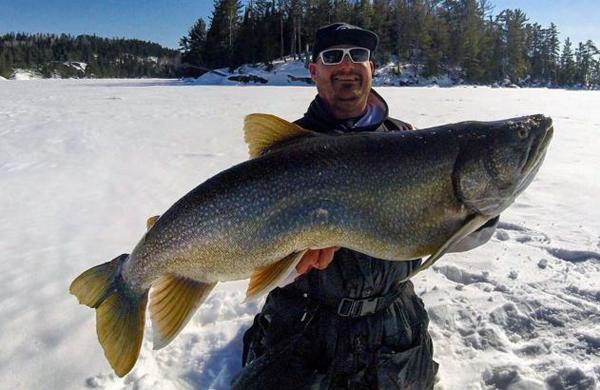 The 36-lb (42″) laker ate a 5″
Savage Gear Sandeel
in 58′ off a steep rocky point somewhere in ON. The crew got the
full battle on video
, but here's the moment of truth — can't fake being that jacked up!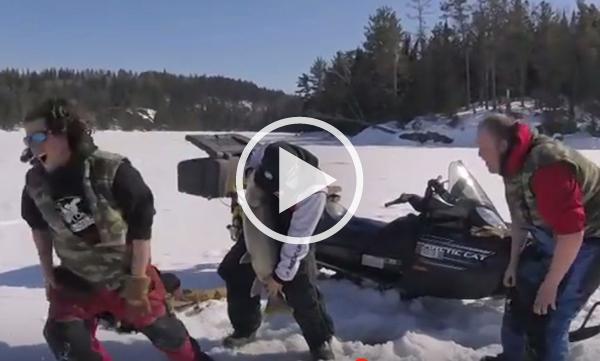 Only thing that could've brought 'em down from a high like that: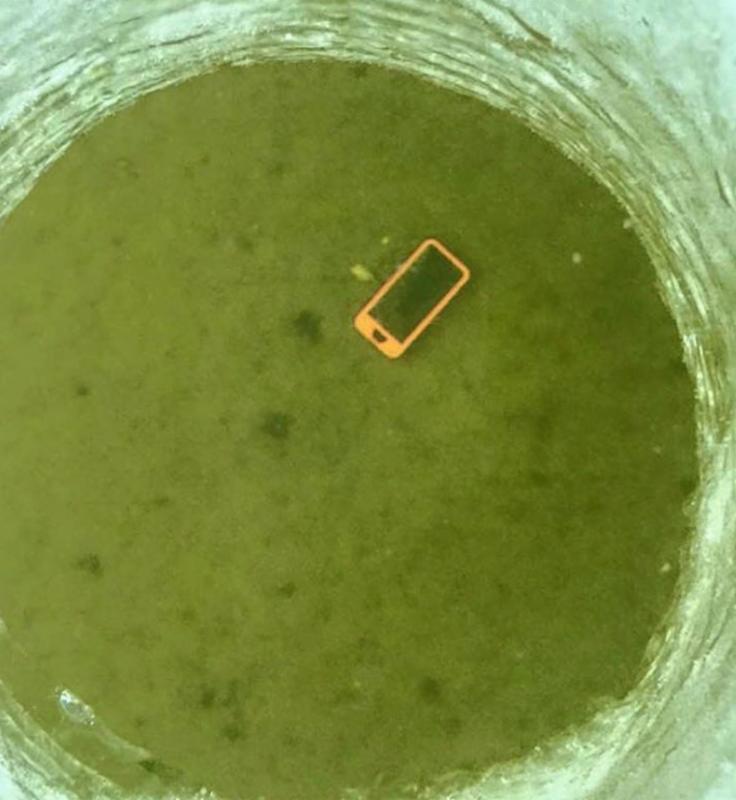 Cell phones: The only precious metal that drops quicker than tungsten. #Kerplunk
Ice-fishing tips to try this weekend.
> "I found pretty early on that by adding just one more split-ring between the existing split-ring and hook on most spoons, I could dramatically increase the number of fish I'd convert on my flasher — especially when 'eyes were heavily keying in on bait.
> "The action was just incredible, and the freedom that extra split-ring gives the business end of your lure and bait are well worth the price of admission. This is a go-to for lethargic fish."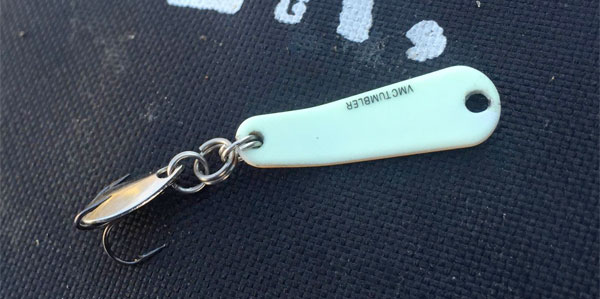 > "With stamped metal spoons that flutter or wobble on the drop, the effect can be even more impressive. Most of these spoon types have a bend in them, creating that wiggle. Add another split ring to these baits, and you can still get that motion, but dropping on a tighter line causes the same bait to coast off past the edges of the hole — enticing fish that aren't directly below you.
> "Just multiply the extra couple of feet you cover off to the sides by the number of holes you cut in a day, and you're really getting at more fish in the same water."
One of the few times you'll hear someone say you should've drilled less holes: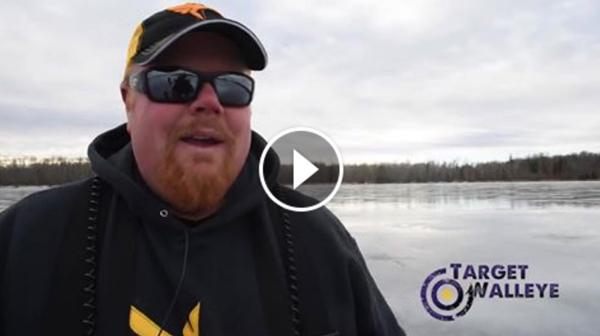 > "Zoom isn't just to enlarge the view. It actually improves the resolution and target separation for whatever you're fishing." Interesting stuff: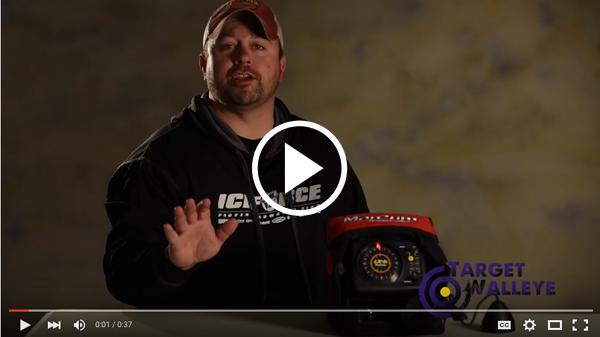 > "The most popular way to rig a spoon is with a minnow head hooked through the skull. It's a tried-and-true method that catches fish.
> "When fish are dormant and extremely difficult to catch, I'll pinch off just the tail of the minnow and put the rest of the body on the hook. Once again, hook the minnow through the skull. This keeps the swim bladder in the middle of the fish full, holding the bait in a horizontal state.
> "I've had a ton of success with this setup when the bite gets tough. You still have the triggering qualities of the spoon, but you also have the ability to really slow down and let the minnow hang right in the face of the walleyes.
> "On days that you need to be ultra-aggressive, you might consider ditching minnows for plastic baits. They are more durable and won't fall off when you're working the bait aggressively…you can catch several fish without re-baiting.
> "A couple of my favorite plastics are the
Maki Mino Head
and the
Maki Spiiki
. They both have long tentacles that provide consistent, enticing movement. The Makis are great because they are hand poured, which makes them extremely soft and supple."
About Target Walleye
Target Walleye/Ice
brings you the BEST walleye and ice fishing news, pics, tips and events year-round, and is brought to you by Al & Ron Lindner, Jim Kalkofen and other walleye nuts like you!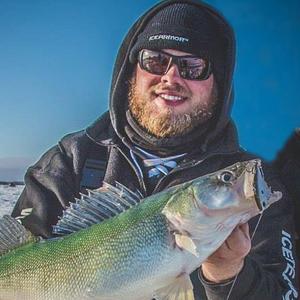 Brett McComas
is the main man for Target Walleye/Ice. He was plucked out of Brainerd, MN after years of wondering how in the heck people break into the fishing biz. He's in it now, but still can't answer that question. Brett is one of those guys who quit sports in high school because they were interfering with his fishing time…. Get him at
brett@targetwalleye.com

TargetWalleye.com | Rapala.com | IceForce.com