If you're receiving this Target Walleye/Ice email — covering the best of walleye fishing during open water and the best of ice fishing during hard water — for the first time, a friend probably signed you up! Target Walleye/Ice is brought to you by Al and Ron Lindner, Jim Kalkofen and other walleye and ice fishing nuts like you.

Today's Top 5


Blue-laced walleyes.
Tory Whitton rounded off a 250 fish day with this gorgeous blueberry gravelcake while fishing in Ontario, CAN. He was rip jigging wind-blown shorelines with a 1/8-oz Fin-tech Knuckle Ball Jig with a white YUM Grub: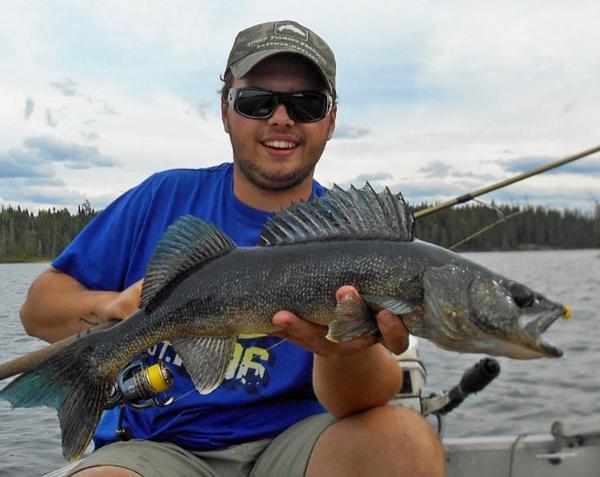 A 25″ blue whale-eye caught straight outta Oak Lake, ON — maybe the biggest we've seen yet: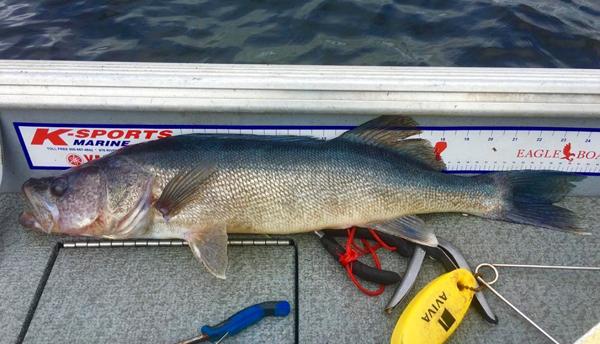 Pete Daypuck plucked this finned-out smurf from a little backwater lake in northern, ON:
Are you starting to see a trend here? Looking like OntariYO is the place for blues. Must be why these guys are always fishing there: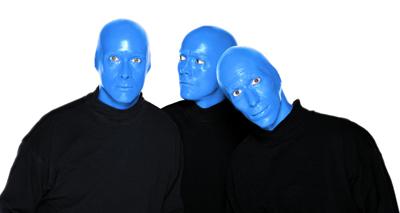 Jason Mitchell's fall funnel walleye locations.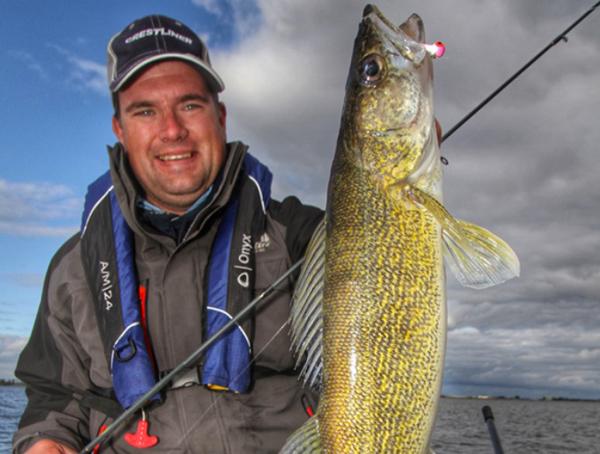 Walleyes lovvvve them some current — especially in the fall. Jason Mitchell teaches you a few lessons about using the current to your advantage to pattern fall walleyes. Check out the full article on Jason's website here, few there's a excerpts below:
> "Current can be one of the most important variables for quickly finding walleye in the fall — they love the current and often congregate into any incoming tributary or river system where baitfish concentrate as the temps fall.
> "Large natural lakes have currents that occur as wind pushes water to one side of the lake. Even after the wind lies down, there can be current that is created as the water levels off and moves back the opposite direction.
> "Causeways, bridges and narrow gaps that connect lakes are prime fall walleye locations. If there's any depth and moving, there will almost always be walleye around.
> "Bottlenecks that are created by islands or points that basically neck down the water to increase the current flow are other top spots. If there is visible current, there is enough current to attract walleyes and we have seen good locations that range between 5′ to 30′.
> "What makes these locations so good is the simple fact that these spots keep recharging with new fish and some of the biggest walleyes caught each fall come from these locations."
Keep reading Jason's write-up here to find out what specific lures and presentations he used to target fish in these areas.

Slip-bobbers for fall walleyes.
Water temps are on the drop, pushing walleyes up onto shallow rocks. Here's Lund Pro Troy Smutka's favorite way to target 'em as we head into fall: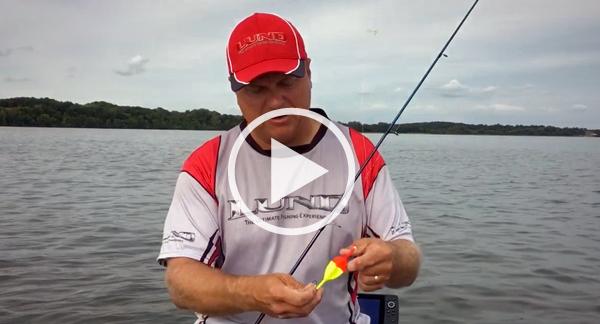 #BobberDown

Walleye is the new Stanley Cup.
Dan Bylsma coached the Pittsburgh Penguins to the Stanley Cup in 2009, but now he's holding up a different kind of trophy: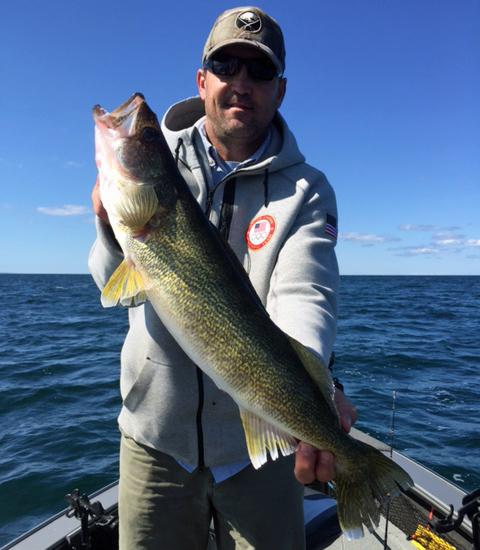 TW contributor Jim Hanley and the now Buffalo Sabres head coach Dan Bylsma offered a trip to the highest bidder to help support a cure for cystic fibrosis:
> "Connor and his dad Urmas Lupkin won the day. We fished in 68-72′ [!!] with bottom-bouncers and 10 colors of lead core on Off Shore Tackle planer boards going 1.5 mph. Bright-orange willows and perch-colorado blades on worm harnesses completed our presentation."
A solid day of fishing for a great cause! But next time you've gotta hold that thing up like you're holding the cup, man!

Another basser turned walleye?
Bassmaster Elite Series pro Mike Iaconelli screaming with pure joy 'bout finally catching a wally: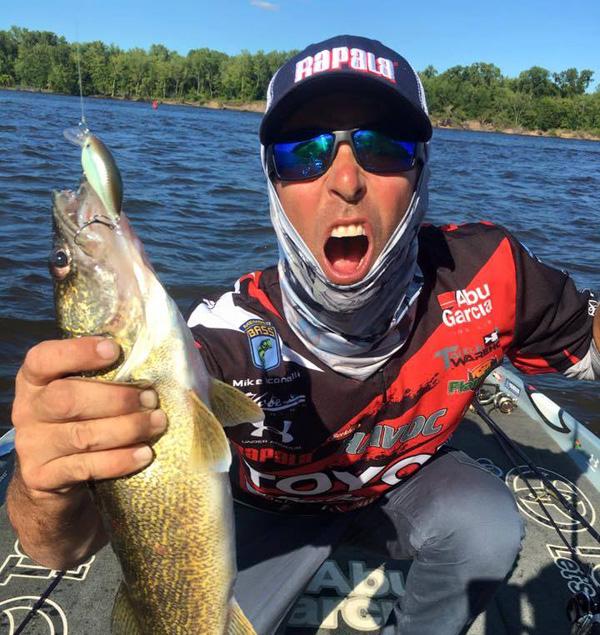 Ike stuck her throwing a Rapala DT-4 on Mississippi River Pool 4. It's gotta be a nice change of pace from flipping in those green-n-brown carp lol.
News
1. IA: Guy thrown from boat on Missouri River.
Still in serious condition…prayers fishing brother.
Always wear a PFD — they make ones now-a-days that are NOT hot or bulky.
2. Dahlgren/Hutton win Golden Walleye Classic.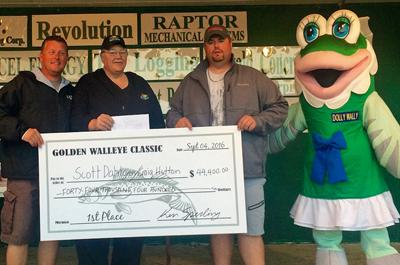 First time in 28 years they had to postpone the tourney thanks to some nasty weather, but Scott Dahlgren and Craig Hutton toughed it out. They weighed an even 28 lbs to take home the 1st place check of $44,400. #ChaChing
3. ND: Devils Lake walleye catch rate up 33%.
One of the best is now even better.
4. MN: Downtown fishing ban in Northfield?
> "Hooks have flown dangerously close to patrons on the patio of Froggy Bottoms River Pub…prompting a proposal to ban fishing on a 100′ stretch of the public walk along the Cannon River."
Would make fishing a crime, even though it was there long before the pub was: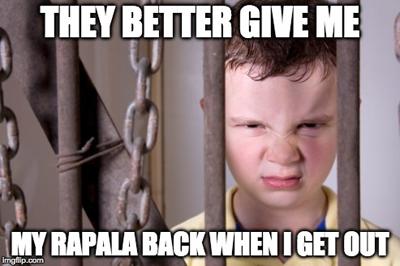 5. Digital marketing dominates outdoors industry.
A Big Rock Sports survey broke down how social media has replaced old-school print in reaching fisherpeoples.
Speaking of which, you big-fish photo junkies might wanna check out the Target Walleye/Ice Instagram page — unless you hate seeing pics of big fish….
6. Common tax issue anglers face.
This one's for you tourney anglers cashing check across state lines.
Big-boy tiller!
Has probably boated more fish than one of those commercial rigs.
8. Doc Sonar: Making your own maps.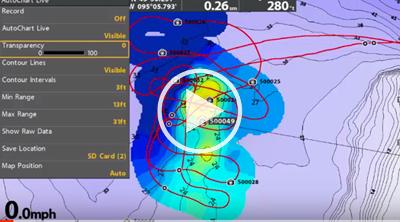 It's tough to imagine fishing without Humminbird Autochart Live anymore.
Plus, here's how Doc checks bottom hardness.
9. Leer Locker turns your truck bed into a tackle box.
Awesome feature for holding tackle and other fishy stuff you want to grab quick.
Plus then you can sign up for their Cover Cash program to earn extra $$$ in tourneys.
10. New Eskimo QuickFish 5i (video).
Fully insulated hub shack. Said they gave it a workout on Lake of the Woods last year and it more than stood up to the test.
11. THE shore lunch experience.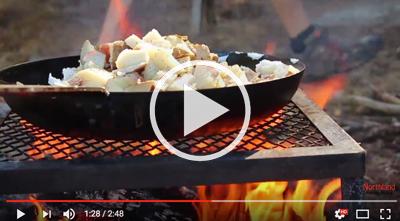 We're all pumped for the upcoming ice-fishing season, but watching this will make you pump the brakes on that thought.
Great places to catch 'em
Sign up another fish-head!
If you're forwarding Target Walleye/Ice to a friend who loves to walleye-fish or want your fishing buddies to get these emails, just
send us
their email addresses and we'll take care of it! (We won't sell the addresses, use them for spam, etc.)

Kicker motors can sometimes look a little goofy…but they allow you to completely dial-in your trolling speed. Here's why Lund pro Alex Keszler says a kicker motor is one of his most important pieces of equipment he owns: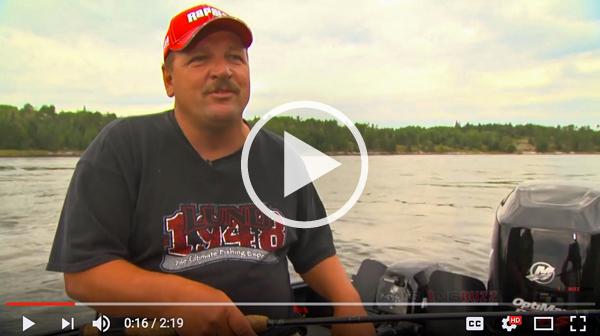 Today's 'Eye Candy
Rikki Pardun popped this eyezilla pulling Off Shore Tackle planer boards and cranks out on Green Bay: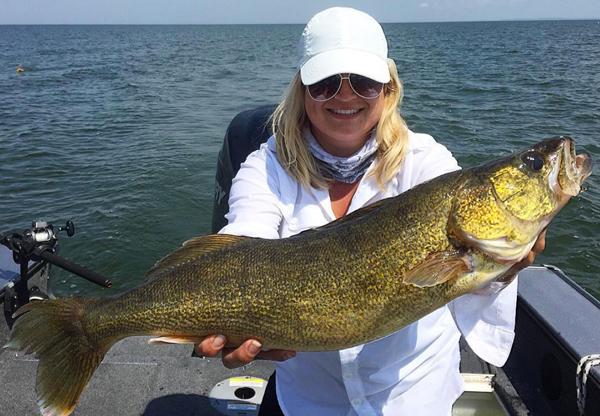 Great fish, Rikki!
Check this stuff out!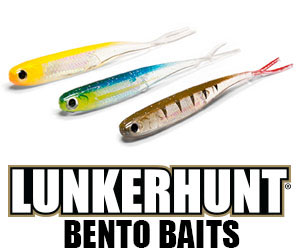 About Target Walleye
Target Walleye/Ice
brings you the BEST walleye and ice fishing news, pics, tips and events year-round, and is brought to you by Al & Ron Lindner, Jim Kalkofen and other walleye nuts like you!

TargetWalleye.com | Rapala.com | IceForce.com