If you're receiving this Target Walleye/Ice email — covering the best of walleye fishing during open water and the best of ice fishing during hard water — for the first time, a friend probably signed you up! Target Walleye/Ice is brought to you by Al and Ron Lindner, Jim Kalkofen and other walleye and ice fishing nuts like you.

Today's Top 5


How Schafer/Kindraka won the Angler's Cup.
Kevin Schafer and Chris Kindraka won the 2016 Canadian Tire Angler's Cup on AB's Slave Lake, weighing 29.28 lbs to beat out last year's champs by 1.02 lbs.
Cost them $1,000 to fish it, but they made that money back and then SOME — some $35.5K! (Includes bonuses.)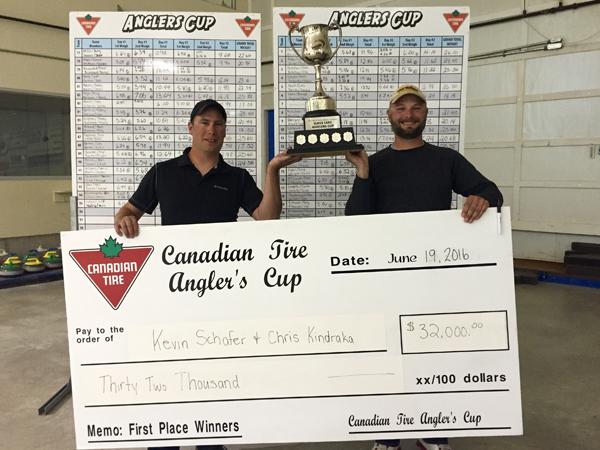 Chris messaged us the inside scoop on how they done it:
> "We caught well over 100 fish each day and weeded through them to cull up. Our biggest fish was a clutch 4.32-lber caught at 1:30pm on day 2 that iced the cake.
> "Kevin and I fished 3-way rigs
just like this video
[of Al]. We were trolling a gently-sloping break in 9-13′, cranking up our speed from 1.8 to 2.4 mph. The winds were 10-20 mph, so we trolled upwind with the 300 and downwind with the
Minn Kota Terrova.




Andrew Klopak cracked this 31.25″ rock melon last night pulling a super top-secret crankbait. Hopefully Miss Piggy eats again for him on tourney day: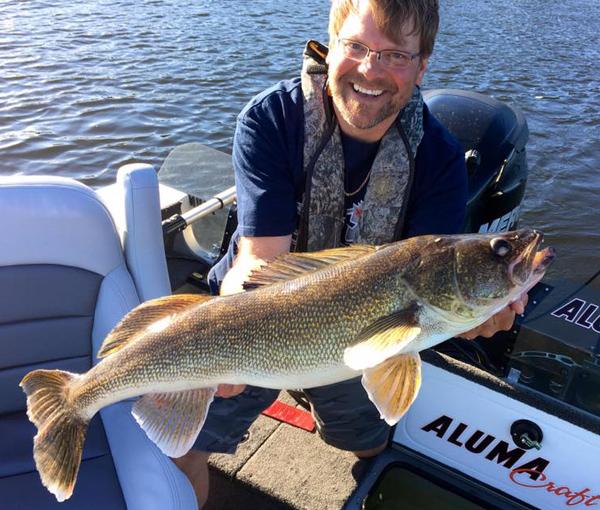 Keeping weeds off your spinners.
Jason Przekurat shows you how he used Off Shore Tackle boards and Guppy Weights to keep his spinners edible at Bay de Noc: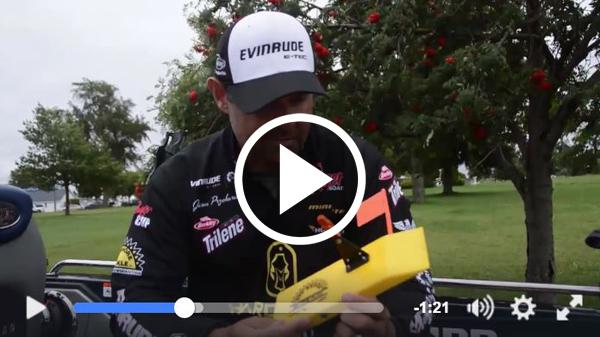 Allegedly a cell phone was involved. Cell phones are only for fish pics! Thankfully (somehow) no one was hurt: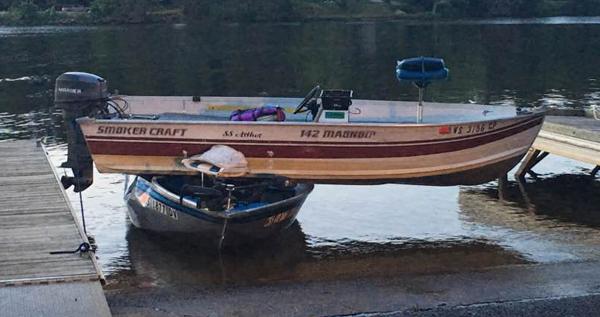 #SafetyFirst

The 7 stages of losing a fish…
…from the guys over at Mystery Tackle Box. Pretty much true!

1. Denial
For about .0001 seconds, you think maybe he just gave up or started swimming towards you. What just happened?
2. Realization
You realize what just happened. He broke off, and you'll never see that fish again.
3. Assigning blame
Must have been the line's fault. Or the lure. Or my friend that stood too close to me. Or the rod and reel combo. Maybe it was the boat. And that current was really strong, plus this is weird weather and my horoscope said not to expect any good luck.
4. Rage
Once you realize you didn't tie a strong enough knot and losing a fish was, in fact, your own fault, you turn to immediate anger.
5. Despair
Once the anger calms down, you get slapped in the face with a bout of pure sadness. No other way to feel about that hog swimming away.
6. Recovery
"Plenty of fish in the sea (or lake/river/private pond)," as they always say.
7. On to the next one
You get just a few seconds to run through all of these emotions before it's time to cast back out there and try to get your next fish.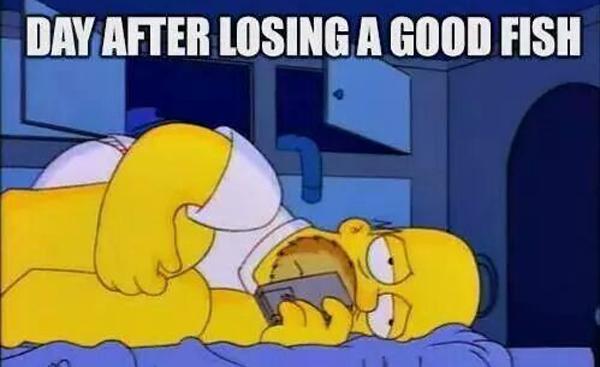 News
1. WI: Robl/Golliher win Battle on 'Bago.
Lake Winnebago. Joe Robl and Greg Golliher took the top spot against the 309-boat (!) field.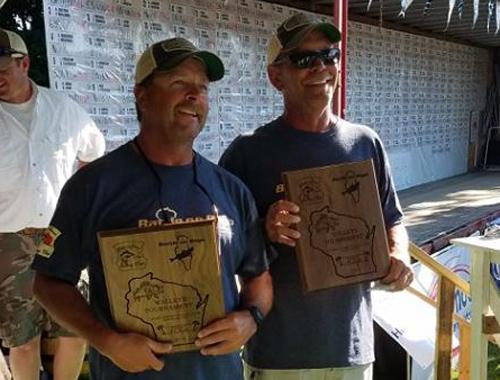 2. MN: Mille Lacs hooking mortality quota??
> "…DNR must include in anglers' 28,600-lb walleye quota this year the estimated weight of walleyes that die after being caught and released, an estimated 453 lbs of Mille Lacs walleyes (207 fish) were 'harvested' as of May 31."
Meaning that the season could close early even though it's catch and release only…which makes as much sense as Jaromír Jágr's lettuce: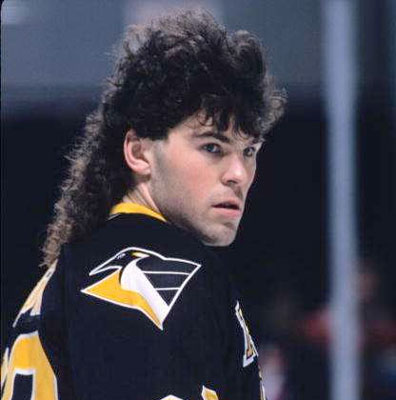 3. MN: Walleye Dan wins Camp Fishing Classic.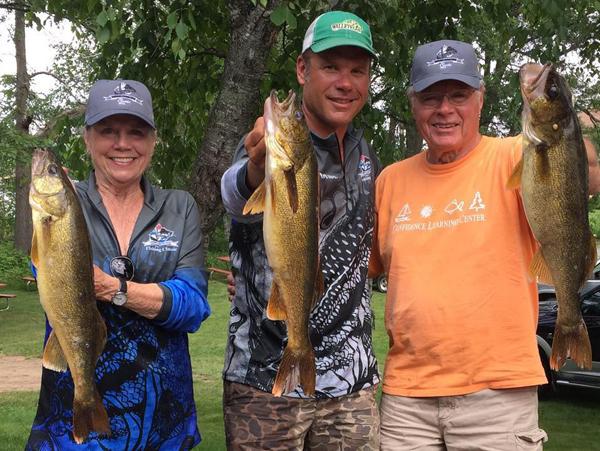 Gull Lake. Fished with his parents and won the walleye division with 3 overs for 14-03. Seriously impressive — congrats man!
Speaking of Gull, here's where to catch 'em. #FreeWaypoints
4. ON: Dingwall/Samsal win Dryden Walleye Masters.
Scott Dingwall and Jay Samsal beat out the other 134 teams with a 2-day bag of 31.71 lbs.
5. Walleye the next fad in aquaculture?
6. MN: Top 10 walleye lakes in June.
Couple of our favorites, Leech Lake and Lake of the Woods, made the list. For sure worth the trip, unless you hate catching walleyes….
7. ON: Silver walleye caught!
In Mine Centre. Cool-lookin' little bugger: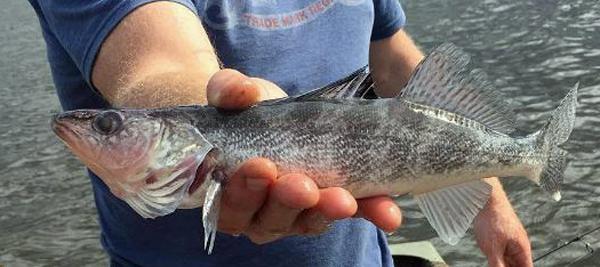 8. WI: DNR wants to ban gill nets on Pepin.
> "The proposed rule would permanently ban gill-net fishing across most of the lake. The DNR says 6 commercial fishers actively fish the lake with gill nets."
9. MN: Camp Fish is back!
25 years later and being taught by the original Camp Fish staff (and special guests). Kids perfect their fishing skills at a 3:1 camper-to-instructor ratio.
10. MN: Wear your PFD or else.
> …most people who die in boating accidents are adults who weren't wearing a lifejacket.
Probably true in all states.
11. OH DNR increasing BWI patrol.
Boating while intoxicated. Definitely not worth it.
12. Reminder: LEER coupons for anglers.
If you have a LEER top and fish tourneys, make sure you sign up for Cover Cash to have a shot at making more cash.
Have a shot at winning all this stuff from Northland Tackle and Target Walleye! Same deal: Enter your email addy, then share the link to earn more points toward a win. Good luck!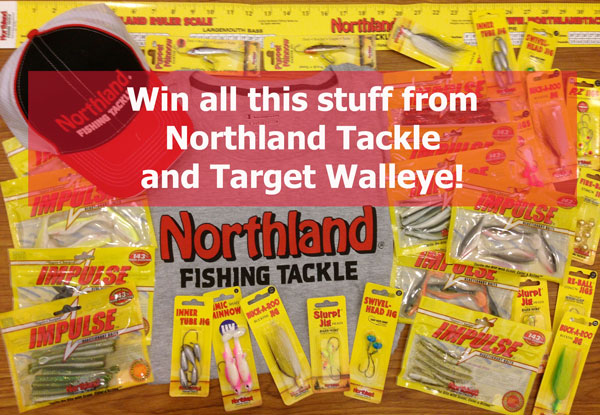 Events
1. WI: National Walleye Tour, Green Bay, Jun 23-24.
Some of the best walleye anglers in the world competing on the Big Cheese THIS WEEK.
2. SD: Free TESTRIDE event, Pierre, Jun 25.
During Oahe Days. FREE on-the-water ride in the boat of your dreams.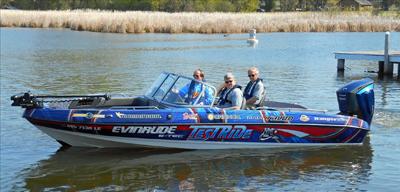 Great places to catch 'em
Sign up another walleye-head!
If you're forwarding Target Walleye/Ice to a friend who loves to walleye-fish or want your fishing buddies to get these emails, just
send us
their email addresses and we'll take care of it! (We won't sell the addresses, use them for spam, etc.)

Al Lindner: Shallow snap-jigging.
One of Al's favorite ways to catch 'em — maybe his favorite way:
> Live bait was a way of life for me until about 9 years ago. I finally woke up and discovered that this mentality had me missing out on a red-hot artificial-lure bite up in the shallow weeds. Most walleye anglers won't venture up into the jungle. They've had a mental block against fishing heavy cover for years.
> Fact is, most walleye anglers start at the edge of the weed bed and work their way out to open water with live bait. Promise me you'll do just the opposite on your next trip — instead put on a soft plastic minnow-mimicking lure and fish right in the weeds.
> In a perfect situation, I'm talking about scattered weeds in less than 12′ and typically I'm fishing in just 4-8′. You're not doing a lot of casting — you're allowing the bow-mount trolling motor to move you along — but you are snapping or ripping a lure through the weeds much like you would to catch bass.
> You're depending on walleyes to visually see your soft-plastic lure darting through the weeds and react. That's why braided line is important — it gets you through the weeds much easier. I'm using spinning tackle with 10-lb braided line and a 30″ fluorocarbon leader.
> My lure of choice is soft-plastic paddletail or split-tail minnow, and I'm snap-jigging the lure with fast erratic movements of the rod. Make sure you're using a 1/4-oz jighead with a wire-keeper barb on it in order to keep your soft-plastic minnow from tearing loose every time you rip it through the weeds.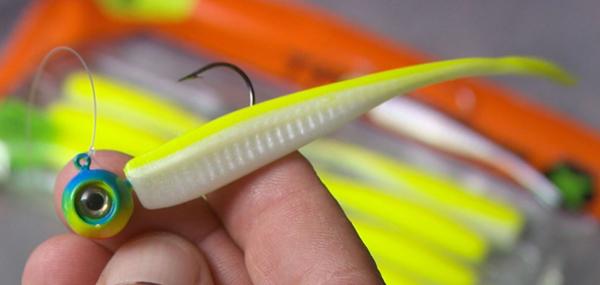 Quote of the Day
We'll see if our wives take it all and then go from there.
– MN tourney angler Drake Herd explaining what he planned to do with his $5,440 payday after winning the Lake Osakis walleye tournament.
Today's 'Eye Candy
In your face!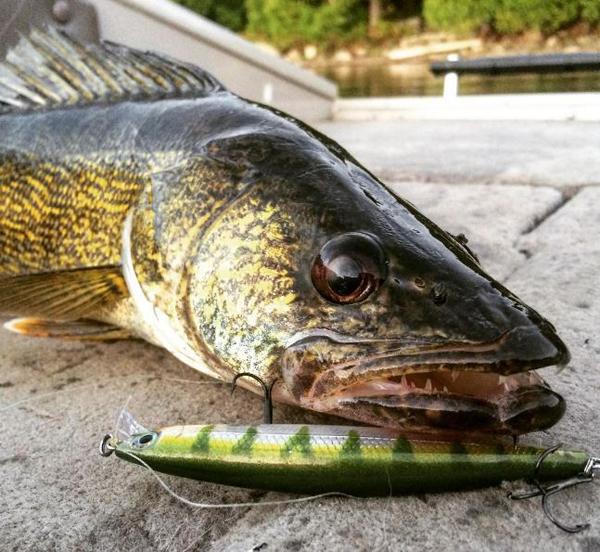 T-boned a Rapala Shadow Rap in yellow perch.
Check this stuff out!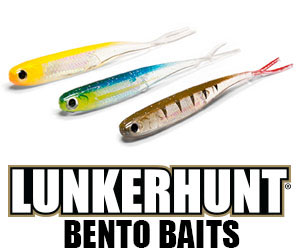 About Target Walleye
Target Walleye/Ice
brings you the BEST walleye and ice fishing news, pics, tips and events year-round, and is brought to you by Al & Ron Lindner, Jim Kalkofen and other walleye nuts like you!
bgcolor="#CCCCCC">

TargetWalleye.com | Rapala.com | IceForce.com