by Jim Edlund
1) Topwater walleyes? Lol.
When rains make rivers extremely high, like recently in MN, the fishing can be dynamite.
What to look for?
> New eddies
> Current seams
> Recently flooded wood, rock and vegetation
> Anywhere you have water dumping back into the main channel, like swollen feeder creeks and areas where high water cycles back from recently-flooded areas creating clean/dirty water lines.
Find the food, find the walleyes.
Cory Schmidt, an upper Mississippi river rat: "The fish go nuts when the river runs high, especially oxbow areas. Anywhere you get clean water pouring into the muddy stuff, seems like everything's there — smallmouths, largemouths, pike, walleyes, even muskies.
"And everything's hitting topwaters. Last year I was catching walleyes on a Zara Spook."
Why topwaters? Baitfish drawn to the moving clean water can be found breaking the surface to feed on food washed into the main river channel. In turn, the walleyes don't mind chomping at the surface one bit.
Definitely not something you run into every day, but worth a shot if the conditions are right. Let us know on FB if you've ever run into a topwater walleye bite. Extra credit for photos and vids.
2) A-Rig 'eyes?
Troy Lindner may be keeping this close to the vest…. Not long ago he and Cherokee Lake, TN tournament partner Derrek Stewart accidentally hit walleye paydirt slow-trolling A-Rigs over submerged humps in the lake's main channel.
I'd bet dollars for donuts that A-Rigs would crush Green/Sturgeon Bay walleyes. With Bret Alexander already rip and snappin' big 4.5″ Berkley Rib Shads on saltwater jigheads, seems adding a few more (within legal regs) to the equation might work even better. Bret?
3) Doctored cranks for wood
When Devils Lake guide Jason Mitchell goes on a big 'eye hunt, he says there's no better place than wood. That's hardly a surprise, but what's cool is how he catches 'em…by doctoring cranks to resist snagging, and swing 'em in the boat like bass.
"I catch more big walleyes on deep-diving crankbaits crashing through the timber looking for big reaction bites," he says. "But it's not a numbers thing — it's a big-fish thing.
"I'm using aerial imagery available via Google Earth and the Doctor Sonar/Warren Parsons custom maps for Devils Lake that allow historical overlays onto depth contours to locate new pockets of wood."
Jason drops waypoints on shelter belts, old farmsteads and hills lined with brush that were once dry land.
"Then I go out and survey with my electronics, looking for wood that creates the most shadowing on my SideScan screen. The more shadows, typically the more walleyes. Mix in a little rock, maybe weeds, and you've got a good spot. Typically the depth zone is 8-10′."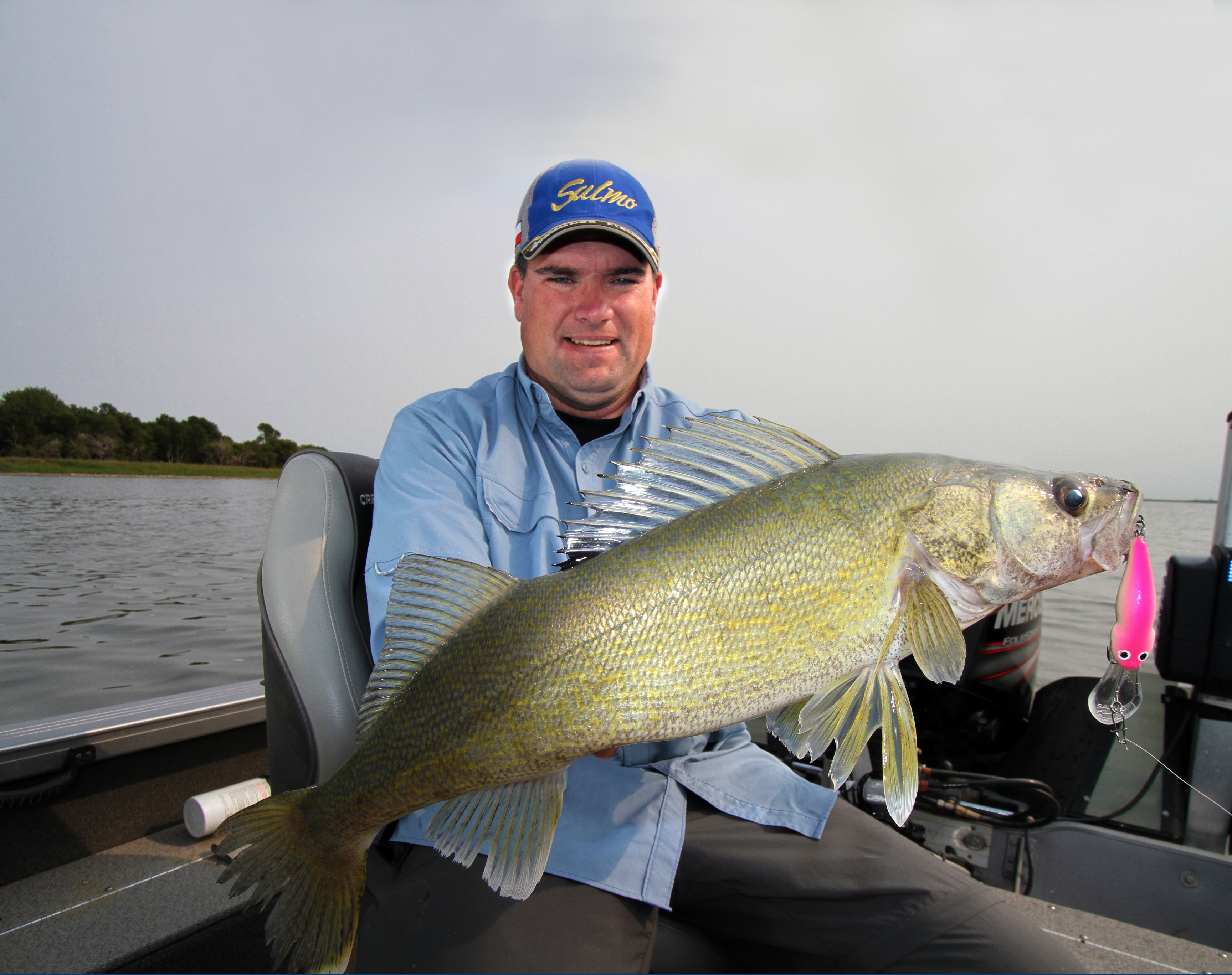 Doctored cranks & technique

Jason doctors #6 H6F Salmo Hornets & #6 Salmo Super Deep Runner Bullheads, removing stock front and rear trebles. He leaves the front hook off and sizes up the rear two. He switches to heavier Gamakatsu trebles, which resist bending and breaking, and allow Mitchell to swing walleyes into the boat.
He casts toward waypointed wood and gets the bait down as fast as possible. As soon as he feels bottom or cover, he slows his retrieve to a crawl to prevent snagging.
"If I lose bottom, I snap the rod tip down and keep feeling my way through the wood. Mentally, the hardest part is sticking to a slow roll. If you bump into something, let the bait float up a bit, and if it snags, pop it. A lot of times — kind of like bass guys fishing squarebill crankbaits — that's when you're going to get bit."
Best crank colors = Hot perch, chrome/blue back and dalmatian, which mimic the system's forage, including ubiquitous juvenile white bass.
Gear: Go stout

> 7′ medium-heavy to heavy-action Scheels Outfitter flipping stick.
> Quantum Smoke baitcaster.
> 14-lb Northland Bionic Braid or Berkley FireLine.
> 12-14″ section of 35-lb Knot2Kinky nickel-titanium leader tied directly to the main line so he can reel right up to the crankbait and yank it out of wood — and to prevent break-offs from giant, ND-sized snot rockets.
4) Blast from the past: Double jumbo depth probe
Back in the early to mid-'80s my dad climbed a tournament leaderboard to 2nd place with a massive 10-08 fish on day 2. I was one proud kid! (R.I.P. dad.)
His strategy? Slowly backtrolling a homemade 2-hook crawler harness — without the blade, with 1 red bead, and a 1/2- to 3/4-oz egg sinker — up the side of a 30′ hump surrounded by 50′. Instead of a crawler, he impaled each of the 2 hooks with the biggest jumbo leeches he could pull from the tanks in our family's bait shop.
Starting in deep water, he slowly dragged that rig uphill, watching the spinning glow of an old flasher. He and my uncle had pre-fished the area with a state-of-the-art paper graph and knew big fish were around.
Need to try this, but makes CPR a bit difficult. If you do try it in deep water, don't horse 'em up.