If you're receiving this Target Walleye/Ice email — covering the best of walleye fishing during open water and the best of ice fishing during hard water — for the first time, a friend probably signed you up! Target Walleye/Ice is brought to you by Al and Ron Lindner, Jim Kalkofen and other walleye and ice fishing nuts like you.

Today's Top 5


15-lb Mississippi River blob!
Gotta call this one out separately: Ryan King's 15.2-lb (32-in) carp wearing a walleye costume — caught and released on the Mississippi River (MN):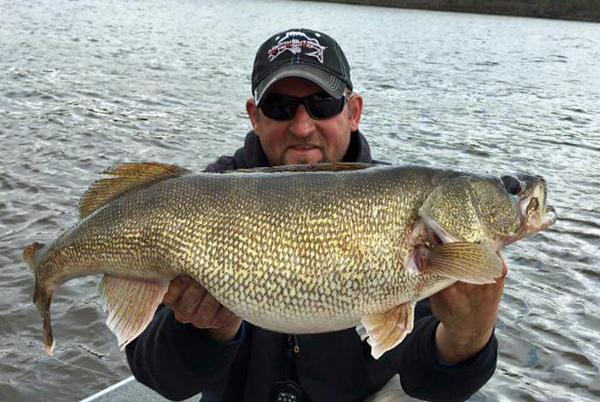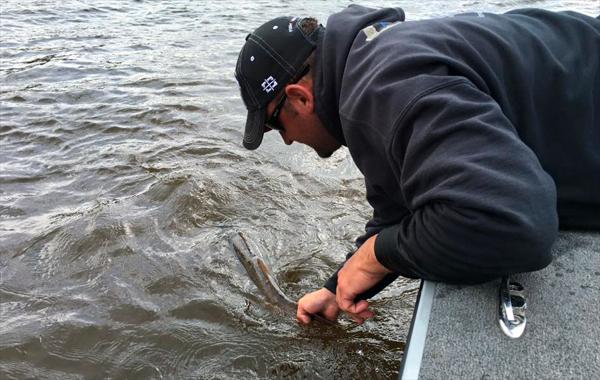 Wow!

Steve Ryan might just put a saddle on this one and ride it away: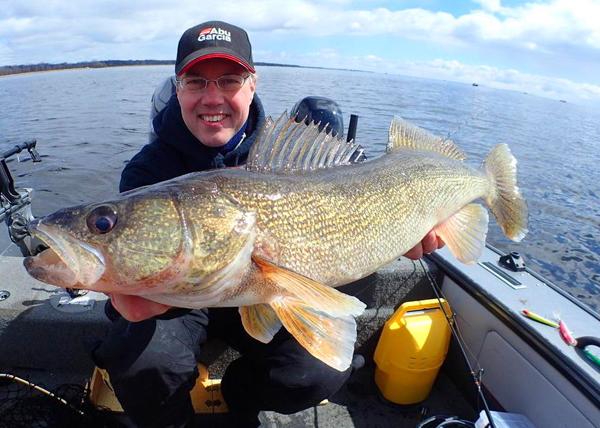 #CalledIt
Shawn F.'s 12.79-lb rock melon won big fish at the MTT Red Wing event over the weekend…aaaaaaaand of course it did: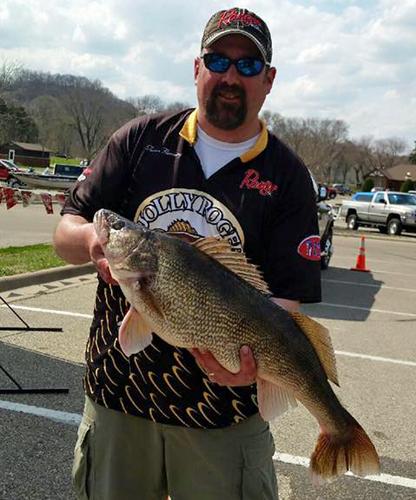 29″ of Red River melon caught by Forrest L. with a BFishn Tackle Pulse-R Paddletail (pink/white) on a 1/8-oz jig: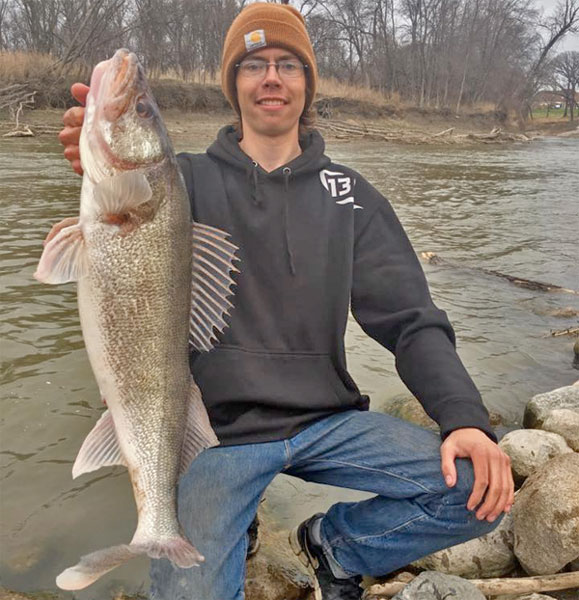 If you thought your ex or in-laws came with a lot of baggage, wait til you see the size of the sacks Lake Erie spit out on day 1 of the Cabela's National Walleye Tour. Pro Wayne Van Dyke was leading it after whacking 5 for 47.61 lbs yesterday — the 2nd heaviest single-day catch in NWT history: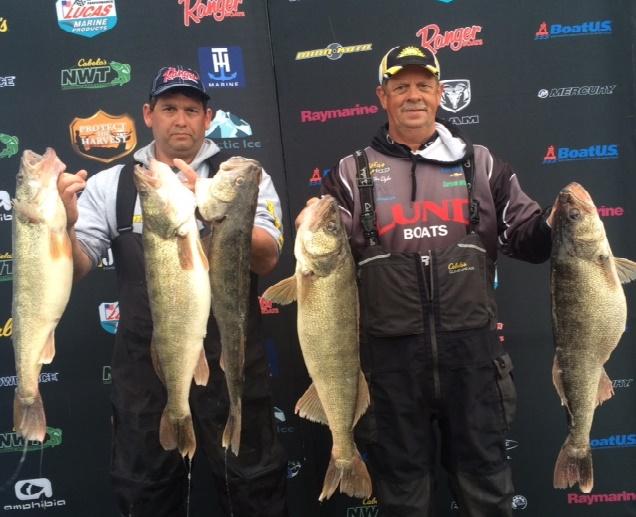 > Van Dyke pulled up to his first spot in the morning and never left — trolling the same 1/4- or 1/2-mile stretch of water all day with Bandit and Reef Runner crankbaits. "Every time I thought about making a run we'd get another bite. It wasn't fast and furious, but there was always enough action to keep us there.
> "I think I caught 8 or 9 fish and lost 4. I actually upgraded on my last pass of the day, at about 2:55 and then I reeled the lines in."
> "The water color and change of depths in the area proved to be the right combination. That's what worries me so much about [today]. Things are changing and there could be more boats that join the area."
Pro Tom Keenan was 2nd with 45.83 lbs — all 5 fish were 30″ or bigger. Says he didn't figure 'em out until mid-day: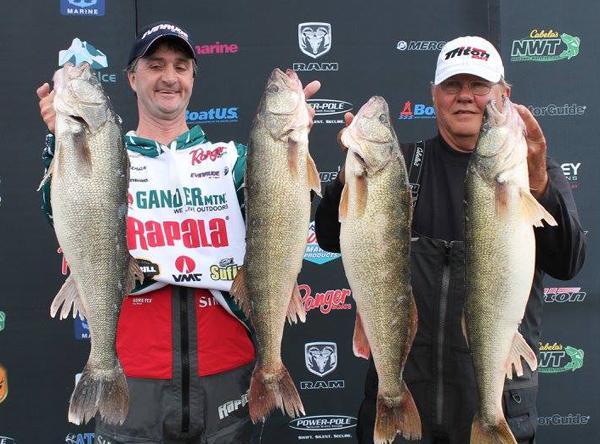 > "At 10:30 this morning I only had a couple fish, but I was marking them… I made an adjustment and I can't say what that was, but once I figured it out, it was lights out.
> "Obviously I'm trolling, but the good news is that I'm not by a lot of people. I have two spots and neither have much boat traffic."
> "I'm not fishing a lot of structure — I'm fishing a basin. So the challenge is that I've got to find them. Once you find them, you catch a couple, spin around and go right back through them…. The fishing are moving and feeding, so you have to find the pod."
Watch today's live weigh-in feed here.

How you know when the walleye spawn is on.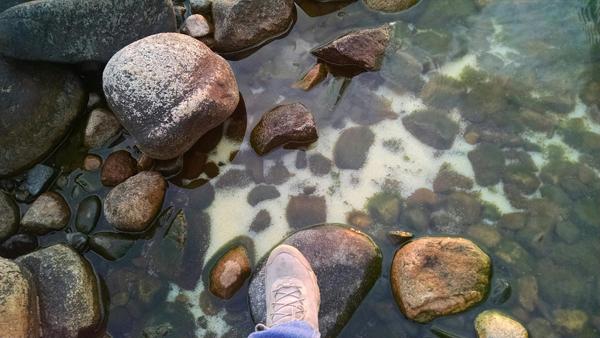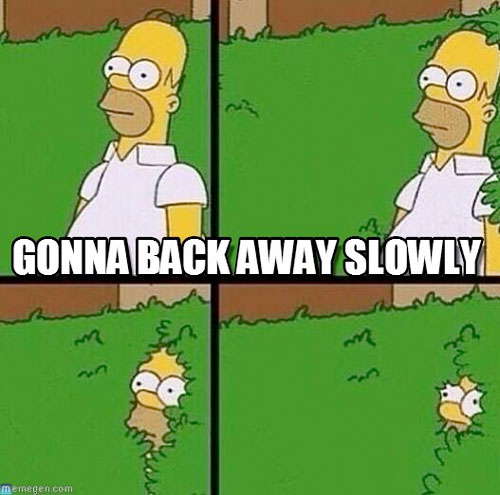 Billy Lindner had a front-row seat to it and captured this must-watch underwater footage using an Aqua-Vu HD: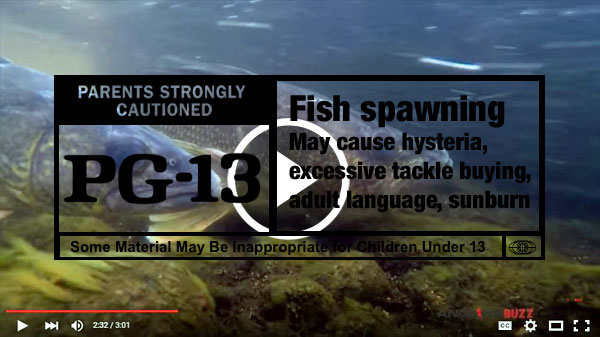 Says it all:
> Incredible 51.5″ pike caught and released by Nate LaFluer on Devils Lake from shore with a fly rod….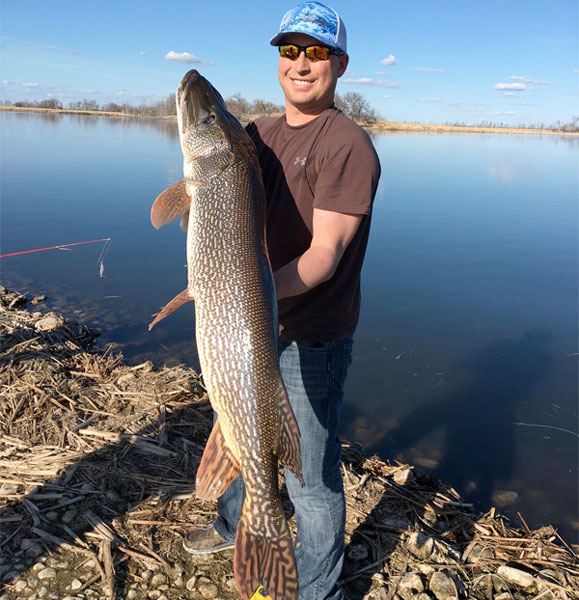 #Stout!
---

---

News
1. MN: Body of missing LOTW guide found.
RIP fishing brother.
2. MN: Less gillnetting, more spearing on Mille Lacs.
This year the only nets being cast are ceremonial harvest nets.
3. MT: Governor's Cup 200-boat field full.
Big fish of the event last year was a 14.37-lber — expect more of the same.
4. WI: Lake Geneva walleye stocking project.
59% success rate and takes just 18 days to hatch 'em. #Stout
5. MI: Proposed PFDs on-ice reg.
Would require kids under 12 to wear a lifejacket when on/near ice.
6. Jason Mitchell spinning rods on sale!
Crazy price!
7. Doc Sonar: HDS Touch GEN 3 training DVD.
8. New Northland Swivel-Head Jig.
> Its football-shaped head crawls over rocky bottoms, while its flat underside makes it stand-up capable. But the most unique feature is the Crawler Hauler Hook attached to the head via a barrel swivel, which allows the hook-and-bait to move independently of the head.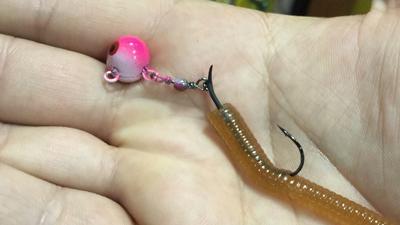 Spoiler alert: Super subtle Al Lindner impression at the 9:20 mark lol.
10. MN: Fish the MN Fishing Challenge.
Try and top Al in the walleye division — he weighed 3 mules last year when most teams goose-egged. #Animal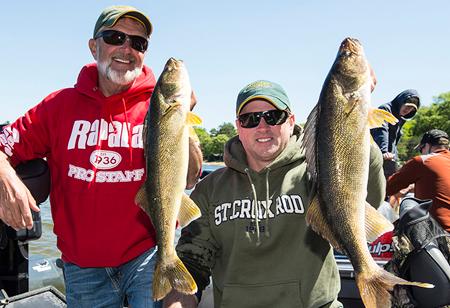 11. Target Walleye on the radio.
Target Walleye's Jim Kalkofen was recently on the 4 Outdoorsmen radio show talking about Mille Lacs, the MN Fishing Challenge and explaining how Target Walleye got started. We love that these guys keep it light yet informative.
12. MN: Annual governor's fishing opener on Big Sandy.
Population of McGregors should go from 376 to about 4,000 that weekend….
…sorta. MN sells an optional 'walleye stamp' and uses the proceeds to fund walleye stocking programs across the state:
> The DNR uses walleye stamp proceeds to buy walleye from private producers, which are stocked in lakes that don't have naturally reproducing walleye populations.
> Anglers bought 17,388 stamps in 2015 — stamp sale proceeds were used to purchase 4,200-lbs of fingerlings (84K fish) from the private sector for stocking, which make up a portion of the 150,000-lbs, or 3 million fingerlings, that the DNR stocks on average each year.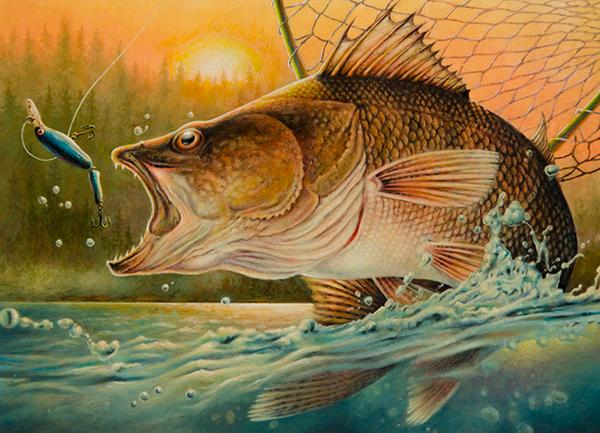 Nice painting but…must be one of 5 walleyes that have ever cam out of the water after a bait lol.
14. DC: Battling to make sure fisheries aren't closed.
Saltwater right now but the crazies have their eyes on the whole pie.
TWI survey could win you free lures!
Please take the Target Walleye/Ice survey! Only takes a few minutes to tell us about you and what you want to see more/less of in Target Walleye. One person who takes it will be randomly chosen to get some fishing lures. Your answers will be very helpful, thank you! Survey here.
---
---
Fishing Reports
1. MN: Lake of the Woods.
> The spring walleye season ended in a big way with the river being full of walleyes. Largest we heard of was over 32″! Walleye season opens back up May 14.
> Sights are turned to pike now as the season never closes. Big pike over 40″ are traditional in Four Mile Bay, Bostic Bay and Zippel Bay which have open water. Majority of lake still ice-covered.
> Good numbers of sturgeon being boated up and down the Rainy River. Fish the deep holes using a 3- to 5-oz no-roll sinker, 18″ lead and 5/0 circle hook loaded with crawlers and frozen shiners.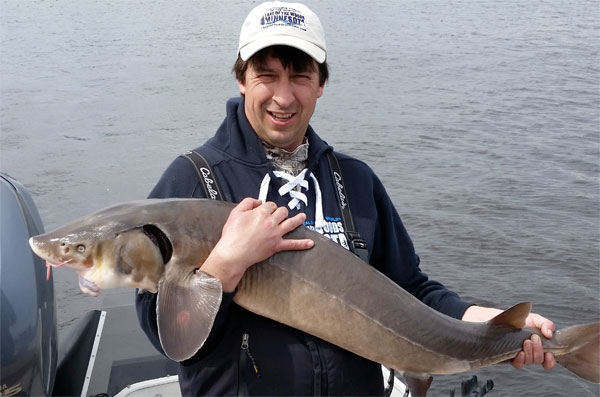 > Sturgeon Bay has been on fire with most fish caught rip jigging plastics and hard baits. Good numbers with fish up to 30-inches.
> Targeting 20′ of water when working shoreline breaks and rock points — casting toward the shorelines and working the baits in. Kalin's soft plastics with a jig head or Rapala Rippin' Raps have been deadly.
Hook up with Green Bay Trophy Fishing for more info and to get your mitts on a walter like this: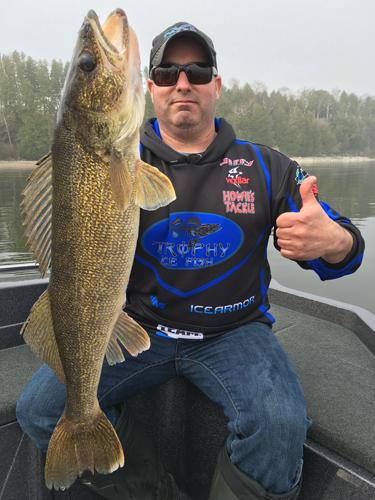 Sign up another walleye-head!
If you're forwarding Target Walleye/Ice to a friend who loves to walleye-fish or want your fishing buddies to get these emails, just
send us
their email addresses and we'll take care of it! (We won't sell the addresses, use them for spam, etc.)

> Walleyes and sauger gather behind any natural or manmade current break….
> Movements across long straight river stretches are followed by rest stops at river bends, where water slows on the inside turns. A good river map will pinpoint those spots quickly.
> Look for gravel, rock, sand, clay and even clam beds. If the current or barge traffic has cut a hole in the bottom nearby where fish can rest or ambush minnows, that's even better. Rushing water creates rolling washboard bottoms in soft sand and mud.
> You're looking for eddies…. They can occur on both the upstream and downstream sides of points. They can be upstream and downstream from neckdowns where the two shorelines pinch together. Current also slows on the upstream and downstream sides of islands. Eddies form on either side of wing dams. Eddies form when current from a tributary or a feeder creek or factory discharge meets the faster moving water of the main river.
> …the critical place to note is the seam where faster moving water meets the slower water. Fish can hold just inside the slower water on one side of the seam and ambush food as it moves by.
> Use Humminbird Side Imaging, which shows important features on wingdams that can hold fish, including trees, or a hole that has opened in the face. Wingdams on river bends are usually best. Where there are three wingdams or more are positioned in a row, target the first one upstream and the last one downstream first. If those two don't hold fish move on.
> A key tactic is trolling with three-way rigs. You can slide upstream slower (than slip jigging downstream) and you can move through a little eddy, along a current break and have a bait in their faces longer.
> Slow-troll against the current at about the speed of a slow walk on shore. Try putting enough weight on your three-way so that you can stay on the bottom with about a 45-degree angle between line and water's surface. The dropper should be about 8-10″ with a 4′ leader to a floating, shallow-running crankbait, or a single hook, or a floating jighead.
> Trolling upstream with the gasoline kicker and a double crankbait setup will sometimes outfish three-ways. A 3- to 5-oz bell sinker is attached to the dropper. A 3-5′ leader goes to a crankbait clip for the first floating lure. A 1′ leader is then tied to the rear split ring of the front lure and leads to a crankbait clip for the second lure. Use shallow-running short-billed crankbaits. Mix up colors.
---

---
---
Great ice stuff!
More great stuff!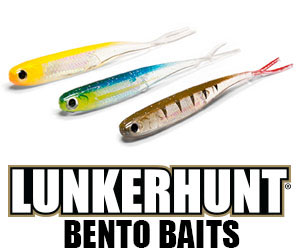 Target Walleye/Ice
brings you the BEST walleye and ice fishing news, pics, tips and events year-round, and is brought to you by Al & Ron Lindner, Jim Kalkofen and other walleye nuts like you!

TargetWalleye.com | Rapala.com | IceForce.com